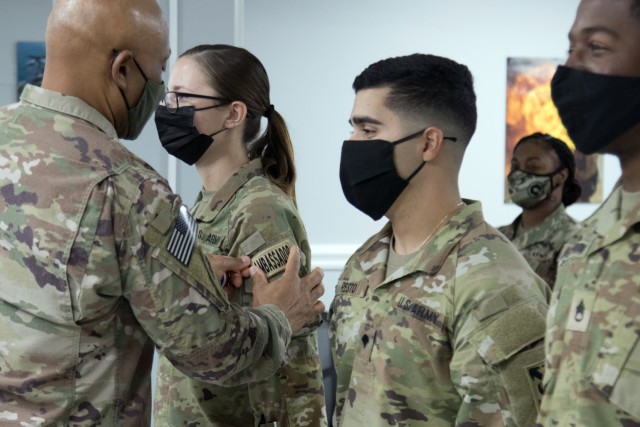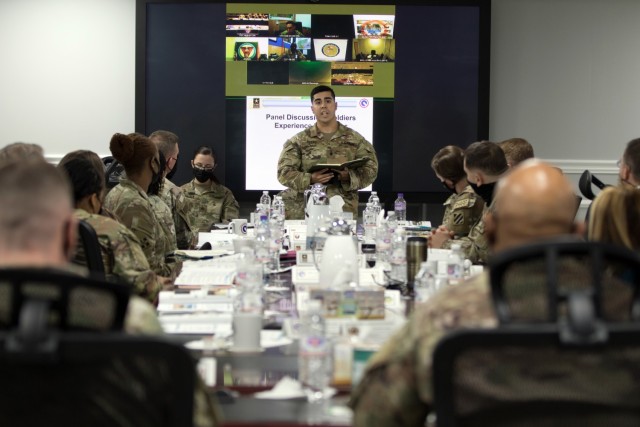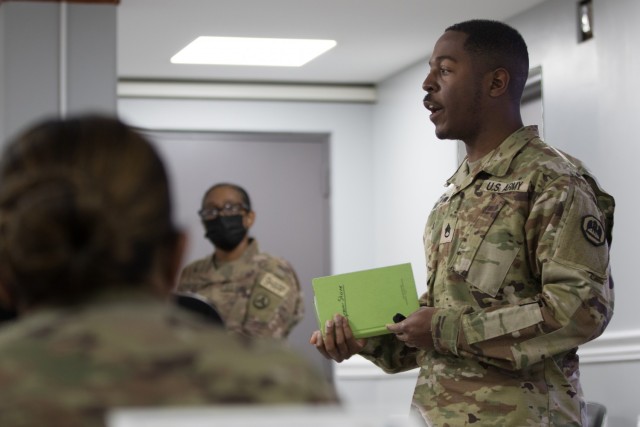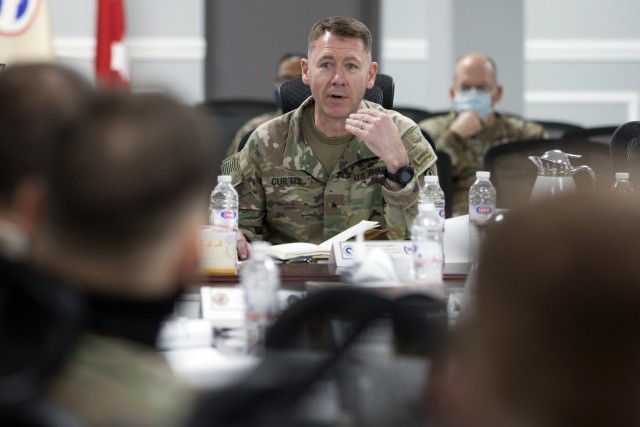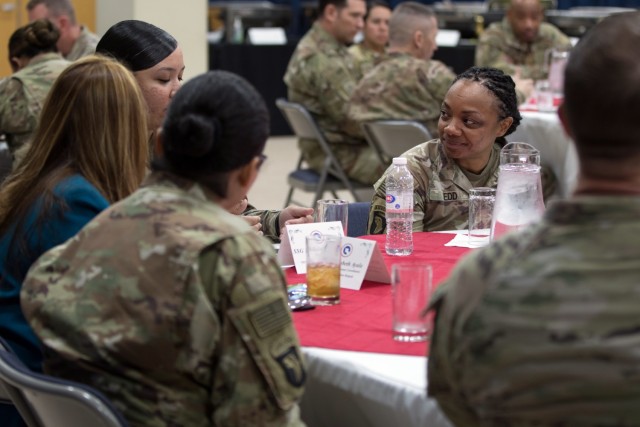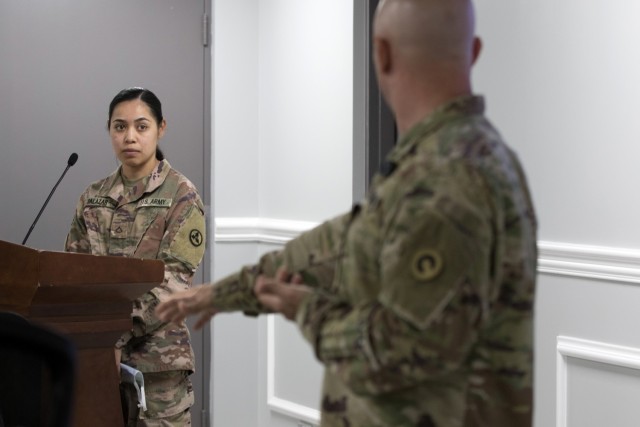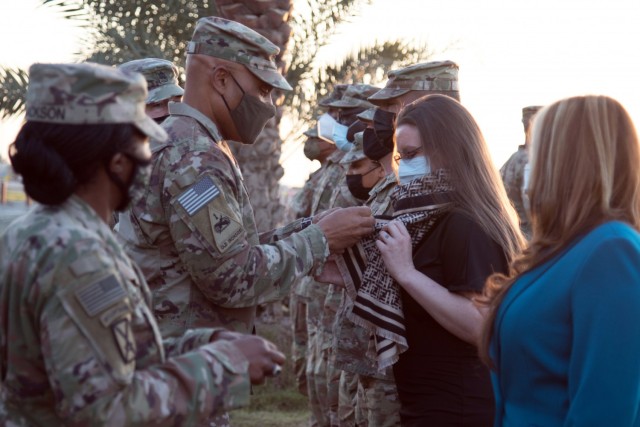 CAMP ARIFJAN, Kuwait — Maj. Gen. Michel M. Russell Sr., commanding general of 1st Theater Sustainment Command, invited more than 40 Sexual Harassment/Assault Response and Prevention Program, or SHARP, professionals to participate in a SHARP summit here Feb. 28.
The summit provided SHARP professionals the opportunity to ask questions of senior leadership and coordinating agencies like law enforcement and legal, make recommendations, share best practices, and focus on ways they can enhance their resilience as they voluntarily perform a tough mission.
"We've got to look introspectively in terms of what we are doing with this program," Russell said in his opening comments. "We have Department of Defense guidance, we have Army guidance—we have everyone's guidance—but how well are we executing it? How much do we care about it, are we passionate still? Are there lessons learned in it? Are there some bad things that have happened that we've learned from, or good things that we can share?"
The summit began with a 45-minute question and answer session over video teleconference with Lt. Gen. Ronald Clark and Command Sgt. Maj. Jacinto Garza, the command team for U.S. Army Central, dialed in from Shaw Air Force Base, South Carolina.
Clark talked to the Soldiers about the vital role they serve in the Army family.
"You're critical to what it is we do when you talk about taking care of our most precious resource, which is people," the general said. "Make no mistake about it, SHARP is about readiness; it is about our opportunity to serve together in a formation that's free of sexual harassment and sexual assault."
"You have to receive information that, in some cases, is about the most egregious crimes that can be committed against other human beings, and you have to receive that information, process it, and do your level best to care for us, and for that, I want to say thank you," Clark continued.
Following the question and answer session, the group received Criminal Investigation Division and legal briefs in addition to a catered lunch.
Russell led a discussion during the afternoon portion of the summit about how personal biases directly impact a SHARP professional's ability to ensure diversity, equity, and inclusion while carrying out their voluntary duties. Staff Sgt. Trevione Ingram-Stone, Sgt. Aaliyah Craven, and Spc. Benjamin Calderon-Resto offered a presentation focusing on the effectiveness of SHARP training and providing recommendations on how the training can be improved writ large.
The Soldiers were three of the most recent graduates from the 1st TSC's SHARP Ambassador Course. Ambassadors are junior Soldiers armed with the education and skills necessary to promote culture change within their formations and the training to help get survivors to the people who can assist them.
Craven, a public affairs mass communication specialist assigned to the 3rd Infantry Division Sustainment Brigade, said it was an amazing experience to present her feedback at the summit.
"I hope that what was discussed will help the future of the SHARP Program," she said. "I hope they continue to invite more junior leaders, as we are the future of the Army."
The Lemont, Illinois, native said it is incredibly important that SHARP professionals gather together to share their experiences.
"Being able to get together and acknowledging all these experiences can create a better program and help to stop repeating history," Craven said. "We cannot make change without standing together."
The SHARP professionals stood together one final time at the close of the summit to receive SHARP brassards and commander's coins.
Army brassards are worn as identification to designate personnel who are required to perform a special task. Russell presented each Soldier with a SHARP brassard to serve as a way to visually identify Soldiers who can take a restricted report and promote awareness to help Soldiers identify credentialed SHARP professionals who can assist them, their family members, and civilians. The brassards are only allowed to be worn in the ARCENT Forward Area of Operations; however, the command is taking steps to have this program adopted Army Wide through an amendment to AR 670-1.
"With SHARP, we all understand what we are trying to accomplish, and that is to provide relief to our survivors," Russell said. "It's you Soldiers that are on the ground, it is you Soldiers that are my first responders, and that's why you're here. I feel you're just that important."