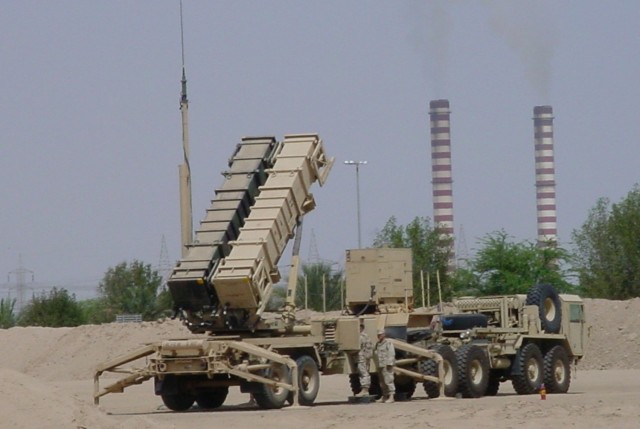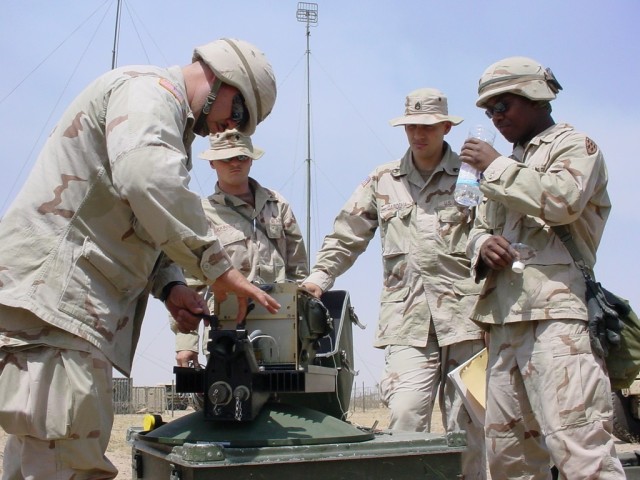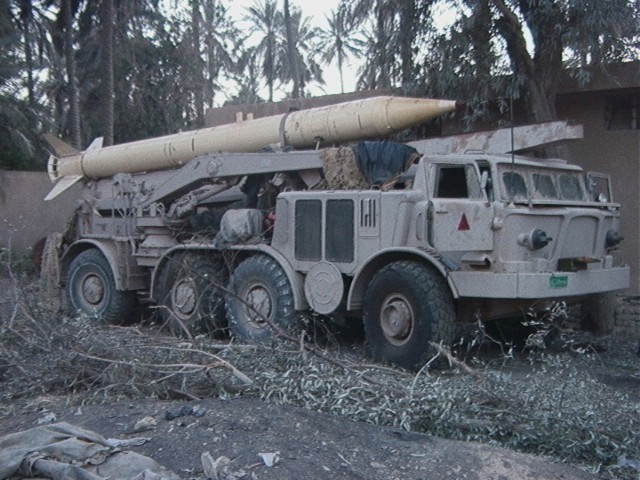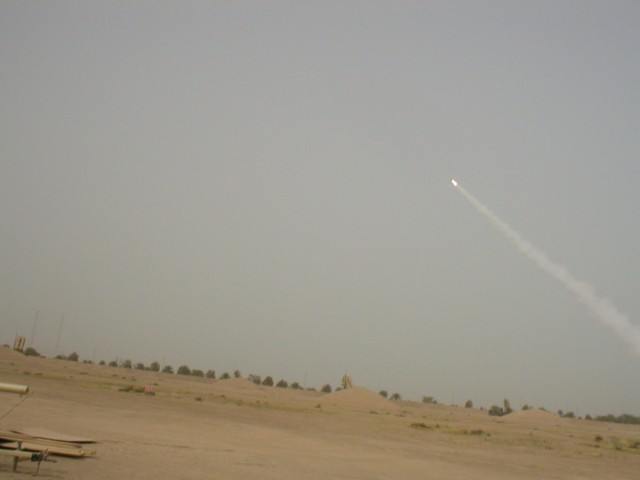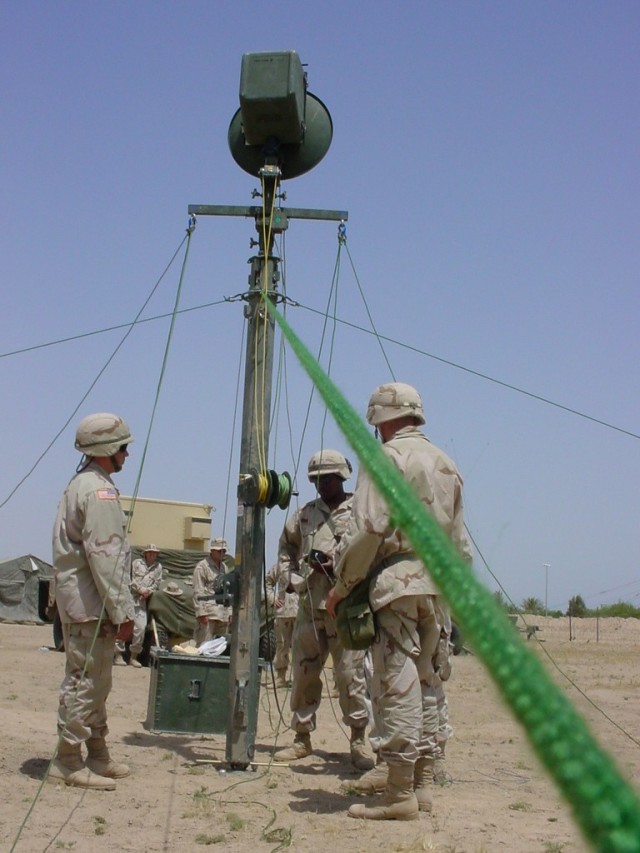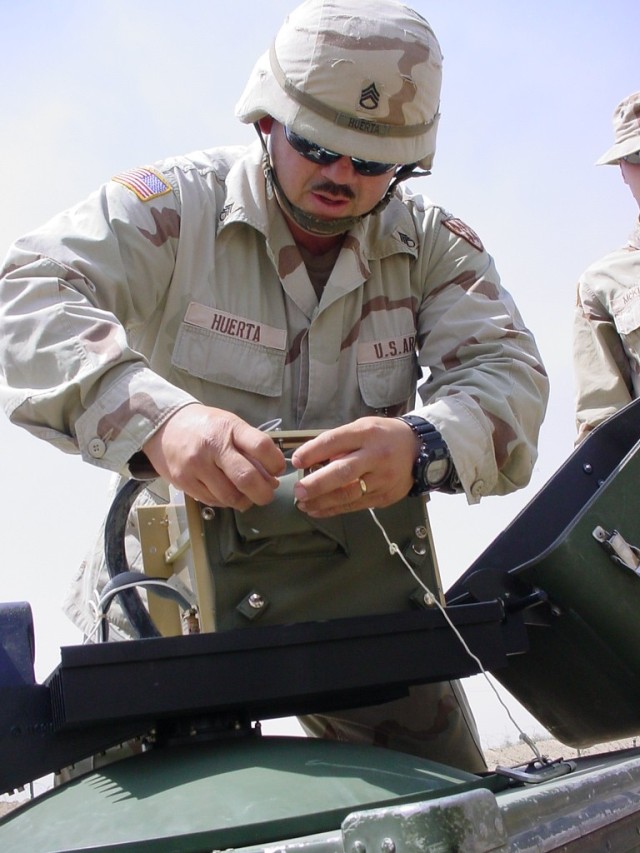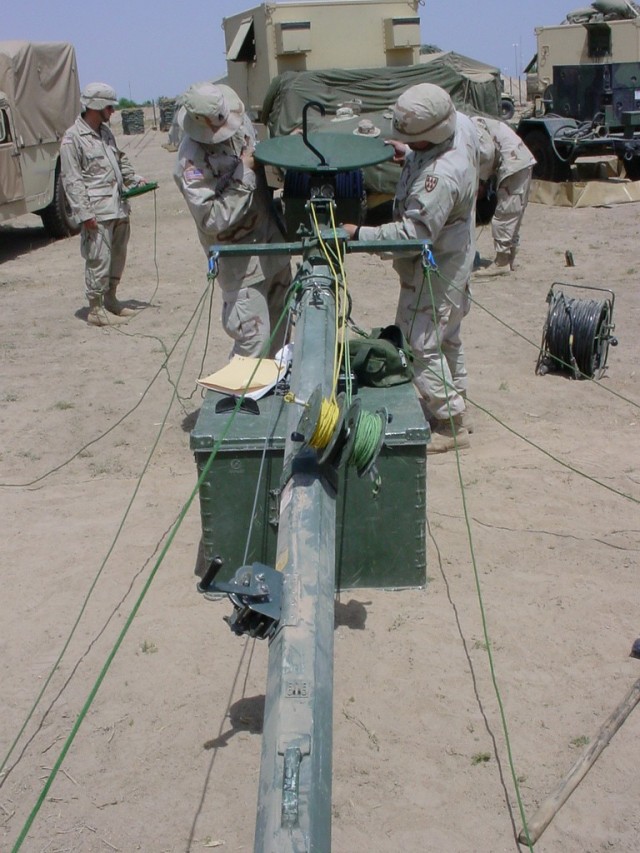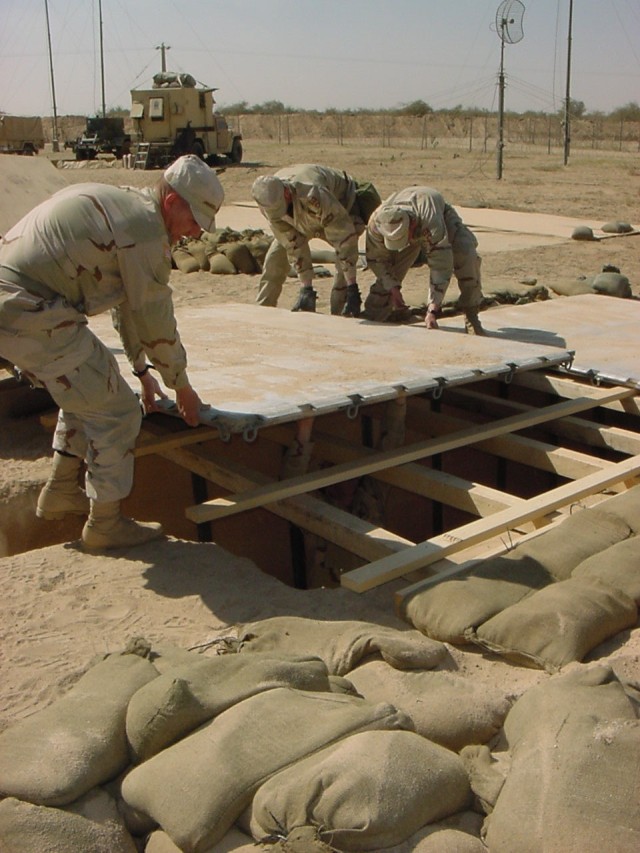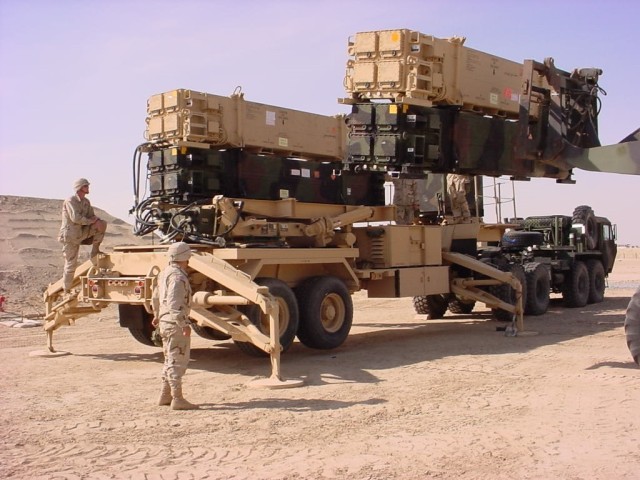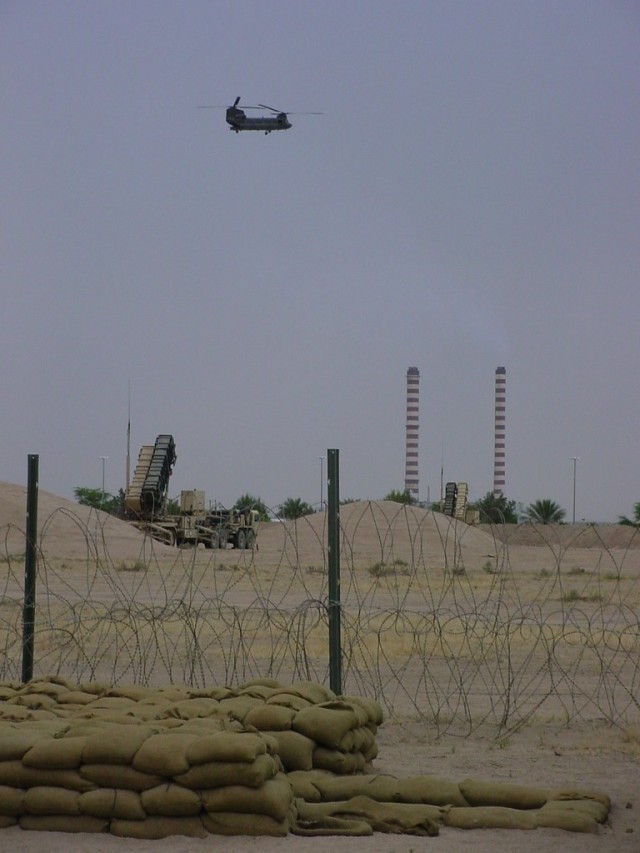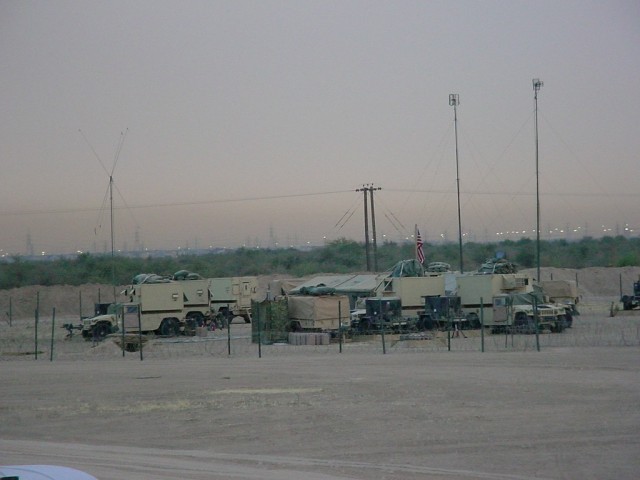 Fort Huachuca, Ariz.,-- Since the inception of the U.S. Army Signal Corps in June of 1861, signaleers have braved the elements, tank fire, artillery shells and close-quarter small arms fire to get the message through. Similarly, during the initial days of Operation Iraqi Freedom (OIF) in 2003, combat conditions were no different for most signal units. Still, for the 286th Signal Company (SC) and Node Center (NC) 51 the risk of enemy fire came from Iraqi tactical ballistic missiles that encompassed an Area of Operations (AO) stretching across Iraq, Kuwait, Saudi Arabia, Jordan, Qatar, Bahrain, Turkey and Israel.
Protecting American and Coalition forces at the onslaught of the conflict from Iraqi missiles stood the theater level 32nd Army Air and Missile Defense Command (32nd AAMDC) Headquarters (HQ) with its Phased Array Tracking to Intercept of Target (PATRIOT) missile forces fanned out across eight countries covering an approximate area of 1.4 million square miles within the Middle East.
Making up the 32nd AAMDC contingent were more than 8,000 air defenders from both U.S. and Coalition nations; standing ready to knock out Iraqi missiles from the sky. At the zenith of PATRIOT operations in March 2003, the Air Defense Artillery (ADA) AO comprised of approximately 4 ADA Brigades, 7 PATRIOT battalions, and over 40 PATRIOT batteries including 8 Coalition ADA batteries.
However, to keep the 32nd AAMDC HQ communicating with subordinate units and Coalition partners across a diverse and geographically challenging AO would require several signal companies one of which would be the 286th SC with nodes spread out throughout Kuwait and later in Iraq.
"During OIF the 286th SC had approximately 4 nodes and a HQ platoon operating in Kuwait and later in Iraq," said Staff Sgt. (retired) Albert Huerta, 286th SC, (NC)-51 Section Sergeant.
"There are two sections within a node, a Line-of-Site (LOS) section and a Node Center Switch (NCS)."
"In addition, during OIF several Small Extension Nodes (SENs) embedded with PATRIOT units, deployed to Northern Kuwait and later crossing over into Iraq," said Huerta.
Huerta also added that SENs typically deploy as teams of 2 shelters; one providing LOS communications and the other shelter providing telephonic capability, and computer data via Secret Internet Protocol Router Network (SIPRNet) and Non-secure Internet Protocol Router Network (NIPRNet).
With signal nodes spread-out throughout the PATRIOT AO, the 32nd AAMDC HQ would rely heavily on 286th SC's, Node 51 for LOS and NCS capability to communicate with the Coalition Forces Land Component Command (CFLCC), which also included the commands organic ADA brigades, battalions and batteries.
"Our LOS node [at Doha] supported Ultra-High Frequency (UHF), High Frequency (HF) radios for external communications and Frequency Modulated (FM) radios for internal use within the company. In addition, our section also managed a Radio Access Unit (RAU) to communicate with other mobile and wire telephone users throughout the theater," said Huerta.
Radio Access Units allow the Mobile Subscriber Radio Telephone (MSRT) to interface into the Mobile Subscriber Equipment (MSE) systems through the NCS, Large Extension Node (LEN) or SEN. The MSE system enters the Tri-Service Tactical Communications (TRITAC) network through a switching gateway, the AN/TTC-39, which provides the mobile commander or staff the ability to communicate with their higher headquarters.
According to the FM 11-55, MSE Operations; MSE units can support a corps of five divisions in an AO up to 15,000 square miles by forming a grid network. For a division, the MSE grid consists of four to six node centers (NCs) that make up the backbone of the network.
Thus, the critical MSE infrastructure within the 32nd AAMDC HQ was supported by the 286th SC and the LOS nodes and SENs that played a very important part in keeping the PATRIOT missile forces connected as recalled by Staff Sgt. Huerta (retired).
"As far as our systems are concerned; on the first four days of the war we processed over 60,000 phone calls and our reliability rate or mission rate was at 98%."
"On the first day of the war we as node center five-one (51) alone, processed over 15,000 phone calls. We sustained the most critical link that tied the 32nd AAMDC and the rest of the ADA wherever they were located," said Huerta.
"We also linked-in General Bromberg's MSRT," [Brig. Gen. Howard B. Bromberg, commanded the 32nd AAMDC from his Headquarters at Camp Doha Kuwait during OIF].
Although the 286th SC served with distinction as a vital communication conduit for the 32nd AAMDC, the combat actions NC-51 supported were notable, close quarter and very much appreciated.
"NC-51 served with 5 different PATRIOT batteries from the start of the war until May 2003 and one of those times we were [inside] Camp Doha and an alarm sounded and I went to a bunker and put my mask on, and not even ten seconds later there was a missile fired from the PATRIOT site and seconds later we heard a secondary boom and it [PATRIOT] got the [incoming Iraqi] missile, though that was really close," said Huerta.
A near miss of an Iraqi missile attack on the Coalition Headquarters at Camp Doha Kuwait made headlines.
"The Iraqi military came within seconds of possibly wiping out the headquarters of the coalition ground forces with a missile on March 27, U.S. military officials said. The missile was intercepted and destroyed by a U.S. PATRIOT missile shortly before it could have hit its target," read the CNN news report.
The attack came as Lt. Gen. David McKiernan, CFLCC commander, was meeting with other top military officials.
"Stay calm, continue the Battle Update Assessment (BUA) and let PATRIOT take care of it," McKiernan would say.
"There was so much confidence in this [PATRIOT] weapon system that nobody moved. Then suddenly you heard the walls rumble and you heard the sound of those missiles take off and there [they] went, two more missiles in the air. Then you heard a loud explosion. This time pieces of metal actually fell on the roof of our HQs. That was a high-five moment," recollected Col. Charles A. Anderson, 32nd AAMDC Chief of Staff.
"We saw the PATRIOT missile leave the canister take one sharp turn and head up to intercept the incoming Iraqi missile," said Capt. Craig M. Schlozman, commander Battery C, 6th Battalion, 52nd Air Defense Artillery Regiment, 69th ADA Brigade.
"Within 3 or 4 seconds of leaving the canister, we heard a loud explosion of the PATRIOT missile as it impacted its' target over the skies North of Camp Doha Kuwait."
"Charlie battery's intercept was a text book execution of an enemy launch notification, site battle drill and PATRIOT missile firing to engage its' target," Schlozman would later recall.
"I know for a fact, we don't fire the [PATRIOT] missiles but our [communications] link to Doha is vital to their survival as well. We are the ones [286th SC, NC-51] that notify them on [incoming] missiles and this [info] is passed on all the way into Iraq to the other [forward] PATRIOT batteries," said Huerta.
"The PATRIOT Tactical (PAT) site [286th SC NC-51 & PATRIOT Battery site] adjacent to Camp Doha was revered because every time we went over there [to Doha] and we would say we are from that PAT site, they would tell us; ['keep doing what you're doing, you guys are doing a great job']," said Huerta.
Huerta also remembers how the 286th SC and NC-51 helped make ADA history when his communications section supported the first combat launch of a PATRIOT Advanced Capability-3 (PAC-3) missile used to counter an inbound Iraqi Tactical Ballistic Missile (TBM).
"We were also on the same site where Echo Battery, 2nd Battalion, 43rd Air Defense Artillery Regiment fired the first PAC-3 missile in real action [combat]," said Huerta.
During the first few days of OIF, E Battery, 2-43 ADA fired two PAC-3 missiles, intercepting an incoming Iraqi TBM. The inbound Iraqi missile was destroyed just three miles away from its intended destination, which was located just outside of Camp Doha.
"These guys made it happen. We fight as a unit and could not have done it without everybody there; everyone from the launcher guys going down range to put the launchers in operation, to the maintenance guys who take care of the equipment [anytime it goes down they're on it], to the fire control crews." said Capt. Aaron Montgomery, E Battery Commander, 2-43 ADA.
"Our success was also due to the signal node centers that were there to provide additional forms of communication to higher so that we could receive early warning," emphasized Montgomery.
To paraphrase how teamwork, self-assurance and guidance played an influencing part among signal and air defense Soldiers during the opening months of OIF; the 32nd AAMDC commander, when touring the AO would often remind everyone that, "American Soldiers will never let you down, because they have confidence in their leaders and they care about their people."