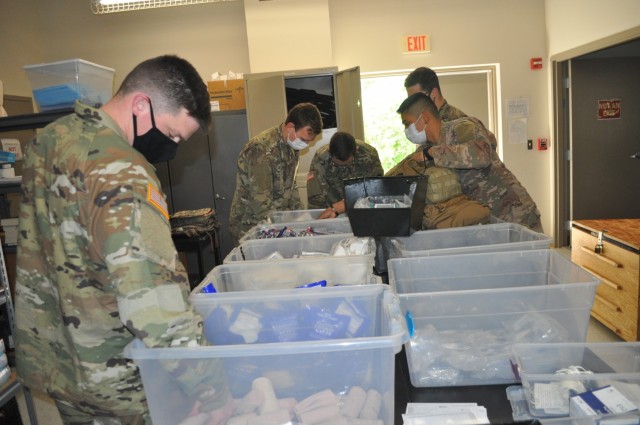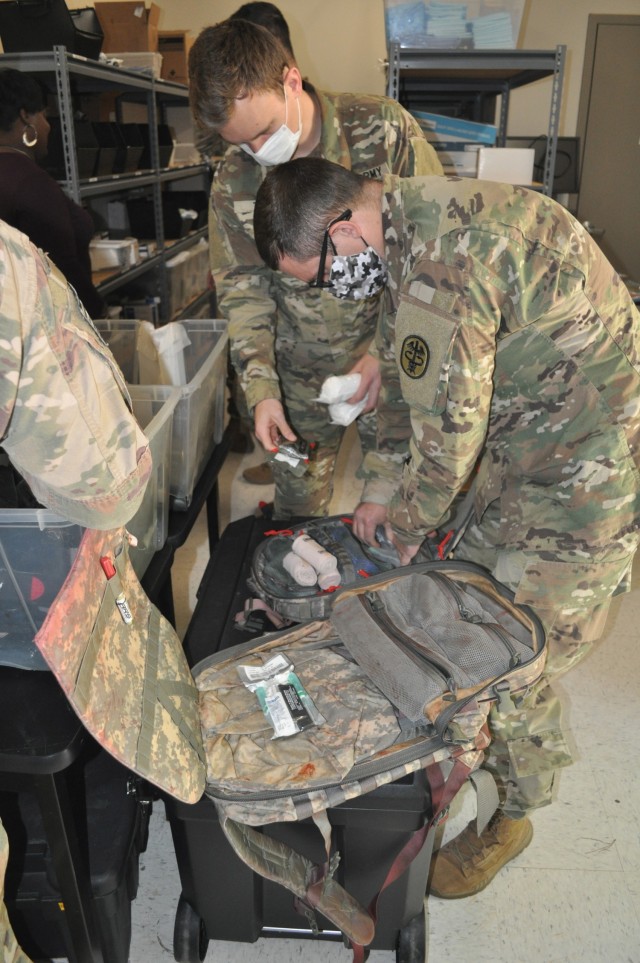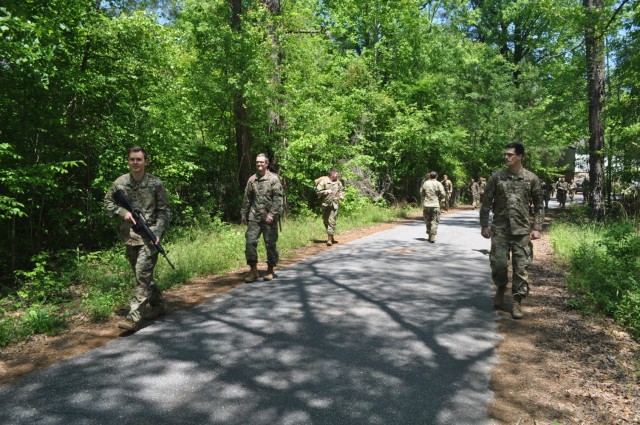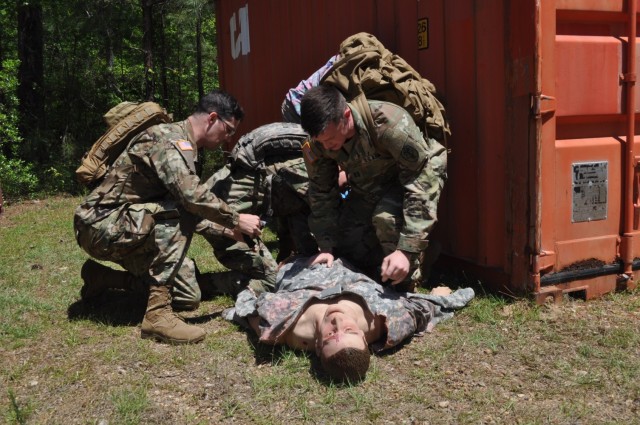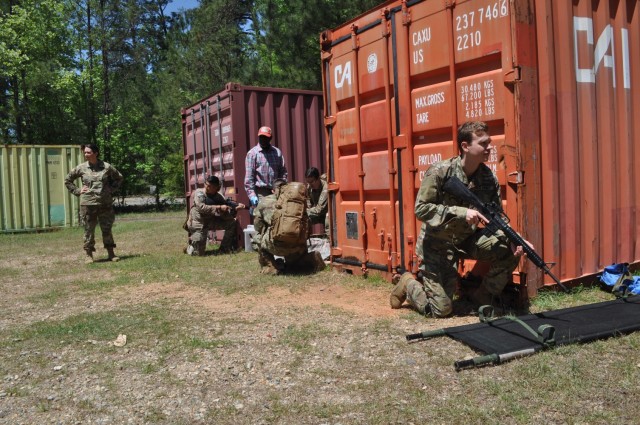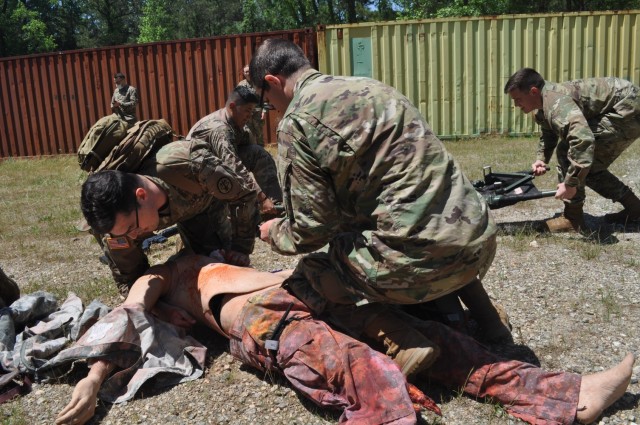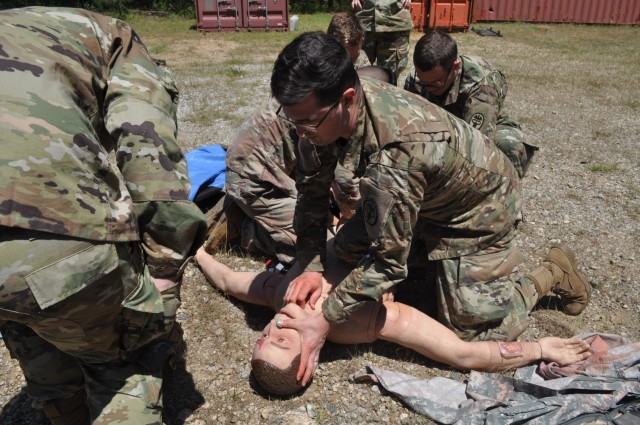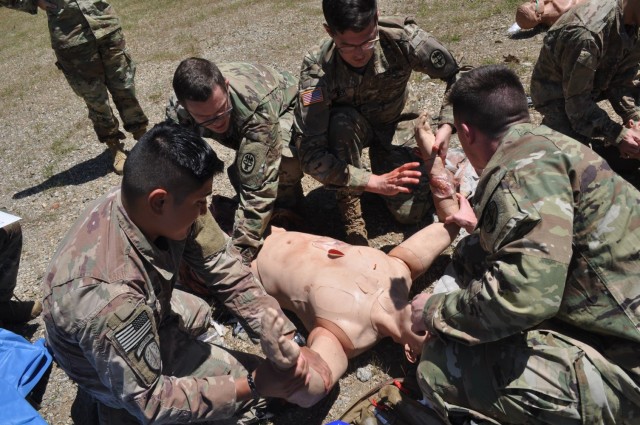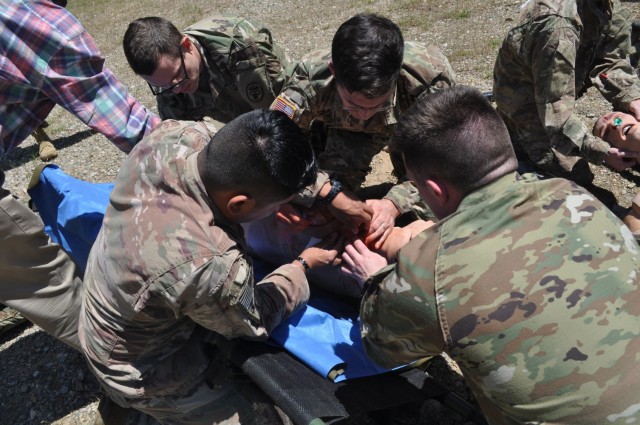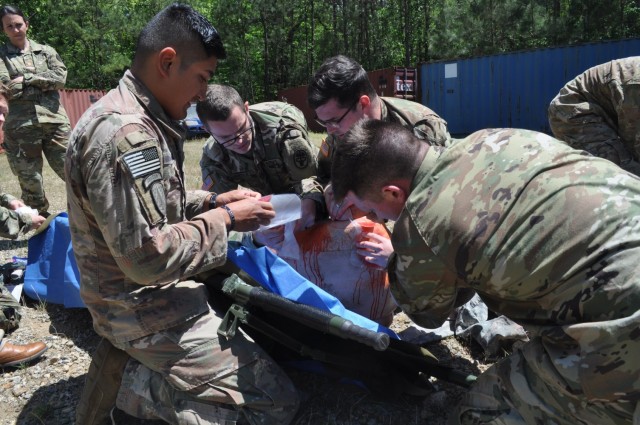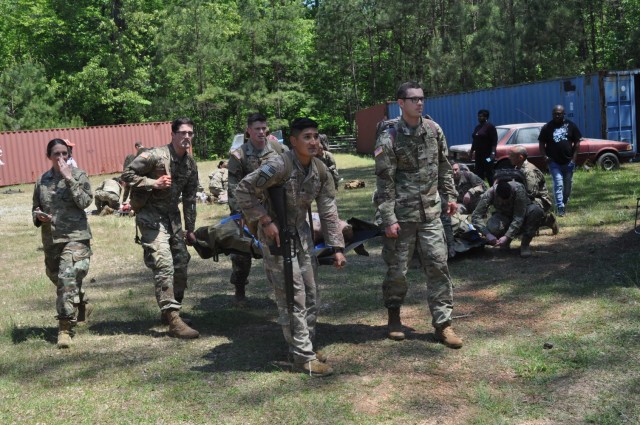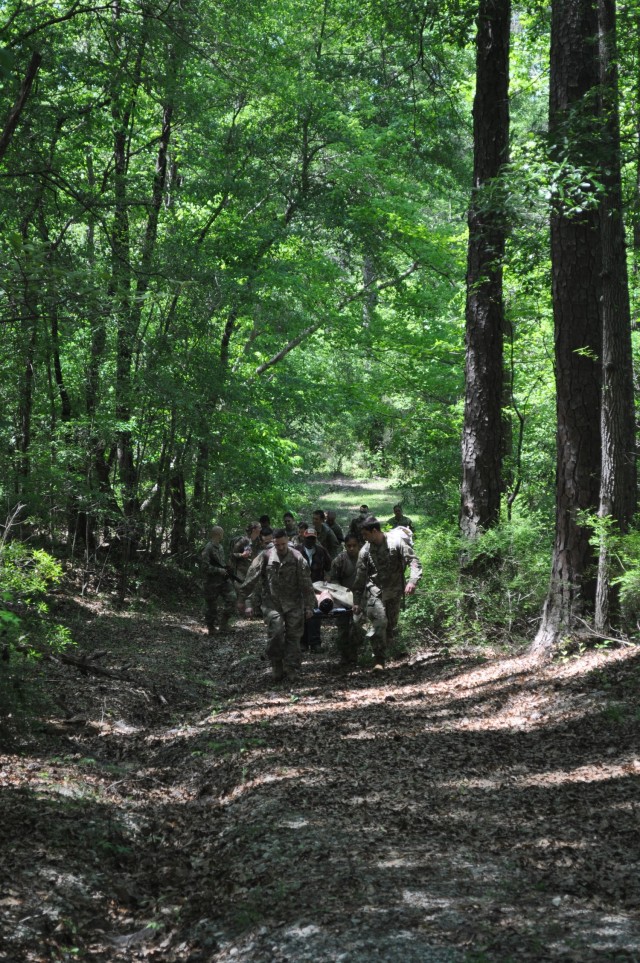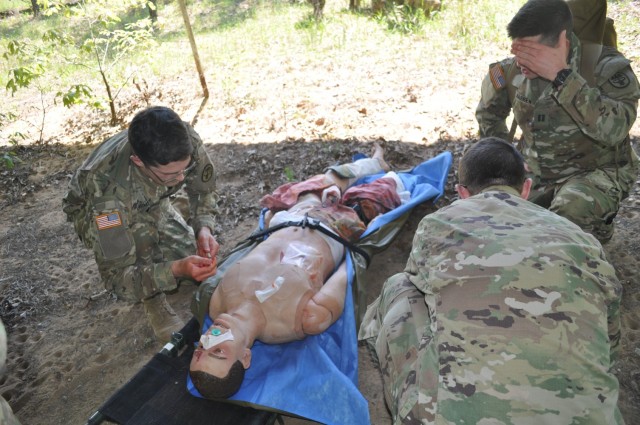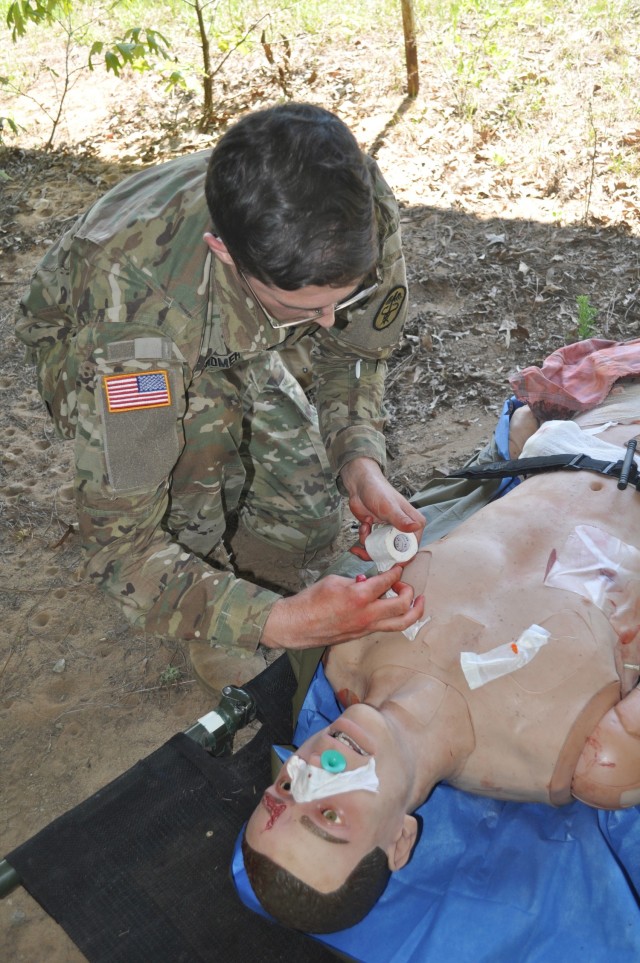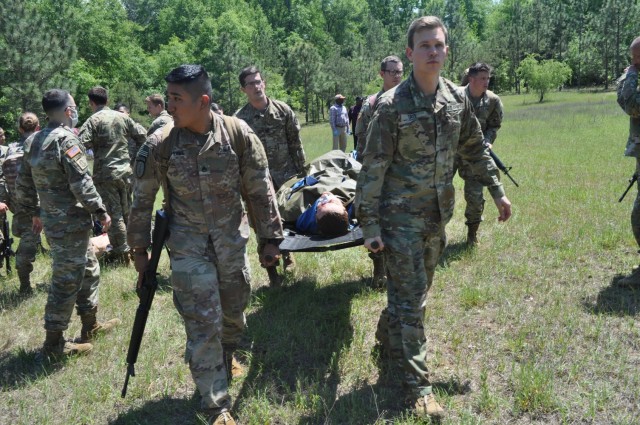 FORT BENNING, GA – "Any shot to the body gets blood," said 3rd Battalion, 75th Ranger Regiment Capt. Charles Hutchinson. "Our medics are trained that way because you don't know what's happening underneath."
The battalion surgeon, who himself graduated from BMACH's residency program lectured new doctors participating in the Family Medicine Residency Experience (FMRx) on the Ranger O Low Titer (ROLO) Whole Blood Program. The three-day FMRx allowed BMACH's graduating residents to practice all the skills expected of them as deployed field surgeons.
The ROLO program allows a Soldier to transfer their own blood directly to a wounded Soldier on the battlefield. The program identifies all members of a unit with type O blood, then tests them for low titer. Type O low titer blood reduces the risk of a catastrophic reaction when given to someone who is not of the same blood type. Thus making it ideal in emergency transfusions when the stock of blood each Ranger medic is required to carry gets depleted.
"ROLO donors are identified before combat so that they can be called upon on target as blood donors" said Hutchinson. "It still takes about 15 to 20 minutes to get that unit [of blood]. That's why our medics carry cold stored blood. Medics use blood warming systems to heat the [supply]. If medics need more blood for casualties, they can readily call upon ROLO donors."
That afternoon, the 3rd-year residents tested their combat medical readiness by treating mass casualties at the Medical Simulation Training Center (MSTC). Strong Clinic's Noncommissioned Officer in Charge Staff Sgt. Ricky Perez advised his team of four residents that prepping their medical kit before battle saves valuable seconds and possibly lives.
"Organize items according to use. Put hemorrhage items in the same location as other hemorrhage items. Airway with airway," said Perez. "This ensures that when you are working on a patient you have all the equipment you need for that step without going out of sequence.
"Beyond that, pre-opening packages and 'staging' items within the bag for ease of use goes a long way in real time utilization. Dog ear tape so that you don't get stuck trying to find the start of it."
Perez learned these life-saving hacks while deployed with the 1st Security Force Assistance Brigade (SFAB), during their first ever deployment.
"When you come under fire, adrenaline spikes, senses overload, you lose fine motor skills," explained Perez. "You can't think, but you can manage big movements. So having equipment that is faster and easier to use allows faster and more accurate response time.
"Being the sole provider for a 21 Soldier team with nothing more than books and the equipment I managed to get flown to me is something that made me a better medic and leader."
After carefully organizing and packing their medical kits, the residents ran through the exercise. The scenario: you are knocked to the ground by an explosion. When you get up, you see your team leader lying on the ground, unmoving, 25 meters away. You hear small arms fire coming from multiple directions.
Graduating residents Capts. Craig Cromer and S. Ivan Bartlett, along with Capts. Jamison Tate and Kyle Warren assessed, treated and evacuated a casualty, all while coming under fire themselves.
"Tactical combat casualty care (TC3) is something all residents should master," said Perez. "This is the point of injury (POI) care that a Soldier will first receive and it's crucial that providers understand the limitations of the battlefield to truly grasp the total medical continuity of care."
This year's FMRx culminated with a lecture and demonstration by the 3rd Battalion, 75th Ranger Regiment Veterinarian Dr. Jarrod Wilkinson on treating canine injuries on the battlefield. It's only the second time BMACH has put on the three-day course. The inaugural program was in 2019 and COVID canceled last year's plans. The participating residents expressed both excitement and nervousness about finishing up training and graduating in June.
"It'll be fun to move to our next duty station and get established in South Carolina," said Cromer. "At the same time, I think the mark of a really good residency is the fact that my wife Laura and I are in certain ways lamenting the end because we love the group of people so much. We've made lifelong friends, which makes it hard to move on."