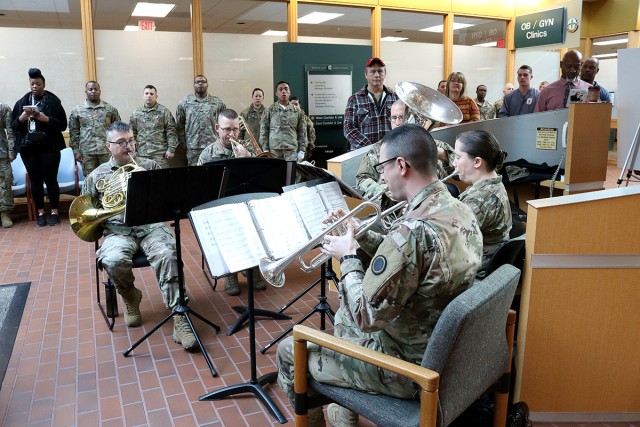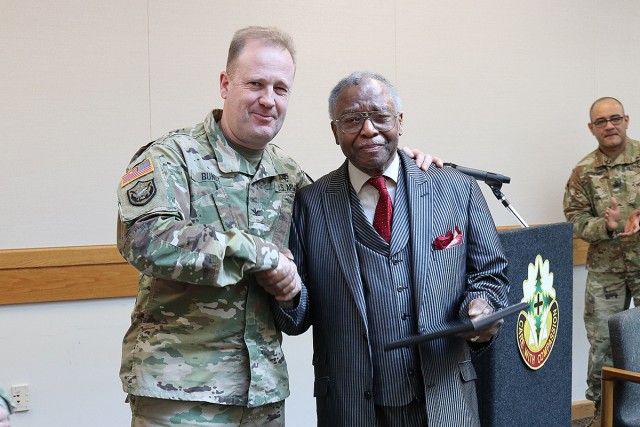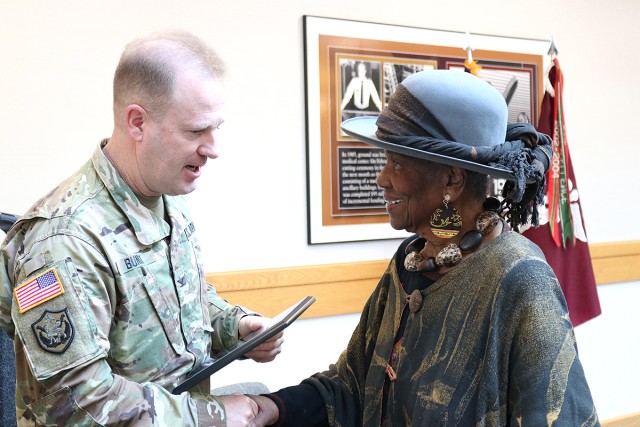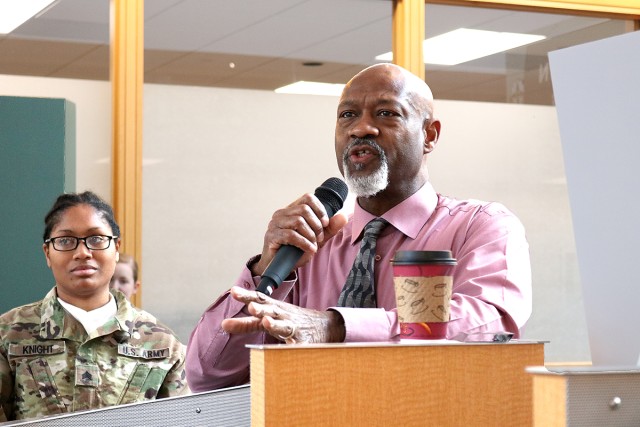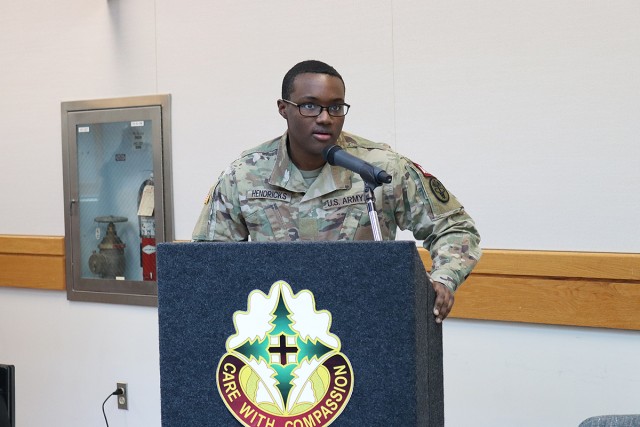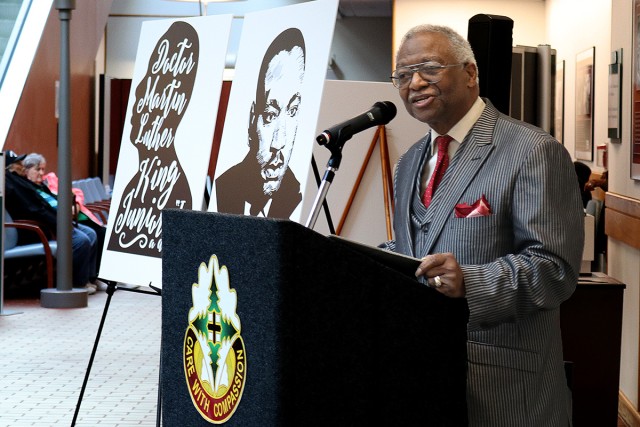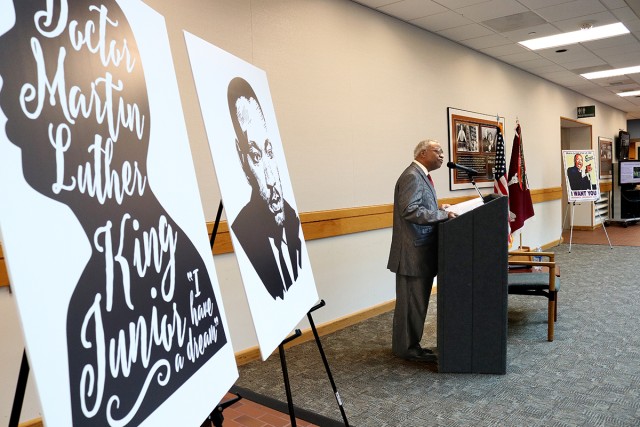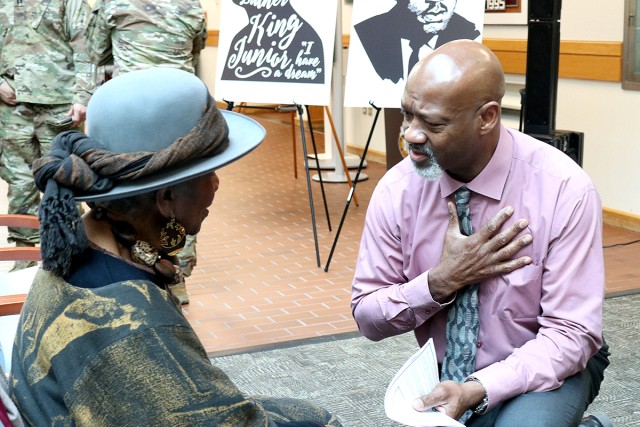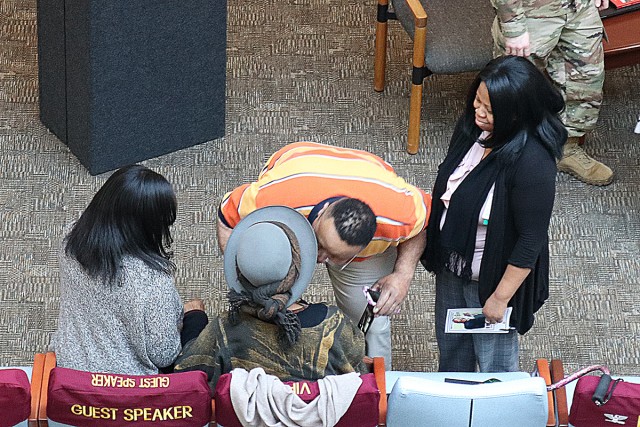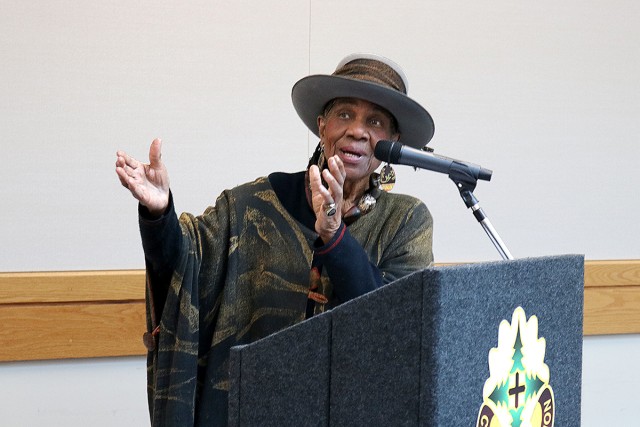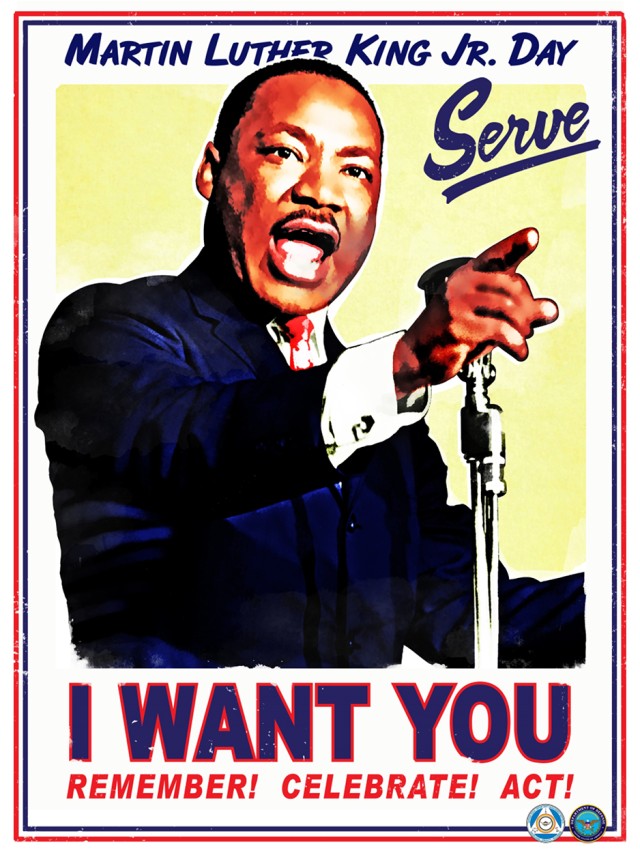 MADIGAN ARMY MEDICAL CENTER, Joint Base Lewis-McChord, Wash. -- The ground floor of the Medical Mall at Madigan Army Medical Center on Joint Base Lewis-McChord, Wash., has hosted everything from blood drives and change of responsibility ceremonies to senior song and dance troupe performances and LGBT celebrations. On Thursday, Jan. 16, it was filled with the spirit of Dr. Martin Luther King, Jr. as his enduring legacy was recognized by people inspired by him over the generations.
In introducing the holiday observance, Madigan Commander Col. Thomas Bundt said, "This federal holiday is not only dedicated as a national day of service, but also to encourage all members of this great nation to continue to volunteer and to give of themselves to others in their community, which is a perfect message for Madigan because that is what we do as an entity and that's where we gain our most pride."
Rev. Dr. John McClure, Jr., a 23-year veteran of the U.S. Army, performed King's speech from the 1963 March on Washington, which is referred to as the "I Have a Dream" speech. McClure proved his experience and capacity as an orator by imbuing the speech with the same type of cadence and inflection that King used to great effect.
"I know Dr. King can hear Dr. McClure speak," said distinguished guest speaker Dr. Maxine Mimms, an education professor, academic administrator and founder of the Tacoma campus of The Evergreen State College.
Mimms said she was "baptized into social justice" by King during the March on Washington, having been both seduced and soothed by his voice.
She described some her life experiences saying, "In my day and time, segregation was real. It was a form of life that you had to obey. If you didn't obey, there were consequences."
She also imparted how significant everyone continues to be in deepening equality in the community. "I'm up here trying to think of ways to get you to understand that you are leaders in diversity," she said to the overflowing audience of Soldiers, civilian employees and patients.
Mimms displayed her concern that the Martin Luther King, Jr. holiday be used to further community cohesion.
She stressed we need to, "Avoid the commercialization of his legacy. It isn't a day that we need to expand shopping; it's a day we need to expand relationships."
After sharing some memories and insights, Mimms entreated the crowd to ask what they wanted to know about her life and experiences, especially with King.
In relaying her view of the most consequential of moments she spent with King, she spoke of the time they spent working for social justice in New York.
Acknowledging that when people think of the civil rights movement, they often think of the South, Mimms noted that the North was hungry for the change and progress King spurred as well.
"You have to stay where you are and change it right there. Wherever you are, one person can make a difference," she said.
One Soldier in the audience asked if there was a time when Mimms felt she was making a mistake in fighting for rights, potentially making things worse and more dangerous by doing so. Mimms replied, "Every day."
As she described some of the scars her work have left on her psyche, heads nodded and many a quiet "uh huh" could be heard.
"I will not go to Mississippi now; that's a residue from those days. Things have changed, but I don't believe it. By the way, when you're traumatized, the memory sticks there and it takes a lot to get it out. I'm afraid of dogs because dogs chase, and I fear. It's not that I dislike dogs, it's just that I think they're going to chase me," Mimms stated, noting the use of dogs to stop marchers and protestors from demonstrating.
Mimms expressed her view that today's technology diminishes relationship-building, but when asked what she felt King might do if he had the current ability to speak to the world through a tweet, she said he would say to remember.
"You've got to remember because every time you remember, you're taking care of the dismembered parts," she said. "To remember means to get rid of the dismemberment; that's what the civil rights movement was all about."
Mimms also professed that King, if he walked into the observance, would be pleased.
"If he walked in this room right now, he'd be extraordinarily happy to see this, just like I am," she said.
Mimms was referring to what Bundt had earlier said about the audience being, "A powerful, diverse, capable organization," that was powerful because of its diversity. Bundt asserted that, "We are so strong together."
Rounding out the ceremony was Pvt. Rondale Hendricks, an operating room specialist student, who read his winning poem, "One for the Memories," and display of the winning poster by the radiology specialist advanced individual training class.
An already moving ceremony was capped by a stirring rendition of "Lift Every Voice and Sing" by Rema Perry, a registered nurse at Madigan. Many members of the audience joined Perry from the song's beginning. But, as her voice broke briefly, they boosted her with their own voices for a poignant performance of what has become known as the "black national anthem."
The ceremony was followed by refreshments and trivia in the Lab Breezeway, but many did not make it there quickly. Attendees lined up to thank and speak with McClure and Mimms who gladly obliged, making this observance a highly personal experience.
Related Links: