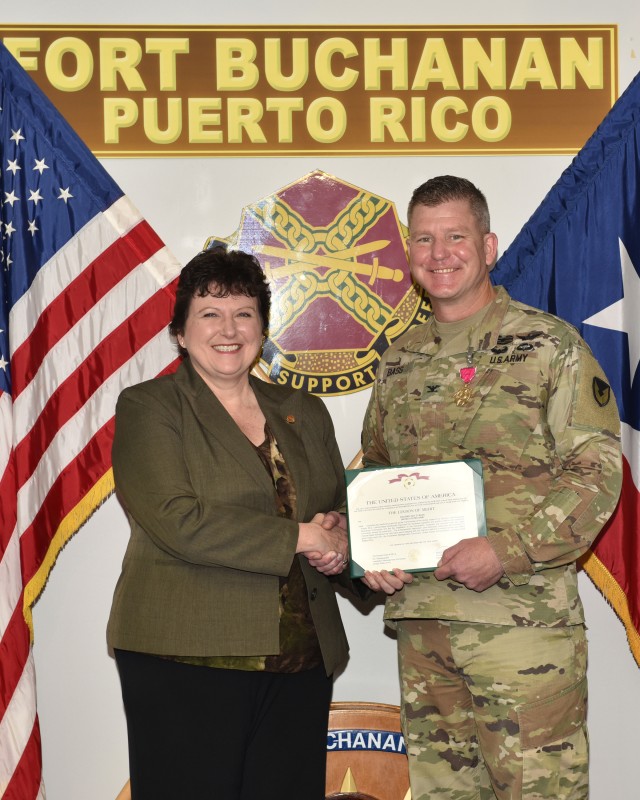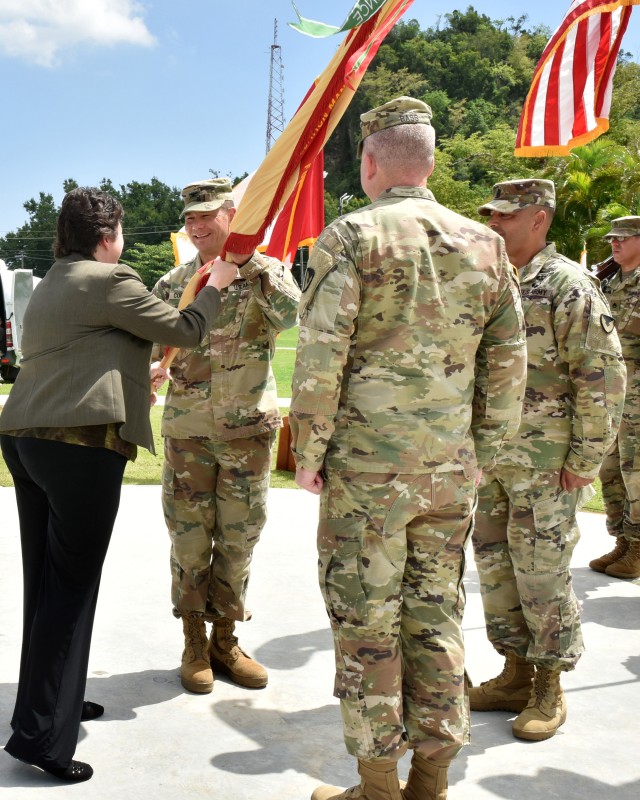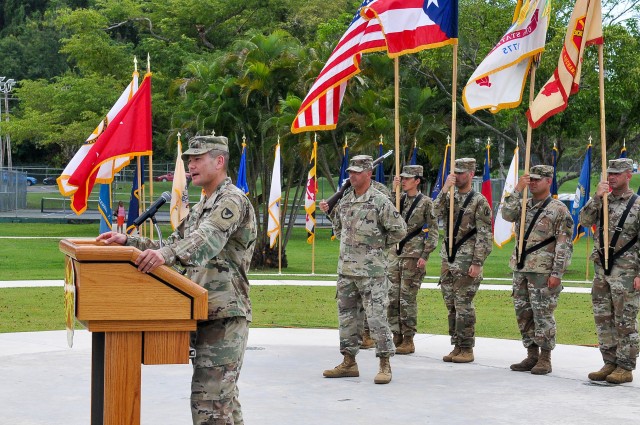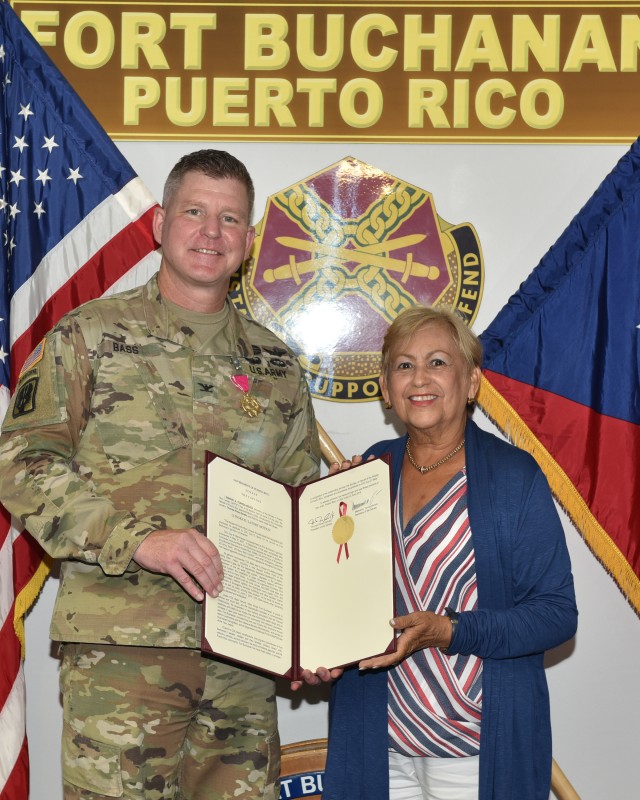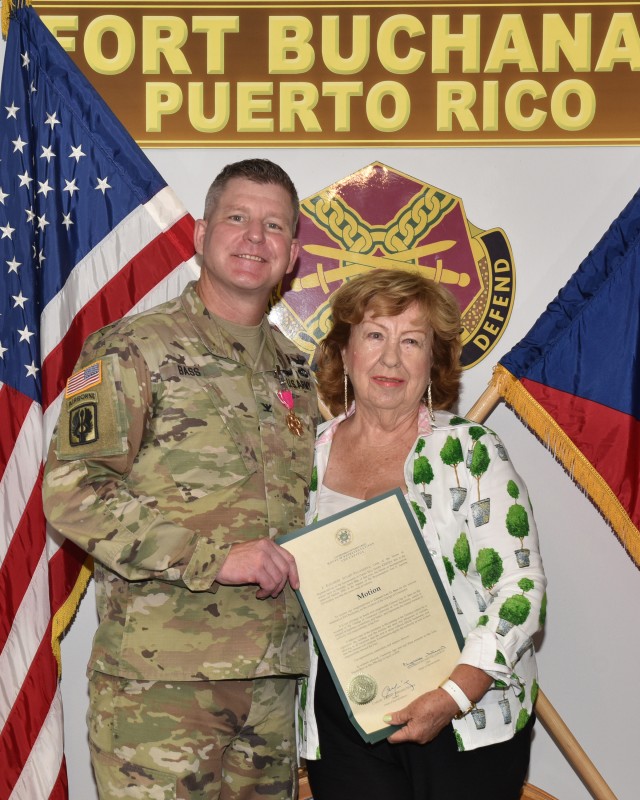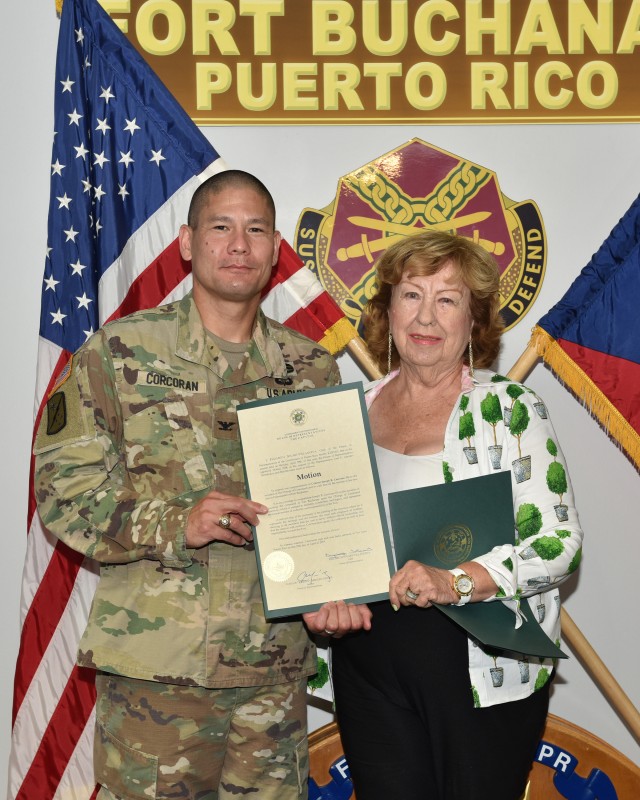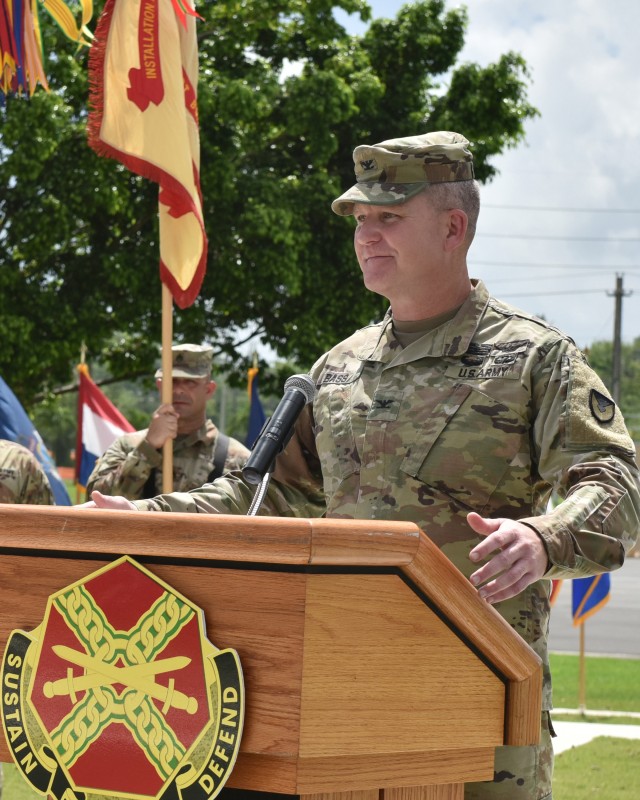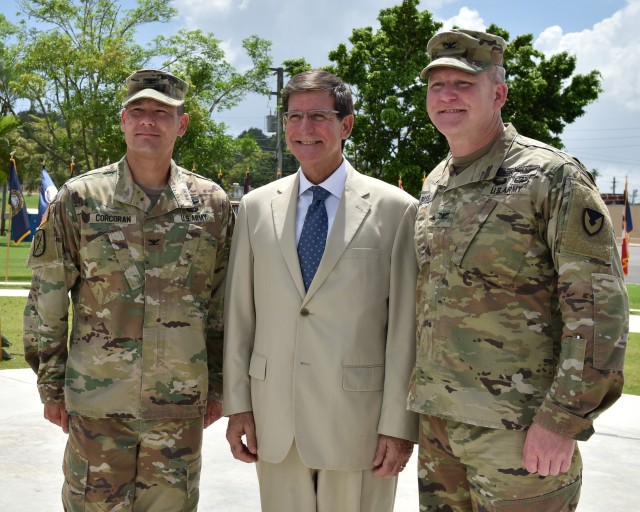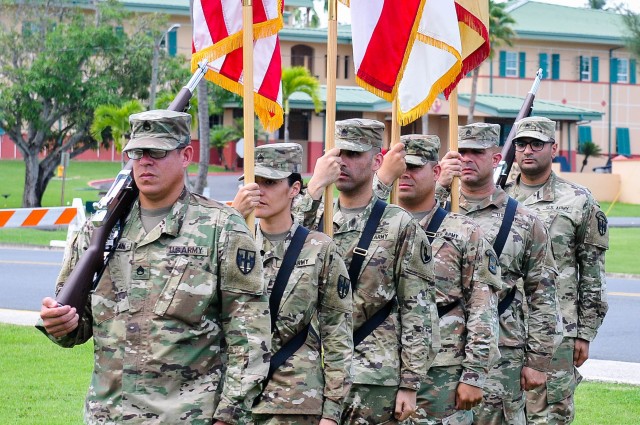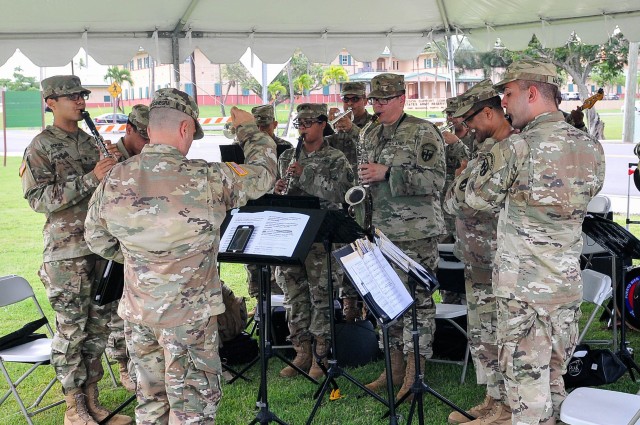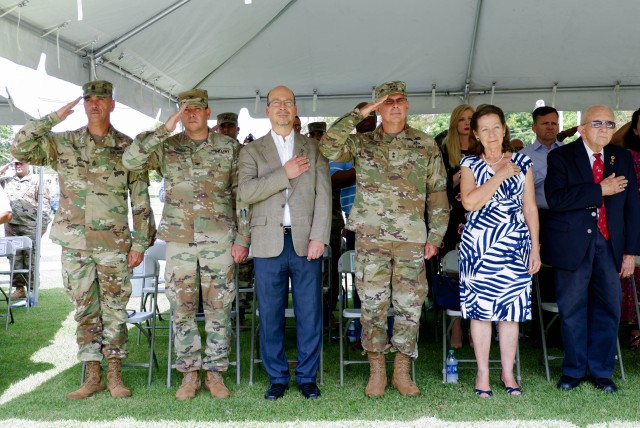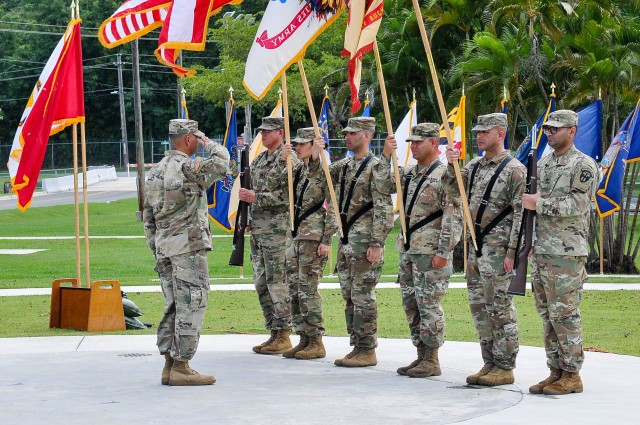 FORT BUCHANAN, Puerto Rico -- The United States Army Garrison Fort Buchanan conducted the Change of Command Ceremony, in which Colonel Guy D. Bass relinquished command of the only federal military installation in Puerto Rico to Colonel Joseph B. Corcoran III, June 5, 2019. The ceremony, hosted by Brenda Lee McCullough, Director IMCOM (Installation Management Command) - Readiness, was held at Soldier's Plaza and attended by government officials, representatives of federal agencies, business sector, veterans organizations, officers and non-commissioned officers of all armed forces in Puerto Rico, civilian employees and distinguished guests from the local community.
In an award ceremony held prior to the Change of Command Ceremony, at Brigadier General James W. Buchanan's Conference Room at the garrison's headquarters, McCullough presented to the outgoing commander, Col. Bass, the United States Army Legion of Merit "for meritorious service as the Commander of the US Army Garrison Fort Buchanan, Puerto Rico, for having significantly improved the readiness capability and quality of life for the entire Fort Buchanan community, having led the installation in the preparation, response and recovery from two major hurricanes during his command."
McCullough also presented Col. Bass with Lt. Gen. Bradley A. Becker's, IMCOM's commanding general, coin of excellence and another coin from IMCOM Readiness. Maj. Gen. Kenneth D. Jones, commanding general of the 81st Readiness Division (81st RD) and USAG Fort Buchanan Senior Commander also presented Col. Bass with a coin from his command and the "wild cat" patch which was the first patch of the US Army. "The award that you received today, is a recognition of what you did. But I think more importantly, it is a recognition of the impact that you had on people here and those you have come in contact with," said Maj. Gen. Jones.
Lucy Arce, former Senator presented a motion on behalf of the President of Puerto Rico Senate, Hon. Thomas Rivera Schatz recognizing Col. Bass' leadership and assistance provided to the military and local community after the passing of the hurricanes Irma and Maria and highlighting the infrastructure improvements to the installation. Maria Isabel Van Rhyn, on behalf of Hon. José F. Aponte, member of the Puerto Rico House of Representatives presented Col. Bass with a motion signed by the President of the Puerto Rico House of Representatives, Hon. Carlos (Johnny) Mendéz, in recognition of his contributions during his command. Van Rhyn also presented the incoming Garrison Commander, Col. Joseph B. Corcoran, with a motion from the Puerto Rico House of Representatives welcoming him as the new garrison commander.
At the Change of Command Ceremony attended by more than 200 guests from all sectors of Fort Buchanan's community, McCullough recognized and thanked the members of the Puerto Rico National Guard (PRNG) Color Guard and the members of the PRNG 248th Army Band for their support to this significant event. "Thank you for sharing your talents, your performance honors all who serve," said McCullough.
In her remarks directed towards the outgoing commander McCullough said, "Col. Bass I know this is a day of mixed emotions for you and Mary Beth. On one hand command is the most awesome responsibility that one can experience and I'm sure you'll want that experience to continue. On the other hand you are heading towards a new chapter in your life, and I'm certain that new opportunities and exciting challenges will follow. Thank you for your commitment to the Soldiers, civilians, families and retirees of Fort Buchanan," concluded.
McCullough's message to the incoming commander was "Col. Corcoran is a proven leader, he is ideally suited to lead the Fort Buchanan team and supporting the priorities and requirements set by the Senior Commander, IMCOM, AMC (Army Materiel Command) commander and Army Chief of Staff. Joe and Jennifer, Command Sergeant Maj. Rocco and I welcome you and your family to IMCOM. I am fully confident that you will invest the same passion, professionalism, pride and expertise into the garrison," she concluded.
The Honorable Luis G. Rivera Marín, Puerto Rico Secretary of State, delivered a message on behalf of the Governor of Puerto Rico, Hon. Ricardo Rosselló Nevares emphasizing that "Every country, every society, every institution requires leadership, and guidance." He welcomed Col. Corcoran, his wife Jennifer and his family to Puerto Rico "as they become part of our community," said Rivera Marín. He also extended his gratitude from the people of Puerto Rico to Col. Bass and thanked him for taking care of the Soldiers on the island.
During his remarks, Col. Bass expressed his sincere appreciation for the support received from his directors, staff and partners. "This (command) has absolutely been the best job of my life," he said. "I know that all of you will keep it (Fort Buchanan) awesome for a long, long time. Thank you for allowing Mary Beth and I, to work for you," concluded Bass.
After receiving command, Col. Corcoran expressed that "It is truly my honor to stand before you as a successor to the distinguished lineage of commanders who for nearly a century set an example of commitment to ensuring Fort Buchanan was always "The Sentinel of the Caribbean.' I am both honored and humbled as I consider the immense responsibilities inherent in this command. I will adopt Col. Bass' priorities until further notice and I'll continue to ensure that we are always ready to meet the challenges ahead. Jennifer and I look forward to getting to know the people, learning about the history and experiencing the culture of Puerto Rico as we continue to build on the strong established relationship between Fort Buchanan and the Puerto Rico community," he concluded.
Since its establishment as Camp Buchanan in 1923 and later designation as Fort Buchanan in May 1940, the installation remains the center of gravity for military personnel and federal agencies in Puerto Rico and the Caribbean, providing the best programs and services to our community.
Related Links: