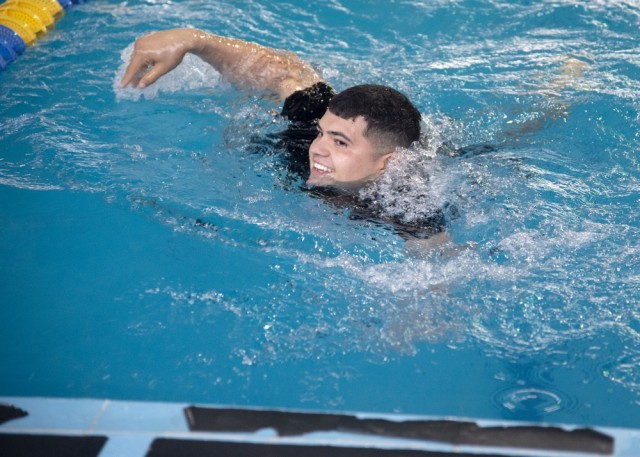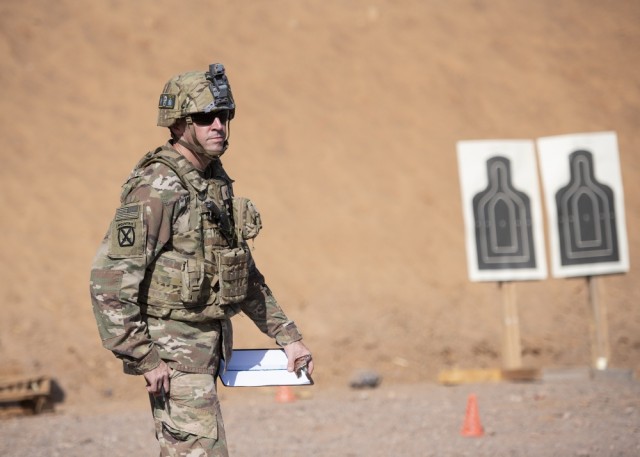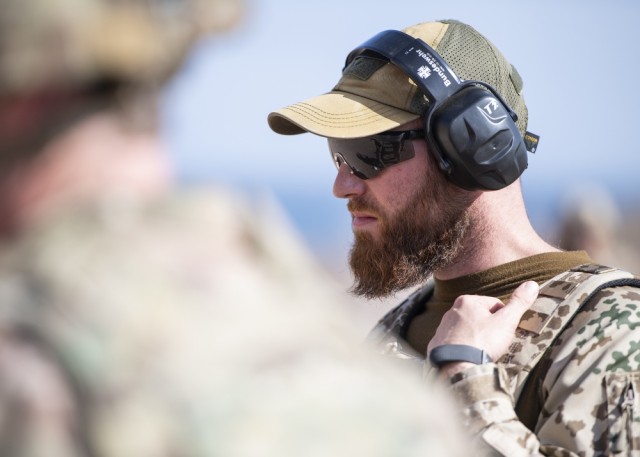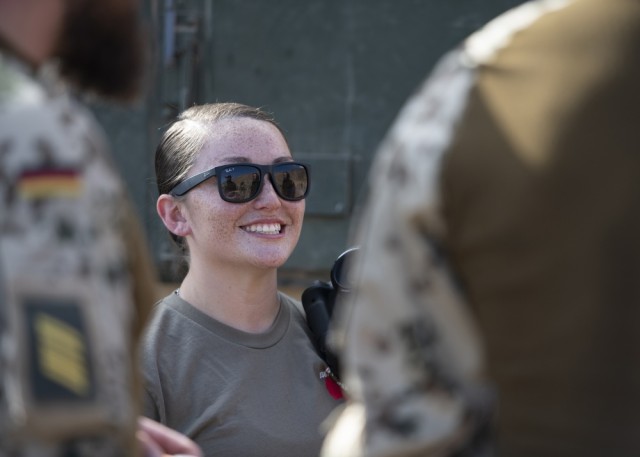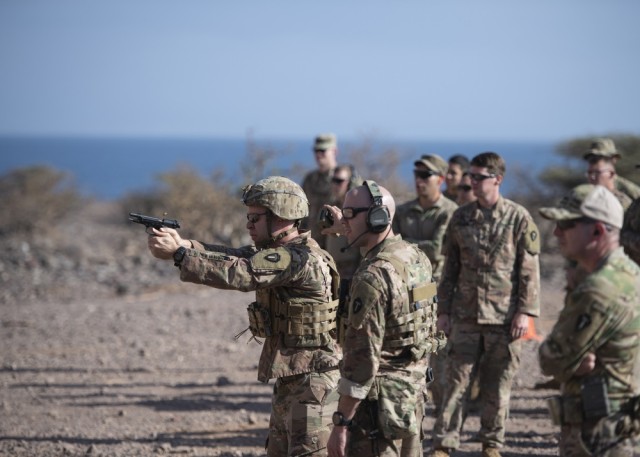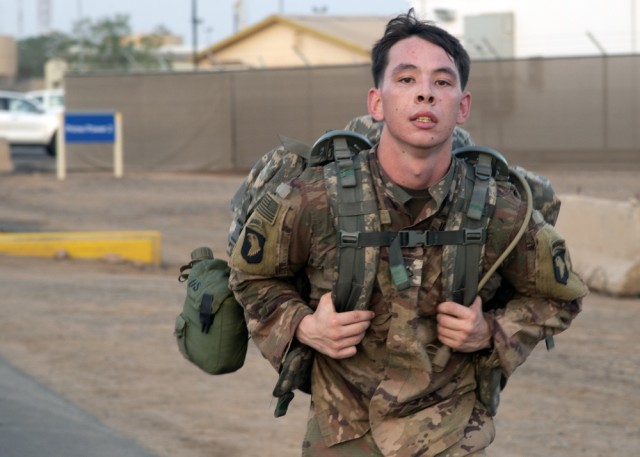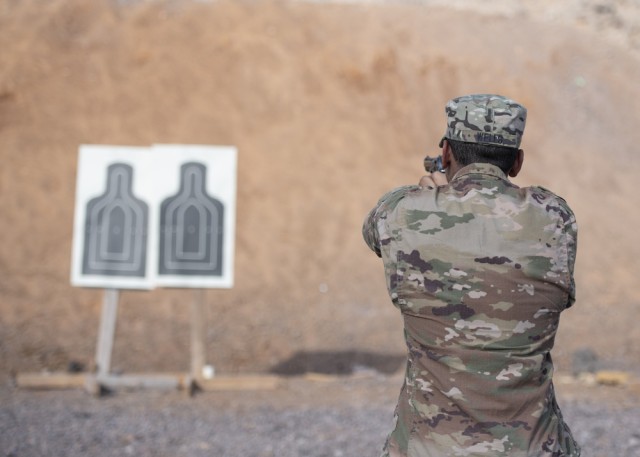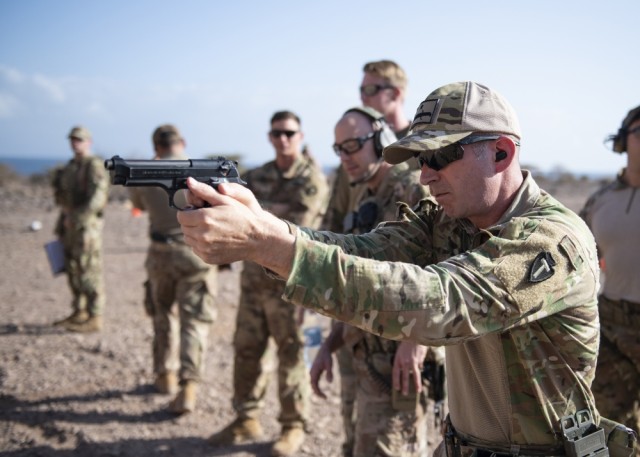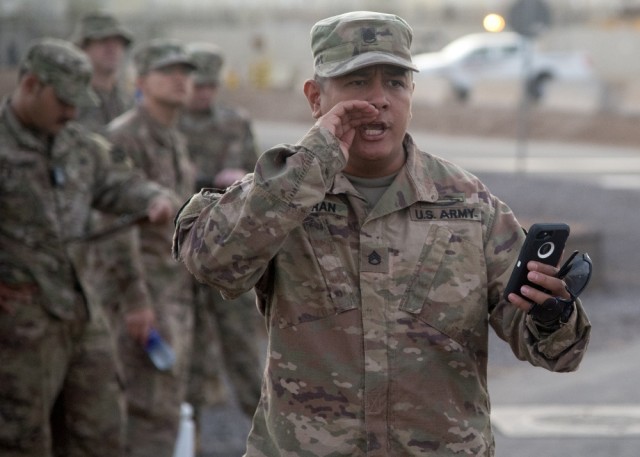 CAMP LEMONNIER, Djibouti -- A week's worth of physical, mental and technical challenges stood between 41 Task Force Alamo National Guard Soldiers and the German Armed Forces Badge for military proficiency last week, and on Jan. 22, 33 of the Soldiers were awarded the metallic award.
The weeklong event offered a unique opportunity to the Soldiers and worked as an information exchange between the two nations' militaries.
"We are all Soldiers and it's important to work together to learn from each other and see how this trade works for the other's country," said German Navy Chief Petty Officer Jan Riethmueller, an information technology specialist assigned to Operation Atlanta who helped officiate the events. "The GAFB is a very cool medal, but the absolute most important thing here is to make new friends, learn customs and tactics and become better at what we do."
The GAFB is awarded to and worn by German service members of all ranks and may also be earned by U.S. service members and worn subject to uniform regulations.
"We all have strengths and we all have room for improvement," Riethmueller said. "This is the place to share those strengths and improve."
To earn the GAFB, Soldiers first passed a fitness test, followed by a "ruck march" carrying a 33-pound backpack. Lastly, for the physical portion, a swim test was conducted.
"This is the most difficult part," Riethmueller said. "The swim accounted for most of the failures."
The 100-meter swim is conducted in military physical training uniform with shorts and a t-shirt underneath, and must be accomplished in less than four minutes. After the swim is completed, time stops; however, the individual must also successfully remove their outer uniform without touching the side of the pool.
Those who passed the physical portions moved on to marksmanship.
"I was definitely least confident on the range," said U.S. Army Spc. Natalia Webb, a medical technician from 1-141 Infantry Regiment, Task Force Alamo, Texas National Guard, assigned to CJTF-HOA, and the only female to earn the GAFB this rotation.
Webb said earning the badge doesn't set her apart from her fellow Soldiers, but puts her on the same playing field and gives her a chance to broaden her prospective while working with different career fields and nations.
"People often assume since a Soldier is a female they may not be able to keep up with their male peers," she said. "This was a good way to prove myself and encourage other females to compete next time."
At the end of all tests, scores are compiled and badges are awarded in three categories according to performance: gold, silver and bronze.
"The U.S. Soldiers were very impressive overall," Riethmueller said. "We often overlook the fact that some of these exercises are different for them, and they overcame some tough mental moments in a short period of time. We are all proud to work with them and fight side-by-side."
Related Links: