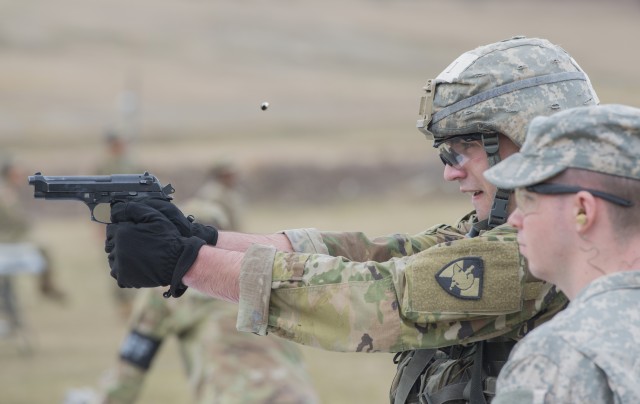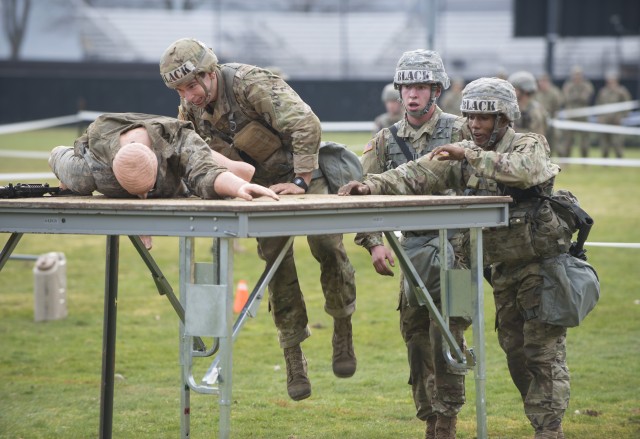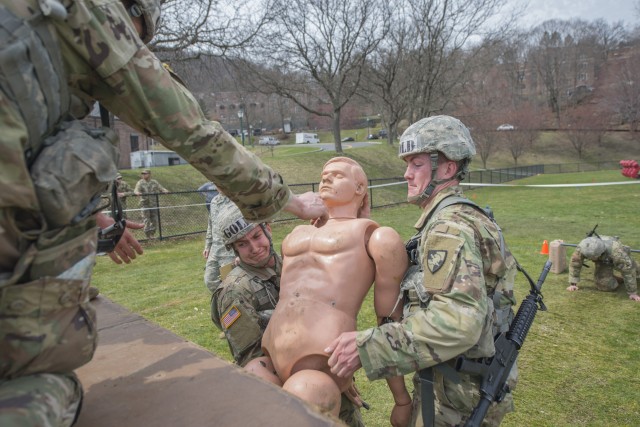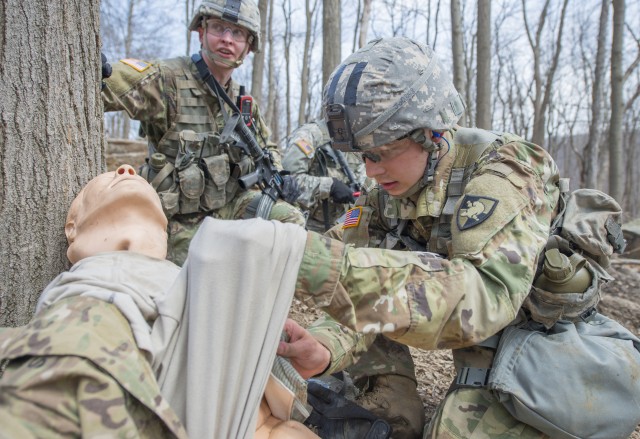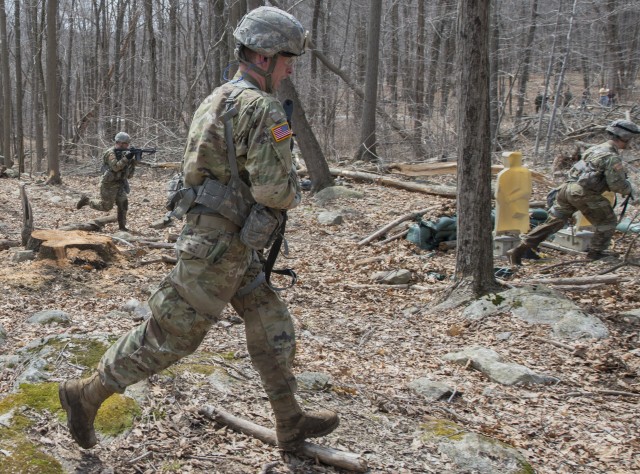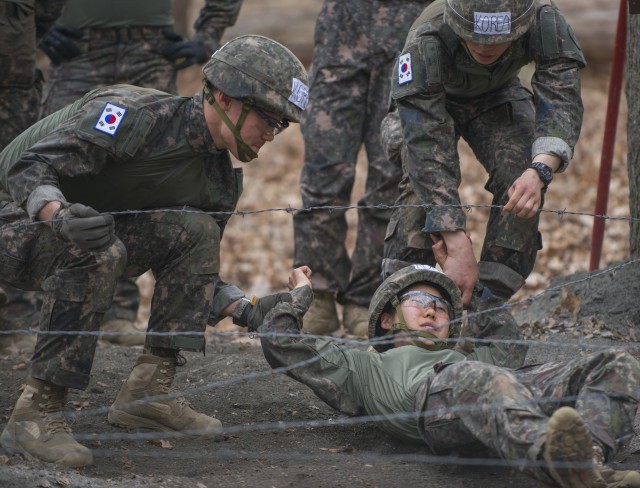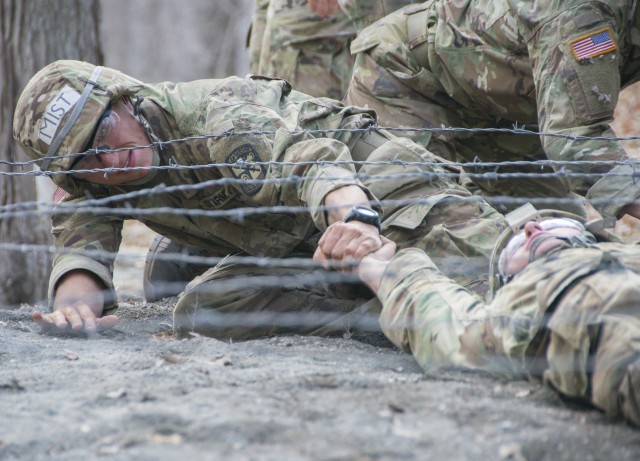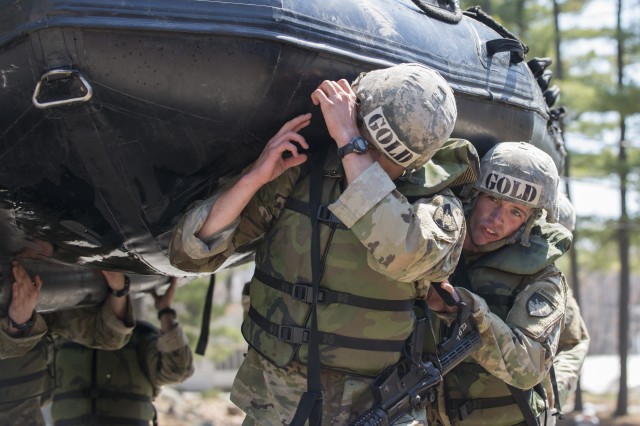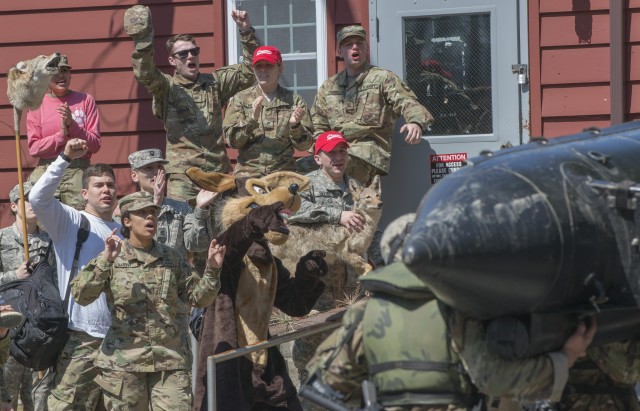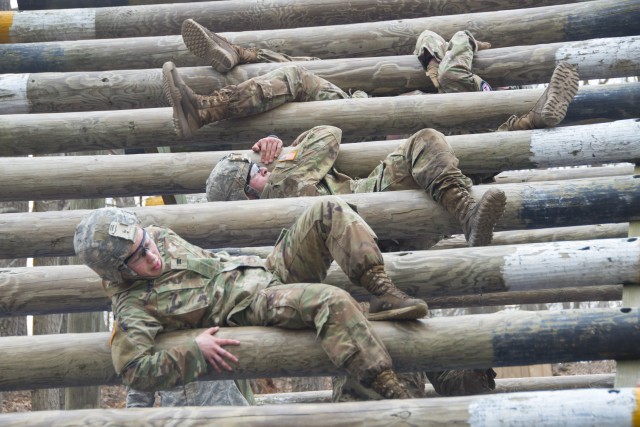 WEST POINT, N.Y. -- Before the more than 60 squads of cadets could finish the Sandhurst Military Skills Competition here Saturday, one last grueling event stood in their way.
In the run up to this event -- dubbed the "Burden" -- cadets had spent roughly 36 hours traversing 30-plus miles through training areas to conduct 10 other events on the grounds of the U.S. Military Academy at West Point, New York.
Events in the competition included a squad assault, rifle marksmanship, land navigation, an obstacle course and many other strenuous activities designed to measure the grit and competence of cadets in the skills they may one day use to lead others in combat.
"It teaches you to excel with excellence in everything you do," Lt. Gen. Robert Caslen, the Academy's superintendent, said of the two-day competition. "It also teaches you the mental and physical toughness, the relentlessness and the discipline that's necessary to work as a team to accomplish the mission."
With the end in sight, cadets faced one more test to cap off the 50th annual competition, which had more than 700 cadets compete. Cadets came from the Academy, other service academies and ROTC detachments from universities across the country, as well as 14 other nations.
At the "Burden" event, two wooden logs weighing around 100 pounds each, a large tractor tire, seven 5-gallon water jugs filled to the brim, and a stretcher were presented to the cadets. It was up to them to determine how to transport it all around a half-mile loop to end the race.
"Tensions were definitely at their highest at that point," said Cadet Max Liles, who led one of the Academy's squads. "Everyone was tired and physically maxed out from doing things."
As the squad leader, it was Liles' responsibility to keep control and figure out a way to tackle the event by rotating squad members on the heavy items. Once the squad found its rhythm, the cadets began to see the light at end of the tunnel.
"The next thing you know we're 10 meters from the finish line, and everyone is like, "OK, we got to finish now," said Liles, 20, of Superior, Colorado.
This year, the 3rd Regiment, to which Liles belongs, received the Sandhurst Sword, which is given to the Academy regiment with the best aggregate company performance. The sword was originally presented in 1967 to the Academy by the Royal Military Academy Sandhurst in England to begin the annual competition.
An Air Force squad earned the top overall score to receive the Reginald E. Johnson Memorial Saber. It was the service's first squad to win the competition.
"We're just a weird group of Air Force guys who wanted to go Air Force but wanted to play Army," said Air Force Academy Cadet Nathan Ziegler. "We have a lot of us who are interested in doing more ground force work instead of being directly in aviation."
In his third year competing in Sandhurst, Ziegler said his squad put in more work compared to previous attempts.
"We just put in a lot of sweat and effort into this year," the 22-year-old cadet said. "It was one of those years where everything clicked and we were able to go out and execute exactly how we wanted to come out."
While Liles would have rather seen an Army squad take first place, he said the Air Force victory will still serve as a reminder to always be well-prepared.
"It's a good gut check and also shows where we're at and what we need to work on for when we all commission and become officers," he said. "As a squad leader, I'm going to review what we trained on and what we needed to improve on because, obviously, the Air Force trained better."
Related Links:
Follow Sean Kimmons on Twitter
700-plus cadets seek glory, camaraderie in West Point contest
STAND-TO! Sandhurst Military Skills Competition