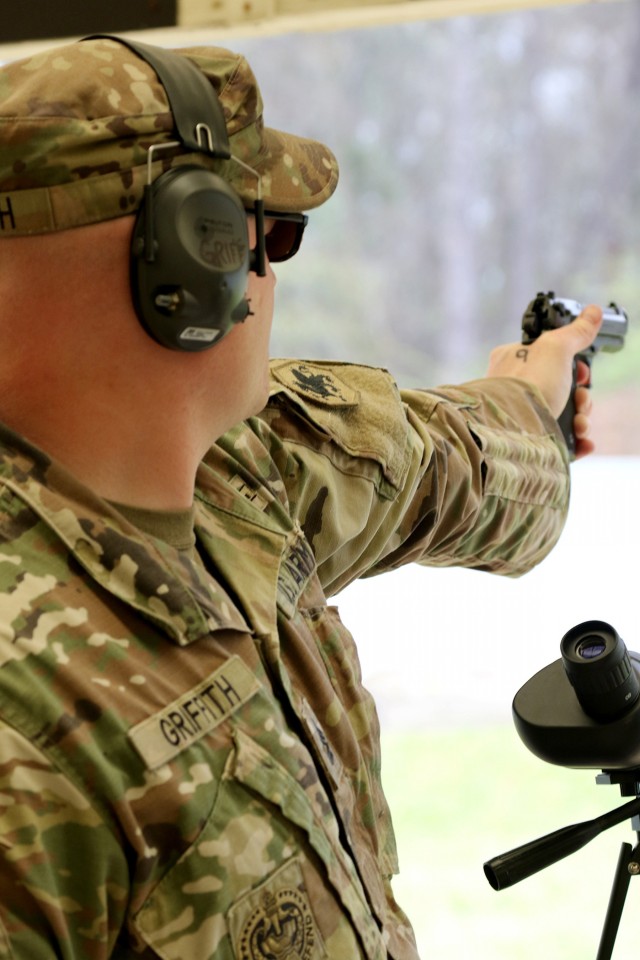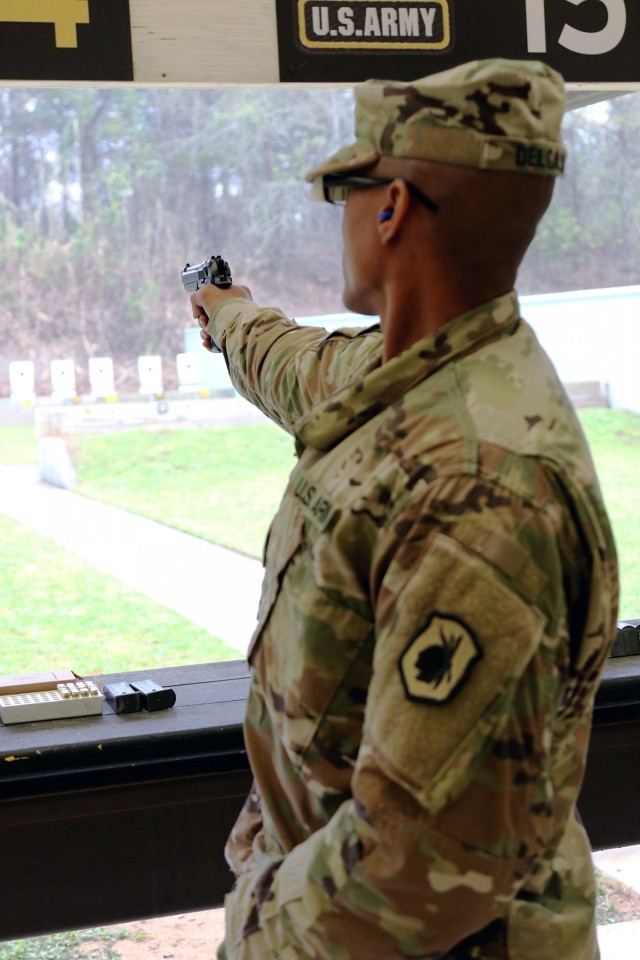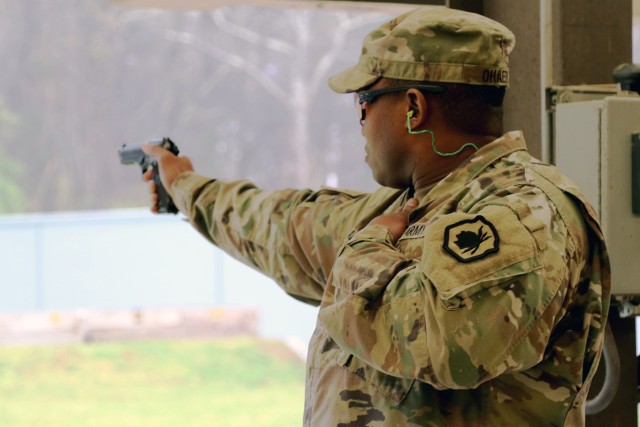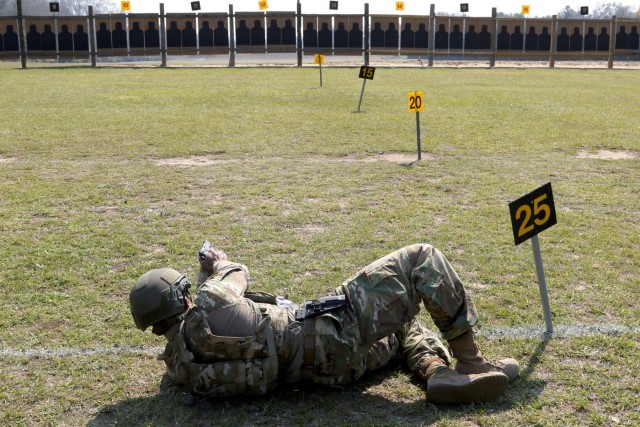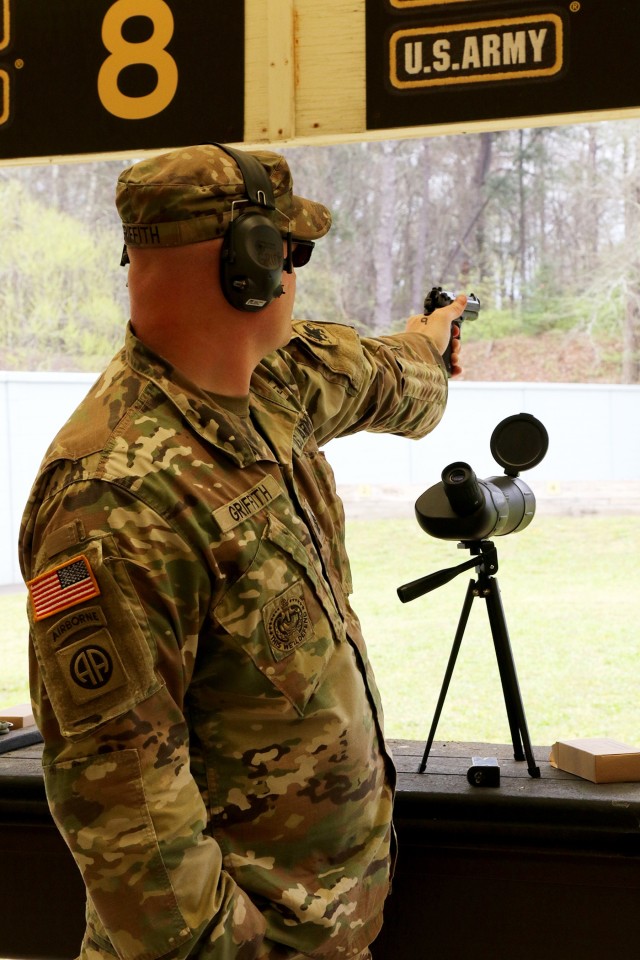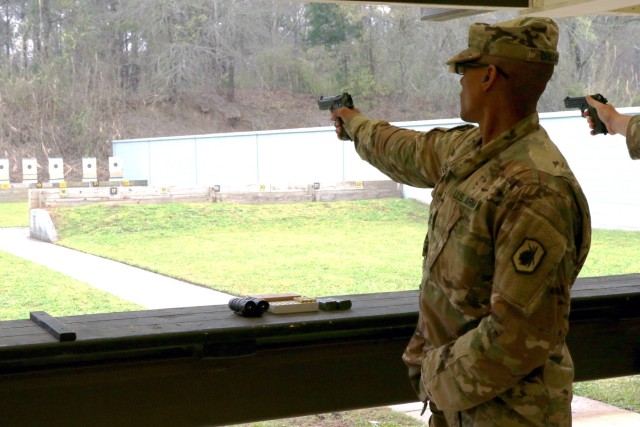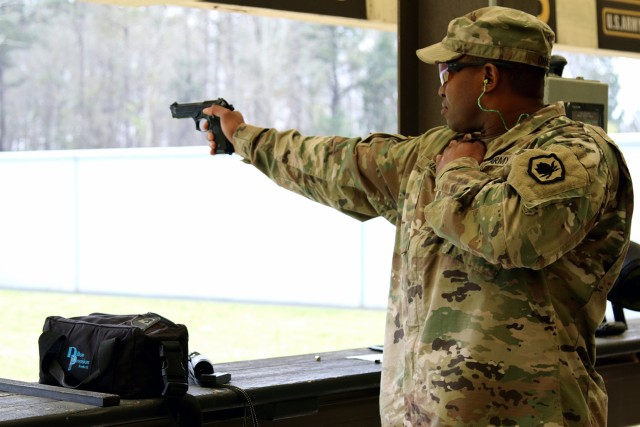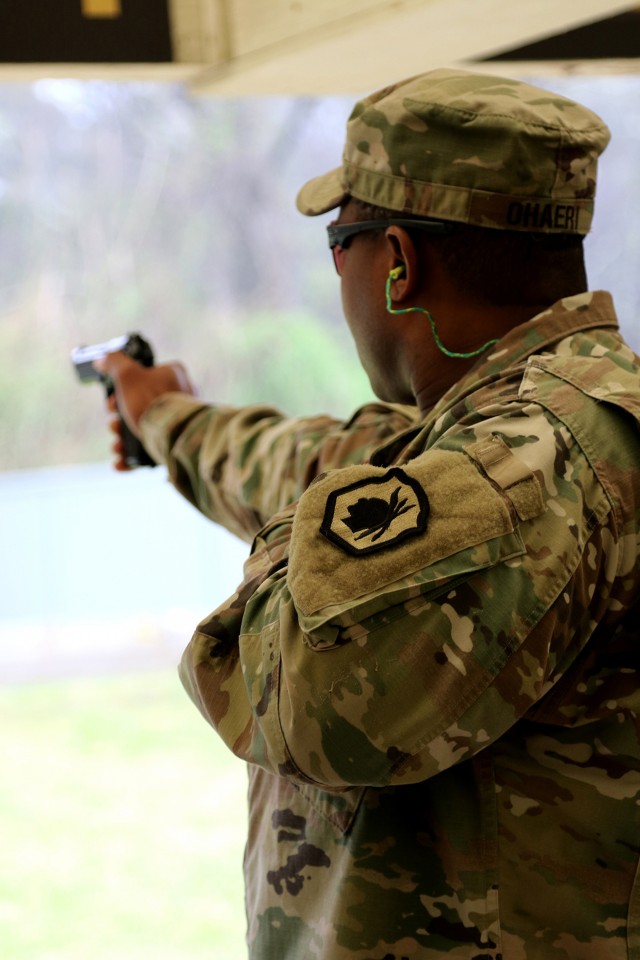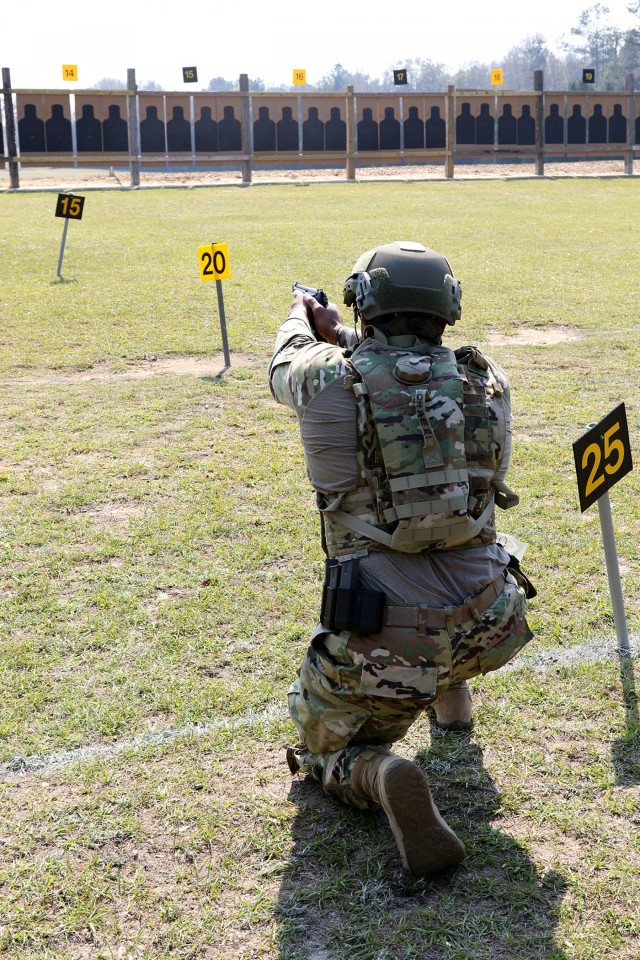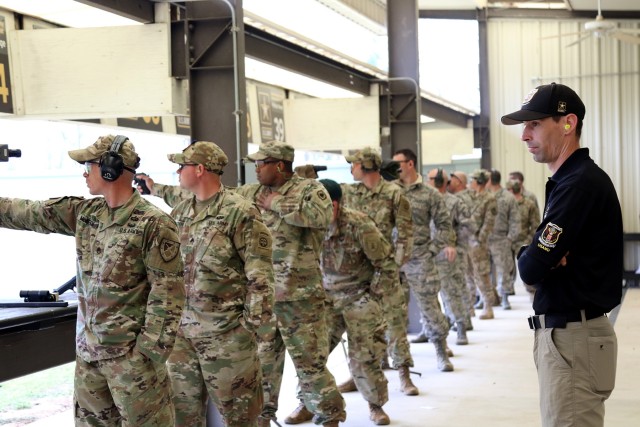 By Maj. Michelle Lunato, 98th Training Division (Initial Entry Training)
U.S. Army Reserve Soldiers don't get many opportunities to go to the range. However, a few Citizen-Soldiers took it upon themselves to not only go to the range, but to compete in several marksmanship matches all for the sake of advancing their skills.
Soldiers from both the 108th Training Command (Initial Entry Training) and the 98th Training Division (IET) competed in the 2018 U.S. Army Smalls Arms Championships March 11-18 at Fort Benning, Georgia.
The week-long competition, which is better known as the All Army and hosted annually by the U.S. Army Marksmanship Unit, offers a mix of combat style and civilian style courses of fire on both the pistol and rifle, as well as a multigun match that requires the Soldiers to use both their primary and secondary weapons in a number of obstacle-like stages. The unique competition also offers U.S. Army Soldiers from all components-active duty, Reserve, National Guard and cadets-to compete, side by side for Excellence in Competition points that go towards the coveted Distinguished Marksmanships Badges: the Distinguished Pistol Shot Badge and the Distinguished Rifleman Badge.
EIC matches are not something most Soldiers have heard of, let alone competed in. In fact, "a lot of Soldiers, especially Reserve Soldiers, don't even know the world of competitive shooting even exists," said U.S. Army Reserve Sgt. 1st Class Bradford Griffith, who is a noncommissioned officer on the 108th Training Command (IET) drill sergeant recruiting team out of Charlotte, North Carolina.
As a competitive shooter for the U.S. Army Reserve Service Pistol Team, Griffith is passionate about marksmanship and urged some fellow Soldiers to come to the 2018 All Army with him. "I consider pistol marksmanship to be one of my favorite things in life, so I feel like that's a big thing I can contribute to my unit and make them more lethal in marksmanship."
His personal passion for marksmanship is in step with U.S. Army Reserve top leadership, and something he said he takes personal responsibility in. "Lt. Gen. [Charles D.] Luckey, the chief of the Army Reserve, has been very clear on his guidance and that is to make the force more lethal, and that's kind of been my personal charge," said the Soldier who once served as an Army Reserve drill sergeant.
So with the goal of teaching others through experience, Griffith put together a team of former drill sergeants and a drill sergeant candidate to compete and get the full All Army experience.
U.S. Army Reserve Sgt. 1st Class Rahames Delgado, drill sergeant candidate, 3rd Battalion, 485th Regiment, 1st Brigade, 98th Training Division (IET) at Fort Benning, Georgia, had never been to a marksmanship competition, let alone a week-long one with so many different courses of fire. About midweek, he admitted to not being the "greatest shot" but said he was enjoying the variety of matches nonetheless. "I've learned so much. It's incredible," he said as he explained a number of techniques that had changed since he went to basic training, like being able to put your rifle magazine on the ground or on a sandbag.
As a future Army Reserve drill sergeant, Delgado feels a sense of responsibility to constantly expand his knowledge and experiences. "If I don't have the knowledge to teach, or give to the Soldiers, where are they going to get it from?"
That drive to constantly learn is something fellow competitor Staff Sgt. Augustine Ohaeri, 3rd Battalion, 485th Regiment, 1st Brigade, 98th Training Division (IET) at Fort Benning, Georgia, also relates to as an Army Reserve drill sergeant. "As a Soldier and infantryman, your primary weapon is a rifle. A pistol is never included in that, so it's easy to shy away from something you are uncomfortable with. So coming to the All Army broadens your horizons, and humbles you, that's for sure."
The Army Reserve drill sergeant, who is a registered nurse in his civilian job, said he struggled with some of the courses of fire that were new to him. But he went to some clinics held by the U.S. Army Marksmanship Unit's competitive shooters, some things clicked. "It made sense then. I was able to take something that I already knew, add to it, and apply it into a different form."
This constant state of learning is something that Ohaeri says all drill sergeants should do, especially those in the Army Reserve. "As cliché as this sounds, you are a Soldier 24/7, whether you are a Reserve Soldier or an active duty Soldier."
Personally, Ohaeri said he likes to regularly challenge himself because he feels an obligation to have a warrior mindset. So each day he tries to incorporate small goals that help him stay physically fit, mentally agile and within all the standards he needs to be. "Even when I'm not on drill sergeant duty, I look for the little things I need to do to make me better, like this competition."
Not so ironically, this is one of the many reasons why the U.S. Army Marksmanship Unit hosts the All Army, said U.S Army Sgt. Benjamin Cleland, a shooter/instructor with the USAMU Service Rifle Team who ran many of the All Army rifle matches. "As Soldiers broaden the experiences that they shoot in, they are just developing themselves to do what they need to do...as far as combat."
Experience behind the gun is the best way to help a Soldier, especially a drill sergeant, said U.S. Army Reserve Sgt. 1st Class Brian Ehlschlager, an operations noncommissioned officer, 108th Training Command (IET), who also served as a drill sergeant. "This competition was awesome, and frustrating sometimes." As a civilian police officer [in Huntersville, North Carolina] and Reserve Soldier, Ehlschlager is familiar with both a pistol and rifle, but found the All Army still had a lot to offer. "You can learn a lot here. I didn't know what to expect from this competition, and I've just learned from watching people, talking to people and experiencing all the different events. I've learned a tremendous amount."
This kind of experience is just what Griffith was hoping for when he encouraged some fellow Citizen-Soldiers to compete. "They are just realizing what some of our weapon systems are capable of. The look on their faces when they were making 400-yard hits and 500-yard hits...most Soldiers never get to shoot that far."
Traditionally, standard qualification ranges for the Army issued rifles max out at 300 yards. But Griffith says that exactly why the Soldiers should compete at longer distances. "Beyond 300 yards, it's more than just fundamentals. You have to be able to read the wind and know your adjustments for elevations at that distance."
Once a Soldier figures that all out though and starts to hit those long-distance shots, "going back to 300 yards feels like cheating," said Griffith. More importantly, shooting different courses of fire and longer distances just makes Soldiers better. "To go out to 400 and 500 yards really builds confidence in the weapon systems, and also in the Soldier's abilities," he continued.
Though Soldiers know the All Army as a fun and challenging competition that is complete with possible EIC points and bragging rights, the main purpose for bringing more than 200 Soldiers from all the components together is to develop marksmanship skills, recognize superior marksmanship skill levels and advance Army lethality.
And that is just the reason Griffith has been pushing fellow Army Reserve Soldiers to compete. "I think [the All Army] is an overlooked resource, an under utilized resource, and we need to get more Soldiers competing, especially those younger Soldiers who will replace us one day."
For Army Reserve Sgt. 1st Class Justin McCarthy, a noncommissioned officer on the U.S. Army Reserve Command Best Warrior Team at the 108th Training Command (IET), the All Army was a resource of research just as much as it was for personal experience. "This was an opportunity to see how the rest of the Army is training and try different weapon techniques that are not necessarily taught at the basic training level."
While going through the competition, McCarthy said he kept thinking of possible ways to incorporate the different courses of fire and techniques from the All Army into his unit's training and future competitions he himself was planning.
That desire to share the All Army experience was a common statement among the competitors, who represented 39 different states and every Army component. And with the goal of fostering a competitive spirit while developing marksmanship skills across the force, that is just what the Soldiers of the U.S. Army Marksmanship Unit love to hear, said Cleland. "You realize that you are influencing the entire Army as a whole in a positive manner and that's extremely rewarding."