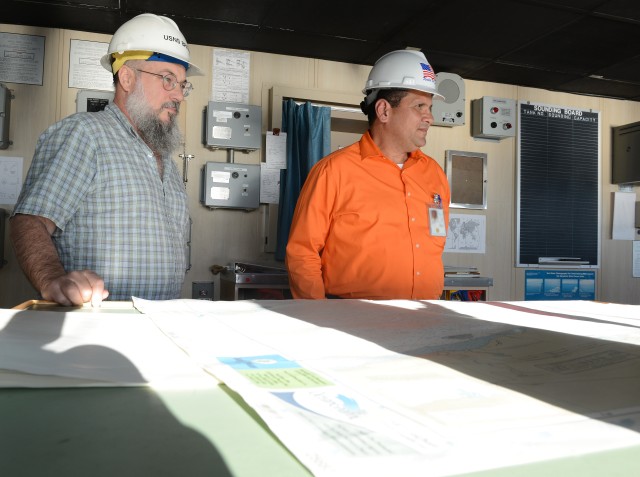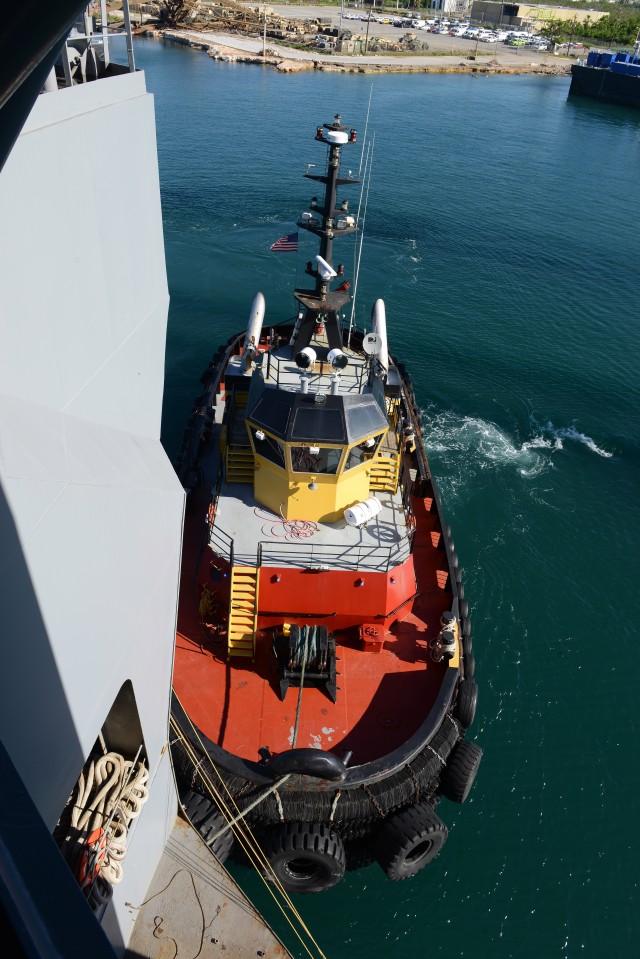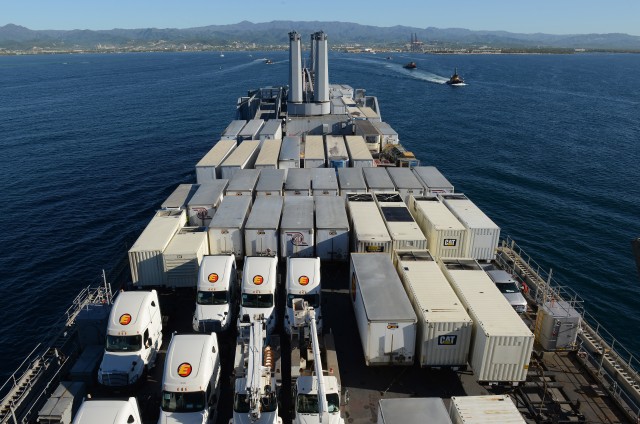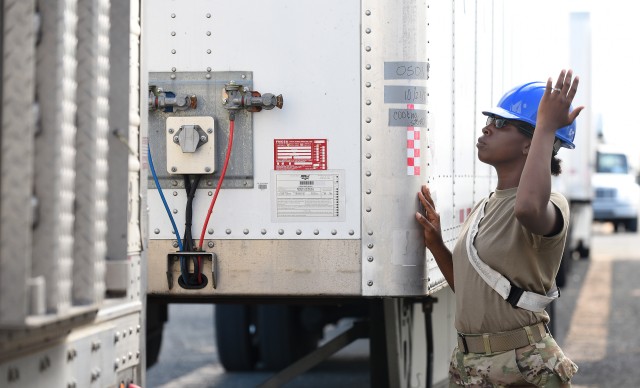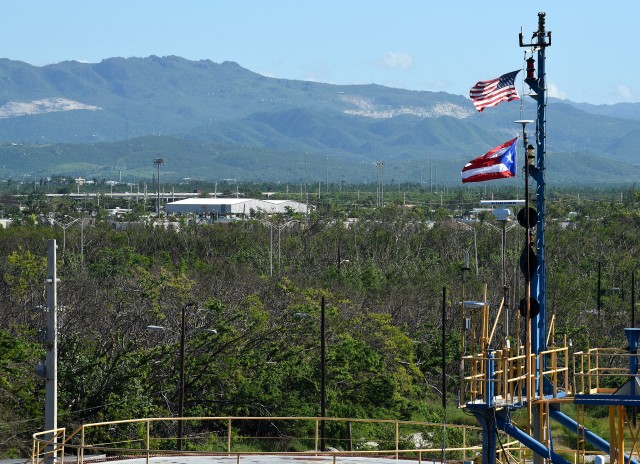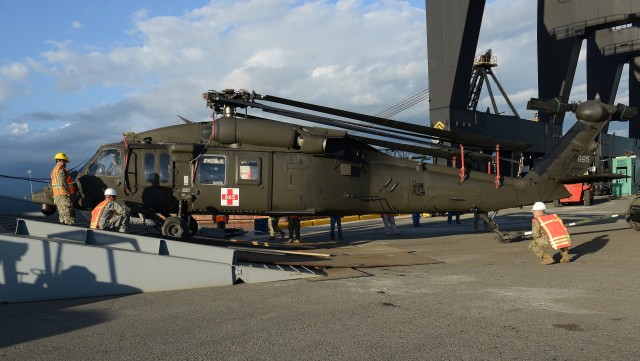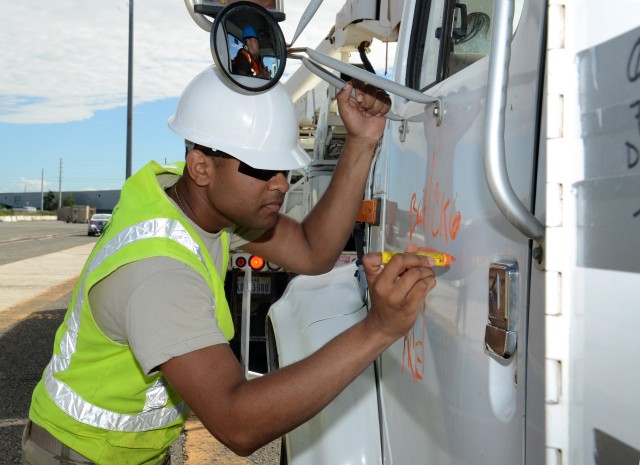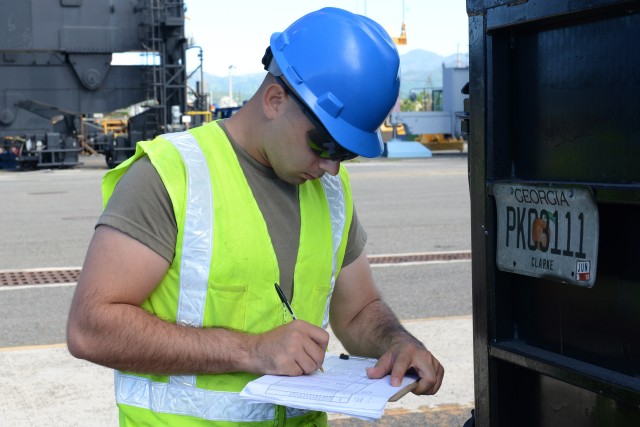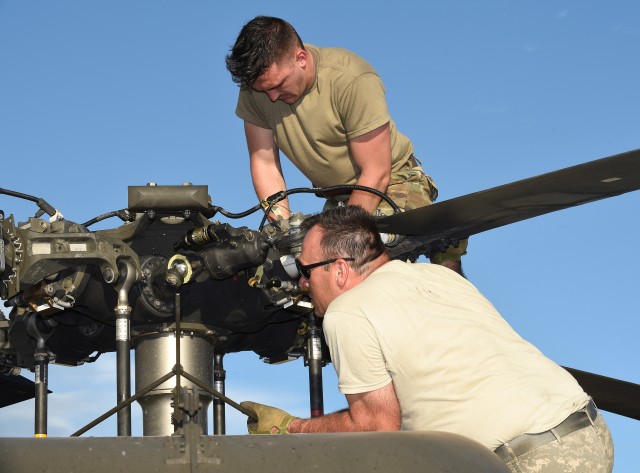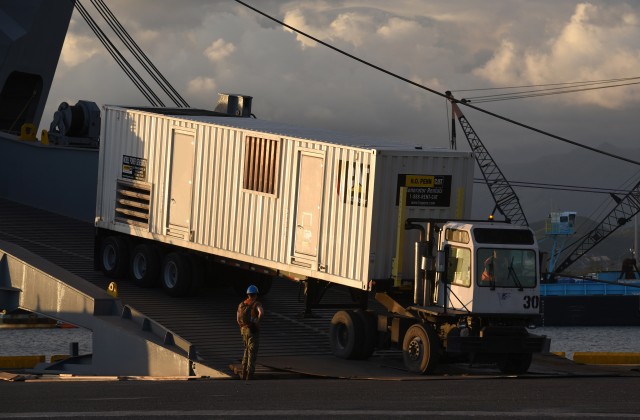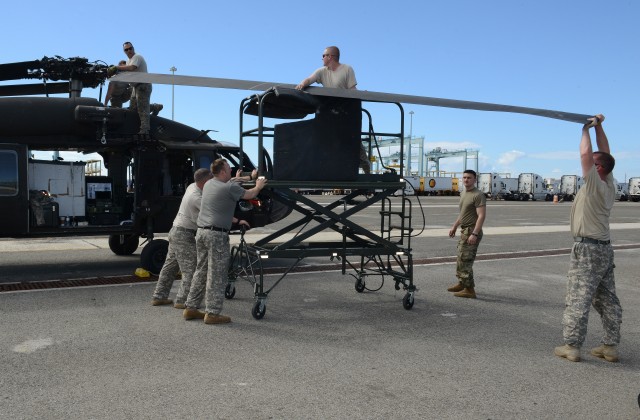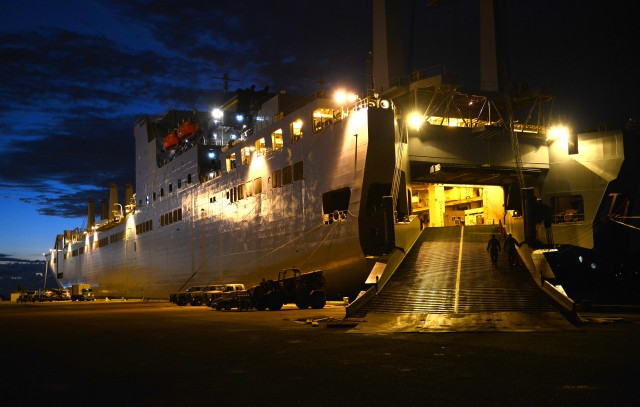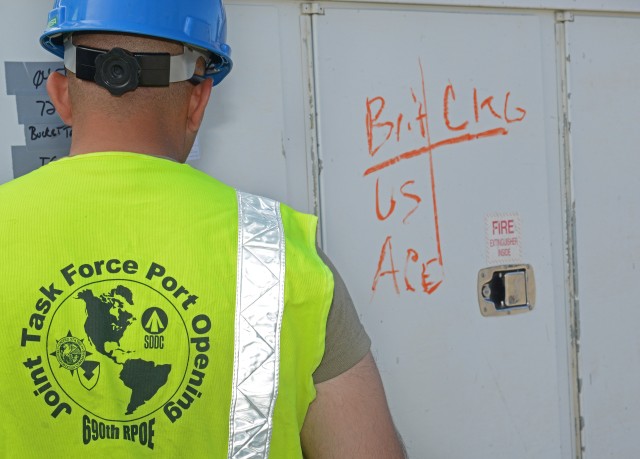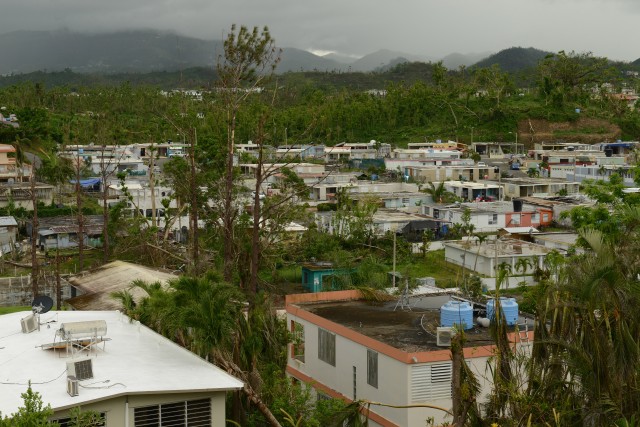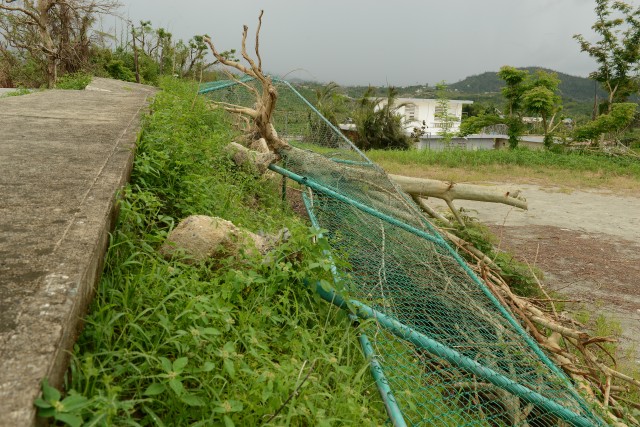 PONCE, Puerto Rico (Nov. 7, 2017) -- Editor's Note: This article is part of a series highlighting Joint Base Langley-Eustis members' contribution to humanitarian relief efforts.
Military Sealift Command's USNS Brittin arrived at the Port of Ponce, Puerto Rico, Nov. 3, 2017, loaded with power-generation equipment and other supplies after Hurricane Maria left the majority of the island without power in September.
U.S. Army Soldiers from the 832nd Transportation Battalion, 597th Trans. Brigade based at Joint Base Langley-Eustis, Va., were waiting ashore to unload 500 pieces of equipment including generators, temporary living facilities, food and water.
JBLE's Soldiers partnered with U.S. Navy Cargo Handling Battalion One from Williamsburg, Virginia; the Federal Emergency Management Agency and other agencies to unload the 964-foot vessel before distributing the supplies to various areas across the island.
"My Soldiers are in charge of maintaining accountability here within the port and coordination for onward movement out onto the island," said U.S. Army Maj. Brett Dunning, 690th Rapid Port Opening Element, 832nd Trans. Battalion, 597th Trans. Brigade commander. "We want to start off getting the power turned back on to the rest of the island, and offloading all of these generators is the first step."
The Brittin is one of the largest ships in the MSC fleet and the first to arrive in Puerto Rico bringing a large shipment of power-generation capabilities, including bucket trucks, which will be used to restore the power grid across the island.
Working alongside FEMA, USACE and the DoD, were stevedores, local dockworkers hired to unload the vessel in a safe and timely manner.
"This was a port that hasn't been operational for over 10 years so this is bringing jobs back to Ponce as well as bringing power," said Dunning. "It's an awesome opportunity for the local community to be a part of this humanitarian disaster relief mission."
While at the port, Soldiers were given an opportunity to deliver 18 pallets of water to the city of Jayuya, a community still without power or access to clean water.
"It was really an eye-opening experience for my Soldiers to see just how much the people of Puerto Rico are still struggling, and how much they appreciate the help and support we are providing," said Staff Sgt. Eliezer Casas, 690th RPOE, 832nd Trans. Bn., 597th Trans. Bde. distribution yard NCO in charge. "One of the ladies we gave water to hugged one of my Soldiers while she cried and told him 'thank you' in Spanish -- he started crying too because it touched his heart."
Soldiers from the 597th will stay at the port once the Brittin leaves, unloading other vessels as they arrive over the coming days. The Brittin will travel several more times throughout November and December between Joint Base Charleston, South Carolina and Puerto Rico with additional generators, power poles and other supplies necessary to help those on the island still struggling without power or regular access to food, clean water and other necessities.
"All of the Department of Defense is involved in this movement, along with a lot of private contractors including FEMA and the U.S. Army Corps of Engineers," said Sgt. Erika Cubas, 688th RPOE, 832nd Trans. Bn., 597th Trans. Bde. transportation management coordinator. "It's a really good feeling to be here and working together to help our fellow Americans."
Related Links:
Related Links:
Related Links: