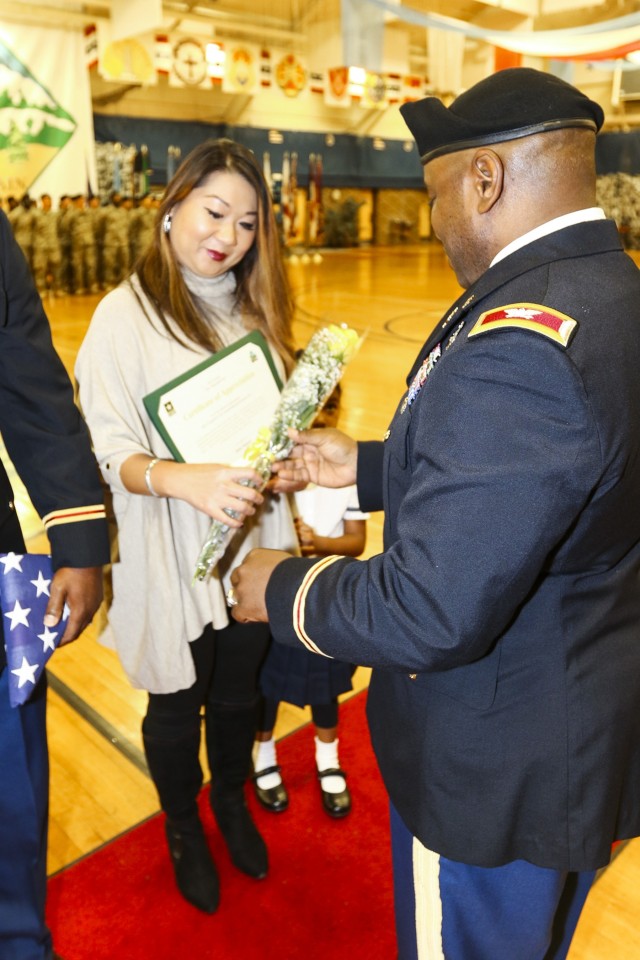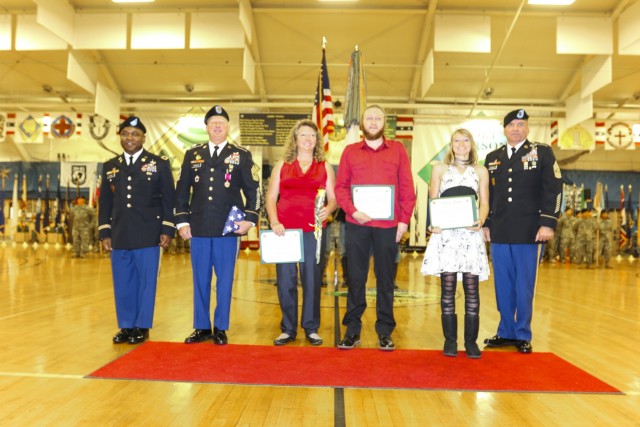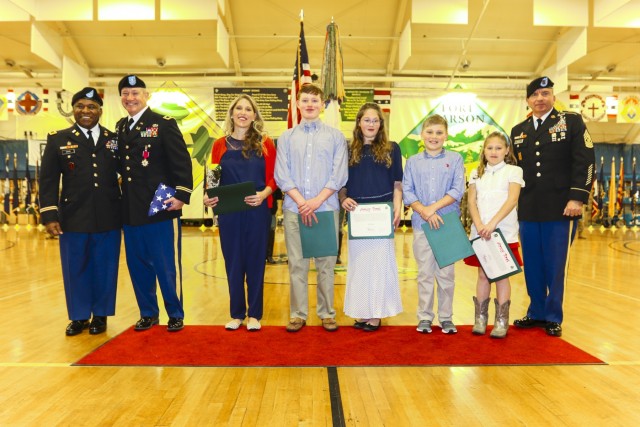 FORT CARSON, Colo. - Eight Soldiers were honored for their more than 200 years of combined service to the nation during a retirement ceremony Wednesday, inside the William "Bill" Reed special events center on post.
Affectionately known as The Mountain Post, Fort Carson hosts a retirement ceremony each month to show appreciation for Soldiers retiring the Army and to allow coworkers, Family members and friends an opportunity to help celebrate the Soldiers' achievements.
Col. Frank Davis II, commander of 71st Ordnance Group (EOD) and ceremony host, described the ceremony "a celebration of service" during his opening speech.
"Today is a bittersweet day for our group of honorees," said Davis, who added that the ceremony also symbolized "a day of transition for each of them and their Families."
Davis provided attendees with a few words about each of the retirees to included highlights of their careers and recognized sacrifices made by the retirees' Family members.
Davis first talked about Col. Michael Mahoney, commander of the U.S. Army Dental Activity on post.
Mahoney, a native of Washington D.C., as completed 30 years of service. In that time, he has served assignments in Germany, Korea, Alaska, Fort Drum, Fort Bragg and Fort Carson. His many deployments include disaster relief and humanitarian missions both state-side and abroad.
"He has an impressive career," said Davis. "He learns and studies his craft, and becomes the best at whatever he touches."
Davis said Mahoney had clearly benefitted from the support of his wife and three children, who were in attendance.
Davis then talked about Col. John Irgens, deputy director for the Office of the Staff Judge Advocate with North American Aerospace Defense Command and U.S. Northern Command.
Originally from Montana, Irgens commissioned in 1989 and shortly thereafter, began his career with an assignment to Germany. Since then he has served in many conventional and special operation force positions worldwide, as well as an assignment in support of Operation Desert Storm.
"He too - is a beneficiary of tremendous support at home," Davis said to Irgens' wife and four children present in the audience.
For more than 23 years, Davis said the next retiree, Maj. Elfonzo Reed, a battalion operations officer with the Warrior Transition Unit on post, had maintained a "bedrock of values and only the best qualities of our commissioned officers".
Originally from Kansas, he joined the Army in 1994 as a signal support specialist. Since then, Reed's career consists of multiple assignments throughout Colorado, as well as Iraq and Korea.
"It's officers, like Reed, who remind us how lucky we are to have generation after generation of Soldiers who are willing to volunteer, to fight for this country, and support the ideals for which it stands," said Davis.
Reed was joined by his wife and two children.
The next retiree, Capt. Tyrone Hunter, assigned to 4th Infantry Division, was a fitting transition in Davis' speech from discussing the accomplishments of officers to those of the enlisted retirees because Hunter had served as both during his career.
Hunter, a native of Alabama, enlisted in the National Guard in 1990. He has served in variety of assignments worldwide, many of which were served here or a Fort Leonard Wood, Mo.
Davis said Hunter's selfless service and sense of duty through some of the toughest years in the nation's recent history was testament to his character.
Davis added that Hunter's wife and four children, undoubtedly encouraged him throughout his career.
With more than 32 years of service, the next retiree Davis talked about was Command Sgt. Maj. John Johnson, the senior enlisted leader of 52nd Brigade Engineer Battalion.
Johnson was raised in Southern California and joined the U.S. Army for college benefits. Since then, he served in a variety of assignments both state-side and overseas.
Davis described Johnson as the embodiment of the best the U.S. Army Noncommissioned Officer Corps has to offer and an example for others to follow.
"I would not have been in this long if not for his Soldiers," Johnson said, as he reflected on his long and lustrous career. "I love my Soldiers," he added.
Johnson said he looks forward to spending more time riding his horse and motorcycle; more importantly time with his family, who were with him at the ceremony. Also in attendance were his extended family, friends and fellow coworkers.
The next retiree, Sgt. 1st Class Edward Hinojosa, assigned to 2nd Battalion, 77th Field Artillery Regiment, Davis said has left the Field Artillery community more resilient and better trained.
"Because of your training, Soldiers have lived," said Davis.
Hinojosa join the U.S. Army in 1998 and has served in various assignments worldwide, to include multiple deployments. Looking back, he said, "it has been a fulfilling career."
"I appreciate the opportunities the military has given to my family and I," he said.
Hinojosa is considering possible job offers in other states, but plans to remain in Colorado with his wife and three children, who were in attendance.
Originally from Illinois, the next retiree closes the final chapter of his military career after more than 21 years of service.
Sgt. 1st Class Michael Kalata, assigned to 68th Combat Sustainment Support Battalion, enlisted in 1996 as a wheeled vehicle mechanic. He has since served in various assignments, to include multiple overseas locations.
In addition to performing his normal duties, Kalata also served many broadening assignments, such as Sexual Harassment/Assault Response and Prevention representative, Advanced Individual Training platoon sergeant, Master Resiliency trainer, Equal Opportunity representative, and a qualified Army Combat Lifesaver.
"He will be remembered for his fair leadership, exacting standards and caring attitude that he brought to every mission," said Davis.
Kalata said the most beneficial part of being a career Soldier was friendship.
"I have friends all over the world," Kalata said. Seeing those friends again has only fueled his passion for traveling. He added that traveling the world has been one of most significant benefits to serving in the U.S. Army.
Amidst is passion, Kalata said he has something else in mind following his retirement.
"I'm going fishing!" He said.
Kalata was joined by his wife and four of their five children.
"Last, but not least, is our happiest retiree," Davis said. "Staff Sgt. Morris Johnson, who could not stop smiling during rehearsal."
Assigned to Evans Army Community Hospital, this Florida native joined the U.S. Army in 1996 as an artilleryman. As diverse as is career has been, so too has his assignments; which span from Alaska to Egypt.
"It has been a lot of fun," Johnson said. "I have made many friends over the years."
Johnson said learning to adapt and overcome situations or obstacles was one of the most beneficial lessons he obtained from more than two decades as a Soldier.
"Congratulations on reaching this significant milestone today," Davis said. "I am glad you were able to share it with your wife and children."
Johnson plans to continue serving the military medical field.
Davis concluded with a heartfelt appreciation to the retirees.
"Our nation will never be able to truly pay the debt of gratitude it owes for the services you have provided," Davis said. "All we can really do is to say thank you."