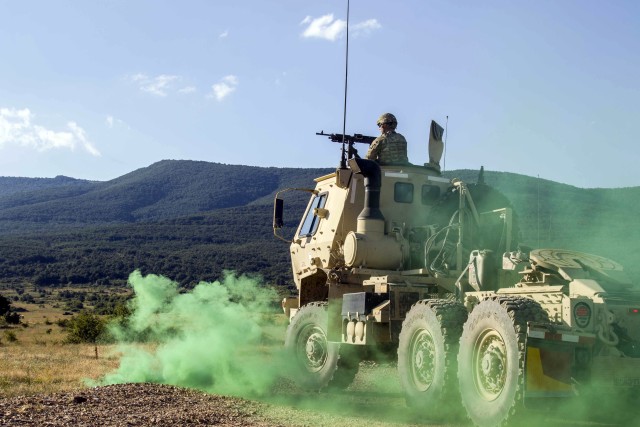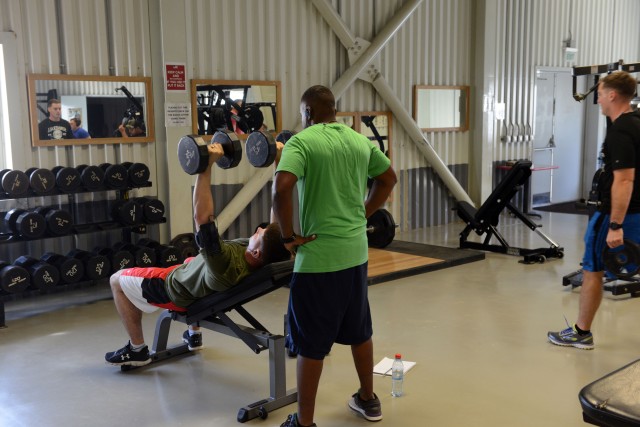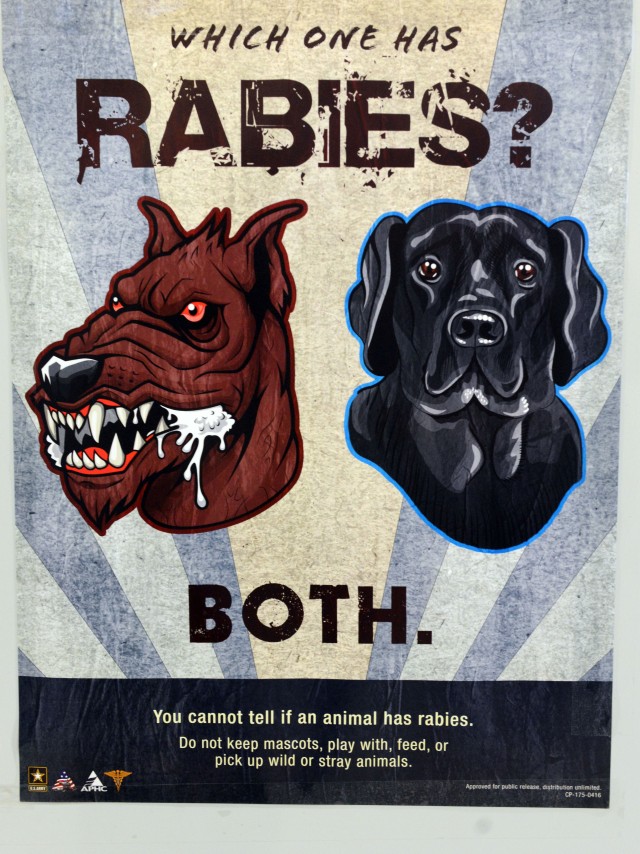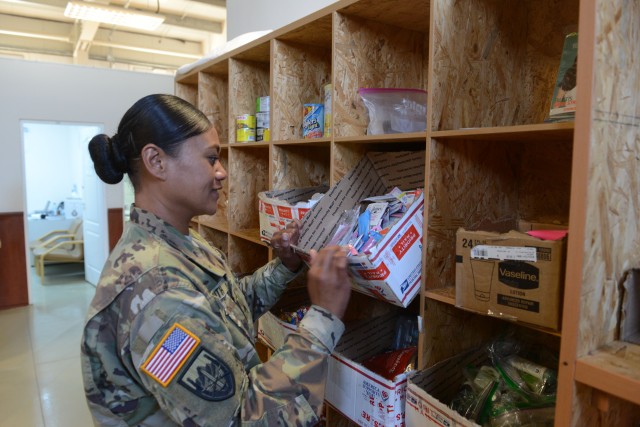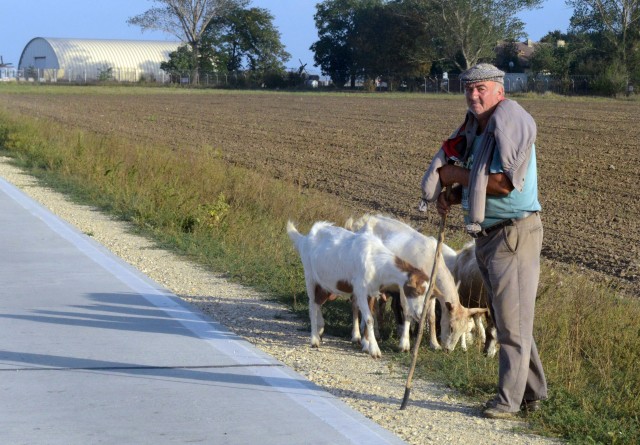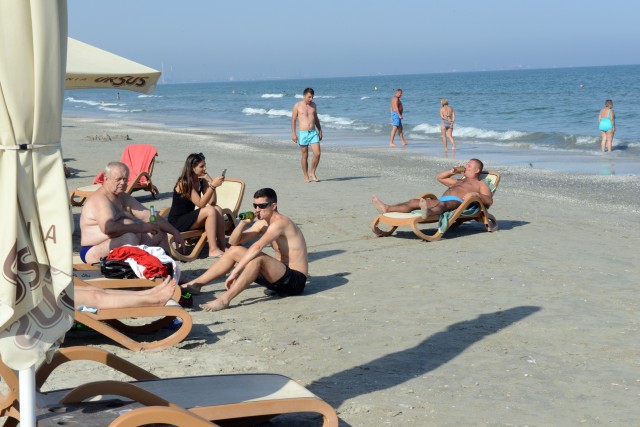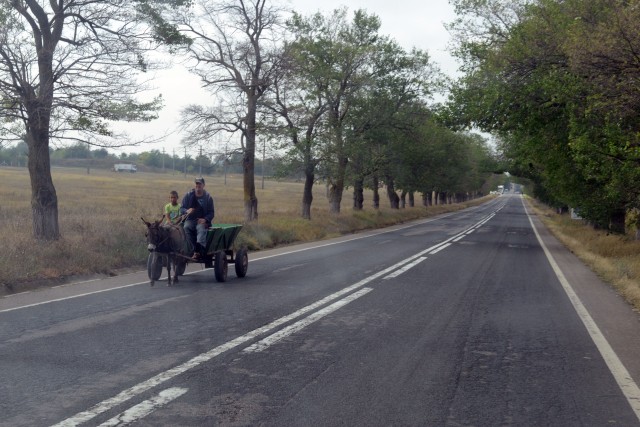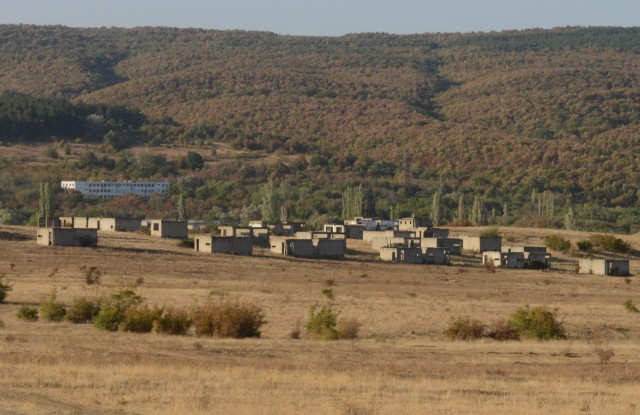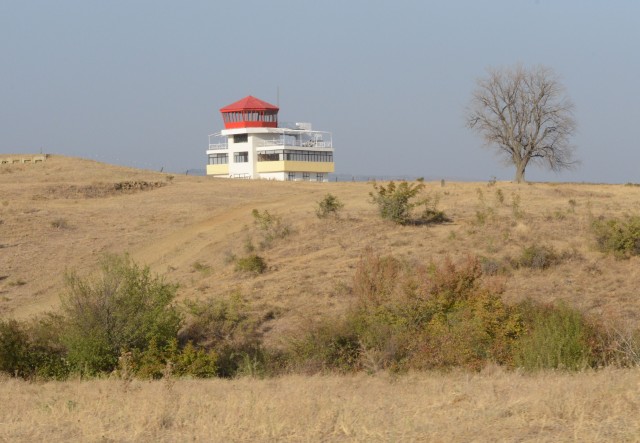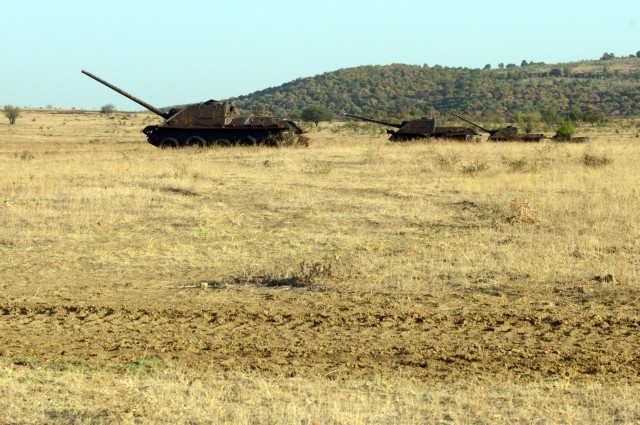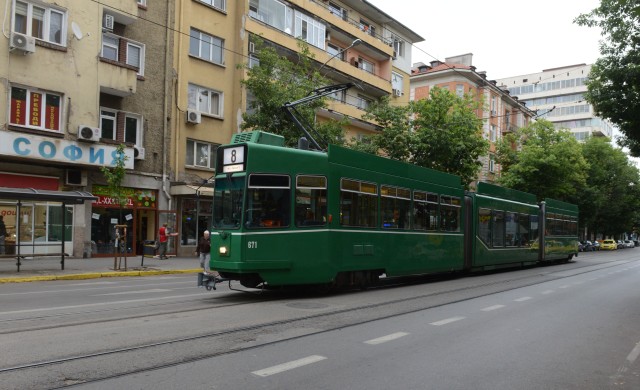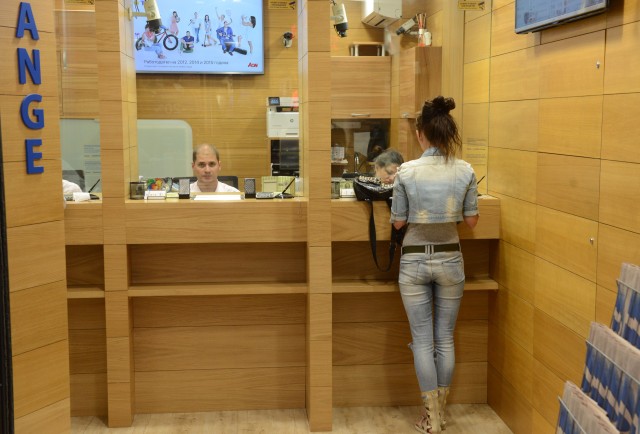 CAMP MIHAIL KOGALNICEANU, Romania -- "Spartan Plus Wi-Fi" is a term the Army uses to describe what Soldiers can expect to find in austere training locations like Camp Mihail Kogalniceanu in Romania and Novo Selo Training Area in Bulgaria.
Lt. Col. Tracey Smith, commander of U.S. forces at Camp MK and NSTA, explained that Soldiers might not receive all of the creature comforts they get at home or on other installations, but they do have Wi-Fi access that allows them to communicate with loved ones back home, take care of finances, and other issues.
Both Camp MK and NSTA lack a number of amenities, she said, including a commissary, hospital, community services center, transition assistance and central issue facility for uniforms, as well as fast food outlets like Burger King and Subway.
However, she noted that at both sites there are beds, showers, gyms, aide stations, dining and laundry facilities, post offices, small post exchanges, and, a place to relax and unwind at the Morale, Welfare and Recreation centers, which feature a small library, games, snack bars and computer Wi-Fi workstations.
FUTURE SPARTANS
The phrase "Spartan Plus Wi-Fi" recalls Greek warriors who lived a life of strict self-discipline marked by simplicity, frugality, and the avoidance of luxury and comfort, according to the U.S. Army Installation Management Command, or IMCOM.
"Our Soldiers are rugged professionals who seek out arduous conditions and thrive in them; they don't run from them," said Lt. Gen. Kenneth Dahl, commanding general of IMCOM. "Soldiers who operate in such conditions will be better trained, ready, and focused on lethality."
In describing the future battlefield, Chief of Staff of the Army Gen. Mark Milley said in May, "The likelihood of massing forces on a base for any length of time certainly means you're going to be dead. If you're stationary, you'll die," he explained. "Those conditions are intense and very, very Spartan. And we have got to condition ourselves to operate -- untether ourselves from this umbilical cord of logistics and supply that American forces have enjoyed for a long time."
As for U.S. forces currently rotating in and out of Europe to sharpen their combat skills, running an installation should not be their concern, Smith said. "Their focus is to train Soldiers to be mission-ready, to go to war. IMCOM ensures installations are ready to support that effort."
Julia Sibilla, NSTA's site director, said "We owe it to all our Soldiers to have decent food, cleanliness and a supportive place to train."
That means a shower, a place to sleep, a reasonable meal and a place to work out, she said, adding that she and her engineers have personally toured every facility to ensure everything is clean and in good working order prior to and following unit training.
Troops train all day and in the evening and arrive at the encampment sweaty, dirty and tired. Having these amenities gives them a chance to recharge and unwind for training the next day so they can focus and be on their game, she said.
Besides that, taking care of Soldiers is also a retention and readiness issue, she continued, providing some examples of readiness.
Giving Soldiers the chance to work out in a fully functioning gym, have a good night's sleep and access to nutritious food contributes to their overall health and reduces sickness and injuries, she noted.
Also, U.S., host nation and NATO forces have soccer matches on the field or compete in ping-pong or other events. These activities foster a spirit of friendship and cooperation, she said.
Having these Spartan but high-quality amenities without all the frills of a full-service installation is also about using taxpayer dollars wisely, she added.
DEALING WITH SPARTAN
Spartan conditions mean there will be times Soldiers must think creatively and create workarounds, according to Camp MK and NSTA leaders.
For instance, the troop medical clinic at both locations is categorized as "role 1" or the lowest level, said Maj. Dana Cook, director of health services at both locations. She explained that role 1 is basically an aide station with a few medical personnel, bandages, and some other items such as rabies vaccinations, should someone be scratched or bitten by the numerous feral cats and dogs that wander onto the installations.
Being classed role 1 means "no lab, X-rays, ultrasound, CT" and so on, she said, adding that she's working hard to get some more capacity.
If a Soldier should break a leg, perhaps in a parachute jump, an aide station is not equipped to deal with that so he or she would be taken to a nearby host-nation medical facility, she said. In the case of Camp MK, that would be Romanian-run Constanta County Hospital.
The troop medical clinic at Camp MK is shared with a Canadian medical team, she said. The Canadians are flying missions over the Black Sea with their F-18 jets. There are also U.S. naval medical personnel who care for Marines of the Black Sea Rotational Force.
Working side-by-side with the other services and NATO nations offers a chance to see how others practice medicine and learn from them, she said, and they learn from the American Army as well.
Besides administering the two clinics, Cook inspects the dining facility, which is mostly staffed by Romanian contractors. She also reminds people on a daily basis not to feed stray dogs or cats.
On a regular basis, these animals are "humanely trapped and released" away from the installation, she added.
As for working here, Cook said it's an awesome responsibility. "We provide seamless medical care to the regionally aligned forces."
Lt. Col. Michael Crawford, the Protestant chaplain at Camp MK, said he regularly counsels and consoles a number of Soldiers who experience stress and sadness, as a result of being separated from loved ones.
As for guidance, he said he offers two bits of advice to Soldiers: "We must be intentional about our spiritual growth and communicate to loved ones back home."
Since there isn't a Catholic priest at Camp MK, he said the command contracts with a local Romanian parish priest from nearby St. Padre Pio church in Constanta.
Cpl. Sialofioaana Meredith, a native of American Samoa, is Crawford's assistant. She said she communicates every day with her 9-year-old daughter back home in Pago Pago, the island's capital.
She also is in charge of distributing care packages to Soldiers.
GROWING FOOTPRINT
Camp MK and NSTA are in the midst of growing their facilities and capabilities.
"Lots of expansion is planned," said Col. Benjamin Jones, commander, U.S. Army Garrison, Ansbach, Germany, which oversees the two sites.
David Tiedemann, director of operations and plans at Camp MK, said steps to increase the U.S. military capability in Romania and Bulgaria are ongoing.
During a windshield tour of Camp MK, he pointed to a number of construction and renovation projects underway, courtesy of the U.S. Army Corps of Engineers and contractors.
Projects he showed included classrooms, which, he said, are designed to be multifunctional buildings that can also serve as tactical operations centers and even venues for after-action reporting.
Repurposing facilities to get the most use is the buzzword here, he said. For instance, when Camp MK was inundated with over 2,000 personnel during Exercise Saber Guardian this summer, bed space ran out in quarters so the base theater served to sleep the overflow. That same theater has been used in the past as a briefing room, said Tiedemann, who retired from the Army in 2013 with 25 years under his belt, starting out as a tank commander and later switching to military intelligence.
A battalion headquarters and a deployable sensitive compartmented information facility is also planned at Camp MK, as well as expansion of the runway, which will accommodate C-130 and C-17 aircraft, he said.
Along with the runway will be an air operations center, passenger terminal and hot-refueling facility, he noted.
As for the railhead at Camp MK, vehicles are currently offloaded from flatcars on the side by crane. Plans are in place to speed that up by building a ramp so they can simply be driven off on their own power, he said.
At NSTA, a new helicopter pad was just completed and there are plans for an unmanned aerial vehicle runway, he said.
Funding for these new projects comes from the European Reassurance Initiative, he noted.
Smith said that over the next four years, $71.3 million in 51 projects are planned for Camp MK and $27 million in 39 projects for NSTA.
Romanian Col. Eduart Dodu, commander of Camp MK, said he is pleased with the expansion and is working out the details of adding more acreage to the camp so the Americans have room to grow.
Besides the expansion being beneficial for the collective security of NATO, he said the local populace welcomes the Americans, along with jobs that are contracted out.
"Our relationship with the United States is very good," he added.
Dodu has visited the U.S. twice, once at Sheppard Air Force Base, Texas, and also Fort Lee, Virginia.
He noted that military-to-military contacts and foreign exchanges are very good for all involved. Knowledge acquired during both of his visits was shared with colleagues in Romania, he said.
GREAT PLACE TO WORK
Permanent personnel at both Camp MK and NSTA said their stay has been rewarding, despite separation from family on 18-month unaccompanied tours.
Smith, who lives in nearby Constanta, Romania, said that there are Roman ruins in the city, three shopping malls and a swank Black Sea resort in the area. Further afoot in Romania is Dracula's castle, she added.
The local people are very friendly as well, she pointed out.
Sibilla said Bulgarians are equally friendly to Americans and there's no shortage of sightseeing opportunities near NSTA.
Bulgaria is "a beautiful country with a rich history and good food and wine," she said during a local winery tour and dining trip after hours to fete some personnel who were rotating out of NSTA.
Related Links: