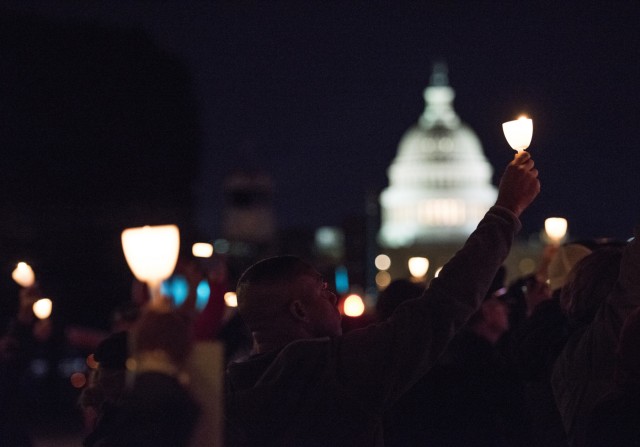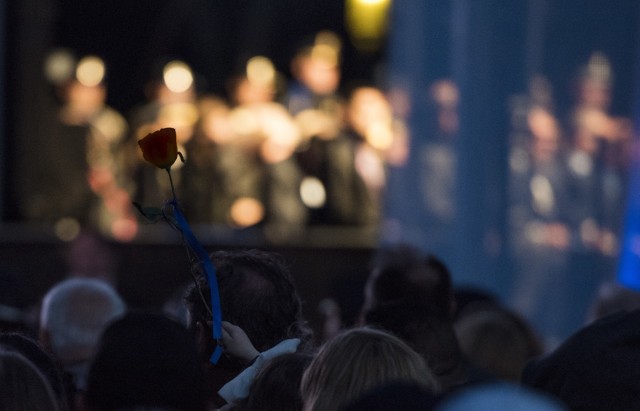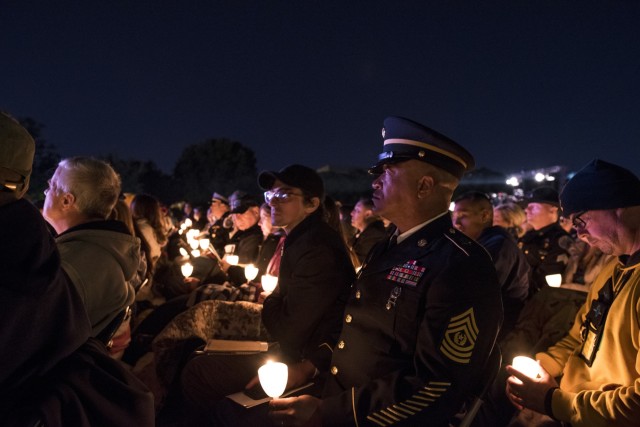 WASHINGTON, D.C. - People fell silent as sirens rang through the streets of the nation's capital. Hundreds of police squad cars and motorcycles escorted thousands of survivors from across the country to the National Mall to pay tribute to their fallen police officers, Saturday, May 13.
"It's all beginning to come back now," said a teary-eyed Michele McNaughton. "The motorcycles and the policeman escorting me to my seat. It's like reliving Jimmy's funeral."
"Man, you should have been there," said Michele's husband, Bill. "There were over 10,000 people, including former Mayor Michael Bloomberg and former New York Senator Hilary Clinton."
Michele and Bill McNaughton are the parents of Staff Sgt. James D. McNaughton, the first New York City police officer to die in Iraq while also serving as a U.S. Army Reserve military police. McNaughton's name was added to the National Police Memorial and read aloud during the 29th Annual Candle Light Vigil among the names of 394 fallen officers being added to the memorial during National Police Week.
"Jimmy" died Aug. 2, 2005, while stationed in Abu Ghraib, Iraq. McNaughton's Command Sgt. Maj. Mike Donahue (Ret.), also a retired New York Police Officer from Monroe, New York, recalls the time leading up to McNaughton's death.
"I gathered about 16 to 18 civilian police officers (who were deployed) to tell them a different kind of mission was coming up," said Donahue.
The 306th Military Police Battalion was being tasked to train local Iraqis for a new forming police department.
"They [the new Iraqi police force] were following the rule of law, not the rule of the dictator. It was dangerous. It was outside the [base] walls," said Donahue. "I remember McNaughton saying, 'The other guys are all husbands and fathers, so I've got to do it.' He didn't want to put anyone in harm's way, and that was the mission that ultimately cost him his life."
McNaughton was pulling guard duty when he was hit by sniper fire.
"Making the announcement that we lost Jimmy was very hard," said Brig. Gen. John Hussey, commander of the Great Lakes Training Division, Fort Sheridan, Illinois. Hussey was McNaughton's battalion commander in Iraq at the time. "Mike [Donahue] was supposed to speak, but he was at a loss for words. Well, it must have been divine intervention because the words just flowed that night during shift change. I lead the Soldiers in prayer, and then they had to go on and do their duty, because we were involved in detention operations, and that mission never stops."
"It really hurt me," said 1st Sgt. Pat Venetek, 344 MP Company, of Middletown, Connecticut, and a New York City police officer.
Venetek was assigned to McNaughton's squad when they were mobilized to Fort Meade, Maryland, right after 9/11. A year after returning home, the two were on orders for Iraq, something McNaughton volunteered for.
"He was that one guy who may not have been your leader, but was known as a leader," said Venetek.
"I remember one time we were getting hit by mortars," recalls Donahue. "I'm running around and trying to make sure that everyone is getting in the bunkers and there's Jimmy. I yelled, 'What are you doing McNaughton? You need to get under cover!' and Jimmy says, 'Not until all of my men are under cover, Sergeant Major.' I was mad at him at first, but then I realized he was just doing the exact same thing I was. He was doing the right thing."
Jimmy lived his life to serve others. After fulfilling an active duty tour, he enlisted into the Army Reserve and went into the police academy. His father and step mother are both retired police officers with the New York Police Department. After McNaughton's death, his parents, with the help of Hussey and Donahue, submitted an application to the New York City Police Department to have McNaughton's name added to the National Police Memorial Wall. However, the application was initially denied because he wasn't serving as a police officer at the time of his death. But they didn't give up.
Having been denied once, Hussey and retired Donahue made it their personal mission to have McNaughton's name included in the police memorial wall in Washington.
"(Donahue) has been at most events for Jimmy, and has worked with his parents behind the scenes to make sure they are never forgotten," said Hussey.
Hussey said that he and Donahue put a lot of personal effort to have McNaughton included in the memorial wall. They even spoke with elected officials and asked them to get involved.
Instead of submitting through the New York City Police Department like the first time, they resubmitted the application to the National Law Enforcement Memorial through the Army.
The application was approved without any pushback.
"The ceremony was unbelievable," said Command Sgt. Maj. Craig Owens, the senior enlisted leader for the 200th Military Police Command. He attended the candlelight vigil to represent McNaughton as an Army Reserve military police and honor his sacrifice.
"The way the National Law Enforcement Officers Memorial Fund treated the family with such dignity and respect was a humbling experience. I hope we never have to put any more names of our Soldiers on that wall, but if something tragic happens, it's reassuring to know that our country will remember them," he said.
During the candlelight vigil, men, women and children passed around and lit candles while the sky darkened around them. As officers' names were called out, family and friends raised their candles high over the crowd, a metaphorical toast to their loved one's sacrifice.
"Having Jimmy's name put on the wall at the National Police Memorial is epic, and it makes me proud, especially as a New York cop," said Venetek.
At the end of Venetek's tour in Iraq, he and a group of other Army Reserve Soldiers made a pact to be to go to the academy and become police officers.
"There's so many things that are named after Jimmy in his honor, like dedication walls, brass plaques, highways and buildings," said Venetek. "There's even a building in Guantanamo Bay named after him. I mean, I named my son after him, and I'm about one of eight (people) who did it."
There are children today who still get to hug their fathers, and there are wives who still get to embrace their husbands because of McNaughton, said Hussey. He lived a life of selfless-service. Hussey and McNaughton's parents are glad to know that Jimmy's name is now etched in the National Police Memorial Wall, just as it remains etched in the hearts of friends, comrades and family members for years to come.