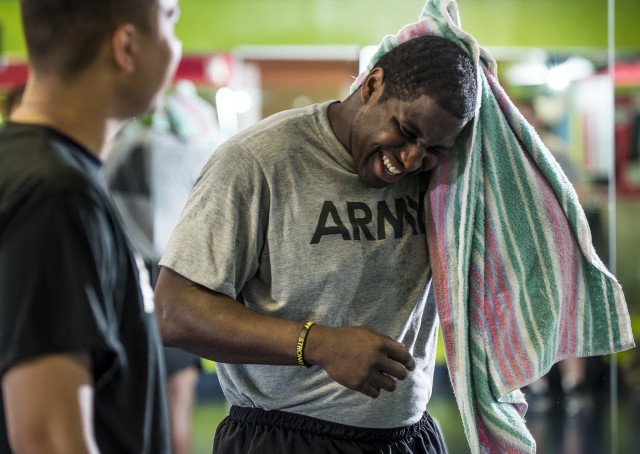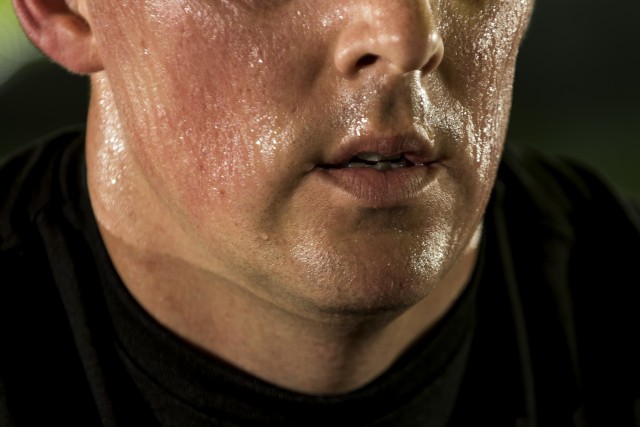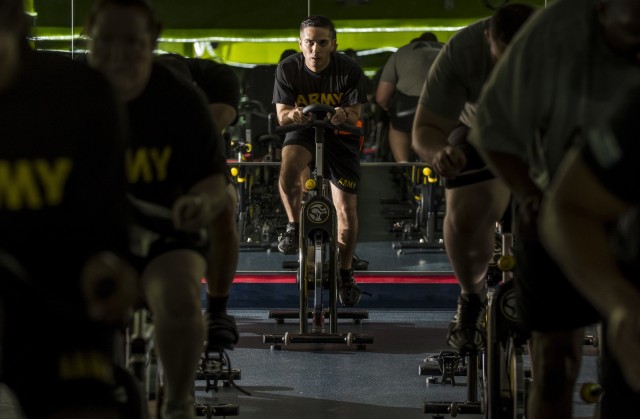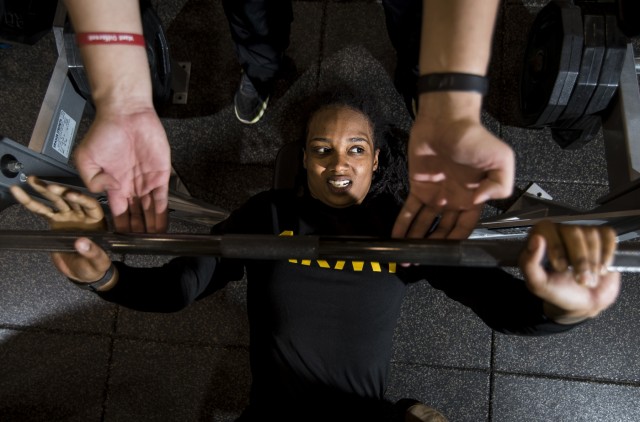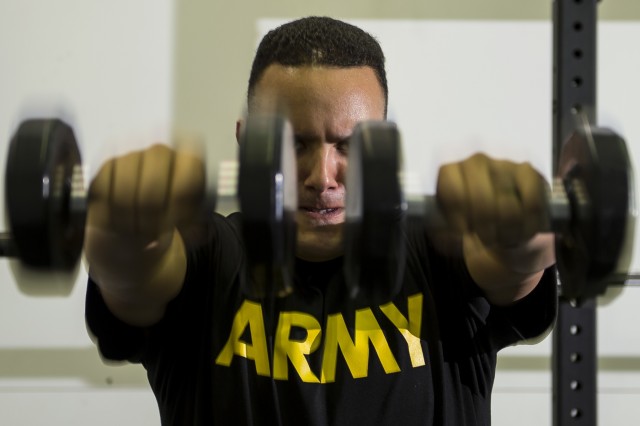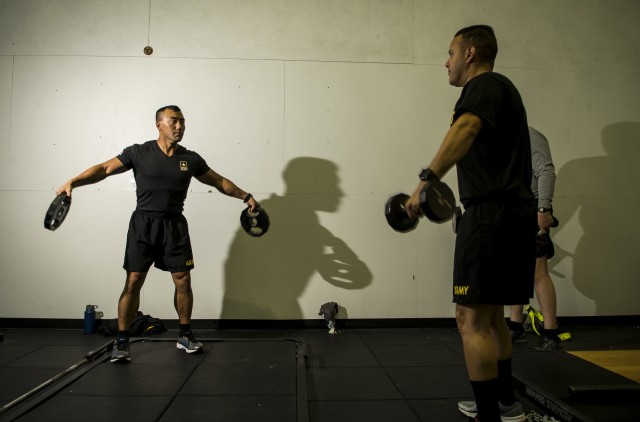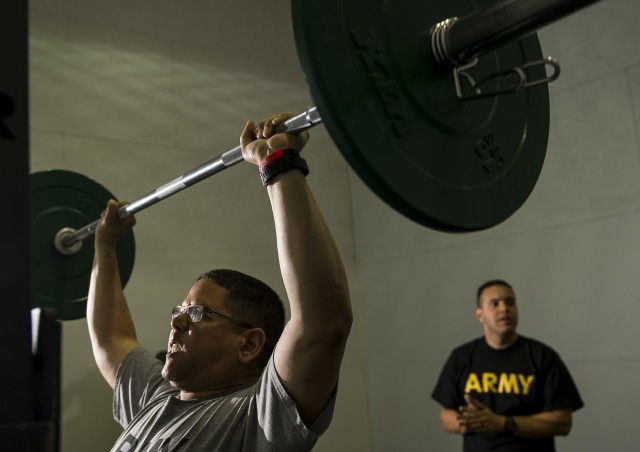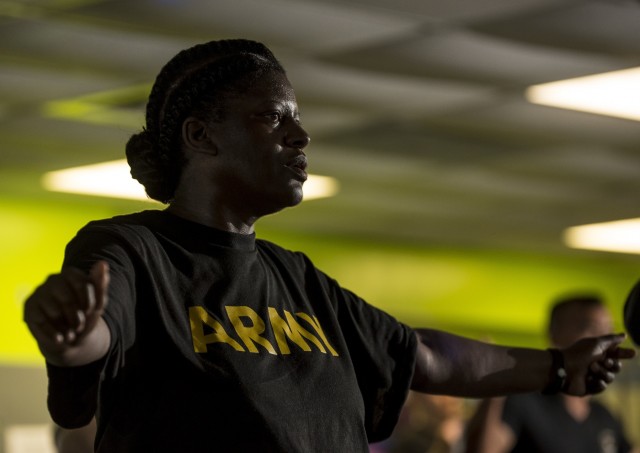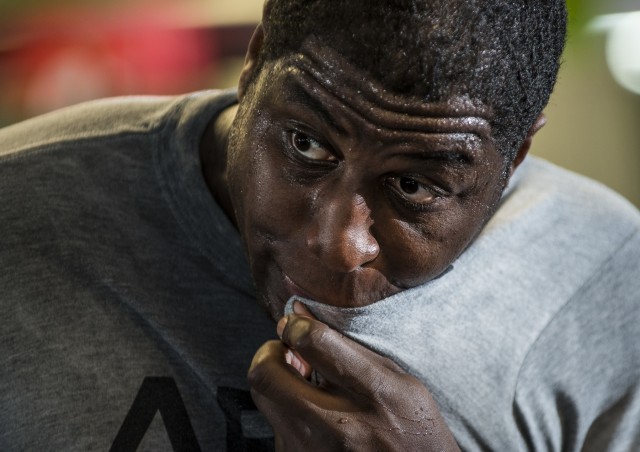 FORT MEADE, Md. - The nutrition specialist passed around an empty box of snack bars to a classroom of Army Reserve Soldiers.
"This is a relatively healthy snack. Look at the label. What do the numbers say?" she asked the group.
As the Soldiers passed the box, each of them called something out, whether sugar contents, grams of protein or overall calories.
"A hundred-and-fifty calories!" one of the sergeants in the back called out. "Isn't that high?"
"That's still better than a Zebra Cake, sergeant!" someone in the front replied. The room burst into laughter.
As it turns out, a snack containing less than 200 calories is pretty good, but other nutrition factors play into that as well of course, the educator said.
The class took place toward the end of a three-week Performance Triad program, in which Soldiers from the 200th Military Police Command received more than 12 hours of nutrition education, nearly 80 hours of physical fitness, and attended classes on stress management, sleep habits and behavioral health. The course took place May 5-25 on Fort Meade, Maryland.
"They've had such a concentrated dose of (information from) dieticians, psychologists, personal trainers ... that if they take even 30 percent of that information and share that with other people, that will make the Army overall just a little bit stronger, and hopefully a little less fat," said Sgt. 1st Class Jason Lee, a certified Master Fitness Trainer and U.S. Army Reserve Soldier with the 200th MP Cmd.
Lee was the main organizer for this fitness program, based on the Performance Triad, a comprehensive health plan designed around sleep, physical activity and nutrition. He also tapped into resources at Fort Meade and fellow Soldiers to make the program a success.
Approximately 30 Soldiers attended the program, selected because they had either failed to pass the Army Physical Fitness Test (APFT), had been on the Army Body Fat Composition program, or both.
"I'm just trying to stop the cancer," said Lee jokingly as to why he decided to put on this camp. In reality, however, he sees the need for Performance Triad as a service to all Soldiers. Even though the Army has one standard for everyone to uphold, not every Soldier lives the same lifestyle, especially in the Army Reserve.
From the fast food worker surrounded by unhealthy choices all day, to the security guard who works 12-hour shifts, to the government IT technician who commutes an hour each way to and from work, or the father of three children who want to spend time with daddy after he gets home from work. Those are not excuses, but they are realities, and Lee used this camp not only to get Soldiers into shape, but also to help them figure out a personalized schedule and set goals for long-term success.
"We covered every person's workout style ... discussed to see where it can fit, where they can incorporate physical routine ... with a nutritionist or dietician talking about adjusting their eating habits," said Lee.
Lee had run a Performance Triad camp for the 200th MP Cmd. once before, back in September 2016. From that group, approximately 90 percent of Soldiers who participated from start to finish were able to pass the APFT and weight requirements by the end of two weeks. Those who failed, missed the run time by a few seconds and had to come back for this camp.
This time, however, Lee planned for a longer course (three weeks instead of two) and incorporated more education and more diverse physical fitness activities. Mixed into those 80 hours of fitness, Lee included aquatic aerobics, spin classes, weight lifting, commercial workout videos, dance fitness classes, circuit training and the Army's own Physical Readiness Training (PRT).
During last year's Performance Triad, there was too much PRT, he said. Soldiers wanted more diversity, and he gave it to them.
"After the end of Spin class, (I saw) literally a pool of sweat streaming onto the ground, cascading to the walls. I knew that everybody was getting their work in," said Lee.
Nobody was cussing him out (at least not out loud). Nobody was trying to cheat their way through the workout. They were getting their sweat on, and Lee said he could see it paying off.
At the beginning of each course, not every Soldier was receptive to the program. In fact, one Soldier seemed to argue with the nutrition specialists on almost every point.
"You keep taking my food away!" she told them, but by the end, she was on board with the program.
"I'm not here to turn your world upside down," said Leah Roberts, RD, CDE, DN, a registered dietician and certified diabetes educator for Kimbrough Healthcare Center on Fort Meade, Maryland. Roberts was one of the main nutrition educators throughout the three weeks.
"I just want to help you make one or two changes, and when they see, 'Hey, that wasn't so bad! I was able to make that change! ... Maybe I'm ready to try something else,'" she said.
In those twelve hours of education, Roberts and fellow Fort Meade health specialists did their best to correct as much food misinformation as they could. The list was long. Misleading food labels in grocery stores. The fact that carbs, in it of themselves, are not bad. The failure of fad diets. Portion sizes. There was no shortage of information they could pass onto the Soldiers, and they were thankful for this opportunity because people, typically, don't get enough.
"If you're really looking at how much time you're spending in a physician's office, talking about health-related ideas, you're spending maybe less than an hour a year doing that, and some people maybe even less than that," said Nancy Reed, RD, CDE, LDN, also a registered dietician at Kimbrough.
Though most of the Soldiers made drastic improvements in just a few weeks, the road is still long ahead.
"I will gauge my success in this program not only how they pass the APFT (at the end of the course), but how the Soldiers weigh in down the road, in thirty, sixty days. Next year," said Lee.
Just as importantly, Lee said that he wants all leaders to take on the responsibility of mentoring Soldiers who aren't meeting the standard. But for those not meeting the standard, he wants them to understand the difference between responsibility and accountability.
"Everybody may be responsible (to help them), but they're the only ones who can be held accountable for what they ingest and what they do from this point forward," said Lee.
Hopefully, this camp has given them just enough tools, information and exercise options to do just that.