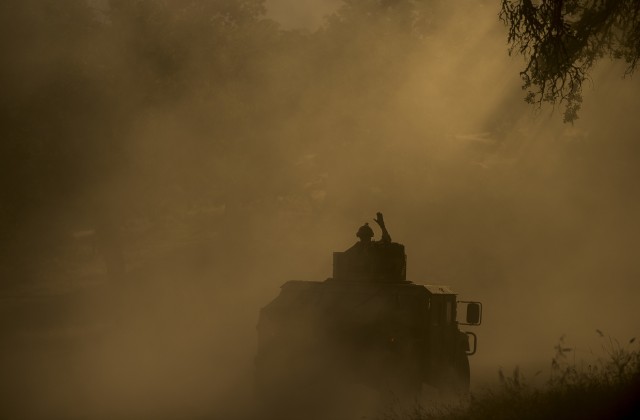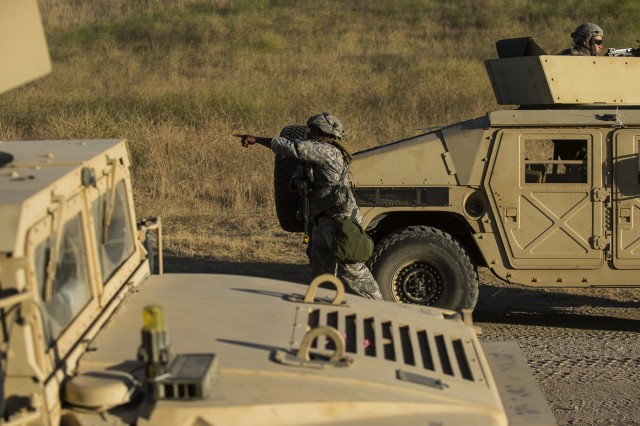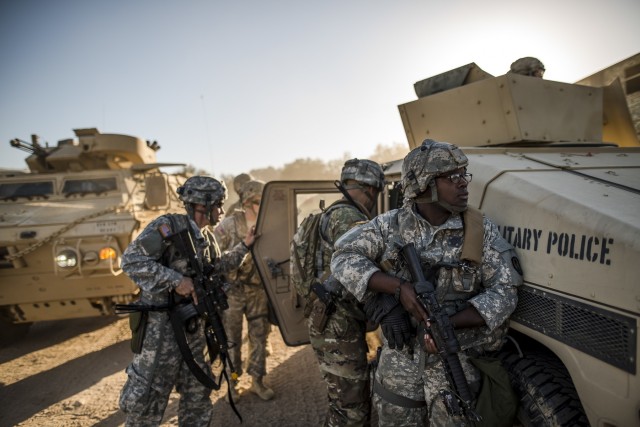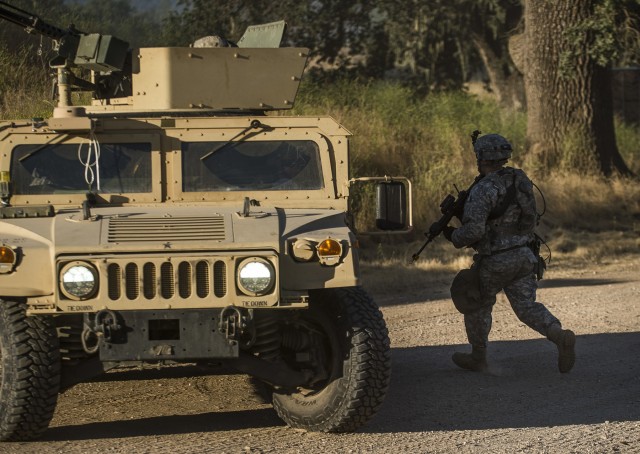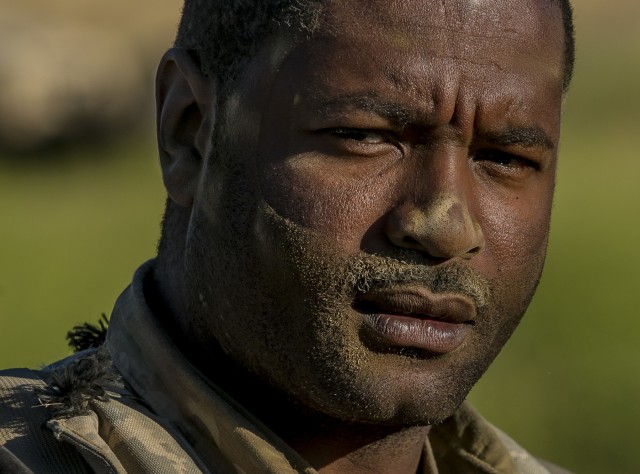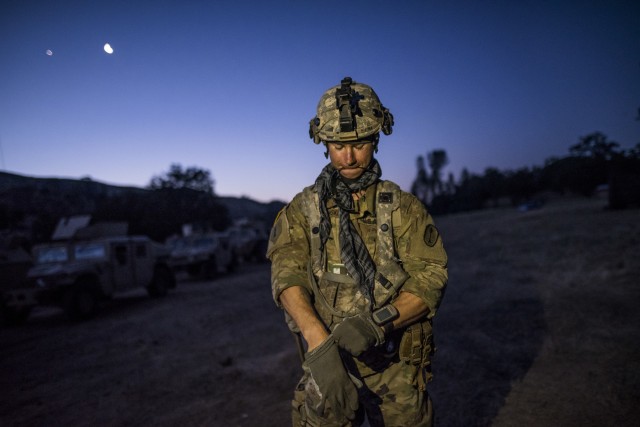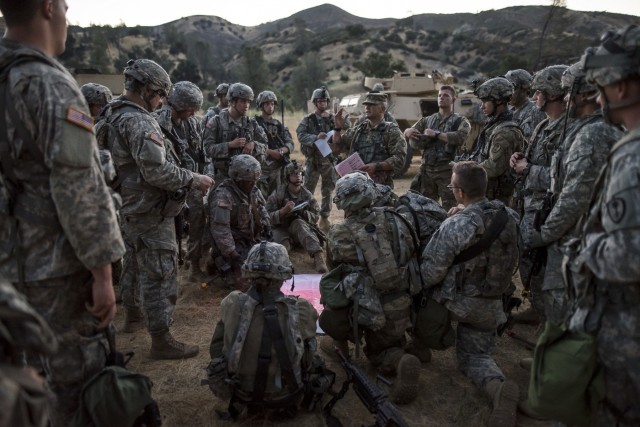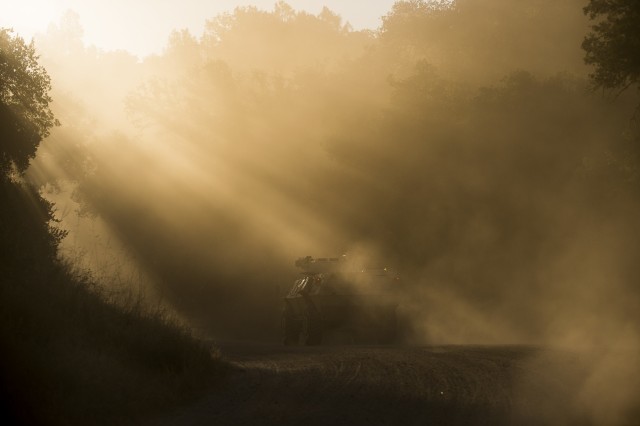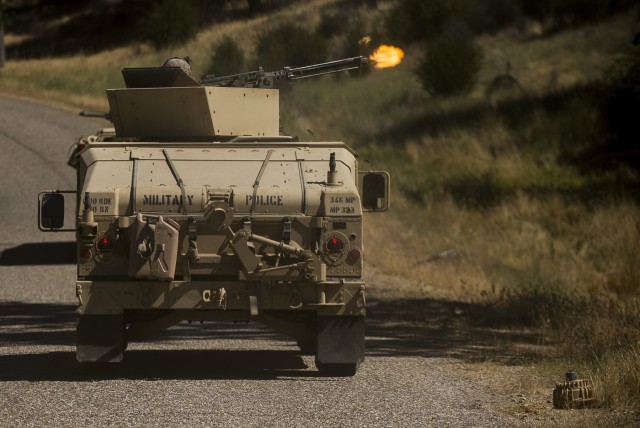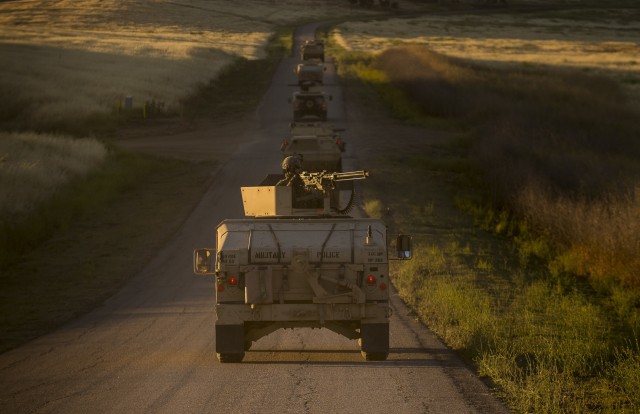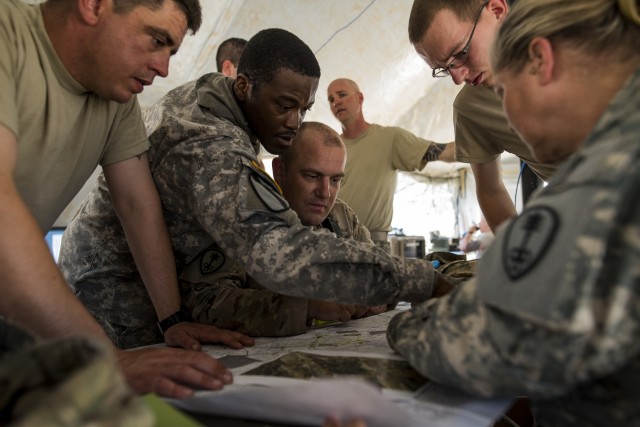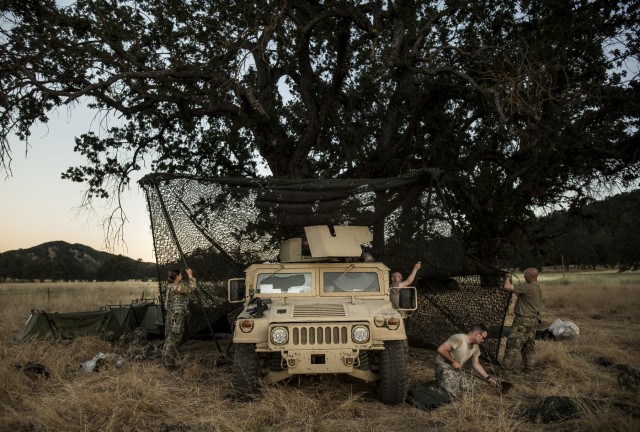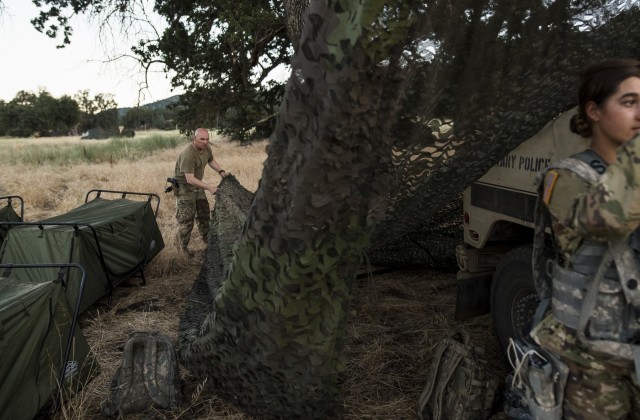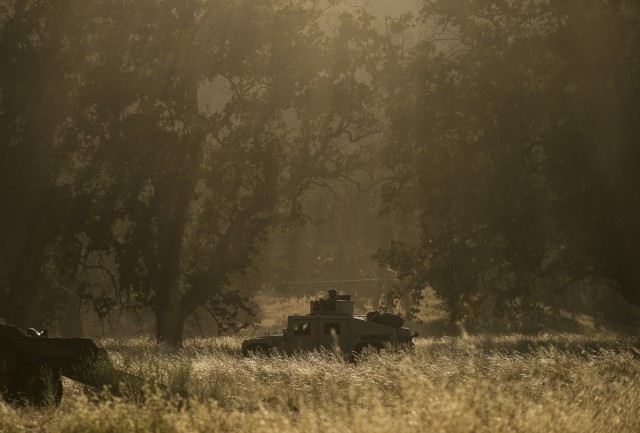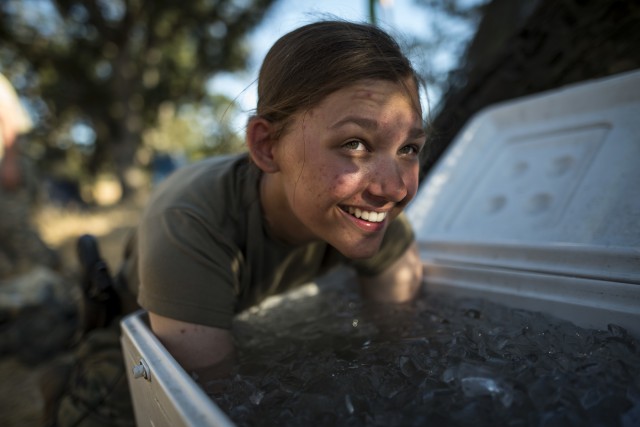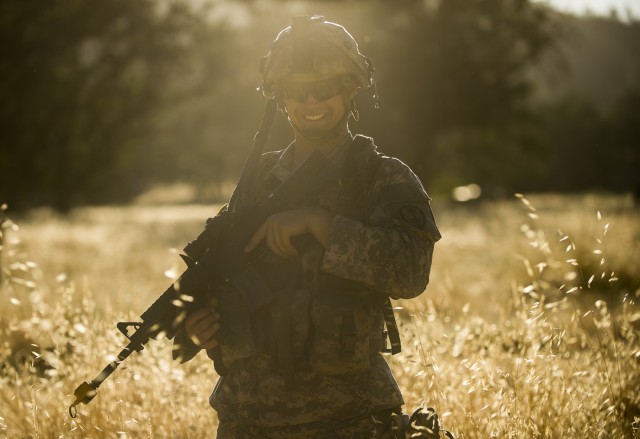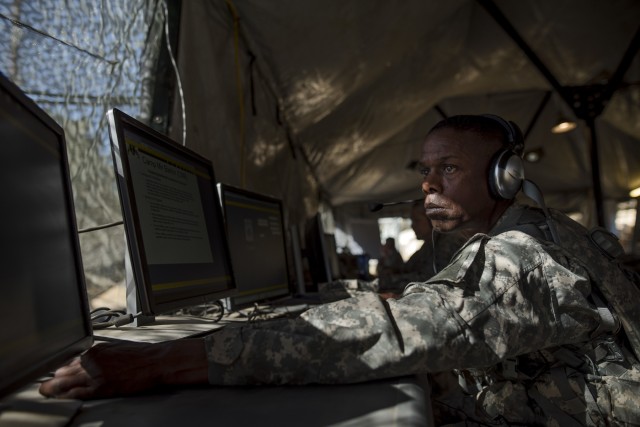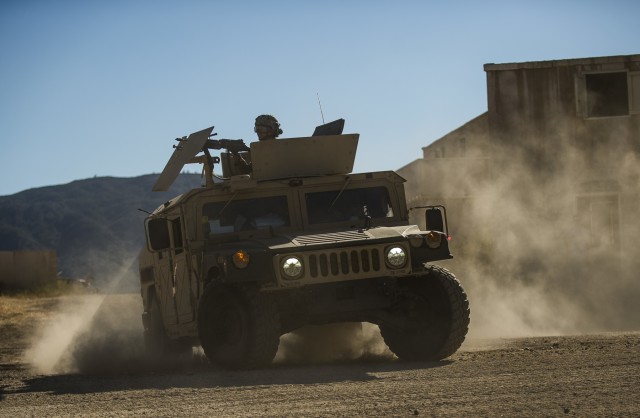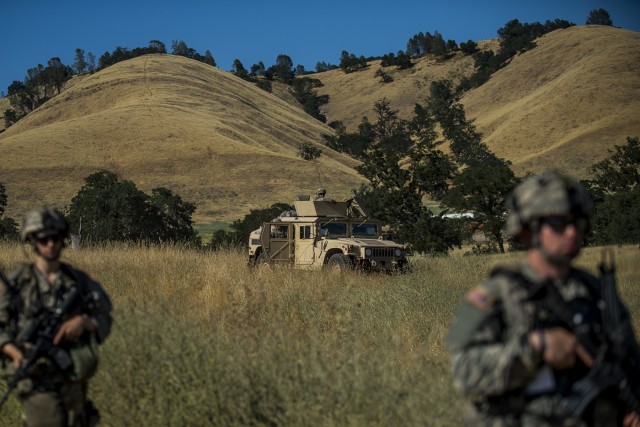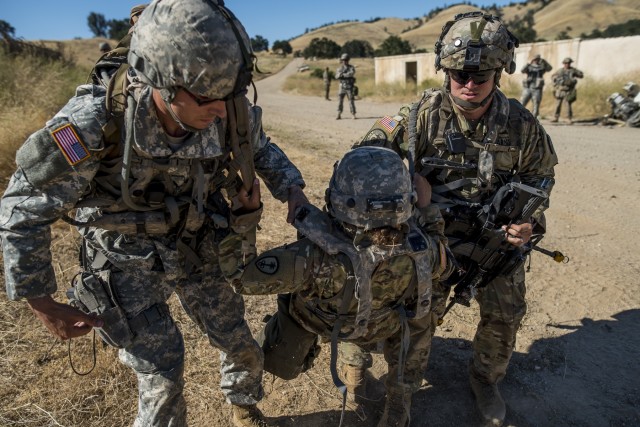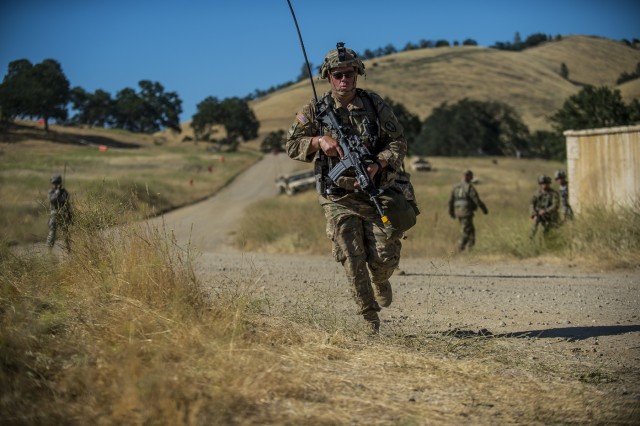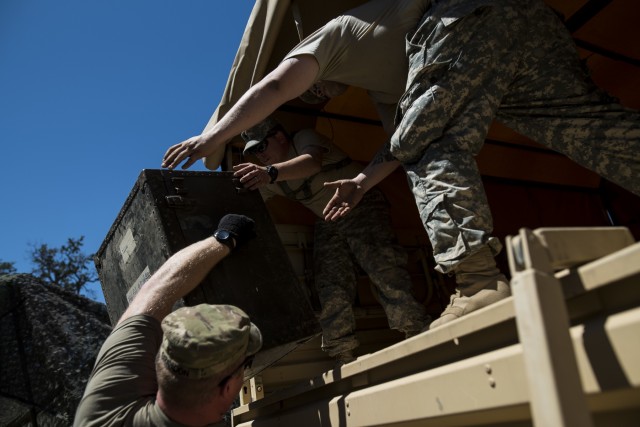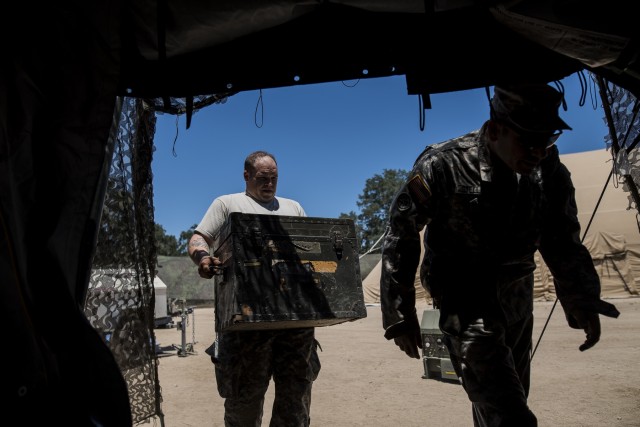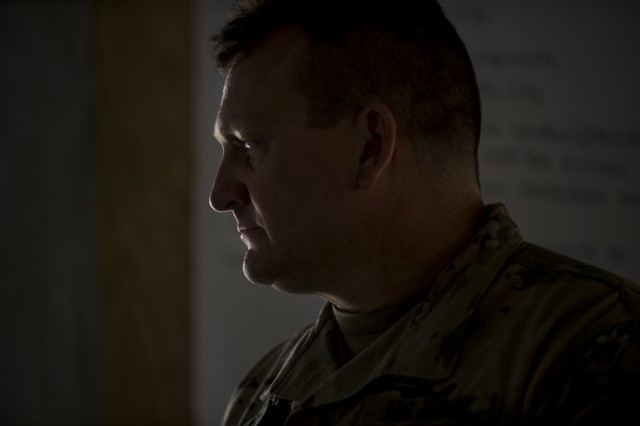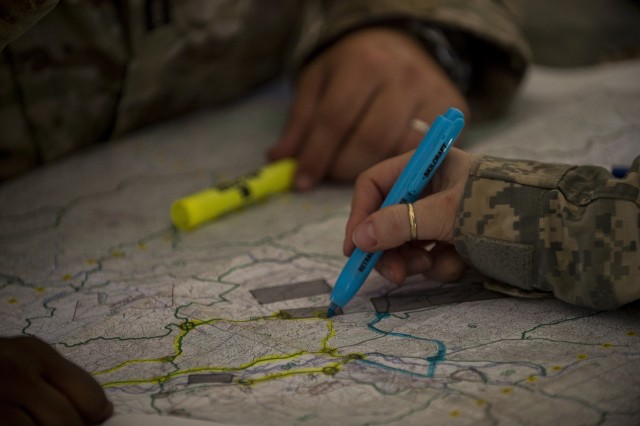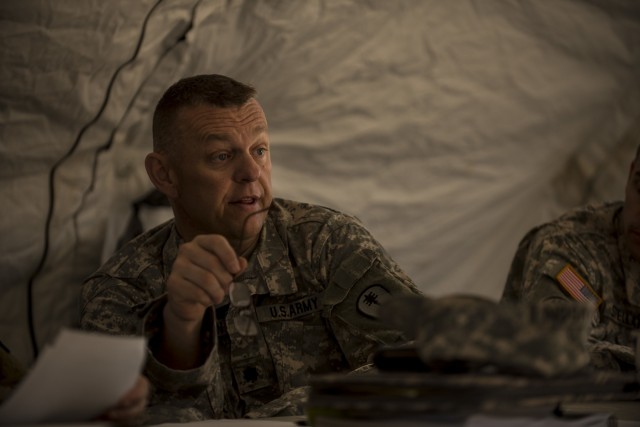 FORT HUNTER LIGGETT, Calif. -- The ground was so hard that the U.S. Army Reserve Soldiers broke five mallets while pounding tent pegs into the dirt. The heat climbed above 100 degrees Fahrenheit, and even though it was a dry heat, it caused the dust to fly around and settle on the Soldiers from their eyebrows down to their bootstraps.
Undeterred, the Soldiers of the 384th Military Police Battalion pushed ahead with their Warrior Exercise, also known as WAREX, during their training in California this month. But the difficult terrain and the heat were not the only obstacles facing the troops.
WAREX, which stands for Warrior Exercise, is a cyclical training event designed to evaluate U.S. Army Reserve brigades, battalions and companies in their specific functional areas.
When the battalion traveled from Indiana to California for the WAREX -- a cyclical training event designed to evaluate U.S. Army Reserve units in their specific functional areas -- the Soldiers thought they knew the strict parameters of their mission. They had been planning for months to rehearse their battalion's typical function: detention operations for enemy prisoners of war.
Except, without warning, the mission changed when they arrived at the WAREX. Instead of guarding hundreds of prisoners, the Soldiers of the 384th were now tasked with feeding and housing thousands of displaced civilians.
"We're equipped to in-process 550 people a day. But on one day, busloads of 800 people showed up as an 'inject.' We had to move into accelerated in-processing," said Lt. Col. Joseph Adamson, the 384th Military Police Battalion commander.
Thankfully, those numbers were "notional," but for the battalion staff it didn't make much of a difference. They still had to react and execute planning as if 800 human beings had just showed up on their installation. This tested the battalion's battle staff procedures, decision-making, communication and logistics -- all while being required to pack up and move their tactical operational spaces in the middle of their exercise.
"We didn't have a playbook for this kind of mission, so we're building one on the fly," said Adamson.
It is fortuitous timing that the playbook is being written now, before the team enters a real theater of war. A "prisoner operation" versus a "life support" mission are significantly different tasks, but both are very real possibilities in a war zone.
In the last 15 years of fighting, U.S. troops have fought mainly in counter-insurgency operations, often known as "asymmetric warfare." Now, the Army wants to maintain that knowledge and awareness, but also return to its roots of fighting "near-peer" enemies, such as organized military forces.
"We've been dealing with insurgent type activity (for so long). When you start thinking about linear battlefield and uniformed enemy, it's totally different," said Maj. Travis Gilbert, officer in charge of operations for the 384th Military Police Battalion.
"Our focus has always been, 'Eyes in. Guns in,' while watching detainees, to now the mission changes with displaced civilians: 'Eyes out. Guns out. Provide security.' Just a huge mindset change," said Gilbert.
In such a scenario, when a war first breaks out, there will be thousands of civilians whose homes, schools, hospitals and infrastructure are destroyed. They will need shelter, food, medical aid and care.
"Someone has to take care of them. That's a huge partnership we have with civil affairs, to provide life support and meet their physical needs," said Adamson.
The battalion also trained in logistical operations, setting up their own sleeping structures and operation centers, to mimic the type of rapid logistical work they would have to do in a real-time operation.
Despite the 180-degree shift in their training mission and mindset, the Soldiers of the 384th Military Police Battalion responded with the physical and mental acuity and flawless teamwork that not only will help them complete the training exercise, but will also serve them well in a real-life combat situation.