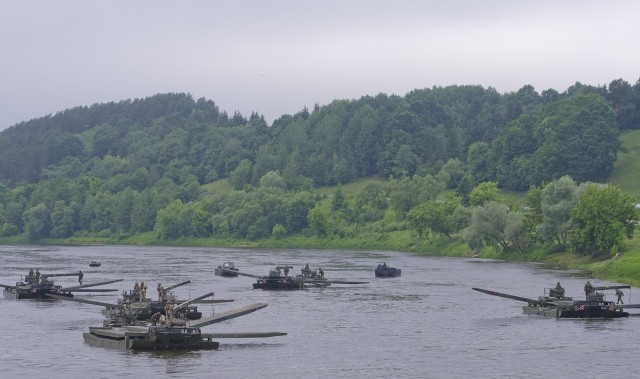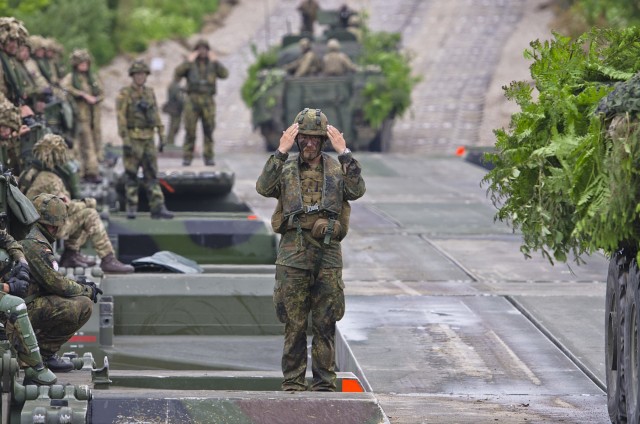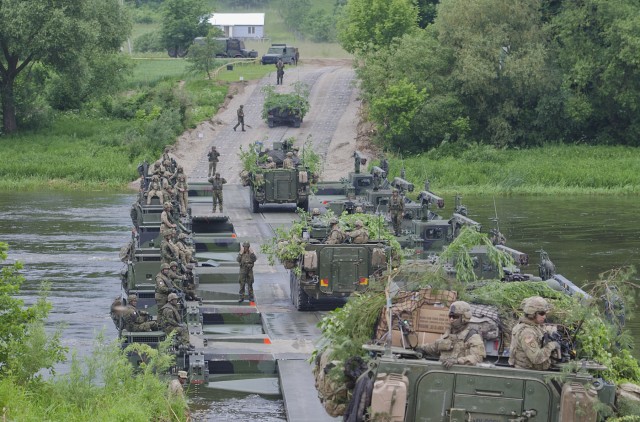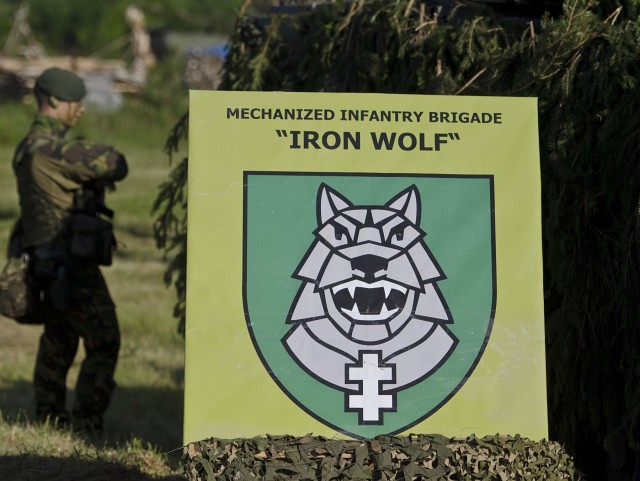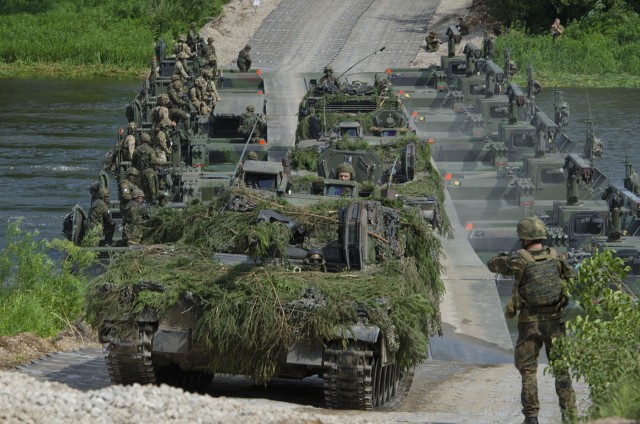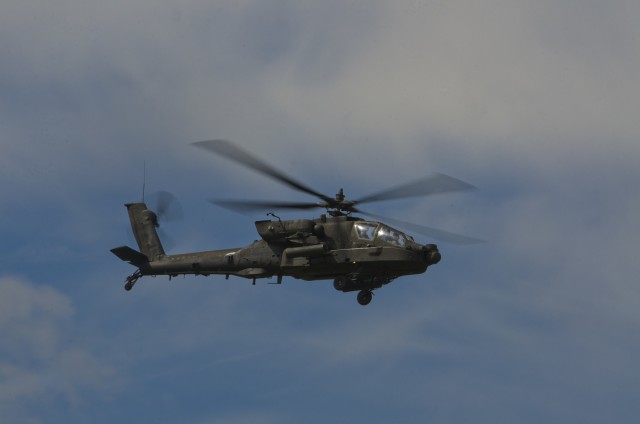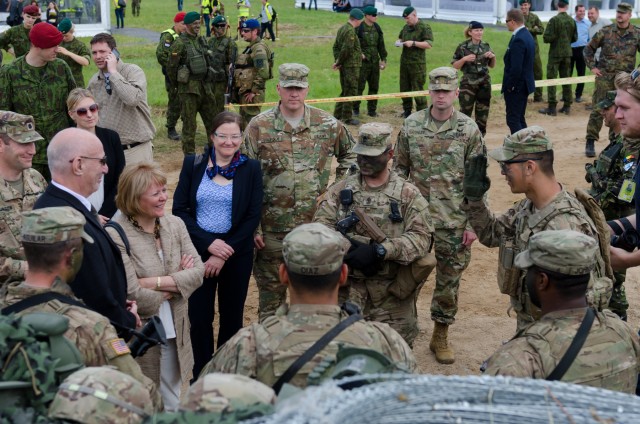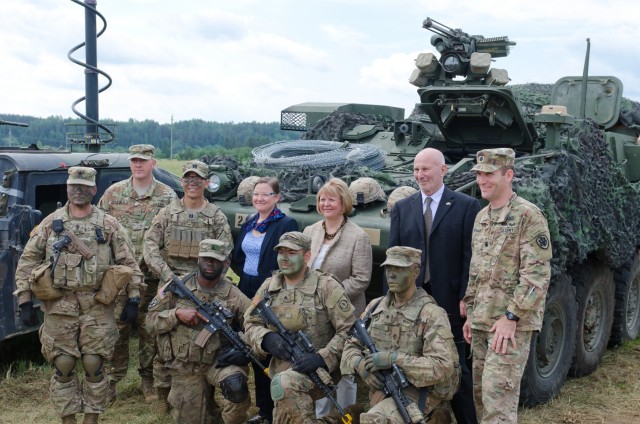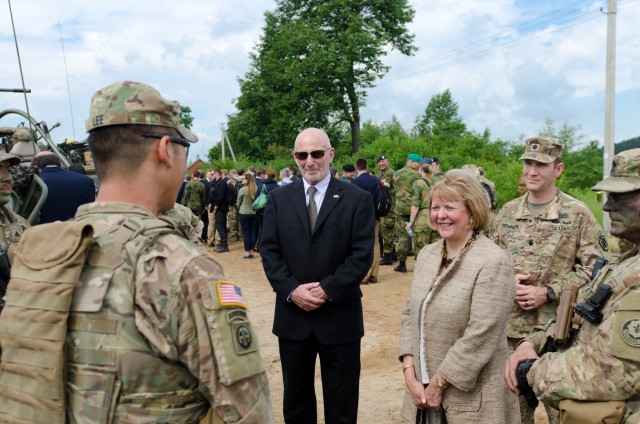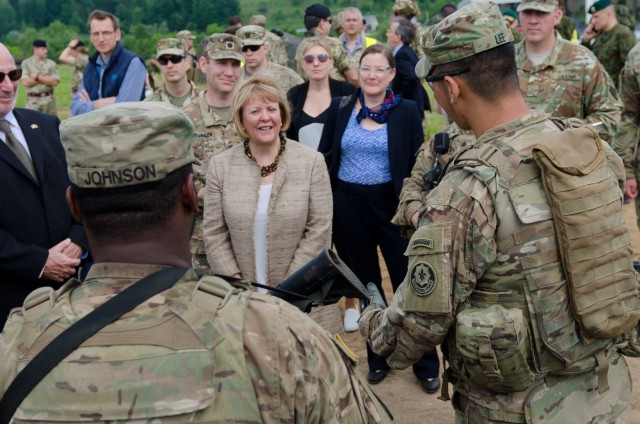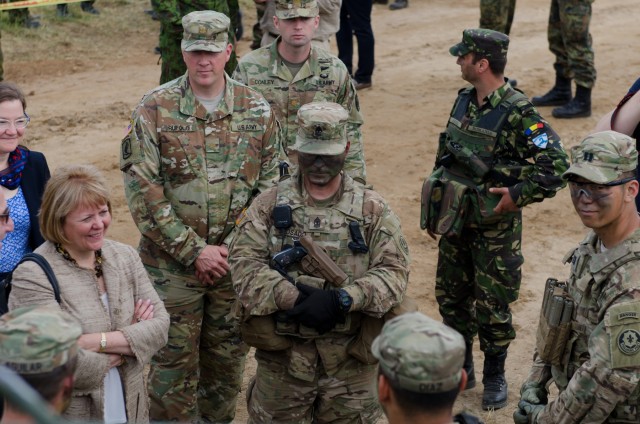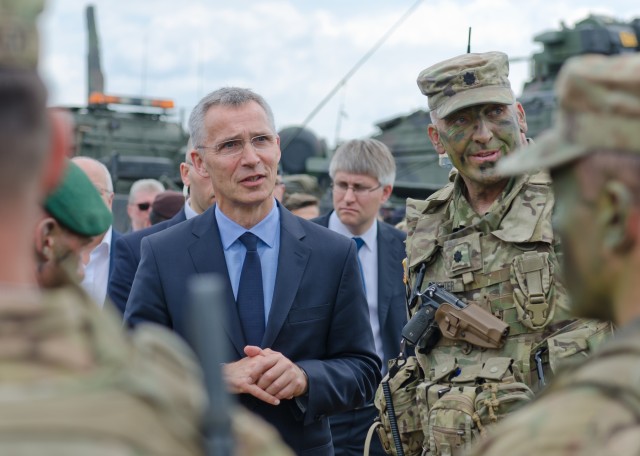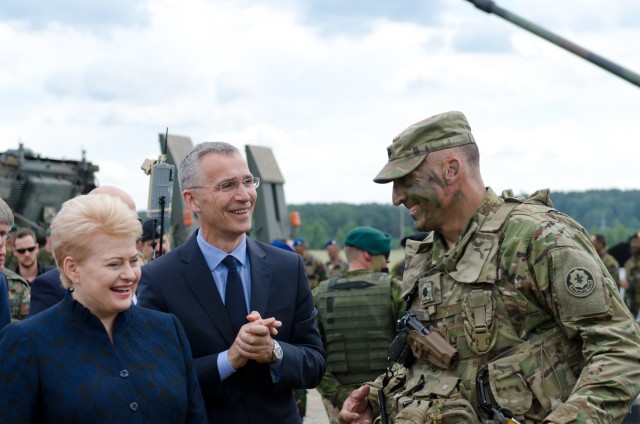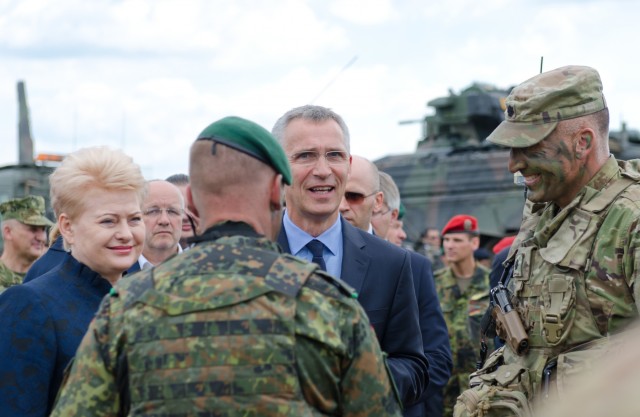 RUKLA, Lithuania -- Seven self-propelled amphibious vehicles deliberately maneuvered into Neris River to provide a temporary bridging capability for the Lithuanian Mechanized Infantry Brigade "Iron Wolf" and for Soldiers attached to the Enhanced Forward Presence Battle Groups from Lithuania and Poland during Exercise Iron Wolf 2017.
Exercise Iron Wolf, a component of Saber Strike 17, is one of the largest military exercises scheduled in Lithuania this year. The collective capabilities that were showcased for Lithuanian President Dalia Grybauskaite, NATO Secretary-General Jens Stoltenberg and other distinguished visitors June 20, 2017, also provided the opportunity to assess the combat readiness of the combined land and air forces.
"Today we showed that we're ready to deter and to defend ourselves if needed," said Grybauskaite. "This is a prime example of efficient organizations demonstrating their capabilities in this region. We have 20 Allied nations participating in these deterrence-oriented exercises that also increase the security of our region."
The Iron Wolf portion of Saber Guardian 17 utilized the battle group located in Poland to demonstrate the alliance's ability to keep critical lines of communication open between the Baltics and Poland open while moving key assets across boarders.
"What we've seen today is a tremendous display of tactical skills, NATO resolve and how different NATO Allies can work together as one," said Stoltenberg. "By having four Battle Groups deployed in the three Baltic countries and in Poland, we're also improving our situational awareness, which enhances the way we can assess, understand and also deter."
One of the key objectives for Saber Strike 17 was to stress capabilities of the multinational battle groups and demonstrate their ability to work together in various ways.
Each battle group is uniquely comprised of multiple Allied nations bringing an array of assets to create a capable force with the ability to provide strength and deterrence to the region.
"The eFP Battle Groups are a very strong symbol of NATO solidarity," said German Lt. Col. Christoph Huber commander of eFP Battle Group Lithuania. "We have now put forces on the ground to work together and we will defend Lithuania and NATO territory against any possible aggression."
The battle groups are a manifestation of the decisions made at the NATO Summit last year to develop a tailored forward presence in the Black Sea region.
Lt. Col. Steven Gventer, commander of eFP Battle Group Poland, emphasized the importance of crossing the Suwalki Gap to integrate Soldiers from Battle Group Poland into the German-led portion of Saber Strike in the Baltic region.
"This is the first time that a battle group has been able to cross borders into strategic areas," said Gventer. "By moving (as quickly) as possible we were able to keep that line of communication open between Allies. It takes interoperability, it takes a common operating picture and understanding the concept that each nation has a collective deterrence mindset."
"What we're doing is purely defensive, it's simply demonstrating our capabilities that we have an understanding of the strategic environment, we understand the operating environment here on the ground and that understanding means that we need to be able to show deterrence and if needed we can defend," he added.
There is no substitute for the eFP forward Battle Groups in Europe. It is the bedrock of the ability to assure NATO Allies, respond to threats as necessary, ensure support to global operations, and deter potential adversaries.
"These Battle Groups are sending a clear message, an attack on one Ally is an attack on all," Stoltenberg said.