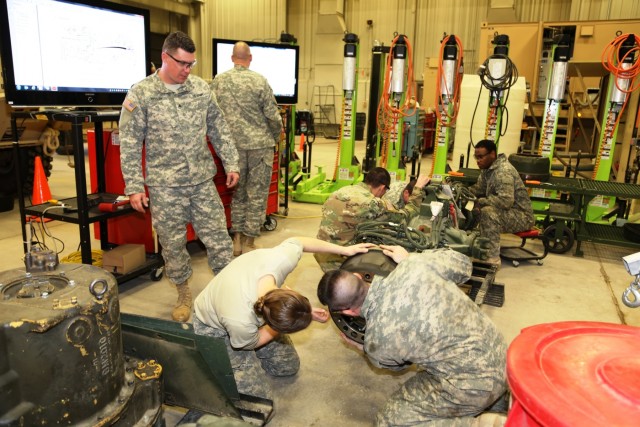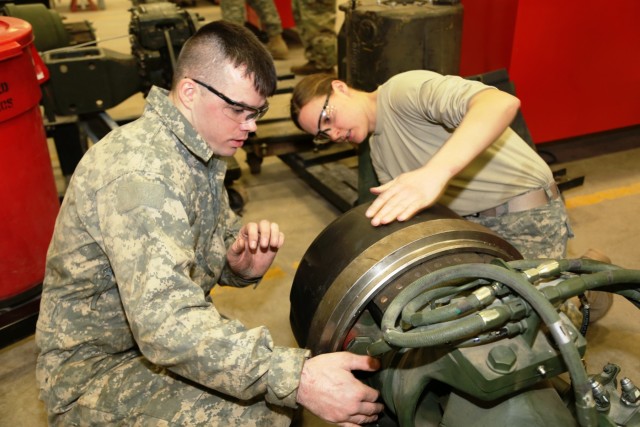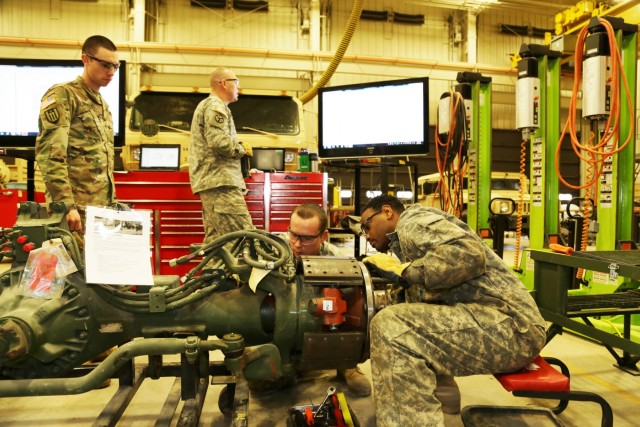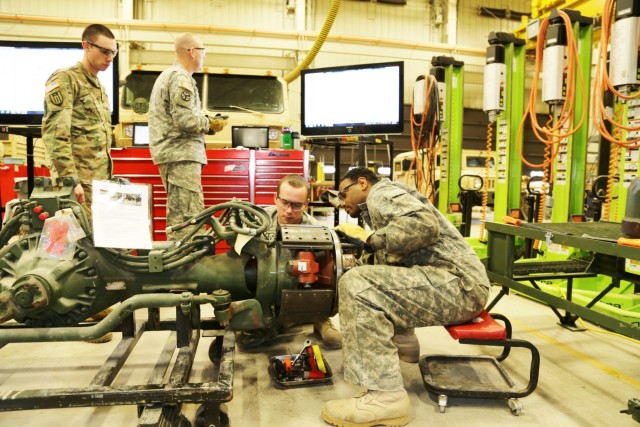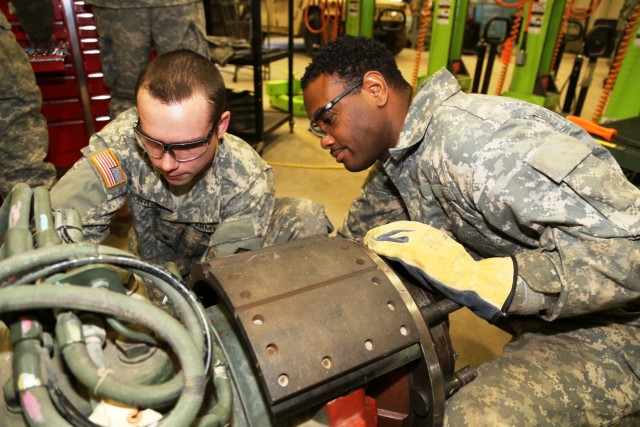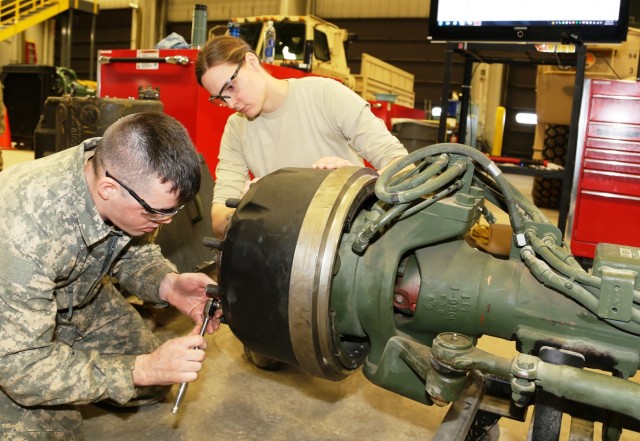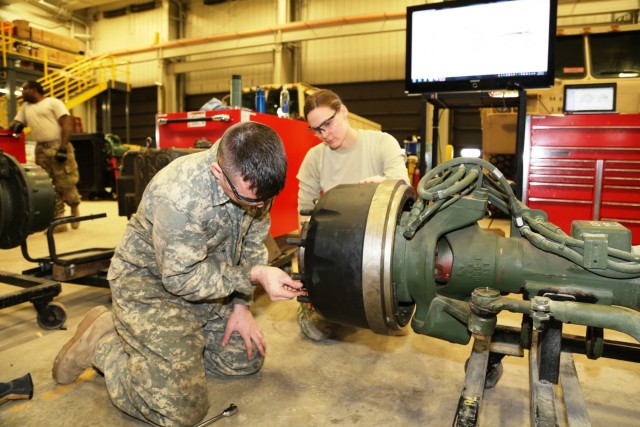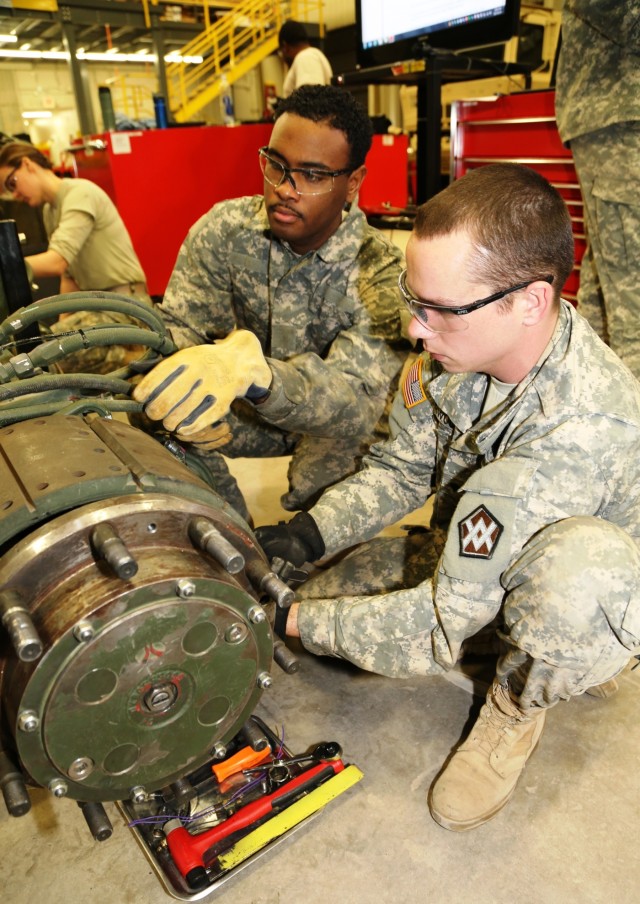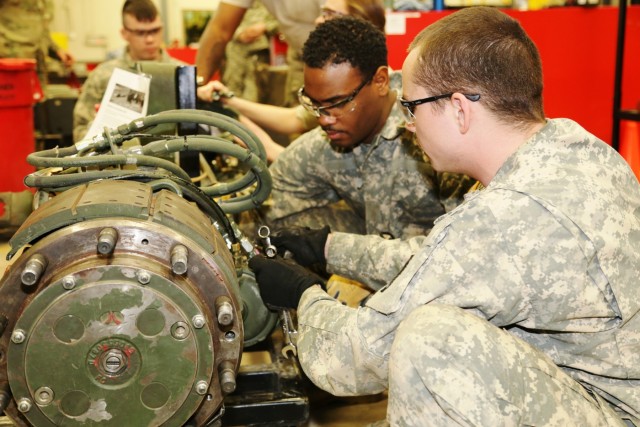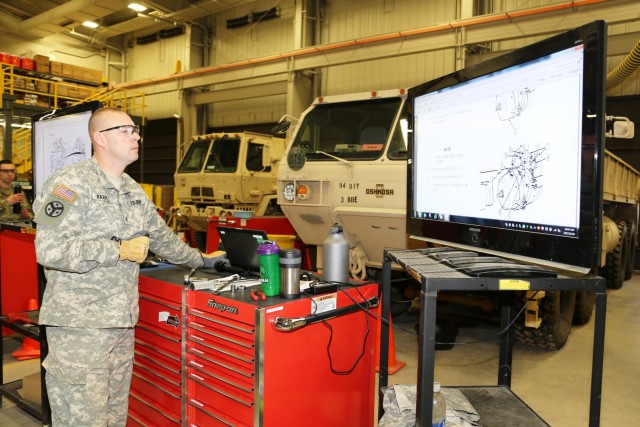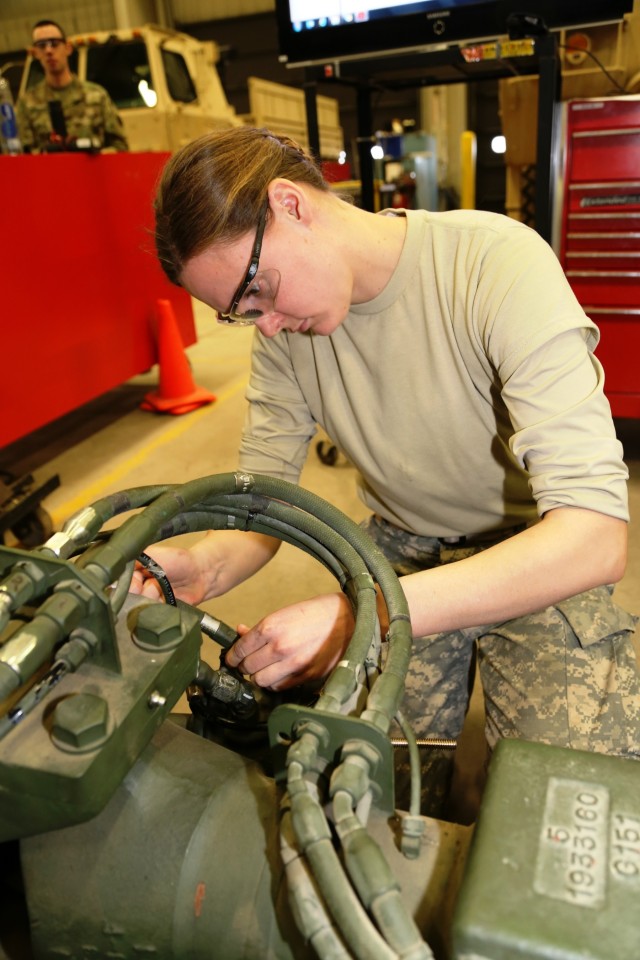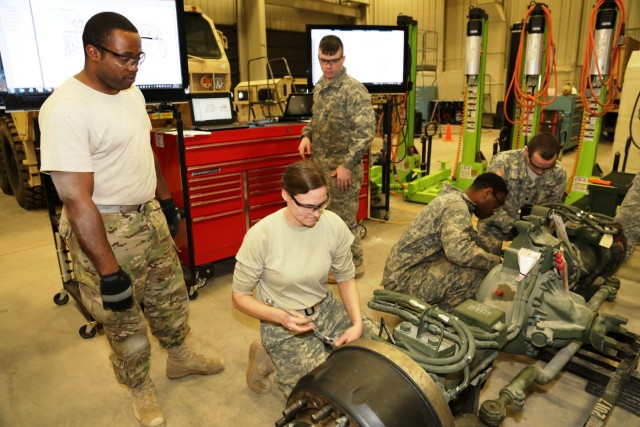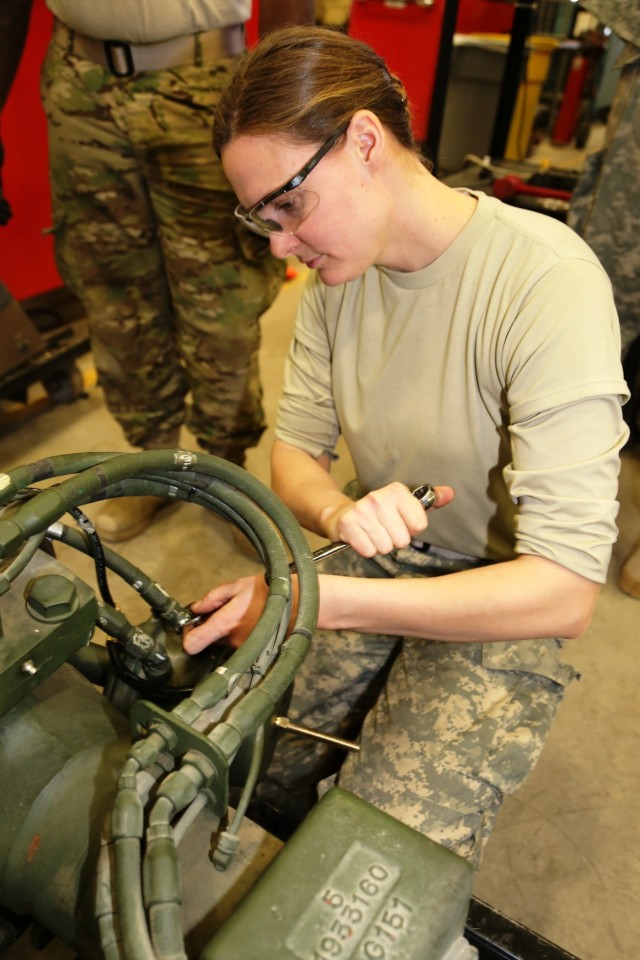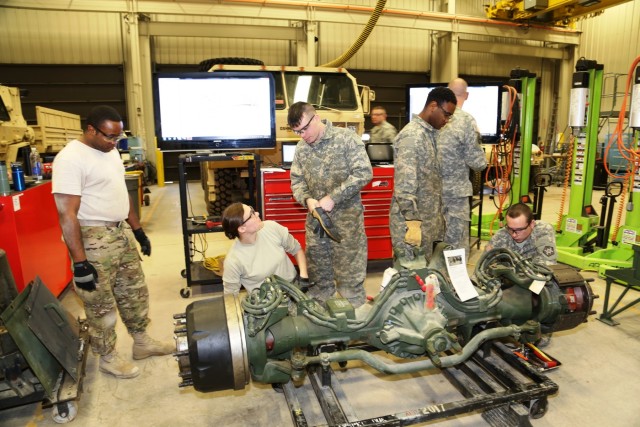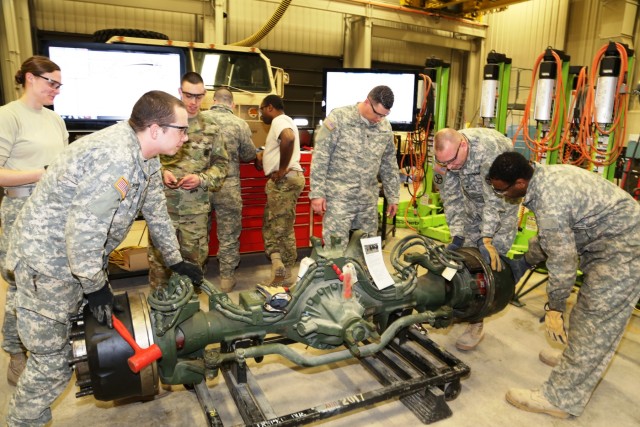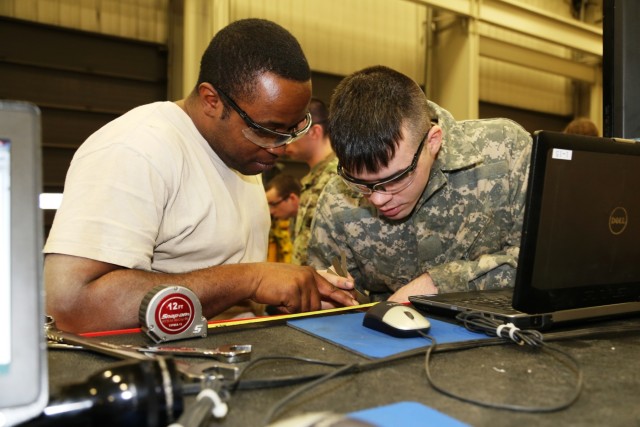 Even though Spc. Rachel Colwell grew up on a farm in Western North Dakota working on heavy equipment, she said "it's nothing like military equipment."
During January and February, Colwell and 11 other Soldiers improved their mechanic skills as students in the Wheeled Vehicle Mechanics Course at Regional Training Site (RTS)-Maintenance at Fort McCoy.
"This training is going to help me a lot," said Colwell, who is with the 188th Engineering Company of the North Dakota National Guard at Wahpeton. "I now am going to be familiar with the many types of equipment my unit works with."
Students in the Wheeled Vehicle Mechanics Course, or WVMC, complete six weeks of training in two three-week phases, focusing on basic tasks, requirements, and procedures in the Army's 91B wheeled vehicle mechanic military occupational specialty, said course instructor Staff Sgt. Matthew Squatrito. During the course, the students work on all types of diesel engines as well as humvees, vehicles in the Family of Medium Tactical Vehicle series, Heavy Expanded Mobility Tactical Trucks, and Mine-Resistant Ambush Protected vehicles.
"This course provides the instruction to certify students for initial entry into the career field," Squatrito said. "The first phase provides students with basic knowledge. We tailored this course to teach students with limited experience how to be a vehicle maintainer and mechanic."
Opening lessons in WVMC include learning the history of the Army's Ordnance Corps, the first Army organization to have mechanics.
"They get to know the roots of the career field and then move into basic theories and operations, such as mechanical theory," Squatrito said. "They also receive an introduction to diagnostics, which is a lot of what these (students) will be doing when diagnosing problems with vehicles. ... Phase one of training, overall, really lays the groundwork for becoming a mechanic."
Phase two of course instruction builds on everything the students learned in the first phase, Squatrito said. The second phase includes more hands-on practice, completing lessons on equipment.
"In this course, students have to drive vehicles in and out of the (shop) bays and become very familiar with the vehicles they're working on," Squatrito said. "There is a lot of hands-on training in this course, so the students are constantly moving equipment around and learning more about it as they complete coursework.
"We also teach these Soldiers how to be maintainers of their equipment and not just mechanics," Squatrito said. "Through learning good preventative maintenance, it allows them to get ahead of the curve (by) preventing any possible future breakdowns."
Squatrito manages the course with one other RTS-Maintenance instructor as well as some guest instructors during parts of the course. "We want to maintain a good student-to-instructor ratio due to the specialized work these students are learning," he said.
Sgt. David Ramirez, a student from the Tennessee National Guard's 278th Cavalry Regiment at Parsons, said he's appreciated the support he received from course instructors and believes the training will help him at his unit.
"I think this course has given me a greater understanding of how everything functions," Ramirez said. "You learn how each little piece has its own specific function and how it takes all those pieces to make everything work as one. I think the greater understanding I've learned here will help alleviate and diagnose any issues that come up and will help improve overall unit readiness."
Colwell said she's appreciated many things about the RTS-Maintenance training experience, too. From working on hydraulics for a Heavy Expanded Mobility Tactical Truck to the professionalism displayed by the staff, she said she will go back to North Dakota as a better-trained Soldier.
"I just wanted to learn a lot more so that I am fully capable of maintaining and helping my unit," Colwell said. "I don't want to be that person who makes things drag. I want to be that person who is right up front leading the charge with everyone else, and I think this experience has helped me become that person."
Four WVMC sessions are held each fiscal year, but that may increase in coming years. "As things get more ramped up here, we'll stay ready providing the best training we possibly can," Squatrito said.
RTS-Maintenance at Fort McCoy trains Soldiers in both active- and reserve-component forces.
For more information about RTS-Maintenance courses, call 608-388-3748.