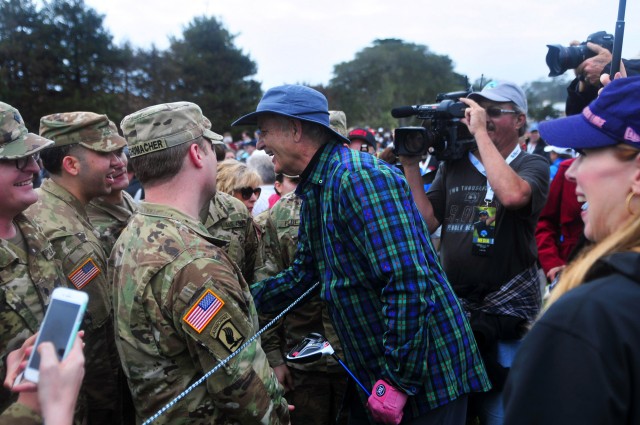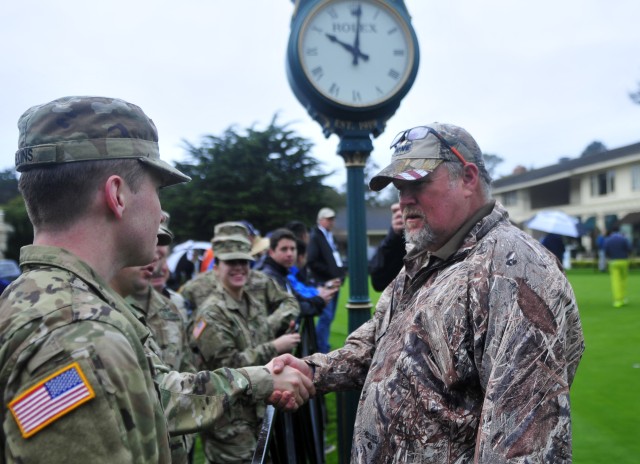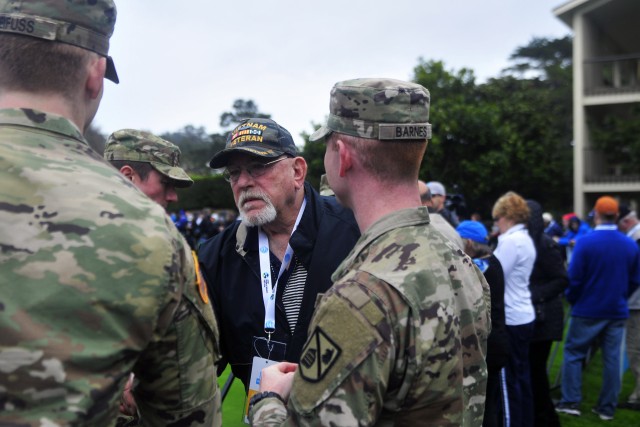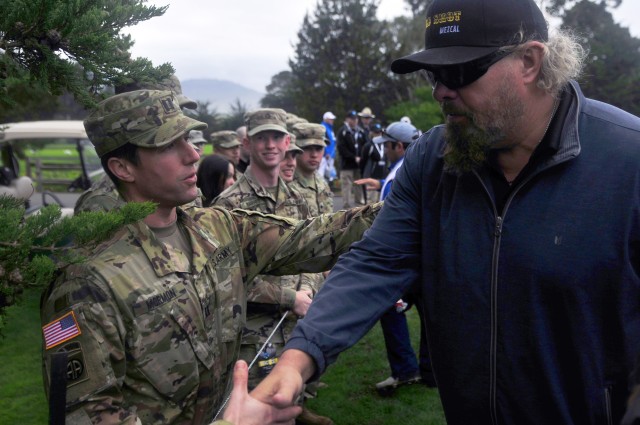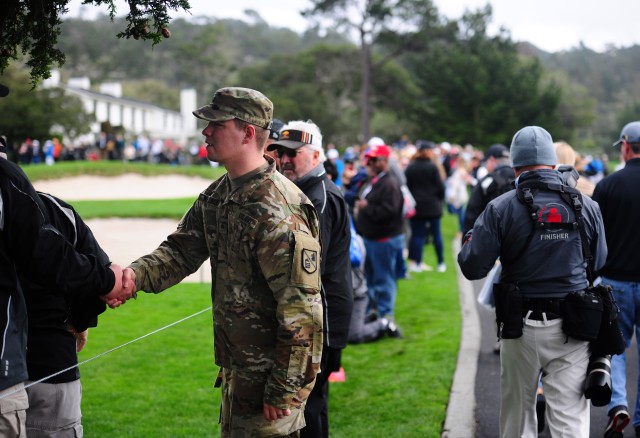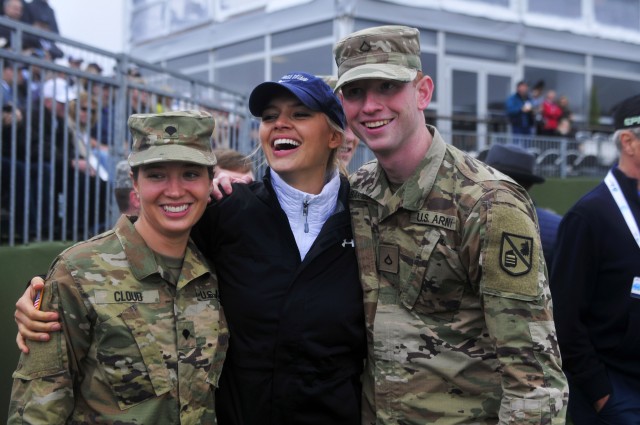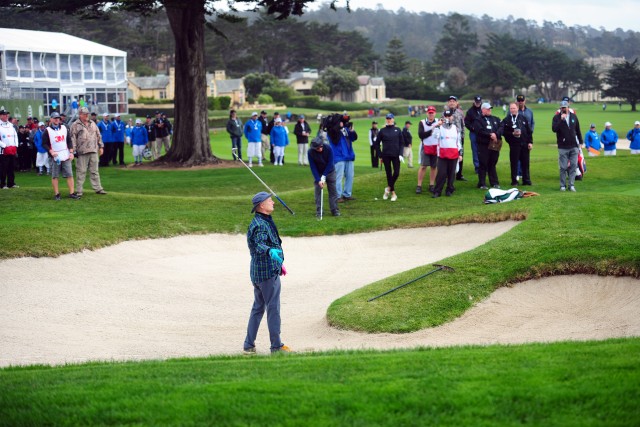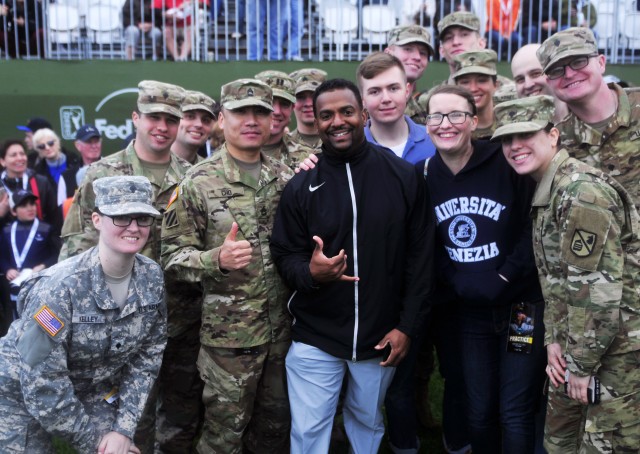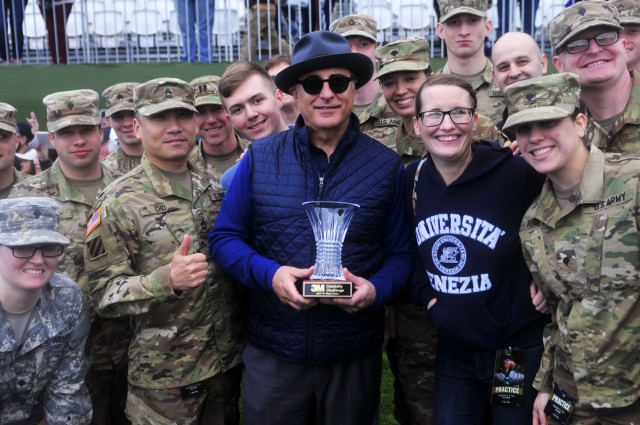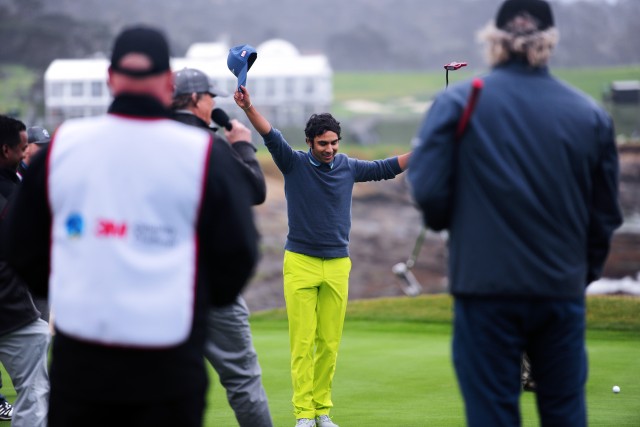 PRESIDIO OF MONTEREY, Calif. -- When a Soldier joins the Army there are some reasonable expectations about what will happen during their military service, things like having to following orders or learning to push beyond limits to accomplish a mission. But there are some experiences so unexpected that it escapes ones wildest imagination. This story falls under the latter category. In fact, this might most resemble a fairy tale -- a Cinderella story.
Every February, dating back almost 65 years, the world's top golfing professionals converge in Monterey with celebrities from music, entertainment, and sports, to play together in the AT&T Pebble Beach Pro-Am. Along with the golfers and celebrities come tens of thousands of spectators, and millions more who watch the television and internet broadcasts. For Service Members stationed at the Presidio of Monterey, whether participating as a volunteer or attending as a spectator, experiencing the AT&T Pebble Beach is truly one of those unique Monterey community experiences.
The king (or jester) of golfing celebrities, and crowd favorite, is actor and 2011 AT&T Pebble Beach winner Bill Murray. Arguably his most iconic cinematic role, Murray played greenskeeper Carl Spackler in the golfing comedy classic Caddyshack(1980).
And that is how, on what would otherwise had been a typical Wednesday afternoon, a dozen Soldiers from the Presidio's 229th Military Intelligence Battalion found themselves walking the world famous Pebble Beach golf course with the likes of Murray and others as they attended the 3-M Celebrity Challenge pre-tournament charity event on Feb. 8.
"It was not at all like I was expecting," said Pfc. Kaleb Barnes, Utah National Guard, attached to 229th MI Bn, D Company. "I thought we would be observing from the outside so it was really surprising to be invited in and right there with the celebrities, especially on that last hole to be right next to Bill Murray and everybody out there. My buddy Pfc. (Luke) Beifuss actually hugged Bill (Murray) over their bond of both being Chicagoans and Cubs fans."
Cpt. Jacob Mormon, 229th MI Bn, E Company, is in the Army's Foreign Affairs Officer program and studying Spanish at the Defense Language Institute Foreign Language Center. He acted as the on-site officer-in-charge for the Soldiers at the event.
"It was very unique and humbling opportunity to go out and receive all the attention we did," said Mormon. "We were treated like celebrities, which is something that I did not expect. This is something that will stick with me for the rest of my career and something that I will continue to share down the road with my family and my peers."
Beyond the attention though, Mormon said there was a more important aspect to the Soldiers visit to this particular community event.
"I think we are out here today to let people know that we are normal people and that we do support the communities we live in," said Mormon. "Going and involving ourselves in an event like this is an outstanding opportunity for us to interact with the public and meet and greet people and show our support for the Monterey community as a whole."
"I am extremely proud of how these Soldiers, mostly junior enlisted, carried themselves today, they were true professional," added Mormon. "To see all the interaction with the public was just amazing, all the support we received and taking pictures with people in the crowd and shaking hands and introducing ourselves and letting them know where we are from, it was an honor. For them to go out there and represent the Army and interact and behave in the manner they did just really shows the type of Soldiers we have in the Army and here at DLI."
Mormon's highlight of the event included getting to shake hands with celebrities such as Murray, but even that was not as personally meaningful for him as was meeting Condoleezza Rice, who the Soldiers ran into after the charity event near Pebble Beach's practice green.
"Meeting her was very humbling and such an honor, especially because there were a couple of us that have been in the military since she was part of the administration," said Mormon.
Barnes' highlight of the day made a different kind of impact on him and his fellow Soldiers.
"Right off the bat, Larry the Cable Guy on his second shot of the first hole hits his ball and it came flying, missing the fairway, then it hit the path and actually hit a couple of us Soldiers," said Barnes.
That will be just one of a couple of stories that Barnes will bring back after returning to his normal schedule at the Presidio.
"When I go back and I tell people about this I am definitely going to rub it in a bit. We're still waiting for our (language) classes to start so that allowed us to go. This is something that most people will never be able to do. I mean, we were able to walk out onto the course and were escorted right up there with the celebrities, almost nobody gets that experience," said Barnes. "So in that aspect I will be bragging that we were able to do it, but at the same time expressing my gratitude for the chance that I did get to go and really see how much people appreciated us being out there."
The 3-M Celebrity Challenge is played over five holes at the Pebble Beach Golf Links that are known affectionately as the "whiskey run," with twelve celebrities paired in teams playing alternate-shot format for a total purse of $100,000 to celebrities' designated charities. The challenge event is part of the greater AT&T Pebble Beach Pro-Am tournament which helped raise more than $10 million in 2015-2016 for charities throughout the Monterey Bay region.
In addition to Murray, the other celebrities participating in the event were Huey Lewis, Larry the Cable Guy, Toby Keith, Kenny G, Clay Walker, Alfonso Ribeiro, Gary Mule Deer, Andy Garcia, Kelly Rohrbach, Kunal Nayyar, and Josh Duhamel.
Active duty, Reserves, National Guard, Veterans and Military Retirees are eligible to receive up to two free general admission single day tickets for the tournament courtesy of the Birdies for the Brave Program. The Patriots Outpost military appreciation tent, located on Pebble Beach's 15th hole provides a luxurious place to watch the tournament, which runs Thursday through Sunday Feb. 9-12.
Related Links:
Presidio of Monterey Official Website