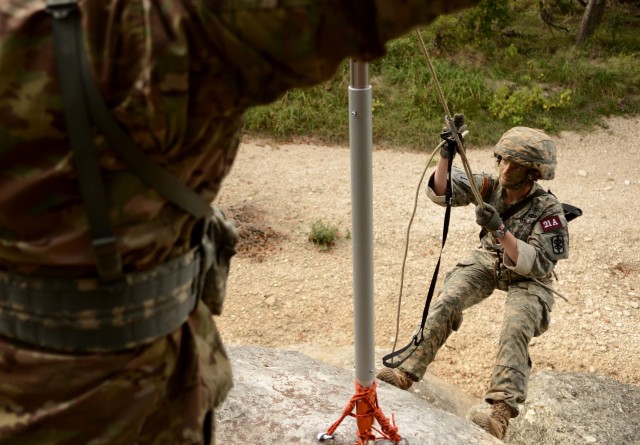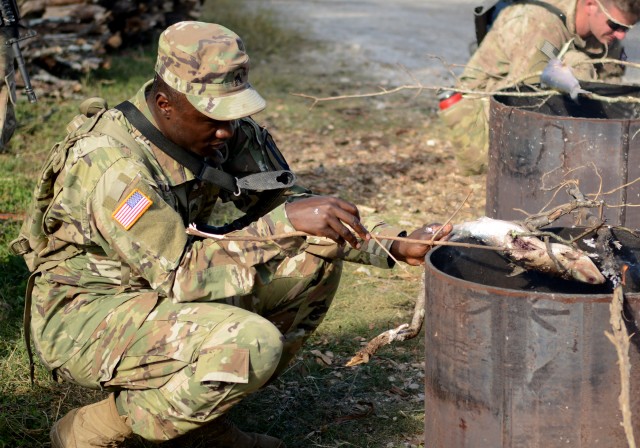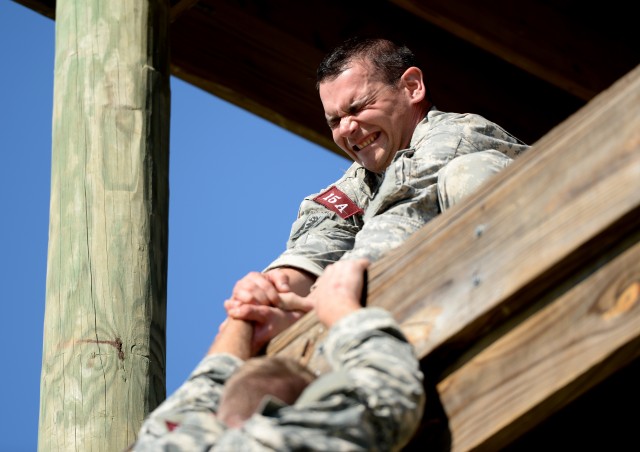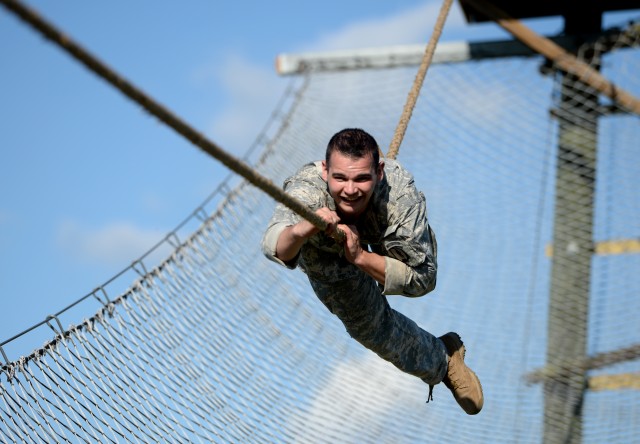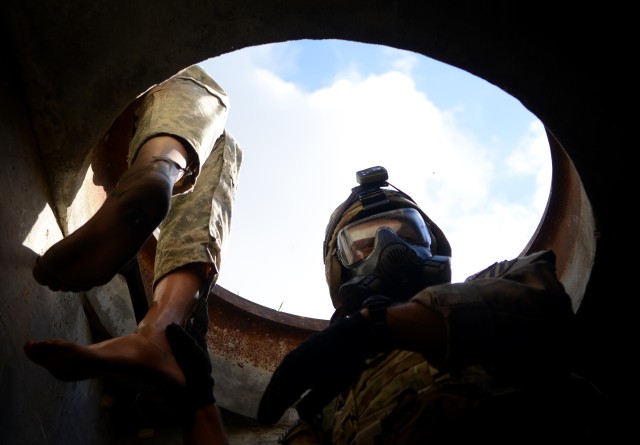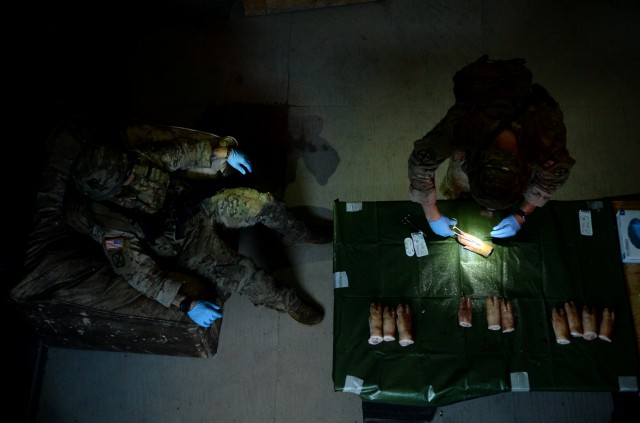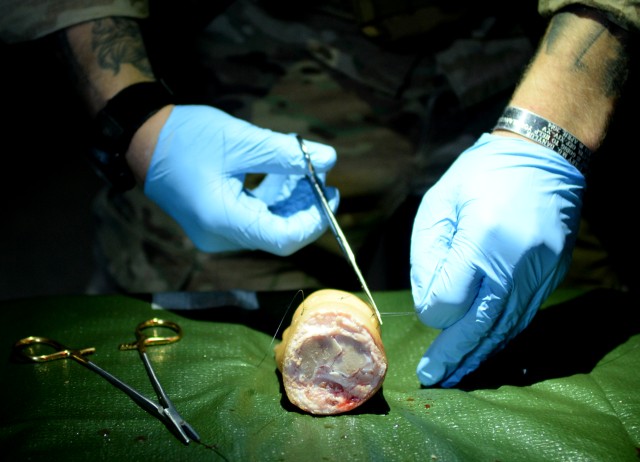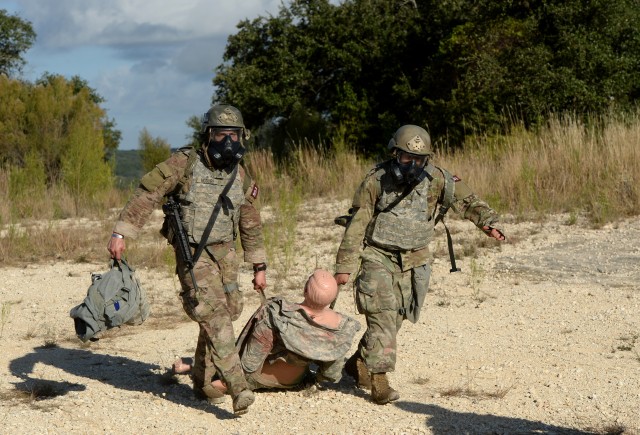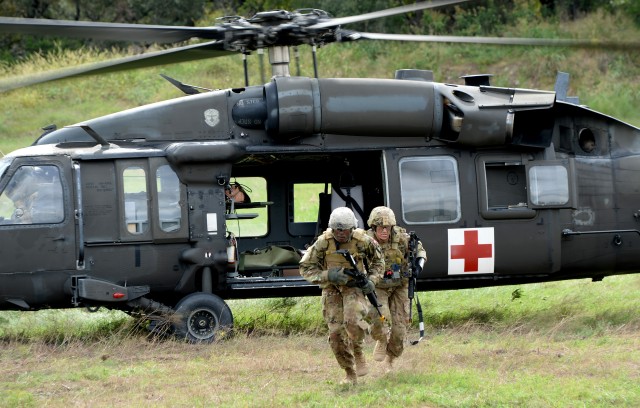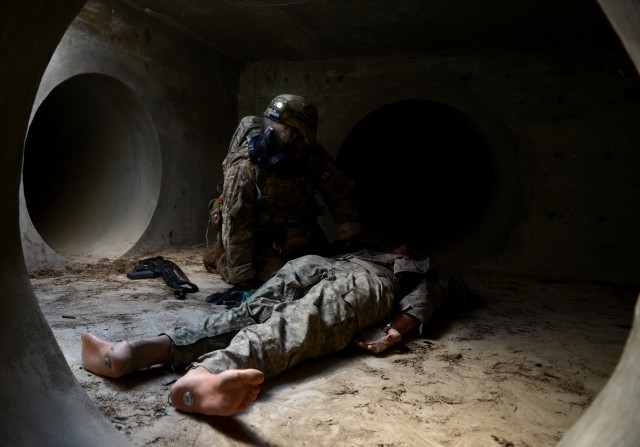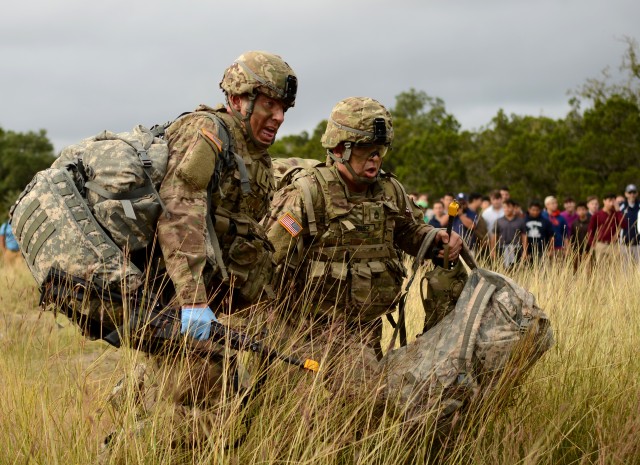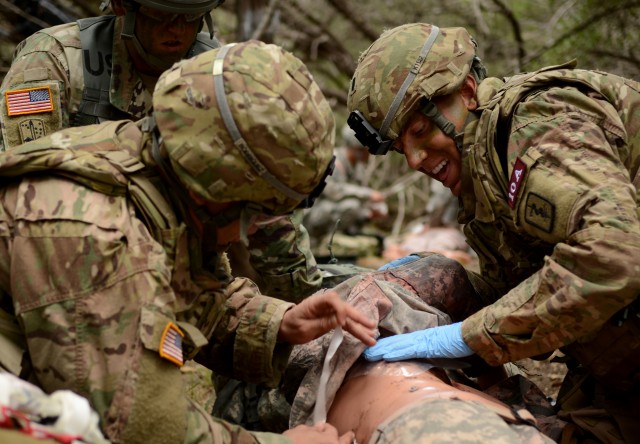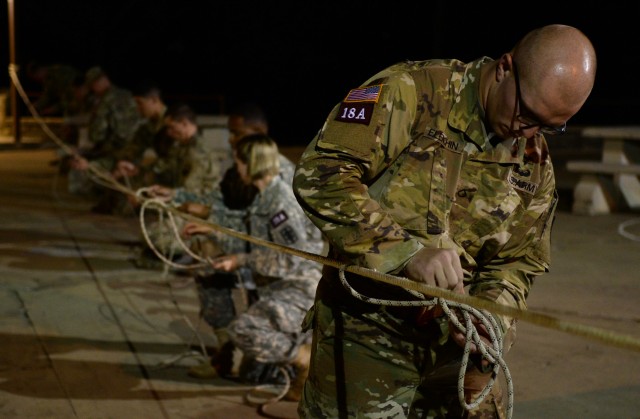 CAMP BULLIS, Texas (Army News Service) -- In a strenuous three-day contest to crown the Army's best medics, Sgt. 1st Class Hubert Severin couldn't have cared less if some of his competitors were half his age.
After all, the 46-year-old Vermont National Guard member is an endurance runner who teaches mountaineering skills to Soldiers. The Army's Best Medic Competition, a full assortment of demanding tasks designed to test the limits of bodies and minds, would just be another notch in his belt.
"I don't think of myself as 46," he said before the competition, which culminated with an Oct. 28 awards ceremony. "Hopefully I don't realize it for a couple more years."
Along with more than 30 other two-person teams, Severin and his teammate, Staff Sgt. Andreas Bond, battled through punishing tasks that included dozens of miles of road marches, stressful medical drills under mock gunfire, and called upon them to traverse thick brush and rappel with a 180-pound dummy patient -- all with little rest.
Although his compatriot is 18 years his senior, Bond had full faith that Severin would finish with him. "He's still an animal," Bond said on the first day of the contest, held here at Camp Bullis. "He runs marathons every year and does all sorts of training."
As instructors at the Army Mountain Warfare School in Jericho, Vermont, both Guardsmen have grown accustomed to trekking over rough terrain. Even so, just like the other medics out there, the difficult contest really tested their mettle.
After completing the lanes in this year's event, Oct. 27, Severin recalled that the land navigation portion, which they tackled at night, was the worst part of it.
"Honestly, the land nav was a suck fest. The vegetation was unforgiving," he said, showing multiple scrapes on his hands he suffered from the prickly brush. Bond chimed in, calling that lane "extremely humbling."
Without any pain, though, there's nothing to gain, they agreed. "It's definitely good for your soul to suffer once in a while," Severin said. "It's a gut check."
They weren't alone. Sweat, blood and frustration, with some foul language here and there, were all present throughout the lanes as medics pushed through exhausting tasks in the Texas heat.
Some competitors, like Sgts. Matthew Evans and Jarrod Sheets of the 10th Mountain Division, had been through the punishment before. They were coming back for another serving.
Last year, the pair of medics said, they learned how much their bodies could take, along with acquiring new medical skills. They also learned that these contests come with an added benefit -- a stronger friendship.
"Being out there with someone else under that suck factor makes you feel a lot closer," said Evans, 24. "Sometimes you want to slap him around a bit, but he's still my best bud. I'd do anything for him."
This was the first competition for 27-year-old Capt. McKinsey Harb, who made the trip all the way from Hawaii, where she serves as a medical service officer with the 18th Medical Command. She saw the challenge as a break from her normal administrative duties.
"I feel like opportunities like this remind us that being a warrior is more than just going to our job and doing our 9 to 5," she said. "This is the kind of stuff that brings out that warrior spirit."
Harb's teammate, Sgt. 1st Class Antonio Mason, 37, entered the contest to set an example for other Soldiers. "If I can get out and lead from the front, hopefully, I can train someone else to compete next year," he said.
His pride for the combat medic field, the second-largest military occupational specialty only behind the infantry, was also part of his decision. "Going through something this challenging will definitely make you feel proud to be in the medical field," he said.
That sort of motivation is essential when facing task after task in demanding contests like Best Medic, which at one point had a roughly 30-hour nonstop stretch chock full of required lanes. Like their fellow competitors, the 18th MEDCOM team struggled at times, but they stuck it out to the finish line.
"The fear of failure isn't really a good excuse to not do something," Harb said. "I think it's important if someone offers you an opportunity, no matter the challenge, to take it on and go for it."
As the only female competing this year, Harb felt some added pressure to finish.
"It's always a little daunting and I never quite get used to it even though I've been the only female in a lot of situations," she said. "But it also makes me proud because it's really important for female leaders to get out there and lead the way and break some of those glass ceilings for other women."
In the end, the Army Special Operations Command team won the competition, while Evans and Sheets earned second place honors.
"I have nothing to prove to myself, but it's fun being challenged," Sheets said. "At work in the rear, a medic's job is a lot of paperwork and general-level clinical care. It can get monotonous and boring, so getting a chance to come here and have the training focused specifically on you and your skillsets is a nice change of pace."
Even for those who did not win or place, the fact that they took on and completed the daunting race was a victory in itself.
"I know we didn't take first but I honestly don't really care," Bond said. "It's just being able to say that we did this."