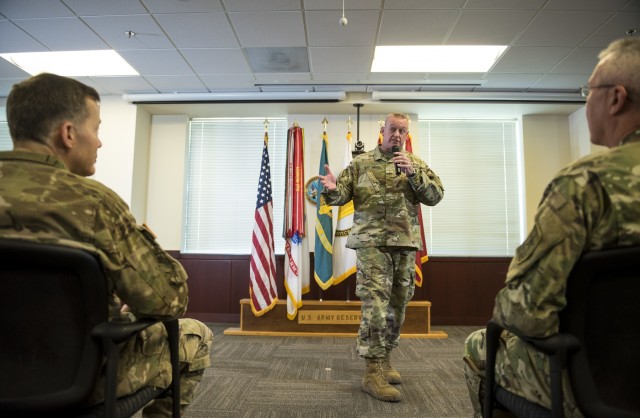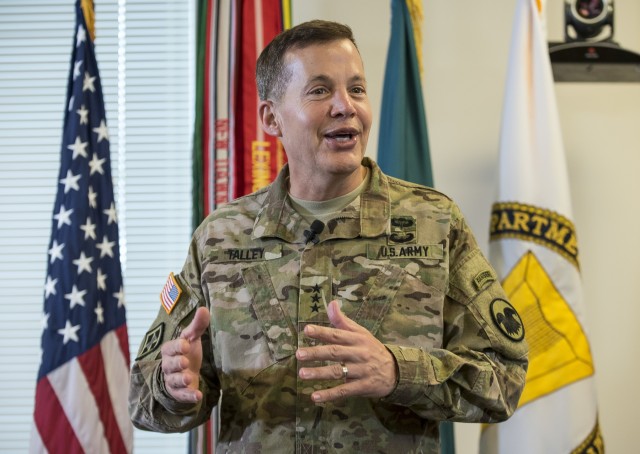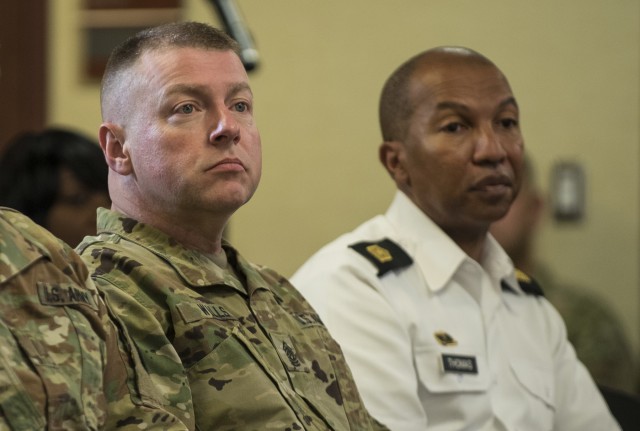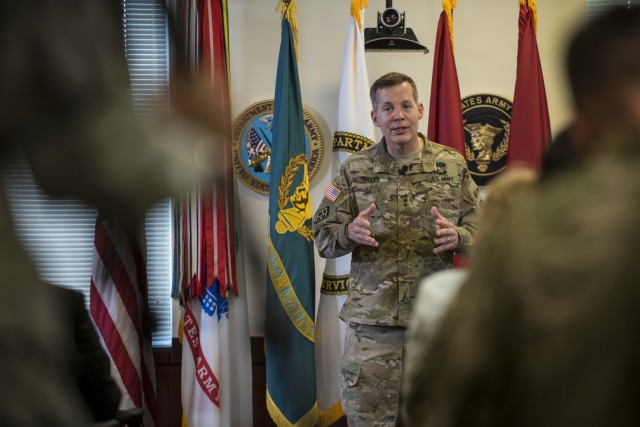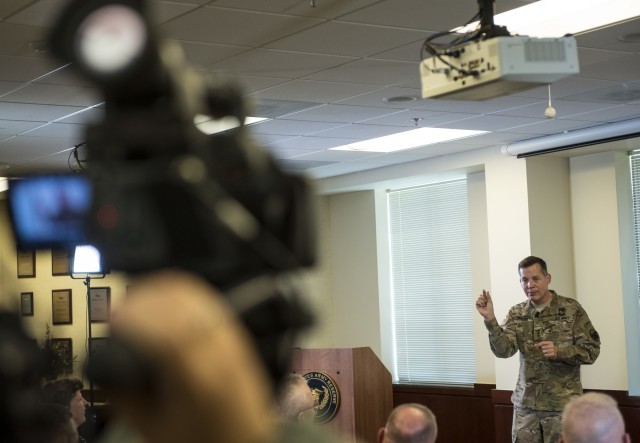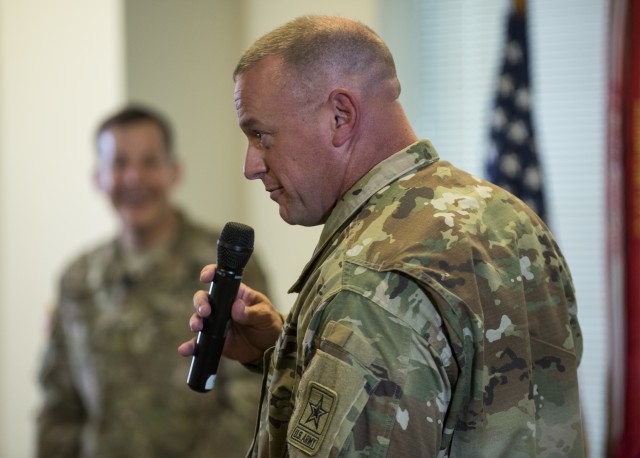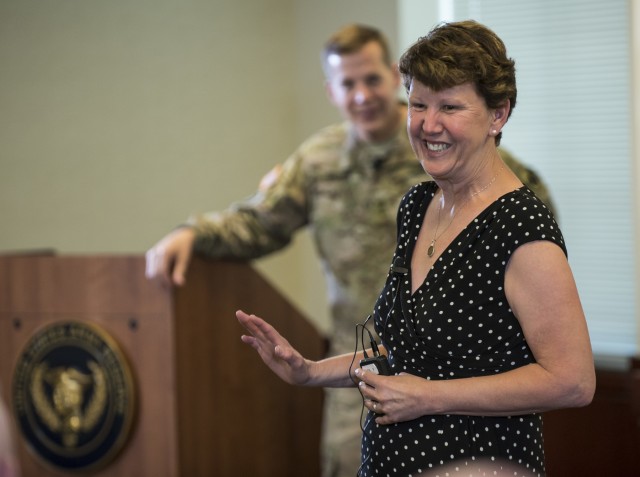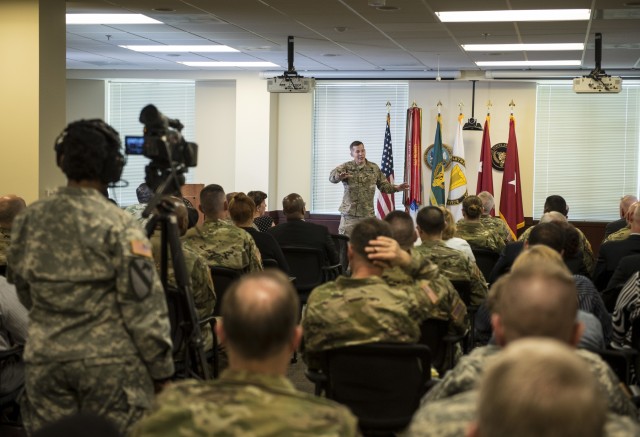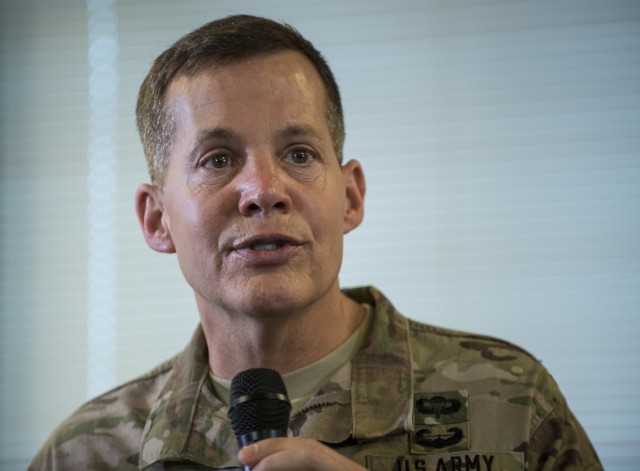 FORT BELVOIR, Va. - The chief of the U.S. Army Reserve delivered his final town hall meeting May 24 before live and online audiences, with approximately 250 people attending in person and hundreds more watching online, submitting questions from across the Internet.
Lt. Gen. Jeffrey Talley, who has held the title of Chief of Army Reserve for four years, spoke on a great variety of topics, from the achievements accomplished during his time in command to leadership advice he wants to leave behind for those still serving.
"I can say with confidence, not because of me, but because of all of you, that the Army Reserve is better today than it was four years ago," said Talley, who made sure to credit his predecessor, Lt. Gen. Jack Stultz for initiating programs that have contributed to that increasing success.
The challenges Talley faced were many, from sequestration to budget constraints and the downsizing of the military as a whole. All while commanding the largest three-star command across the entire Department of Defense, comprised of roughly 195,000 Soldiers and more than 11,000 civilians. The Army Reserve has a footprint in all 56 states and U.S. territories, with a current presence in 32 countries.
"I've been very fortunate to surround myself with people who, to be frank, they don't look like me, they don't talk like me, and they don't have the same background as me, and therefore they tell me what I need to hear, and not always what I want to hear. And that makes for better decision-making and better comradery. It makes for a better leadership team," said Talley, thanking all those who have supported him along the way.
He also reminded his audience that the Army Reserve runs on those Soldiers who have a full-time job outside of the military and yet find ways to squeeze in extra hours each week to promote professional development and readiness within the ranks.
"They have to juggle between being a leader in their civilian career, which pays the mortgage ... and being a Soldier in the United States Army Reserve," said Talley.
All of their hard work serves a greater purpose: Support the Total Army Force toward mission success. He stressed the importance of Soldier readiness because the Army relies heavily upon the support from the Army Reserve in all facets of their operations.
During the town hall event, Talley's wife, Linda, also took the floor. She encouraged Soldiers to pursue and maintain their family relations in spite of all their military demands.
"Pick up the phone, call your mom, call your dad, call your sister or call your wife ... Take the time to hug the people you love because you never know when the next time will come," she said.
During one of the questions offered later, the Talleys were asked what kind of advice they would offer to the incoming chief and his wife.
"I've already told them one thing. Take leave now," Linda said, in reference to vacation time. "Take leave now or forever hold your peace."
That answer produced the biggest laughs, but it was clear how busy she and her husband had been over the last four years. Talley himself jokingly referred to this as "fighting the calendar," a task that grows more and more difficult as military leaders assume greater responsibilities.
As the questions came in from the audience, Talley's answers reflected guidance filled with humility, thankfulness and a level of care for those Soldiers doing the hard work in the field. Generally, he encouraged the force to develop leaders of character who will embrace the ever-changing military threats the nation will face. He also reminded his leaders to truly do "less with less" and not micromanage subordinate units. Finally, he stressed the importance of civilian education, reminding all Soldiers - regardless of rank - that their greatest muscle is not their trigger fingers but what resides inside their head.