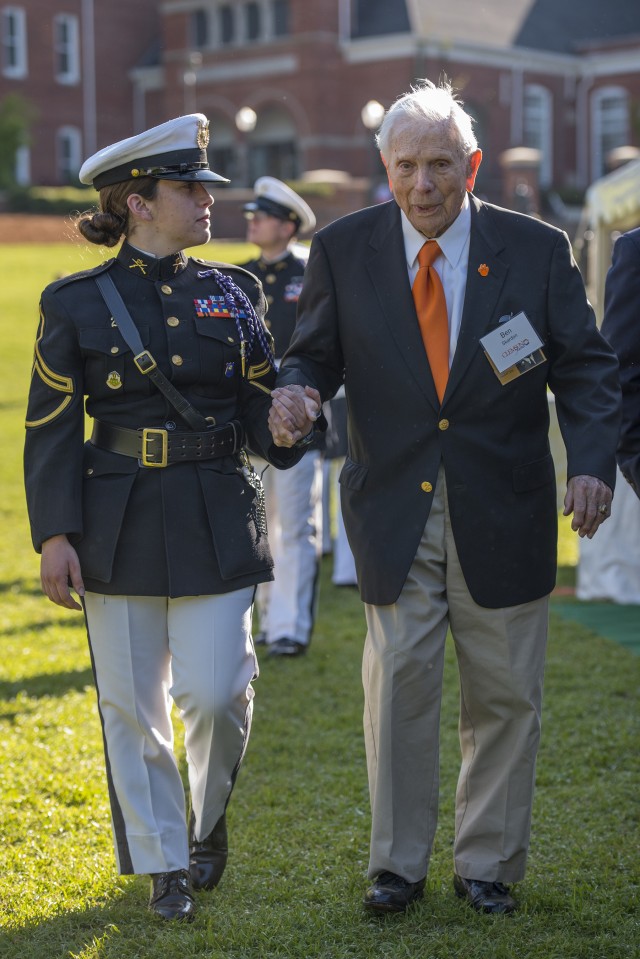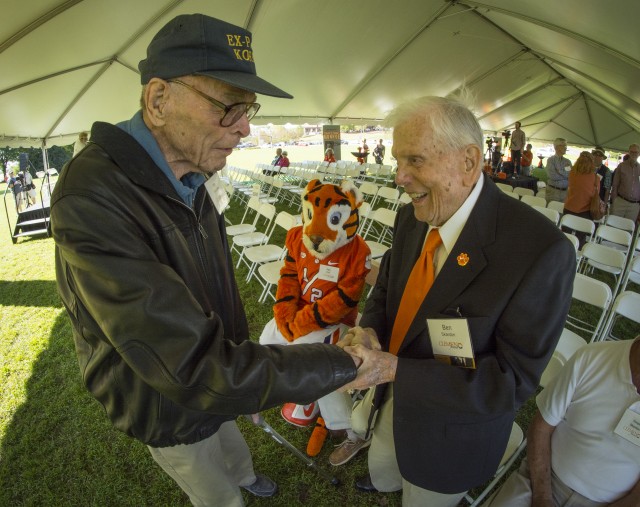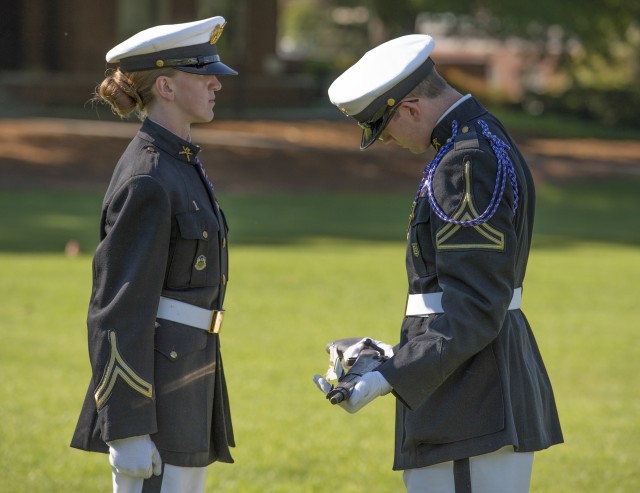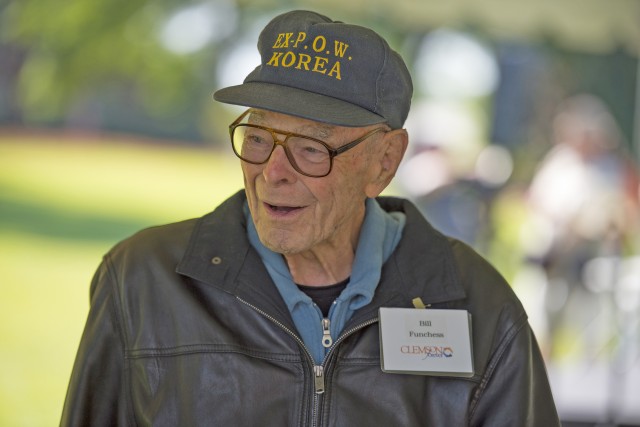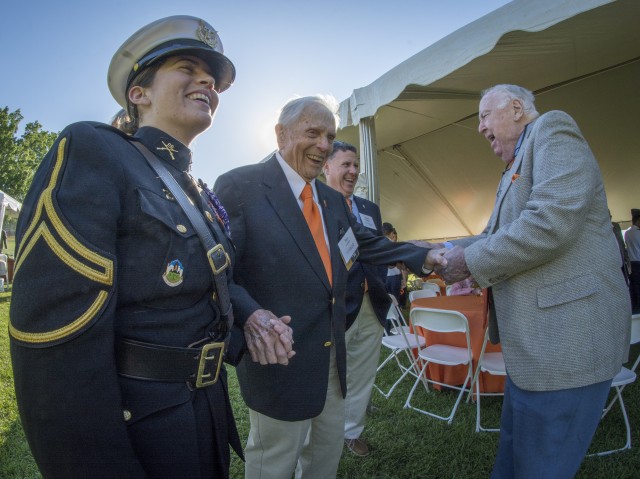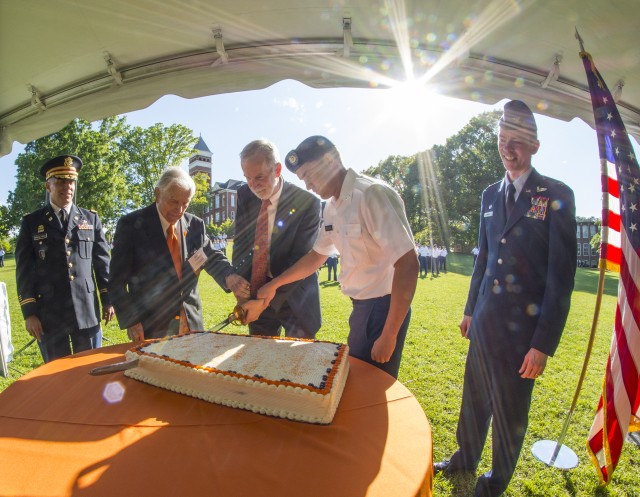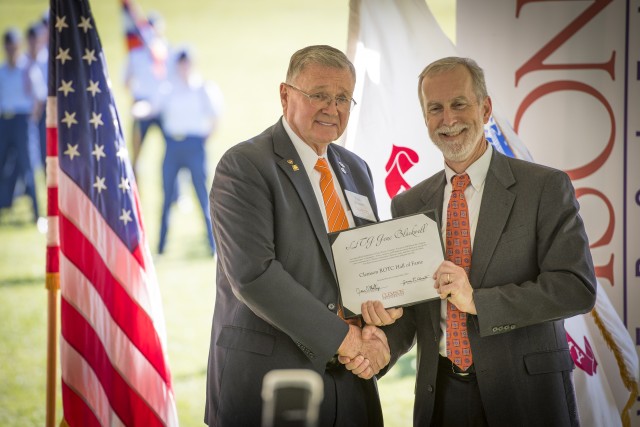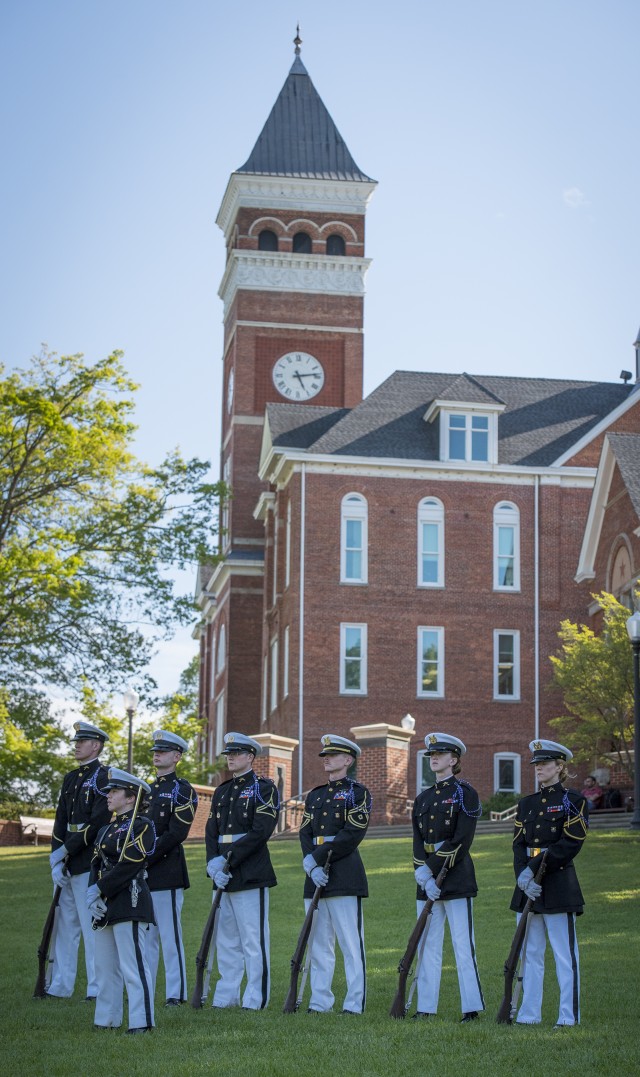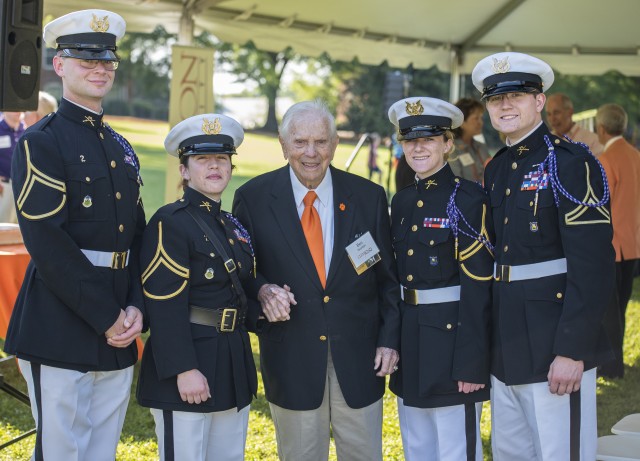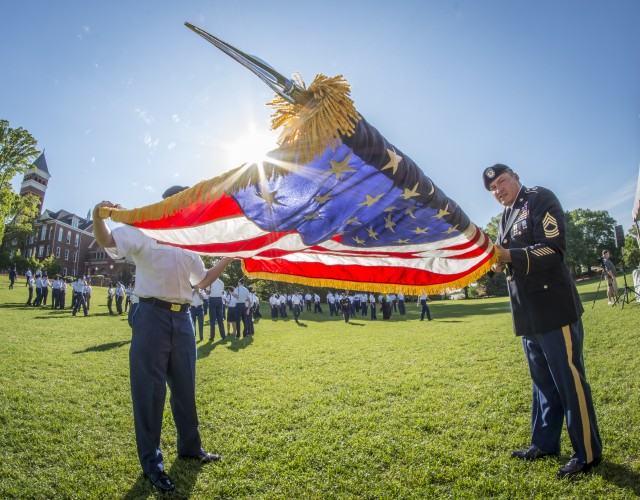 CLEMSON, S.C. -- The Clemson University Reserve Officers' Training Corps celebrated the ROTC's 100th anniversary Friday, April 14. The ceremony named former outstanding cadets as patrons to each training unit, and named two outstanding former Army cadets - retired Lt. Gen. Gene Blackwell and retired Col. Ben Skardon - to the Clemson ROTC Hall of Fame.
Each patron's story was read, and a mini "museum" of artifacts from Clemson's special collections was on display.
"I am proud to be part of a university with such a strong military heritage," said Max Allen, Clemson's chief of staff and retired U.S. Navy officer. "As a product of the Navy ROTC, I can see that Clemson has outstanding Army and Air Force ROTC units, both of which do an excellent job of preparing young men and women for service as military officers. ROTC also plays an important role in campus life, helping keep Clemson's military traditions alive."
The Army Reserve Officers' Training Corps (ROTC), as it exists today, began with President Wilson signing the National Defense Act of 1916. Although military training had been taking place in civilian colleges and universities as early as 1819, the signing of the National Defense Act brought this training under single, federally-controlled entity: The Reserve Officers' Training Corps. Army ROTC is the largest officer-producing organization with the American military, having commissioned more than half a million second lieutenants since its inception.
Army ROTC, or military science, was established as an integral part of Clemson's academic curriculum beginning in 1893 with the institution's first full-time academic year of operation. The program provides unique leadership training and management experience and helps students develop the qualities necessary for success in either a military or civilian career.
"Army ROTC at Clemson has been an integral part of Clemson since ROTC began here in 1917, however Clemson has a much longer military heritage since its inception in 1889," said Lt. Col. James Mullinax, Clemson's professor of military leadership and commander of its ROTC program. "Being a former military school, Clemson has embraced ROTC fully since we went to an all-volunteer force. The support Clemson provides Cadets is unmatched across the nation. Clemson not only provides scholarships, but also provides great visual reminders all over campus of the sacrifices our service members have made in defense of our Nation. This support to the ROTC programs have made them stronger today than at any point in time and this shows in the quality of lieutenants Clemson is producing every year. Cadets are carrying on a great military tradition that Clemson was founded on."
On April 6, 1917, the United States declared war on Germany, and Clemson's senior class volunteered to President Wilson en masse. A total of 1,549 Clemson alumni served and 25 were killed in the line of duty. Medals of Honor were presented to Ensign Daniel Sullivan and Sergeant Evans Foster. During World War II, Clemson supplied more Army officers than any other institution except for Texas A&M. A total of 6,475 served and 370 were killed in the line of duty. A Medal of Honor was presented to LTC Jimmy Dyess, a member of Clemson's Class of '31.
Clemson Air Force ROTC, known as the "Flyin' Tigers" or aerospace studies, has a rich history dating back to the very beginning of the Air Force. With the National Security Act of 1947 establishing the Department of the Air Force, Clemson's Air Force ROTC Detachment was created. Year after year, Detachment 770 is named one of the nation's top medium-size detachments. Detachment 770 gives men and women the opportunity to become Air Force officers while completing their degrees.
Clemson's Air Force ROTC has had 22 general officers produced from its ranks over the past 68 years.
"Air Force ROTC has been a part of Clemson since 1947, the very year the U.S. Air Force became a separate and independent Service. Since that time, Clemson graduates have served their nation honorably and with total commitment to the Air Force Core Values of 'Integrity First, Service Before Self, and Excellence in All We Do,'" said Col. Christopher Mann, commander of Clemson's Air Force ROTC detachment. "The Flyin' Tigers of AFROTC Detachment 770 received more than $1.2 million in scholarship funds last year, and newly-minted Clemson second lieutenants go on to serve their nation around the world as pilots, security forces officers, intelligence officers, space and missile operations, or in any of the more than 100 available careers. Our graduates continue Clemson's tradition of producing the world's finest military officers, and we are proud to be a part of the Clemson family!"
Graduates of Clemson's ROTC program have gone on to have illustrious careers throughout every branch of service in every conflict since WWI including the two Hall of Fame inductees: Blackwell, recipient of two Silver Stars and six bronze stars, and Skardon, survivor of the Bataan Death March and recipient of two Silver Stars and four Bronze Stars.
Both men will also be in the first class inducted into the national ROTC Hall of Fame at Fort Knox, Kentucky.