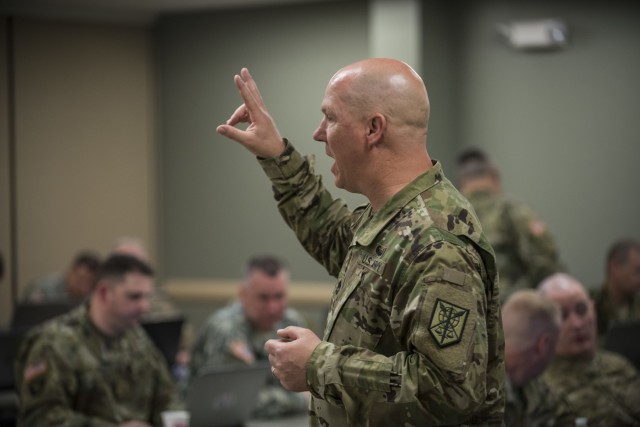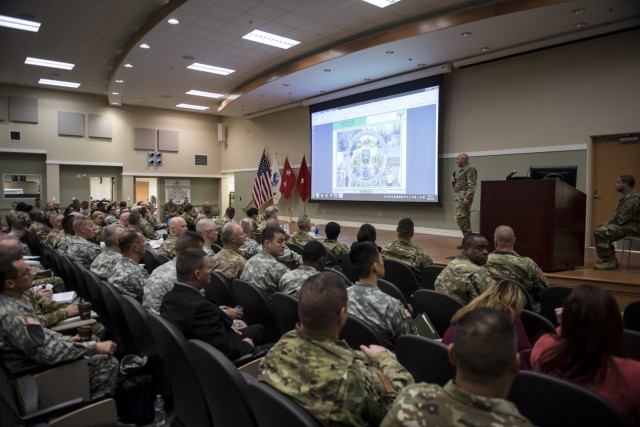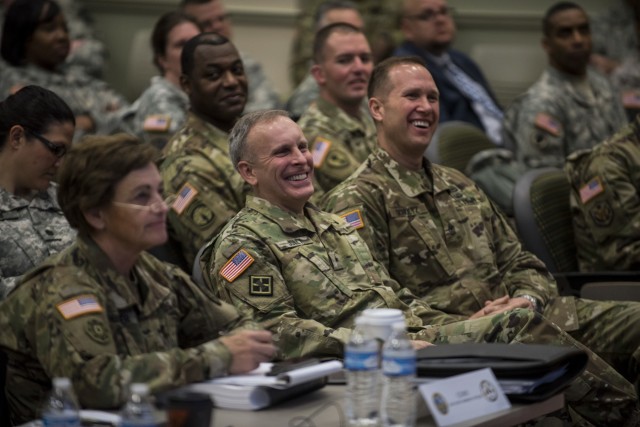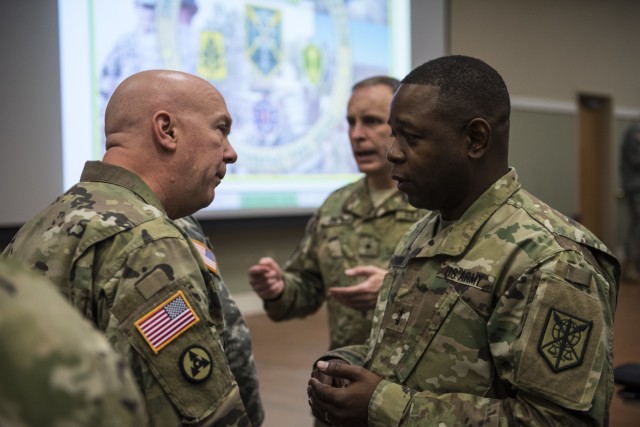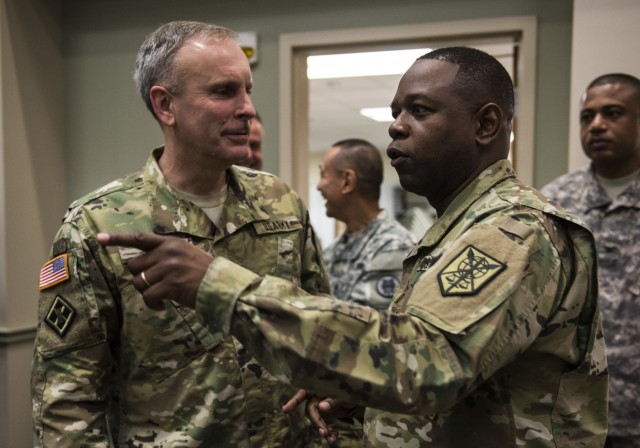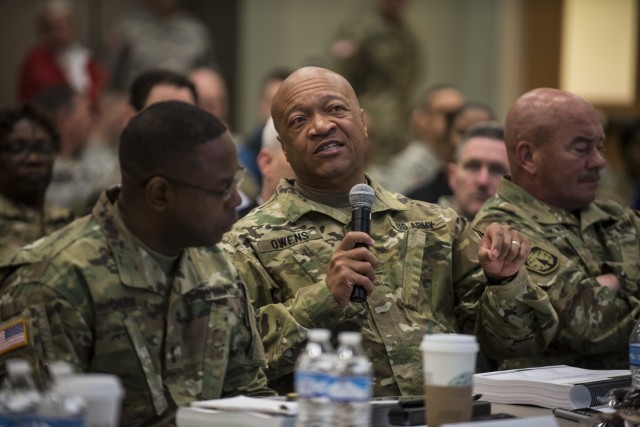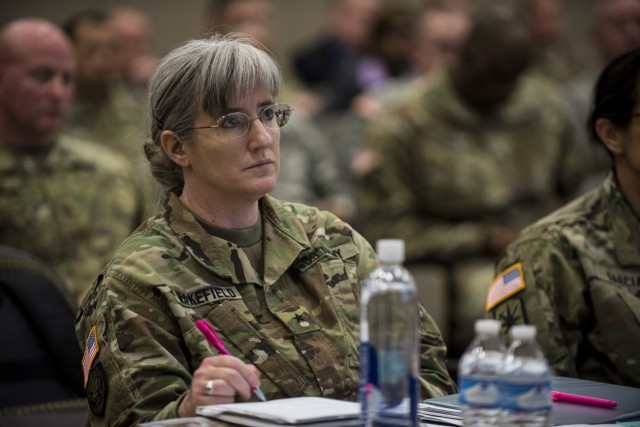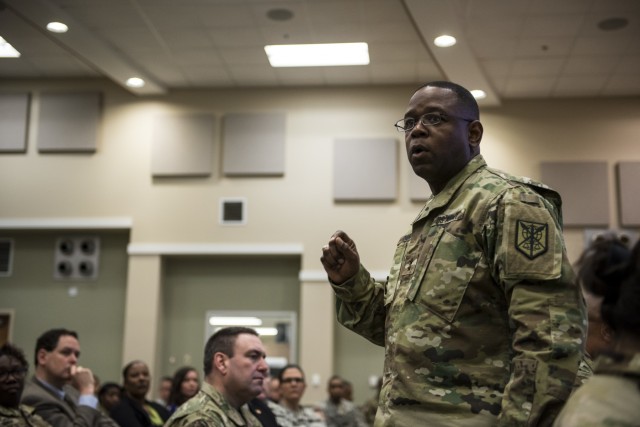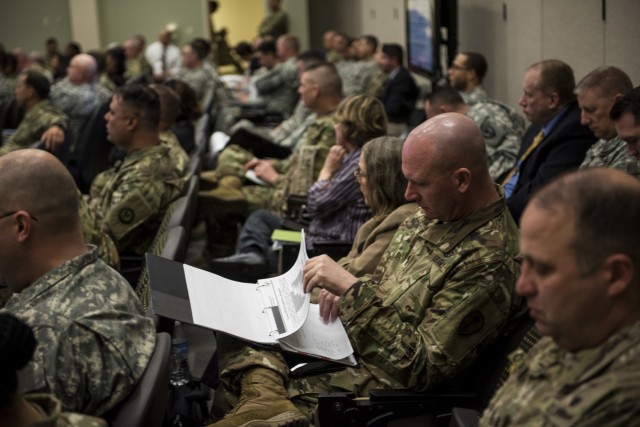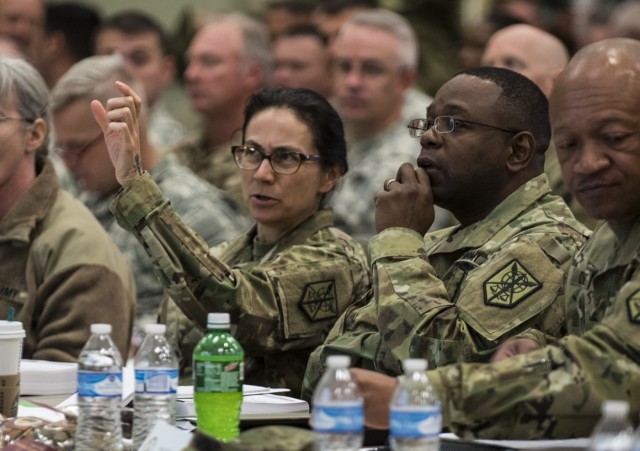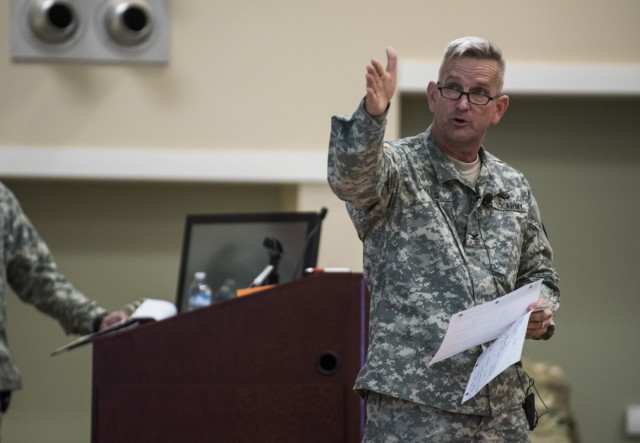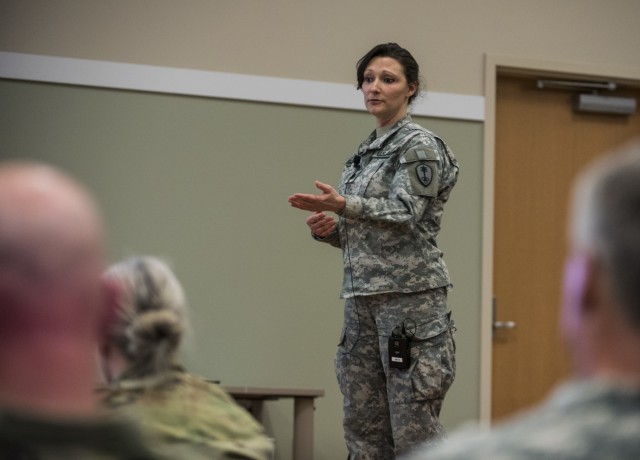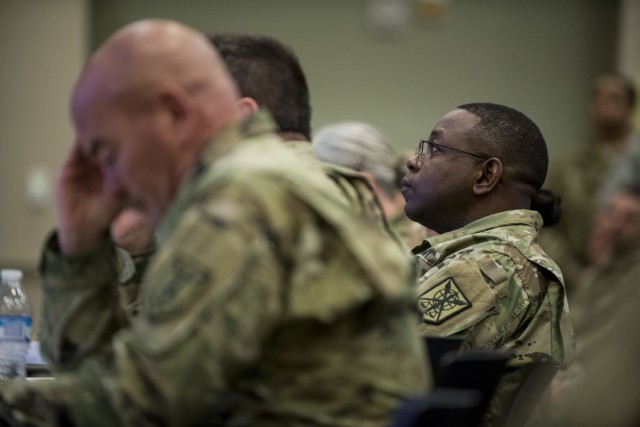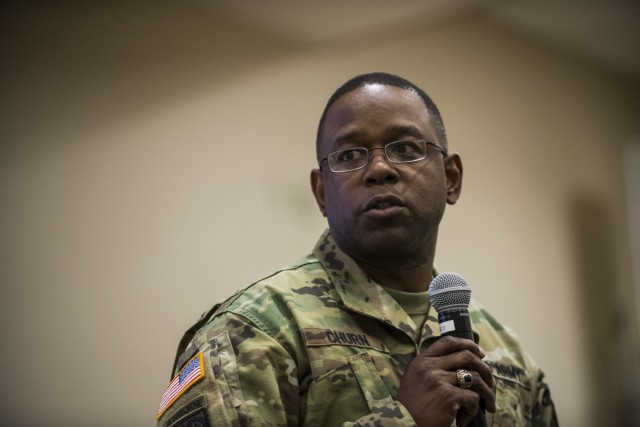 FORT MEADE, Md. - There is no doubt about the Army's top priority right now.
In fact, when Maj. Gen. Phillip Churn, commanding general of the 200th Military Police Command, took the stage at his command's Yearly Training Brief (YTB), he asked a pointed question, "If you had just one dollar to spend on your units and Soldiers, what are you going to spend it on?"
The crowd answered in unison, "Readiness."
Readiness is a term the Army uses to evaluate the health, physical fitness, level of training and overall preparedness of a Soldier or unit.
"There will be greater demands placed on us, so it's imperative that we have ready Soldiers," said Churn, who also mentioned that the active component is planning to rely more and more on the U.S. Army Reserve and National Guard for future support.
Churn's audience consisted of more than a hundred commanders, senior enlisted advisors and staff members from more than twenty combined brigades and battalions. The message was clear: At any given point Soldiers must be ready to deploy if called upon.
The two-day briefing session, held in Columbus, Ohio, April 2-3, also included guest general officers, sergeants major and senior team members from five Army Reserve Engagement Cells (AREC) representing U.S. Army Europe, U.S. Army North, U.S. Army South, U.S. Army Pacific and U.S. Army Africa.
These ARECs serve to promote partnerships between U.S. Army Reserve commands and combatant commanders' missions across the globe.
Their presence at this YTB emphasized the importance of total force integration between the U.S. Army Reserve and the active Army component. For the military police command, this means serving in law enforcement, detainee operations and combat support operations overseas, as well as increasing their role in Defense Support of Civil Authorities (DSCA) across the U.S.
"Everywhere we go, we need MPs," said Brig. Gen. Phillip Jolly, director of the AREC assigned to U.S. Army Europe. "The funding is going to be there. It's just a matter of getting you into the fight, and we have to fit that into your readiness model."
Throughout the conference, brigade and battalion commanders briefed Churn and his command team on their unit statistics and their training plans for upcoming years.
As the briefings went on, an interesting pattern was revealed.
"We know our MPs can shoot. Those who go to the range shoot really well," said Brig. Marion Garcia, deputy-commanding general (operations) for the 200th MP Cmd. She made note of the impressively high qualification rates of each unit, most of which had percentages in the high 80s and 90s. In fact, even the physical fitness pass rates were very high for those who took the test.
The point of emphasis, she said, was on participation. Much like any other command across the U.S. Army Reserve, there is a minor percentage of Soldiers who don't attend battle assemblies regularly. The victory in readiness lies in getting those Soldiers to participate regularly.
"The point is to get them to the range," said Garcia.
Another key point emphasized during the briefing was the importance of leaders attending career progression schools, especially for captains and noncommissioned officers.
Before the YTB kicked off, the command hosted a two-day workshop in Columbus that put the command's staff in touch with staffs from the battalions and brigades, directly. During those two days, the staffs did a lot of heavy lifting, making sure to update hundreds of personnel records and enrolling Soldiers into schools. More than 40 Soldiers were registered for MP-specific schools during those two days.
Yet the hard work continues. After the conference, brigade and battalion leaders were charged with continuing their hard work through the next year. This YTB provided Churn, his command team and staff, a glimpse of 13,000 Soldiers spread across 36 states who are in high demand. With the continual need for MPs on every continent, there is nothing more important than making sure these Soldiers are ready.