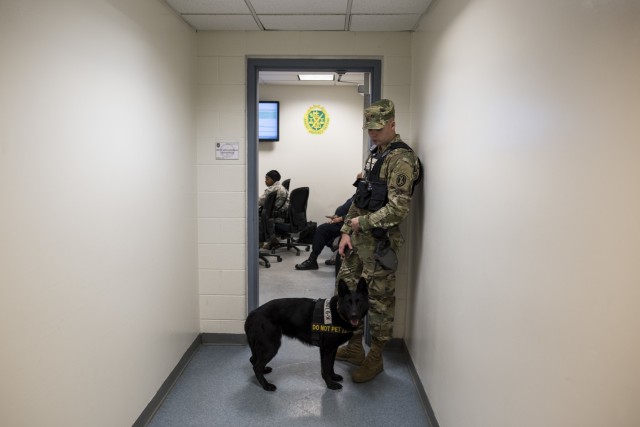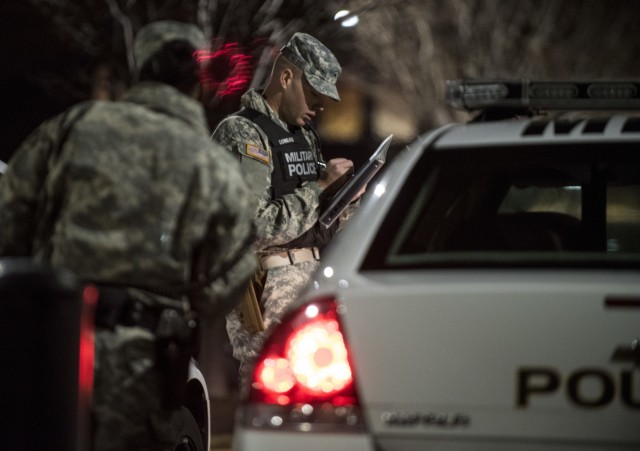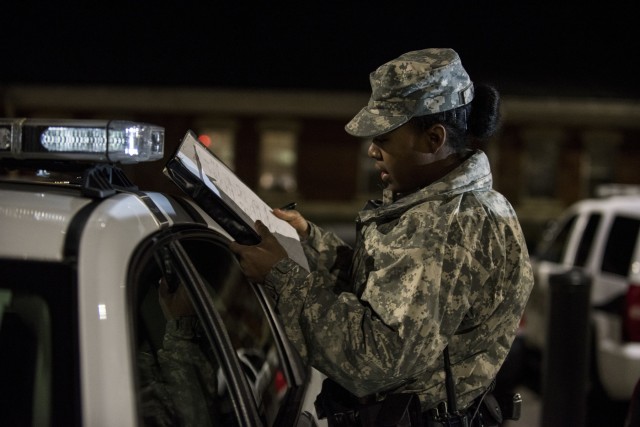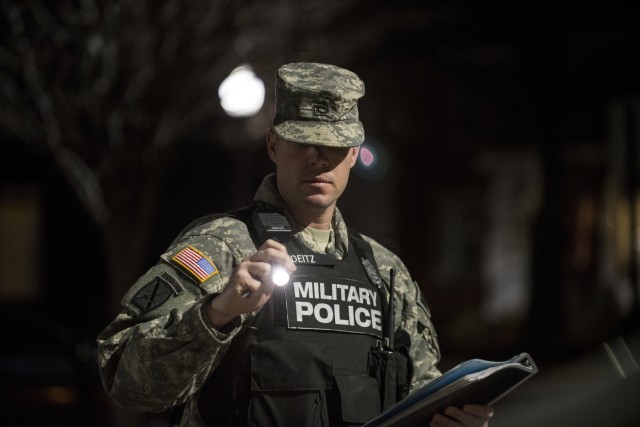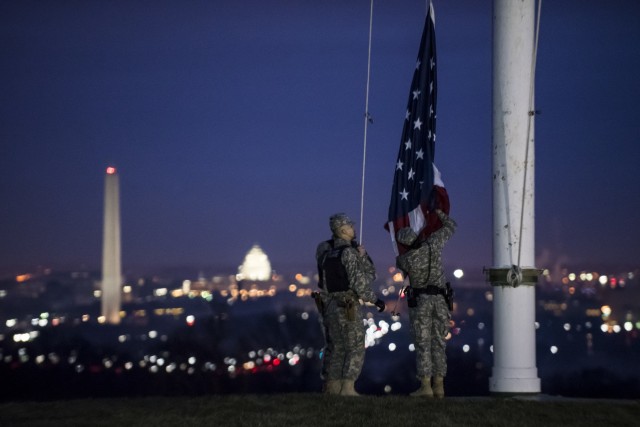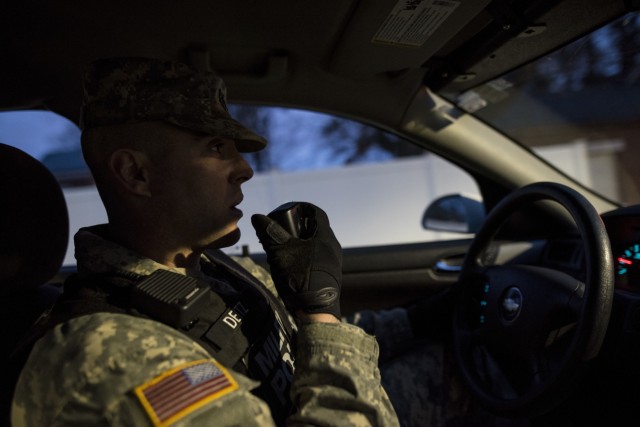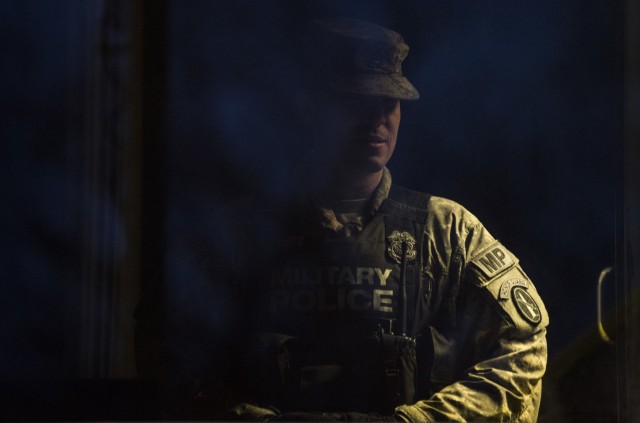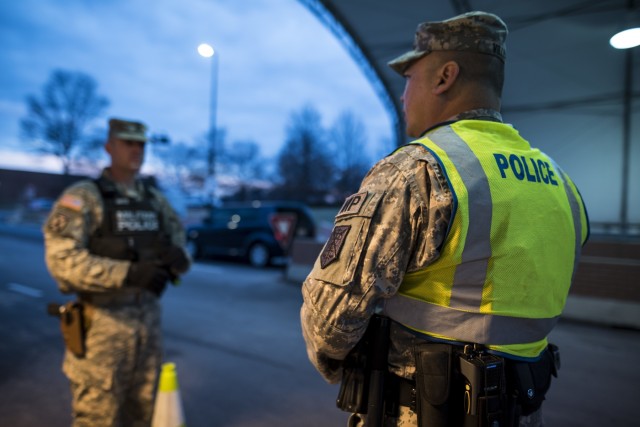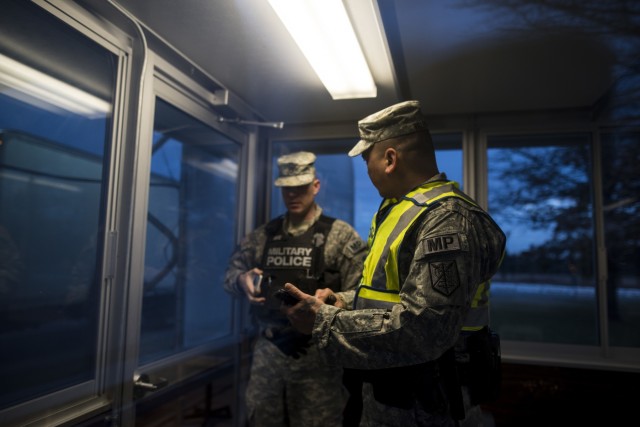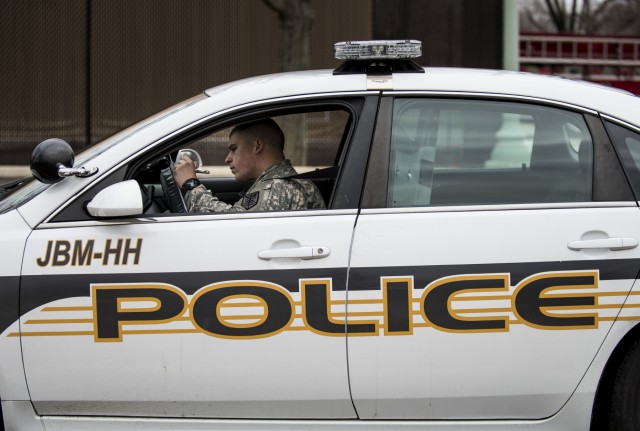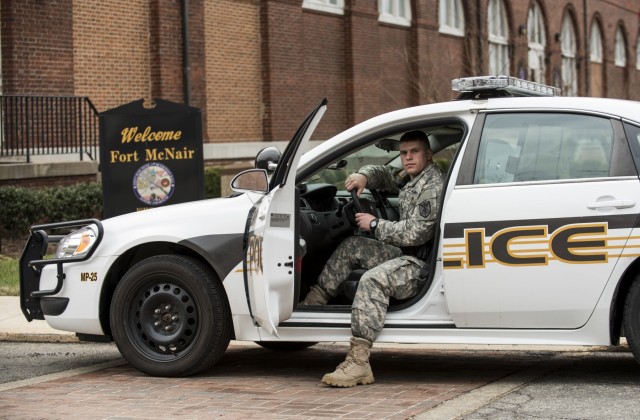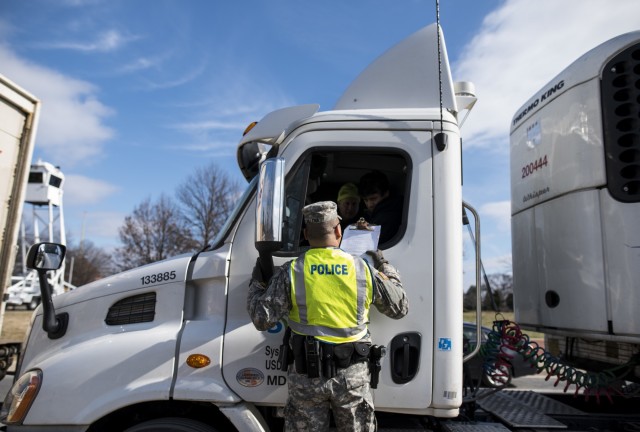 FORT MEADE, Md. -- The Old Guard isn't teaching new tricks, but they are providing new opportunities to the Army Reserve, especially to the military police community.
For three weeks now, Army Reserve MP Soldiers have taken on real-world law and order missions in the national capital region, beginning in early February. The program is expected to last through the year, and it has the potential to expand to other active duty installations across the country.
"This partnership is a win-win for both the active component and the Army Reserve. It allows us to accomplish the law enforcement certification, which affects our readiness directly ... (and) it allows the active component an opportunity to allow their Soldiers time for individual training they do not have time for due to their high operational tempo mission cycle," said Maj. Gen. Phillip Churn, commanding general of the 200th Military Police Command, which provided the Army Reserve Soldiers for this mission.
This is the first time this partnership has taken place in the form of a pilot program, especially in Washington D.C., since 2001. Reserve Soldiers have performed security work at other installations in the past, but mostly at National Guard or Army Reserve bases.
"At first, you get the jitters because (I've) never done it before, but then you start settling in, start getting the hang of how things work, and now when I get to work, I know what to do," said Spc. Anthony Petry while on a patrol at Fort McNair, Washington.
Petry is a member of the 374th MP Company, out of Chambersburg, Pennsylvania. He is one of more than 20 Army Reserve Soldiers from six MP units supporting this mission. The partnership agreement took place in January, and in less than a month, troops were ready to report for duty.
"I want them to come away from this knowing they were treated like professionals," said Capt. Jason Albrecht, 289th MP Company commander. "They get the opportunity to enjoy the area, especially with the history here at Fort Myer. Also, our goal is for them to leave here and know they were part of our family and honorary members."
The 289th MP Company is an active duty unit, belonging to the famed 3rd U.S. Infantry Regiment, also called The Old Guard, known for its security and ceremonial details for the U.S. president, honorary events and dignitaries visiting the D.C. area.
The Old Guard is the oldest active infantry regiment in the U.S., founded in 1784 by General George Washington to serve as his personal protection guard. Every Soldier who serves in The Old Guard is hand-selected and must pass several screening criteria, including aptitude test scores and a review of their personnel records.
Their duty locations include Joint Base Myer-Henderson Hall's historical installations of Fort Myer, Henderson Hall, Fort McNair and the Arlington National Cemetery.
This program began as a conversation between Churn and the commanding general of the Military District of Washington (MDW), Maj. Gen. Bradley Becker. They signed the program into agreement in January, and the two commands worked quickly to turn the idea into reality. MDW is a joint force headquarters covering multiple installations in the national capital region.
"The high caliber of Soldier serving this mission, active and Reserve, is impressive. (The MDW leadership said) they couldn't tell the difference between an Army Reserve Soldier and an active duty Soldier. So from that perspective, mission accomplished. Job well done," said Churn, a native of Washington.
Part of their MP responsibilities included patrols, responding to calls, enforcing parking regulations on base, gate control and the overall security and force protection of the posts.
"Suspicious packages, vehicles, personnel walking around," said Staff Sgt. Micheal Deitz, patrol supervisor for the 289th MP Company, listing a few of the things they keep an eye on.
For Army Reserve Soldiers, this partnership provided valuable training that doesn't come by often. It incorporated a two-week law enforcement certification course, a requirement for Reserve MPs every three years. Also, instead of attending regular battle assemblies, these Soldiers will report for duty at Fort Myer for the year.
"You learn a lot more on the road than you do in the classroom," said Petry, who lives in Taneytown, Maryland. "I feel like I have a lot more experience now ... Even my cousin. He's been to Afghanistan twice as an MP in the Reserve, and he's never even done law and order (like this)."
For active duty MPs, the program provides some relief and flexibility.
In 2015, the Total Army Analysis took effect, reducing the 289th MP Company by roughly 20 percent in manpower. This left them with enough Soldiers to fulfill their security mission, but made it more difficult for those Soldiers to conduct other Army-mandated and squad-level training.
"We'll be able to take a squad off the road at a time ... to do training. Right now, you only see your Soldiers if they're working with you, and it's kind of hard to get to know them and train them with all that we have to do in the Army, when you've only seen them a couple of hours a day, if that," said Deitz, who is a native of San Diego.
Most of these MPs perform 10-hour workdays, but they can be called to work 12-hour shifts with an added hour of preparation and an hour for physical fitness. This pushes their commitment to a 14-hour workload.
"Some of these Soldiers have never seen a Saturday-Sunday off ... (They've) rarely seen a four-day weekend without taking leave, and so it's not just to get after training. Training is ultimately important, but Soldiers need a break (too)," said 1st Sgt. Mark Haliburton, the 289th MP Company first sergeant.
All along, Soldiers on both side commented on how fluidly the transition has been in integrating Reserve troops into an active duty mission.
"It went a lot smoother than I thought it would. I thought there was going to be a lot of hiccups, but once we started working the roads, everything just clicked into place. The 289th knows what they're doing," said Petry.