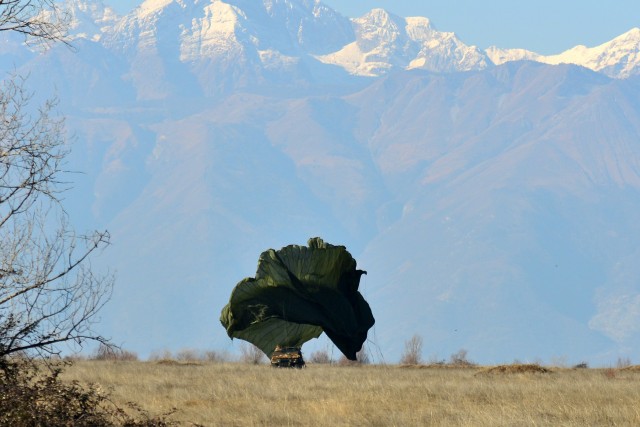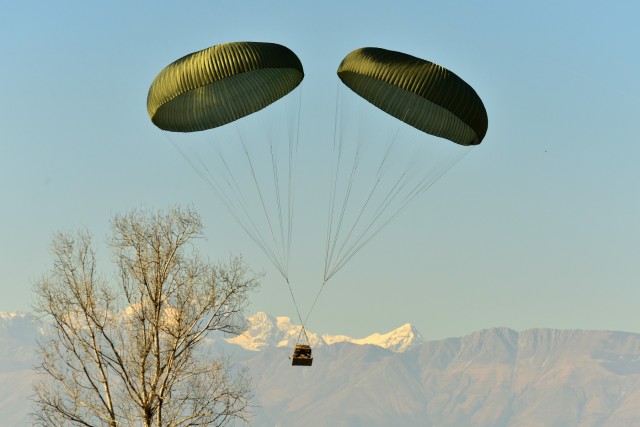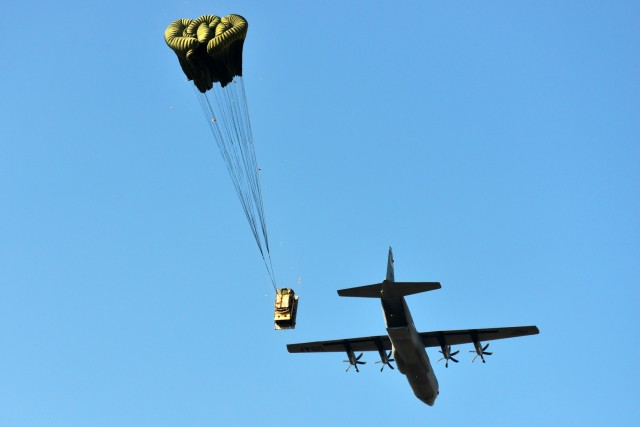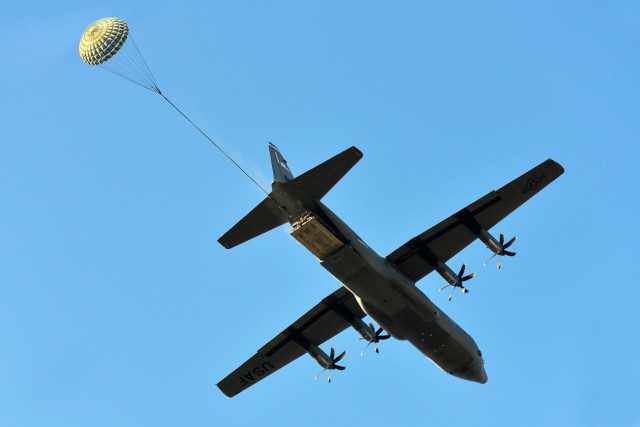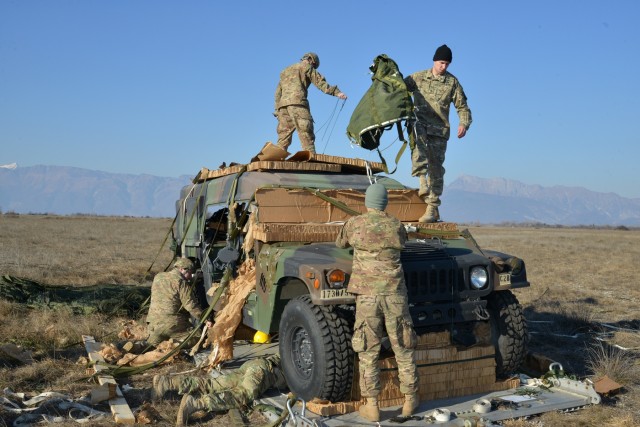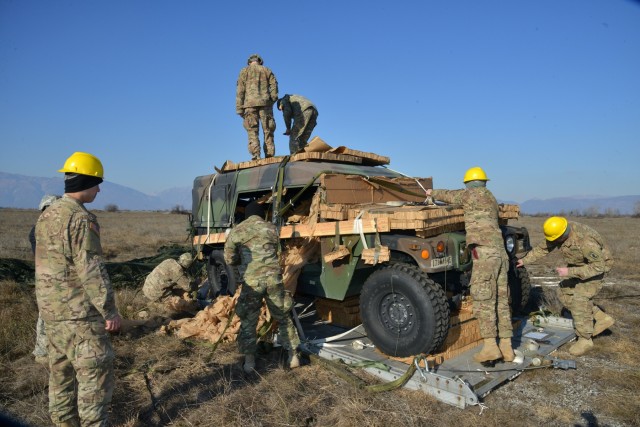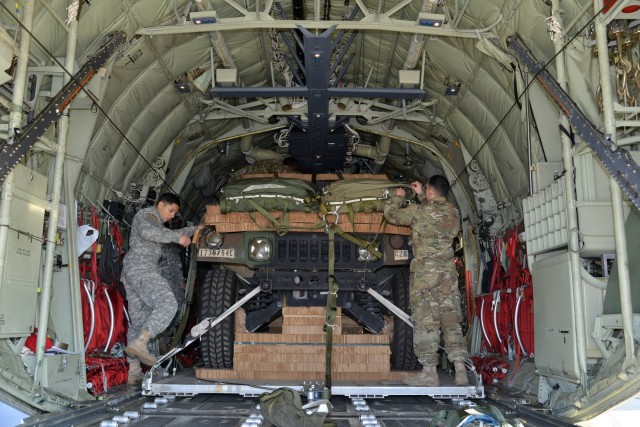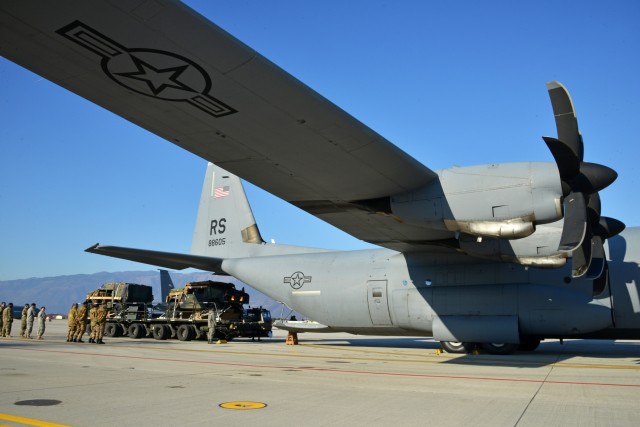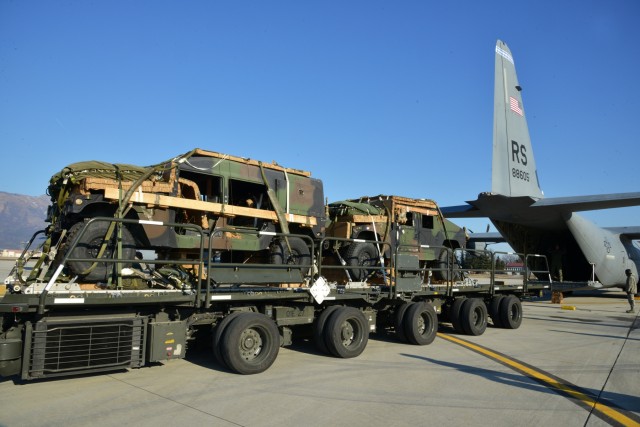 VICENZA, Italy - Paratroopers from the 173rd Airborne Brigade airdropped a Shark mobile communications Humvee from a C-130 Hercules aircraft onto Frida IV Drop Zone near Dandalo, Italy, Jan. 21.
The Shark mobile communications vehicle is specially designed for airborne and forced-entry operations. It contains a minimum of six different communication platforms and can deploy worldwide on short-notice to support combat units.
The name originates from the 1980s, when similar communication platforms were mounted onto all-terrain vehicles. In order to accommodate the loading onto and dropping the vehicle from a CH-47 helicopter, the antenna had to be moved to the center of the vehicle, resulting in a side profile that resembled a shark fin and earned the vehicle its name.
"The ability to airdrop a rapidly-deployable SHARK vehicle facilitates mission command for the 173rd Airborne Brigade anywhere in the world," said Capt. Marc Levitt, commander, Company C, 54th Brigade Engineer Battalion, 173rd. "The platforms on the vehicle provide commanders with reliable digital and voice communications and are critical to reach back to higher headquarters."
Brigade signaleers conducted this mission to maintain readiness for contingency operations, as the 173rd Airborne Brigade is the U.S. Army contingency force for Europe. When the SHARK landed, the paratroopers de-rigged the vehicle, placed it into operation, and provided secure communications for more than six different radio and network platforms for the ground force commander for a follow-on mission.
"Being able to conduct airdrop operations here in Europe is a great opportunity for our newer noncommissioned officers to take charge and lead a group of paratroopers towards an objective on the drop zone," said Sgt 1st Class Cesar Ruiz, a platoon sergeant with Company C. "The dispersion factor of the airborne operation encourages our paratroopers to perform in the absence of a senior leader for a short period of time. Regardless of the outcome of the airdrop operation, our paratroopers are prepared to recover the vehicle and place it into operation wherever we land."
The 173rd regularly conducts airdrop operations of mobile communication and other platforms throughout Europe in order to enhance communications readiness for combat units anywhere in the European, Africa and Central Commands areas of responsibility within 18 hours.