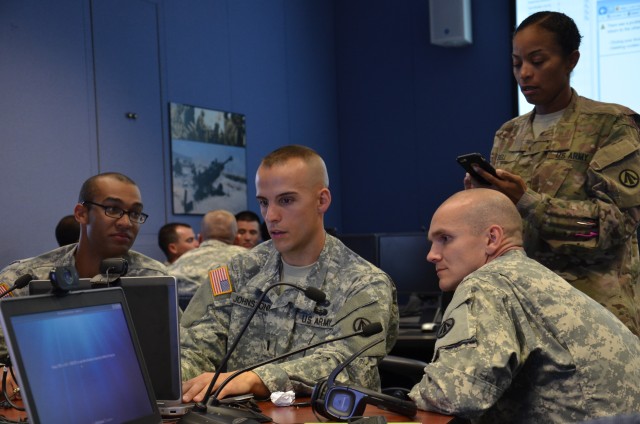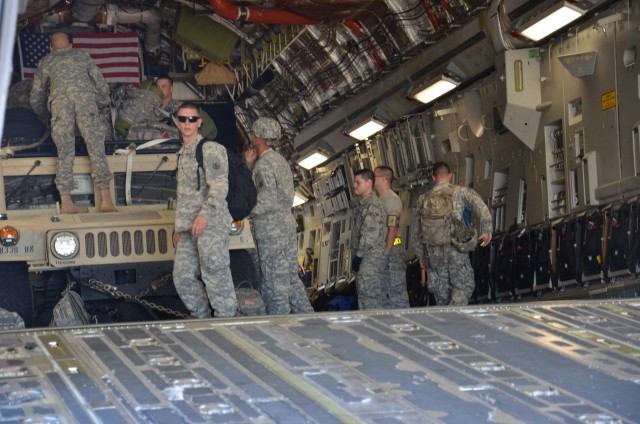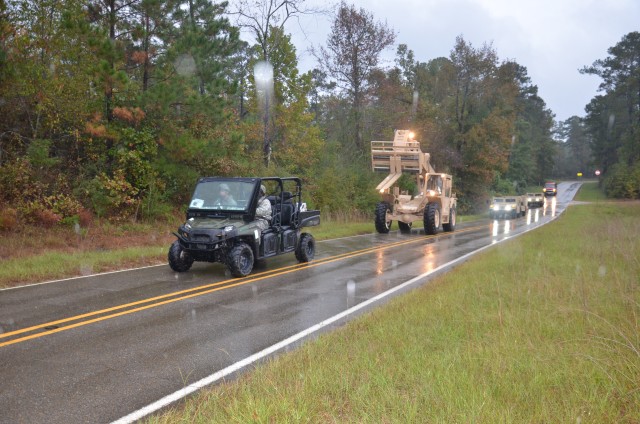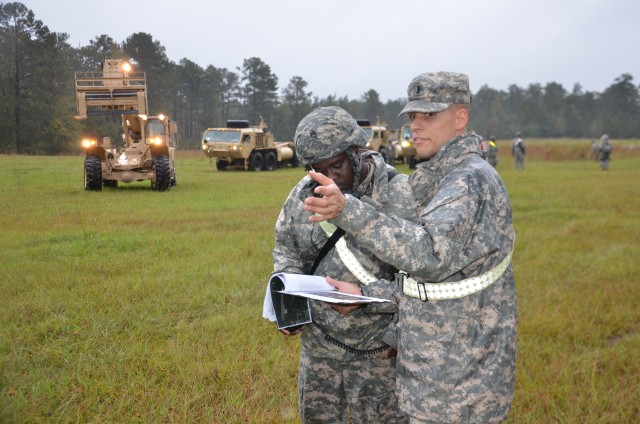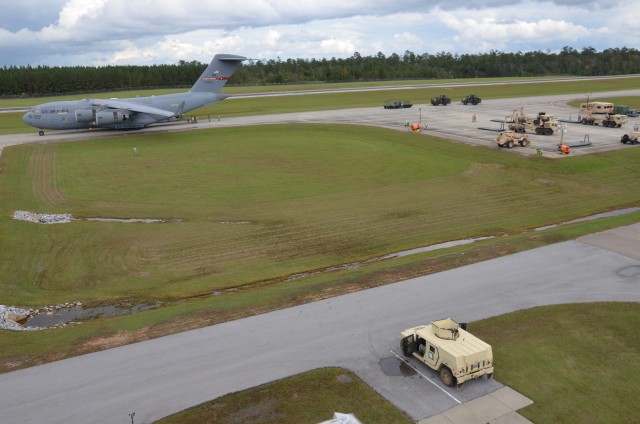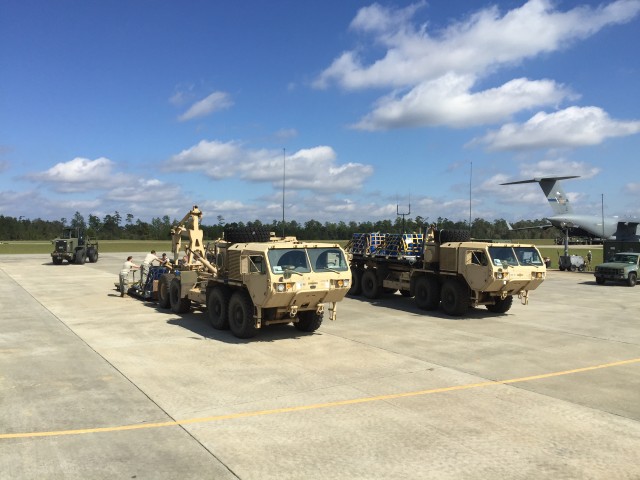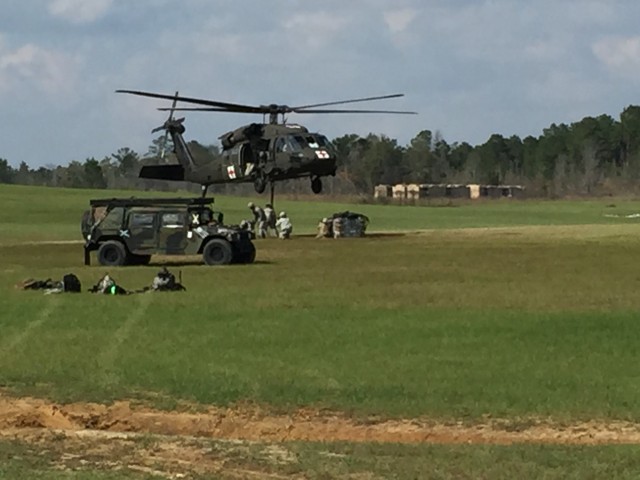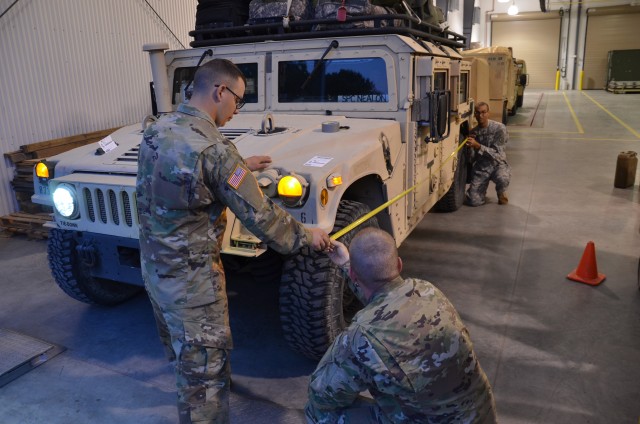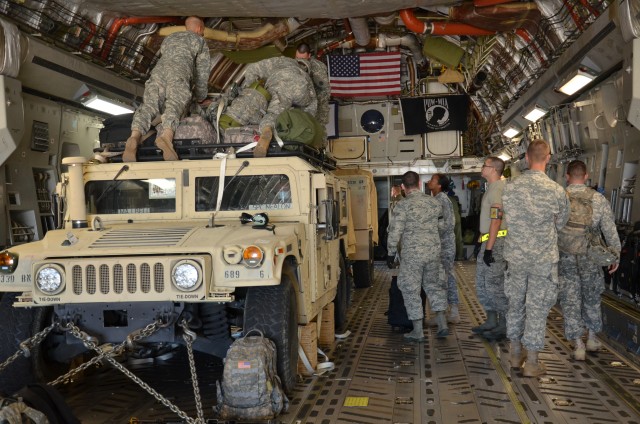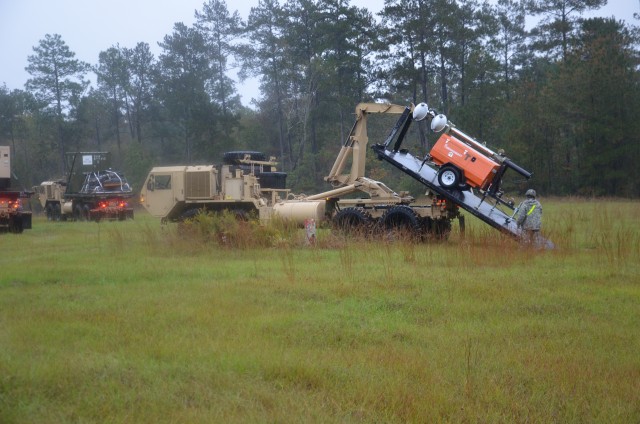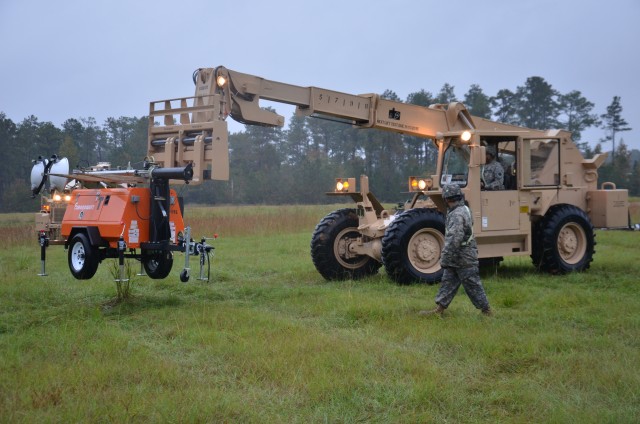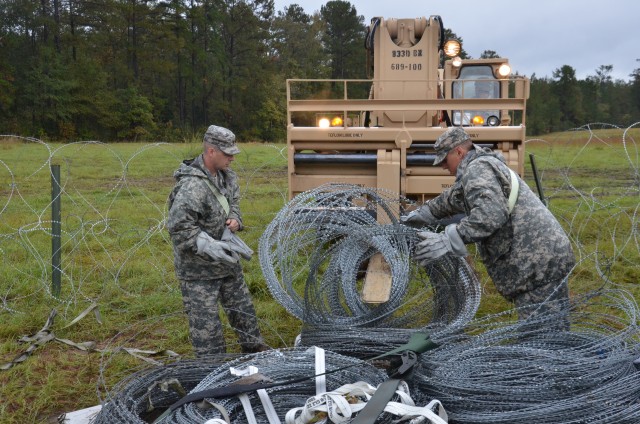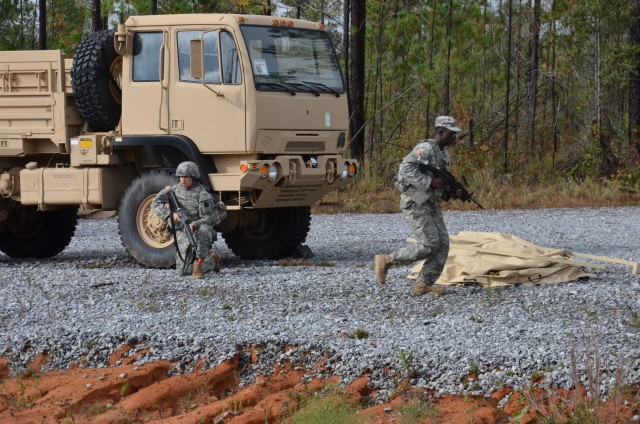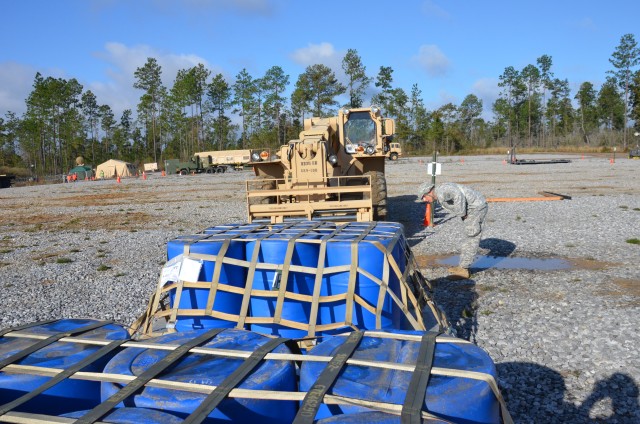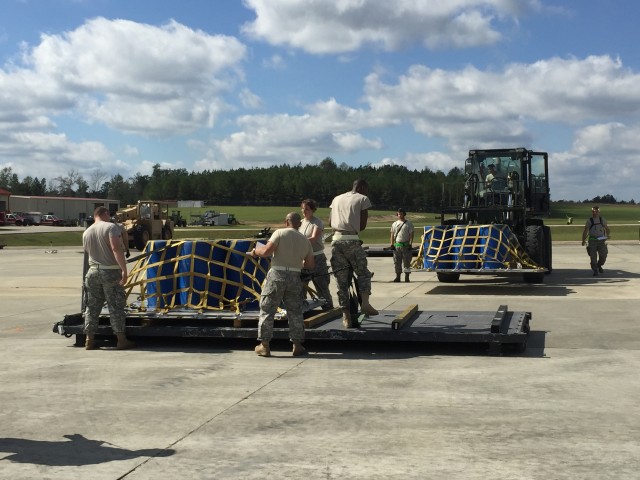 CAMP SHELBY, Miss. (Nov. 2, 2015) -- Fifty Soldiers, from the Fort Eustis, Virginia-based 689th Rapid Port Opening Element, or RPOE, wrapped up their latest weeklong Turbo Distribution 16-1 exercise Friday, in what participants said was arguably their most challenging and realistic exercise to date.
Turbo Distribution exercises are designed to integrate Army and Air Force units together into one rapid deployable unit, whose mission is to deploy anywhere in the world within 12 hours to establish sea and air ports of operations for incoming vehicles, equipment, supplies and other cargo.
In this exercise, the Army's 689th RPOE linked up with the Air Force's 321st Contingency Response Group out of Joint Base McGuire-Dix-Lakehurst, and for the first time, a team of logistics specialists from Fort Belvoir's Defense Logistics Agency.
Defense Logistics Agency's, or DLA's, inclusion in the team was a natural addition to the mission as military planners look for ways to establish enduring logistics networks in trouble spots around the world as quickly as possible, and as far inland as possible, to get military and humanitarian supplies where they need to be.
For the purpose of this exercise, the RPOE was tasked with processing more than 750,000 lbs. of humanitarian aid to the fictional country of Crimsonia to help the region deal with an influx of refugees from neighboring countries.
"The whole reason we bring DLA in on the JTF-PO [Joint Task Force-Port Opening] mission is so they can get ahead of the timing on a real-world situation that develops and brings DLA into the equation sooner. They get in earlier, and they can help us quicker," said Air Force Col. Leslie Maher, 321st Contingency Response Group commander.
"An example is fuel. Some of the places we go have a limited source of fuel. With the network they bring, they may be able to get us the type and quantity of fuel at a much quicker rate," Maher said. "They also have the ability to possibly contract storage facilities and provide other solutions to us if needed. Small scale we can do, but it is large scale acquisitions where they shine."
"DLA assets regularly deploy to support in conflict and humanitarian assistance missions, but not as part of JTF-PO and not usually in a rapid deployment capacity," said Air Force Col. Michelle Hall, DLA assessment team commander. "DLA's partnership with USTRANSCOM [U.S. Transportation Command] through the JTF-PO will enable us to form a long-term working relationship and will allow us to get on the ground sooner to provide an initial assessment for the joint forces commander on what support he might need and for planning more comprehensive DLA follow-on activities."
Although DLA deployed to Turbo Distribution with a six-man disaster action team, or DAT, Hall said the DAT is scalable and can grow into a 13-man DLA Support Team depending on the mission requirements, with members who specialize in communications, distribution, contracting, energy, building materials and other areas.
"This is probably the most challenging Turbo Distribution exercise we've had," said Army Maj. Corinne Bell, 689th RPOE commander. "All the other exercises were held at Joint Base McGuire-Dix-Lakehurst in New Jersey - a place we've been many times before and have become comfortable with. This exercise is in a new location, taking us outside our comfort zone, and feels more like an actual overseas deployment."
"We weren't able to just make assumptions and expect that things we need will be here waiting on us based on past experiences. Here, the only things we have to use are what we brought with us when we landed. Whatever we or the Air Force didn't bring or didn't coordinate for in advance, we either have to do without or figure out how to obtain it through host nation support," Bell said. "Even then, we may not receive it. It forces us to develop systems and processes in advance."
The biggest difference between this exercise and all previous Turbo Distribution exercises was the use of actual C-17 and C-130 aircraft to deliver the cargo to the airfield. In previous exercises, cargo was loaded onto flatbed trucks and delivered to the airfield to simulate arriving flights.
"When you use real aircraft, it removes all the complacency. Troops actually get to see why regulations say you have to stay this amount of distance away from the flight line, at this particular time, with this piece of equipment - it's because there are wings and other hazards out there," Maher said. "It is so difficult to simulate and get the point across when using trucks or any other method that we used in the past to bring cargo in. The reason that we do what we do, the placement of the equipment, the running of the equipment, all of that becomes real and has relevance when you add the real aircraft."
Working together, Soldiers and airmen also got to experience the realities of delays that are inherent to their differing modes of equipment and transportation.
"Aircraft take time. You can't just run up to them and start unloading. You have to wait until the aircraft is in place, and you have to wait until the load master is ready," Maher said. "You have to wait until the full complement of the orchestra is in place before you can play the song. That is the beautiful part of seeing all those things we talk about come to life and our Soldiers and airmen get to practice them."
As Turbo Distribution exercises have continued to evolve in realism and complexity, Maher hopes to see more realistic cargo loads added to future training. While some pallets arrived with water drums and miscellaneous smaller items, she would like to see pallets and cargo of varying weights and dimensions added to the scenario, noting that what might fit on a JTF-PO piece of equipment may not fit on the truck at the other end of the forward node logistics chain.
"In the contingency response world, the JTF-PO mission and the work of the RPOEs, DLA and the CRGs [Contingency Response Groups] are very important," Maher said. "We are the first in, the first to establish a presence in places where nobody else wants to go, at times that are least convenient for everybody, and we get the operation done. We get it to a point that we can serve any customer, under any condition, any place in the world. That is what the JTF-PO elite team of professionals do and what keeps America and our forces strong."
Related Links:
621st Contingency Response Wing Facebook Page
689th Rapid Port Opening Element Facebook Page
833rd Transportation Battalion Facebook Page
Defense Logistics Agency Facebook Page
597th Transportation Brigade Facebook Page
The Military Surface Deployment and Distribution Command Facebook Page