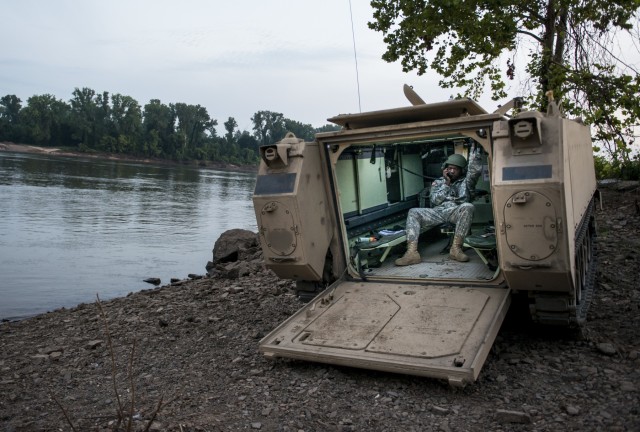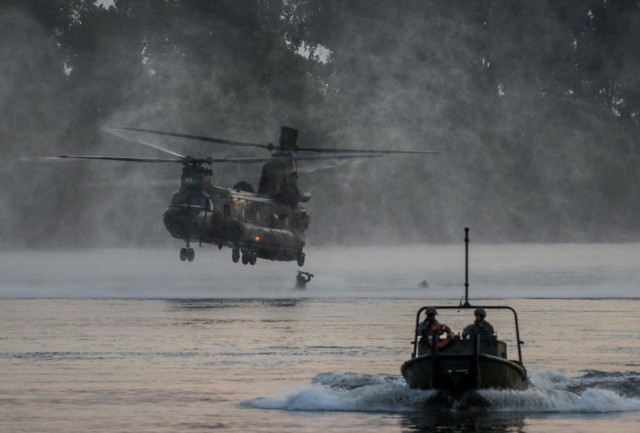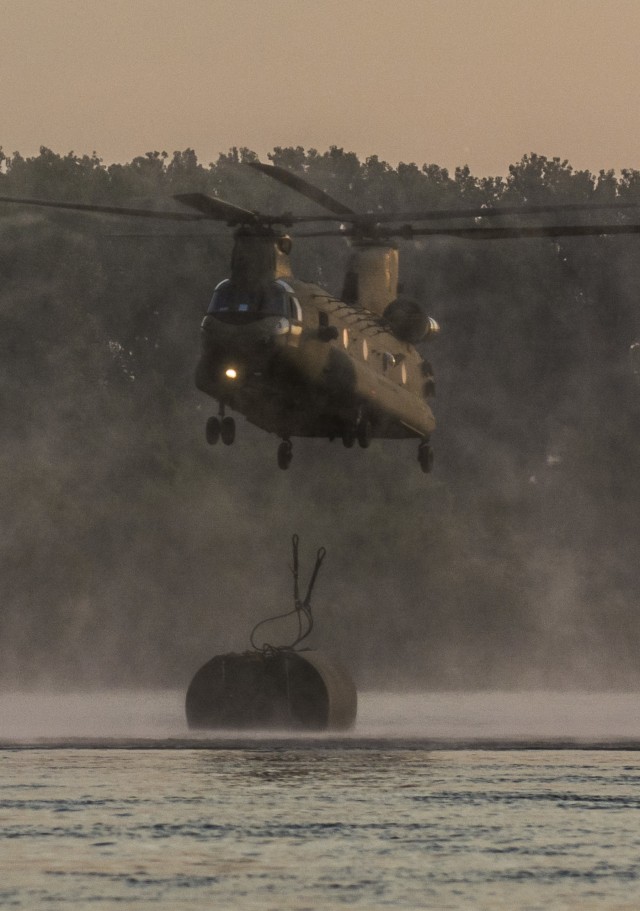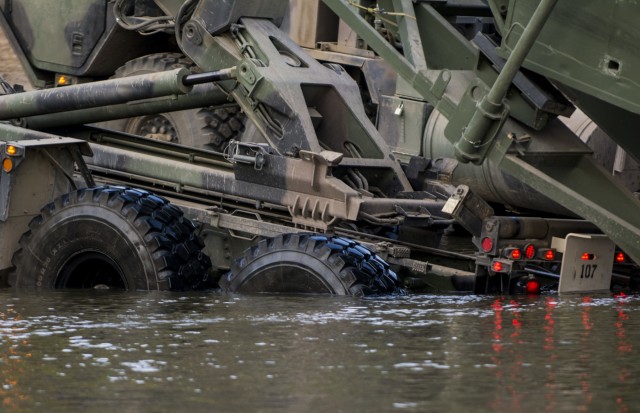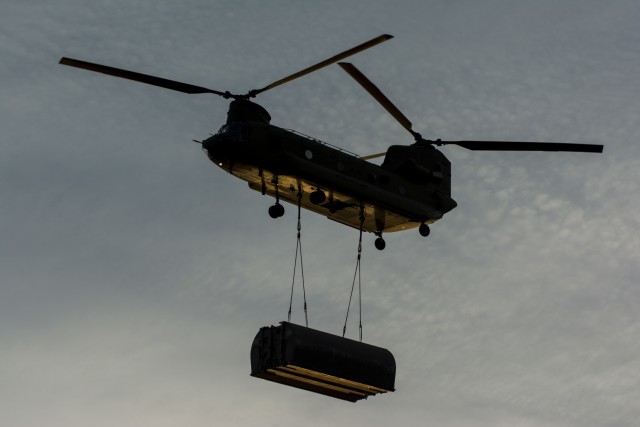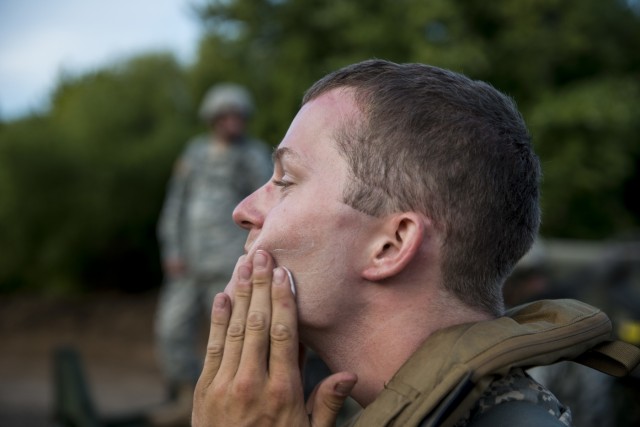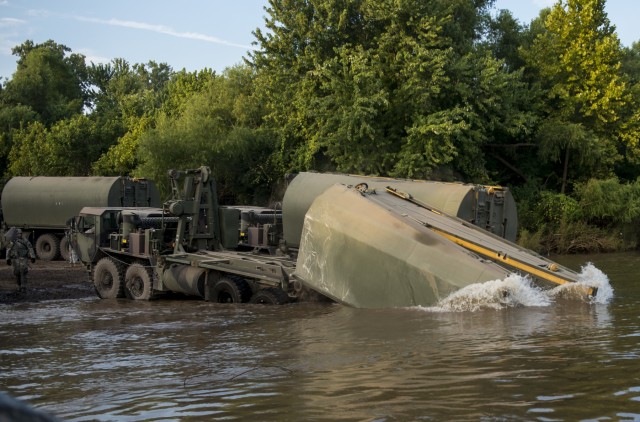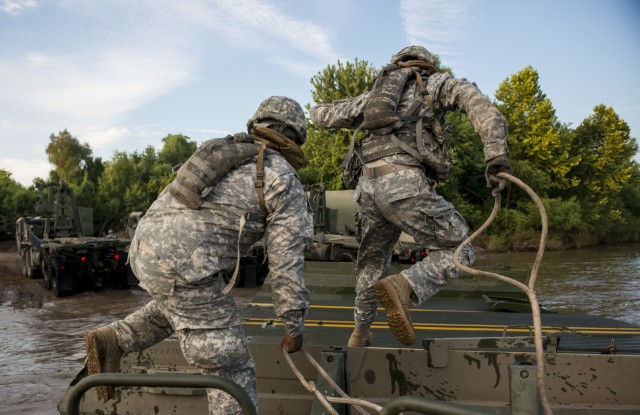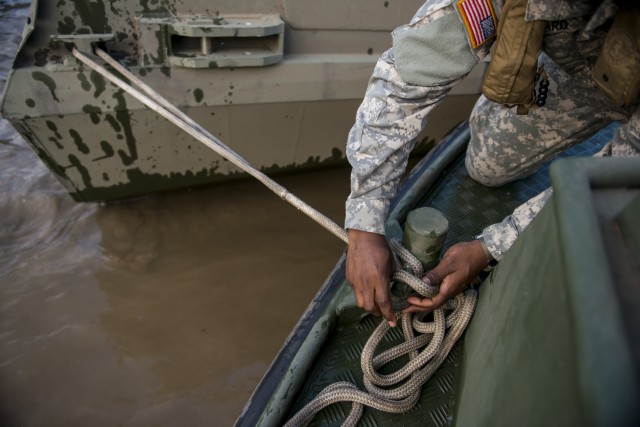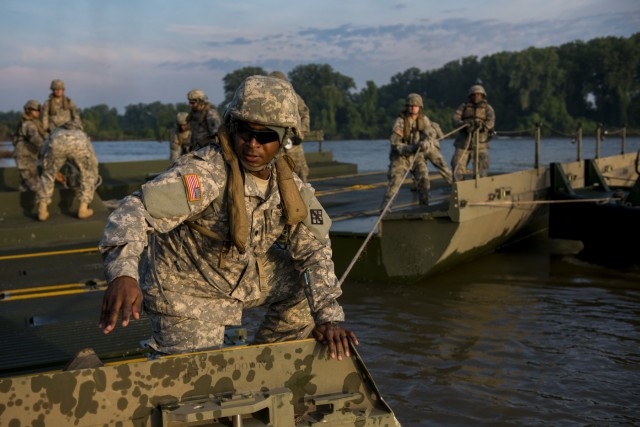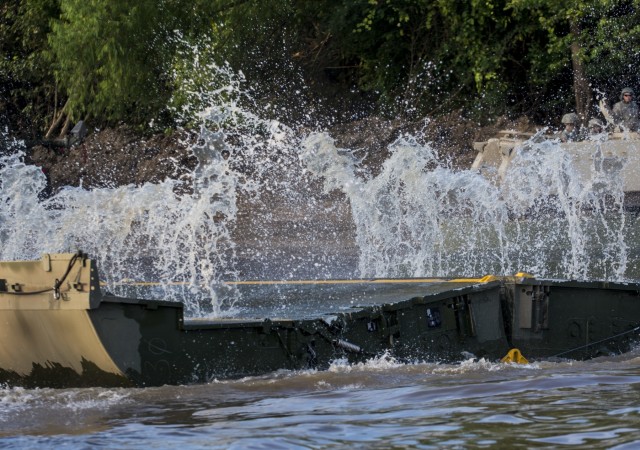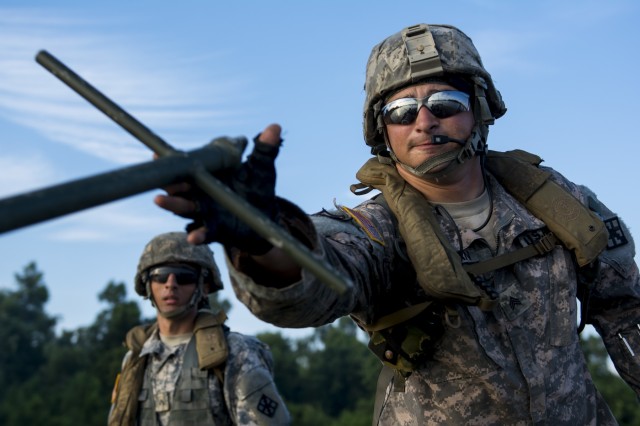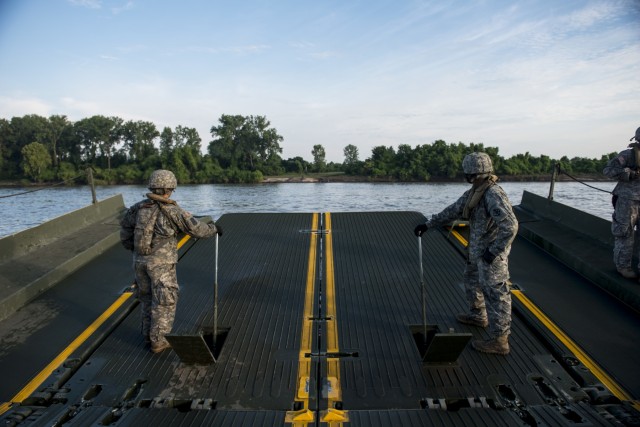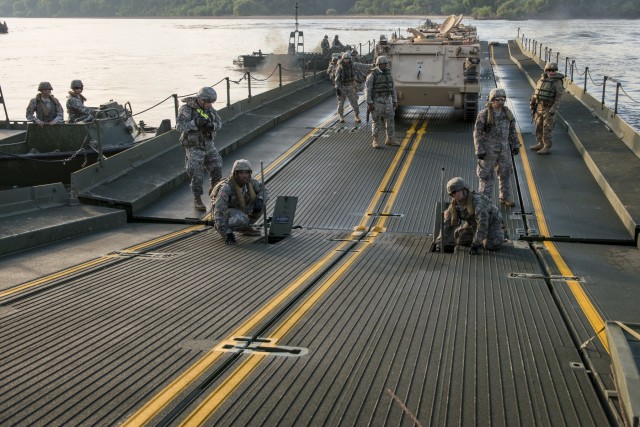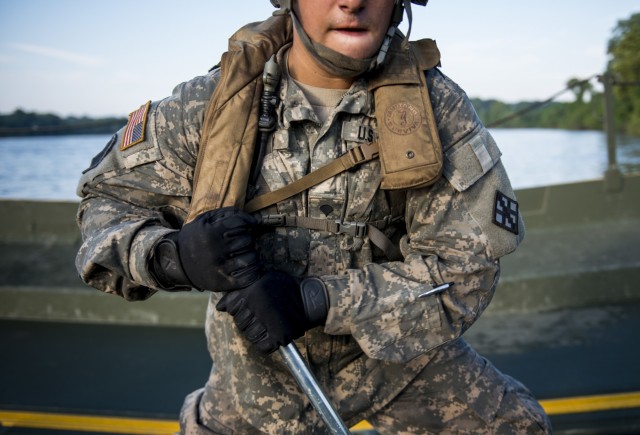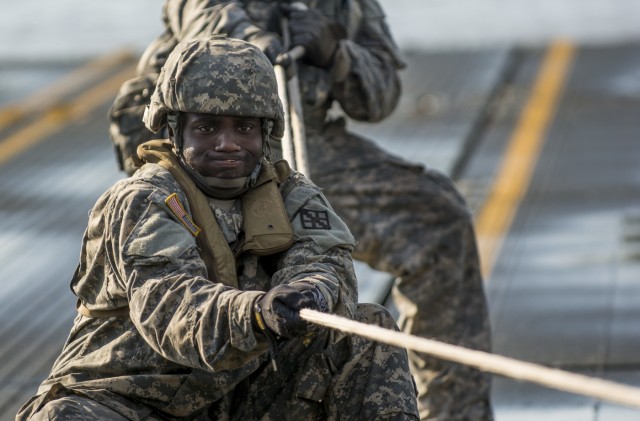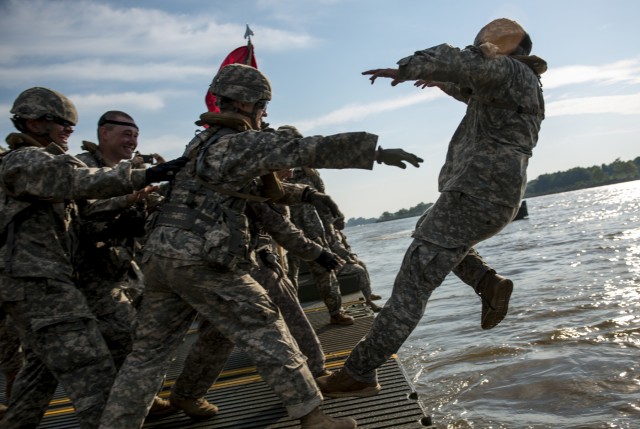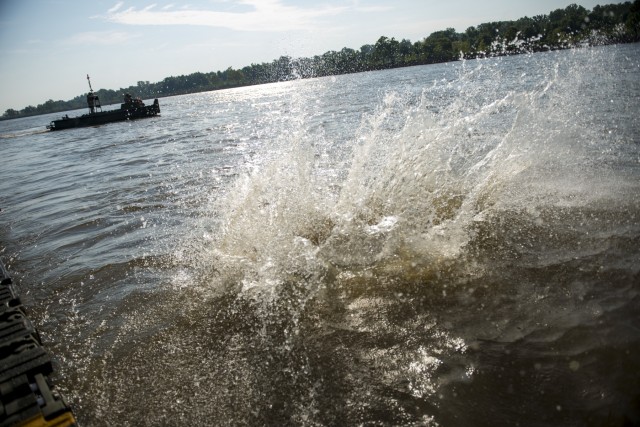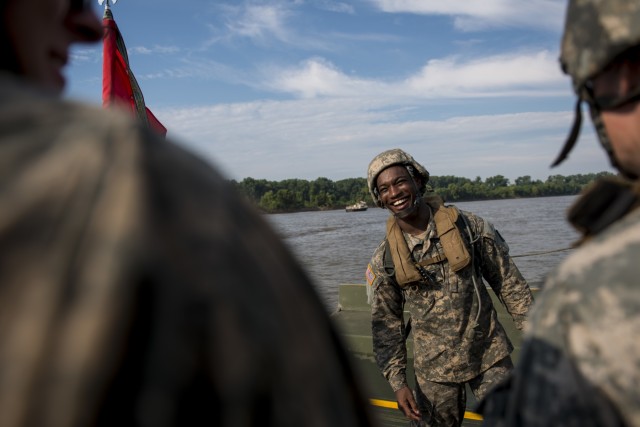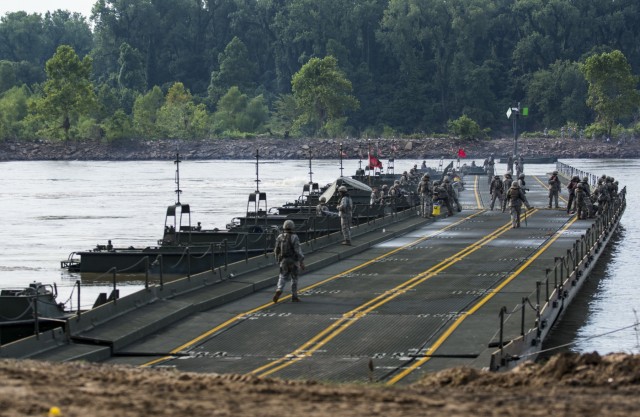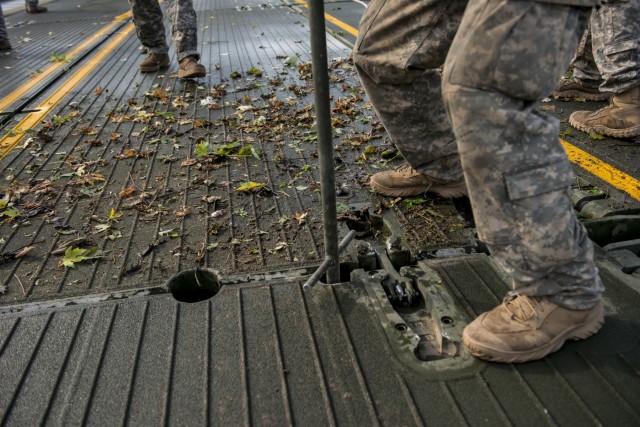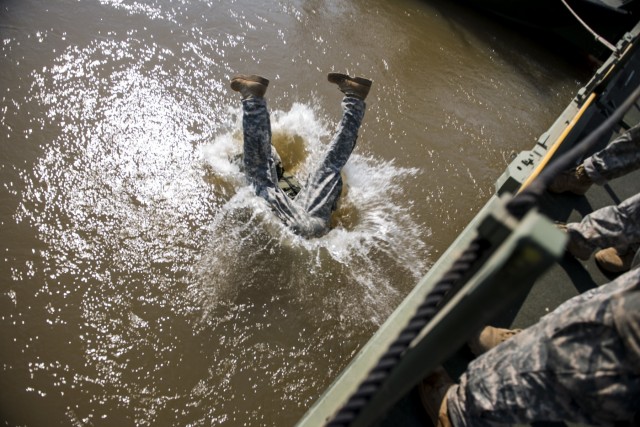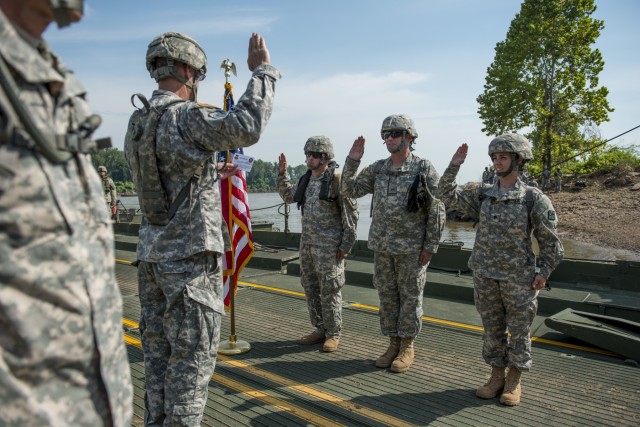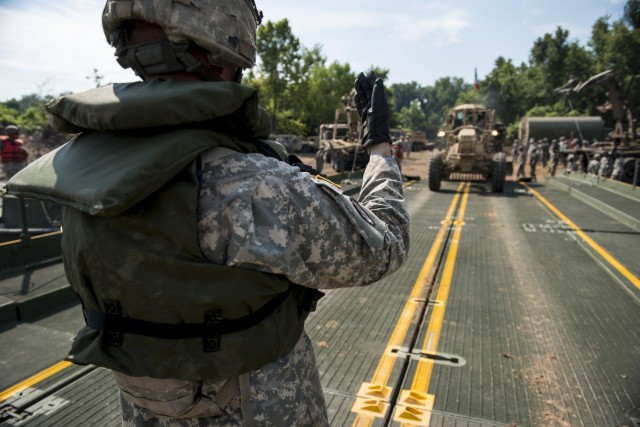 FORT CHAFFEE, Ark. - Bridges serve a straight path for troops and vehicles to go from point A to B. But how do they cross a river, from shore to shore, without a bridge to traverse?
Army engineers can build one in three hours or less thanks to Operation River Assault.
The exercise is a training event involving bridging engineers from the Army Reserve and active duty components, with the support elements. Together, four Multi-Role Bridge Companies created a modular floating bridge spanning 47 bays and 327 meters across the Arkansas River.
"The Improved Ribbon Bridge gives the Army a way to provide assured mobility to take on an objective and make it there without much concern from enemy forces," said Capt. Timothy G. Rhodes, of Tucson, Arizona, commander, 502nd Engineer Company (MRBC), headquartered in Fort Knox, Kentucky. "This exercise allows us to have a culminating event and work with Reserve units."
The entire training exercise lasted from July 25 to Aug. 7, at Fort Chaffee, Arkansas, involving one brigade headquarters, two battalions and 17 other units, to include bridging, sapper, mobility, construction and aviation companies.
To build the bridge, engineers use bridge bays dropped in the water by helicopter and lowered from the shore by massive military trucks. The whole process is a calculated one, from the convoy staging to the breakdown of the bridge.
A reconnaissance team determined the best location to cross the river, a horizontal construction company cleared land and residue from the shores, Sappers jumped out of helicopters into the water to provide security, and roughly 400 Soldiers drove boats and pushed bays through the water to make it all possible. As the dropped bays opened in the water, they kicked up huge splashes of water. Boat operators pushed the bays around, maneuvering them into place. Crew members launched themselves from boats to bays, throwing ropes to each other to pull the pieces together like a puzzle. Finally, at the end, the two halves of the bridge came together in the middle.
With all of these pieces fitting together, it would be hard to guess most of the operations on the water were carried out by junior enlisted Soldiers. While higher ranking noncommissioned and commissioned officers on the ground made the plans, specialists, corporals and sergeants ran the show on the water.
"We are short a lot of staff sergeants and even sergeants," said Cpl. Kevin Fowler, an Arlington, Virginia, native and bridge crew member for the 310th Engineer Company (MRBC) from Fort A.P. Hill, Virginia. "Both myself and a specialist were assigned as acting squad leaders for this exercise. We got to come out to the slip and recon the area to figure out how many trucks would fit here at one time."
These two junior enlisted Soldiers were in the leadership role for all truck movement of the bay and boat launches on slip four, a role usually handled by sergeants or staff sergeants.
"It's a great opportunity for them," said 1st Lt. Gregory Bucci, commander, 310th Engineer Company. "We took the Soldiers close to being promoted to a noncommissioned officer, or those that have previously deployed with us and put them in charge. We entrusted them with the plans and orders of execution."
Once all of the bays were deployed and assembled, a small floating bridge was sent from near-side to far-side with two armored personnel carriers. After this mini-mission, more bridge bays were deployed and sent up-river by the bridge erection boats.
Roughly 80 percent of the Army's engineers are in the Army Reserve and National Guard. This exercise reflected that breakdown as the 502nd Engineer Company (MRBC), joined the 310th, 401st and 341st Eng. Companies, from Fort Knox, Kentucky; Fort A.P. Hill, Virginia; Mustang, Oklahoma; and Fort Chaffee, Arkansas; respectively. This cooperation between companies allowed them a "train as you fight" reality, using scenarios and tactics that have applied in most recent combat theaters for more than 13 years.
"If you look at our chest, it says Army, it doesn't say Reserve or National Guard," said Command Sgt. Maj. Cedric L. Richardson, of the 841st Engineer Battalion. "It's important for me to see us all come together and get the job done."