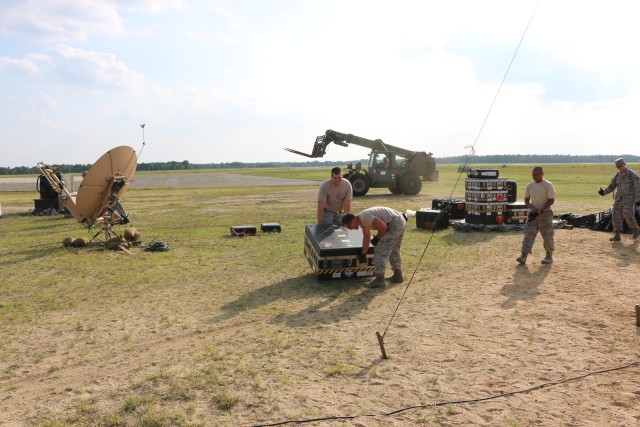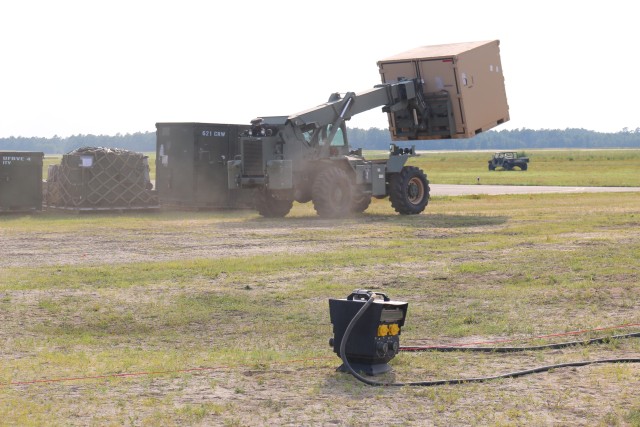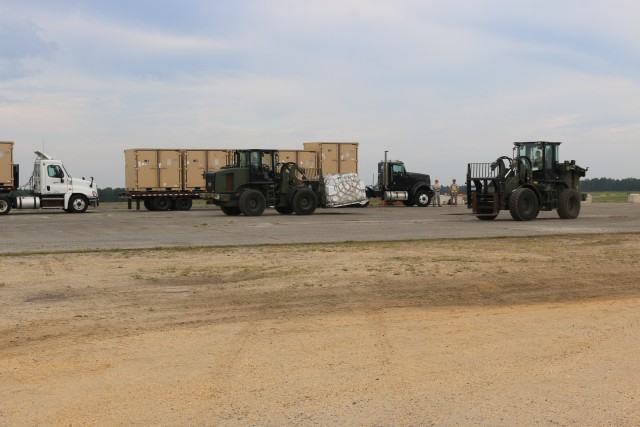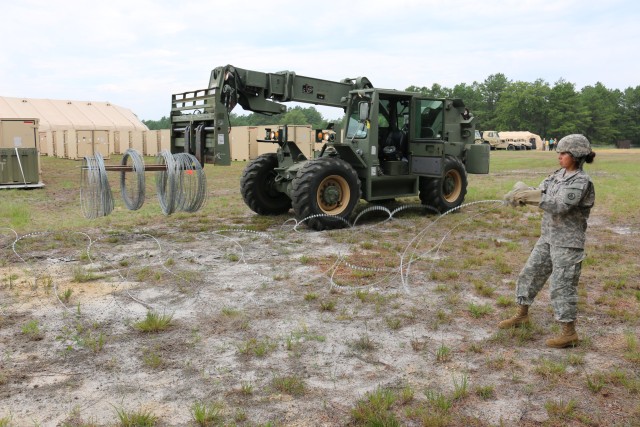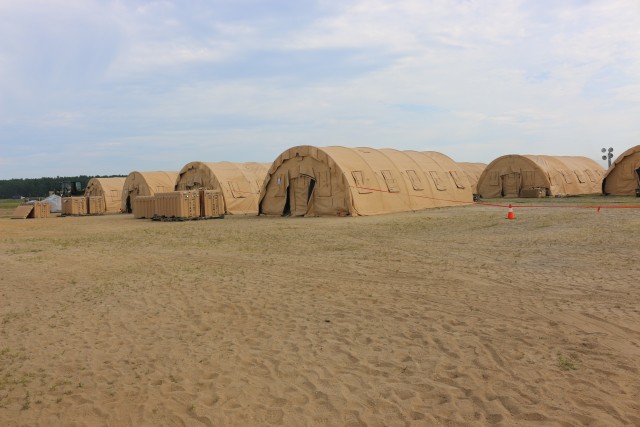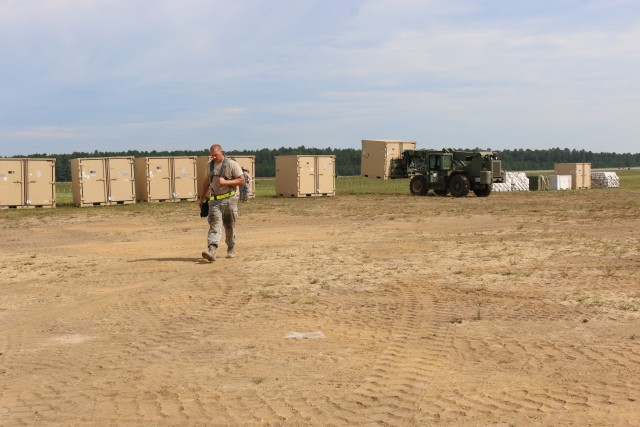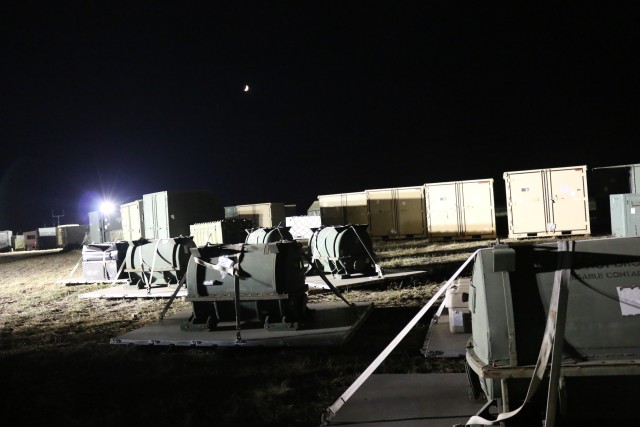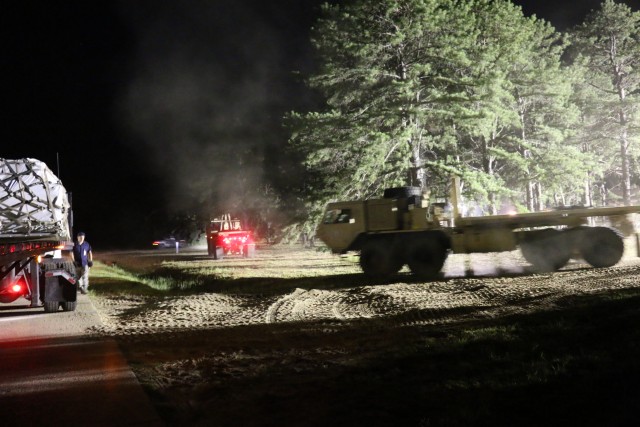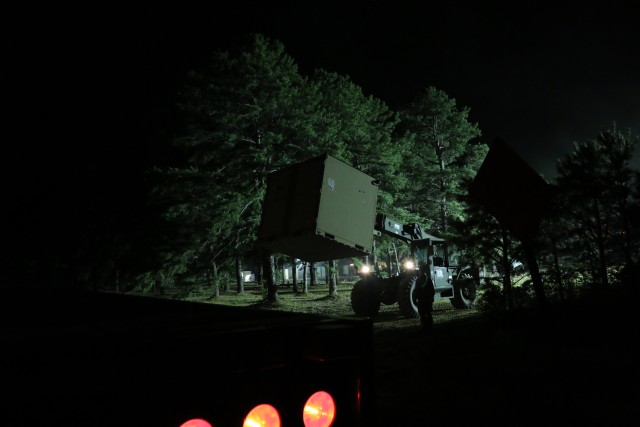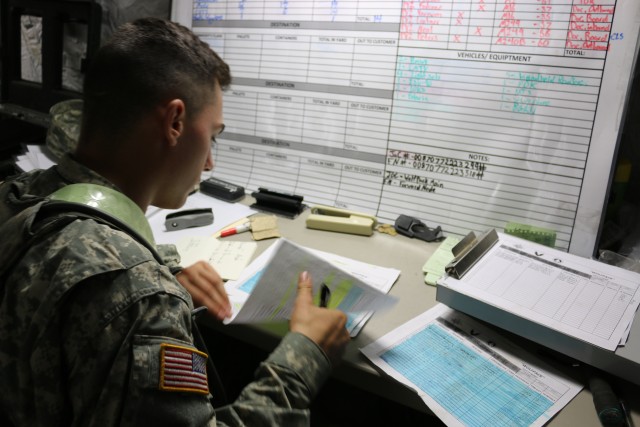 JOINT BASE McGUIRE-DIX-LAKEHURST, New Jersey (July 24, 2015) -- More than 50 Soldiers from the Military Surface Deployment and Distribution Command's 690th Rapid Port Opening Element deployed to the Naval Air Engineering Station Lakehurst, N.J. as a part of a USTRANSCOM-led Joint Task Force-Port Opening "Turbo Distribution" training exercise, July 20-24.
The 690th RPOE, based out of Joint Base Langley-Eustis, Va., is coupled with the Air Force's 821st Contingency Response Group out Travis Air Force Base, Calif. to deploy together and operate as a single unit -- Joint Task Force-Port Opening -- or JTF-PO for short.
The exercise, designed to test the ability of the JTF-PO to deploy world-wide on a moment's notice to establish air cargo and distribution operations for medical aid, vehicles and a host of military equipment, requires the RPOE to effectively mesh their capabilities with that of their Air Force counterparts.
"Although we're based on opposite coasts of the United States, we stay in close communication throughout the year in order to understand our specific roles and expectations," said Col. Rhett Champagne, 821st Contingency Response Group commander. "It is through exercises like this that we're able to put our planning and coordination into practical use and identify areas for improvement prior to a real-world deployment."
As the first RPOE Soldiers arrived on the desolate patch of land near a little used Lakehurst military runway, the outside temperature had already reached 90 degrees and the humidity crept past 73 percent. Not the best conditions for commencing the hard manual labor needed to set up and secure a primary base camp and forward node [logistics yard] which would become their new home for the rest of the week.
Although the heat was extreme, it didn't create the hardship one would expect considering the heavy uniforms and battle gear the Soldiers were wearing much of the time.
"This is a small unit with a unique mission. Our Soldiers understand the importance of the job and know that they need to be on top of their game all the time and can't afford to have an "off day"… and they never do," said 690th RPOE commander, Maj. Anthony Freda. "RPOE Soldiers work harder than any other Soldier I've ever been associated with, and they know they're that good."
Within four hours of arrival, the forward node command post was set up, cargo began flowing into the airfield and Soldiers started receiving, sorting and loading the cargo onto flatbed trucks for transfer to the newly established forward node in order to prevent a "log jam" situation at the airfield -- a logistician's nightmare.
Freda's plan for keeping things moving smoothly actually started more than four months ago.
"Anytime you deploy someplace new, there will always be uncertainties which you can't plan for and which you must simply work through on the fly," Freda said. "But what you can do is plan for the technical competence of your Soldiers in doing their job…that is within your power. There is no on-the-job training once you hit the ground and this leaves your mind free to deal with those unforeseen circumstances with greater ease as they arise."
Forward node night-shift noncommissioned officer in charge, Staff Sgt. Michael Lewis, credits the speed with which they were able to set up and begin cargo distribution in large part due to new equipment the unit recently added to their inventory.
"This is the first time we've used our Base-X modular tent systems and they've definitely been a game changer for us," Lewis said. "Our new command tents can be fully operational in less than 30 minutes, as opposed to our old systems which could take up to three hours each to set up."
Working 24-7 shifts, by the end of the exercise , the 690th RPOE and 821st CRG had moved roughly 1,200 short-tons of cargo, the equivalent of 90 C-17 and C-130 cargo flights.
The U.S. Transportation Command created Exercise Turbo Distribution with the aim of building improved joint readiness and integration between all the transportation and logistics players. In this case, the RPOEs, CRGs, and the Defense Logistics Agency.
While one side of the USTRANSCOM team created the scenarios taking place during the exercise, the other side was looking at how the JTF-PO team reacted to the realistic challenges it faced.
"USTRANSCOM Turbo Distribution Exercises provide our component commands an opportunity to train and assess their readiness to conduct operations as a JTF-PO. It is an important event because after completion, the units stand alert as part of the DoD Global Response Force," said Lt. Col. Adrain Jackson, branch chief for USTRANSCOM J3 Training and Exercise Division. "The 690th RPOE and 821st CRG have done extremely well in the vast majority of conditions we are assessing, but even the best units have room for improvement. Our goal is to identify these areas and provide the units with the tools to improve."
A key difference in this Turbo Distribution exercise compared to previous exercises is the addition of Defense Logistics Agency enabling capabilities. Previously DLA would deploy independently to crisis areas, setting up their own logistics infrastructure to support the crisis. By teaming DLA with USTRANSCOM and JTF-PO, it affords DLA the opportunity to rapidly deploy and coordinate resources as the mission evolves.
"We are able to bring in a DLA support team that is mission-tailored to support the crisis, such as contingency contracting officers, distribution subject matter experts who specialize in supply chain distribution, and petroleum operations specialists who specialize in providing fuel support," said Stanton Olsen, Joint Logistics Planner for DLA at Fort Belvoir, Va. "This Turbo Distribution exercise has given us the opportunity to test our plans and identify how we can more fully integrate ourselves with the expeditionary theater opening experts. Our goal is ultimately to give the combatant commander greater operational flexibility and support during a crisis."
As part of the USTRANSCOM joint exercise control group, SDDC representatives participated in the design, execution, and evaluation of the unique U.S. Army capability.
"The benefit to this exercise is that it provides the RPOEs the opportunity to train jointly in ways that otherwise would not be available," said Robert Merrifield, SDDC JTF-PO exercise planner. "Either the units learn it here in a controlled environment, or during a real world deployment. Those are the only two options."
But ultimately, what matters at the end of the end of the day is whether those being evaluated find the training useful and can build upon it to simplify future deployments while minimizing risk.
"This exercise was good training and gives us a final opportunity to evaluate and look at ourselves prior to entering the RPOE alert rotation in the next couple of months," said 1st Lt. Bryan Diffley, 690th RPOE platoon leader and forward node officer in charge. "I feel comfortable our Soldiers are up to the job should we be asked to deploy."
The 690th RPOE is one of three 833rd Transportation Battalion units at Fort Eustis which perform 3-4 month alert rotation cycles requiring them to report and deploy anywhere in the world within 12 hours of notification.
Related Links:
Official Homepage of the United States Army
597th Transportation Brigade Facebook Page
833rd Transportation Battalion Facebook Page
Defense Logistics Agency Facebook Page
Military Surface Deployment & Distribution Command Facebook Page
690th Rapid Port Opening Element Facebook Page