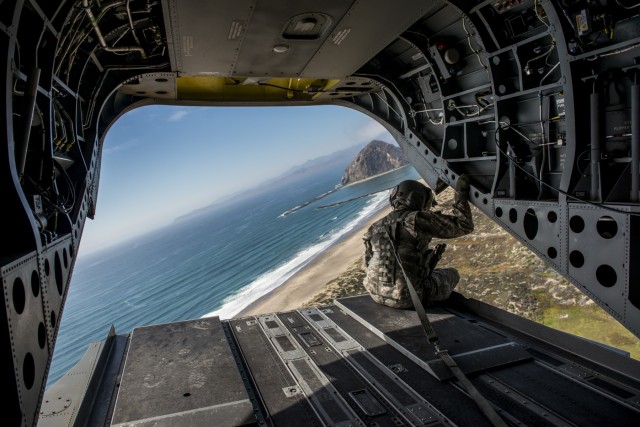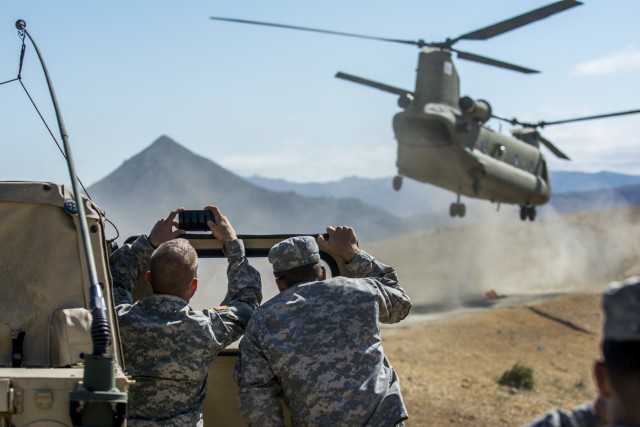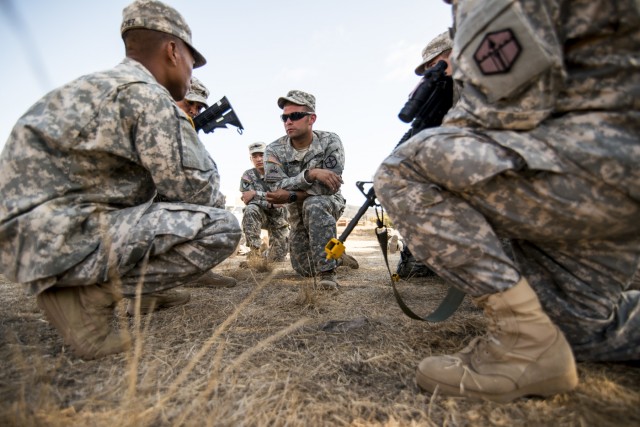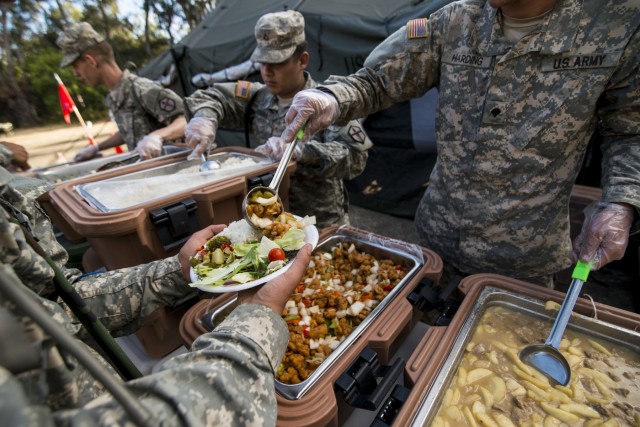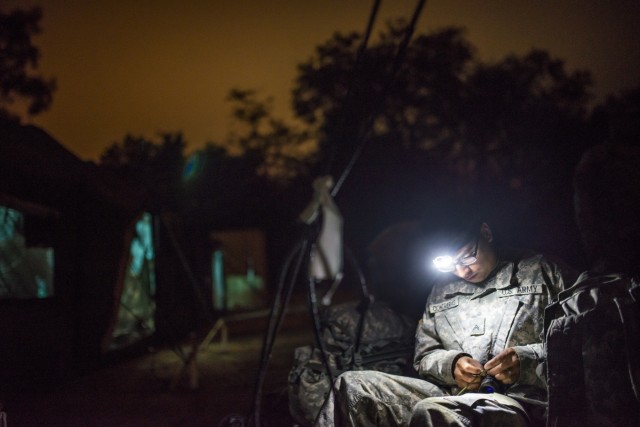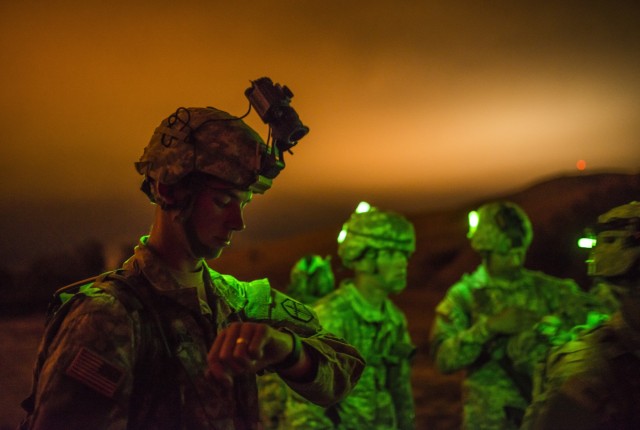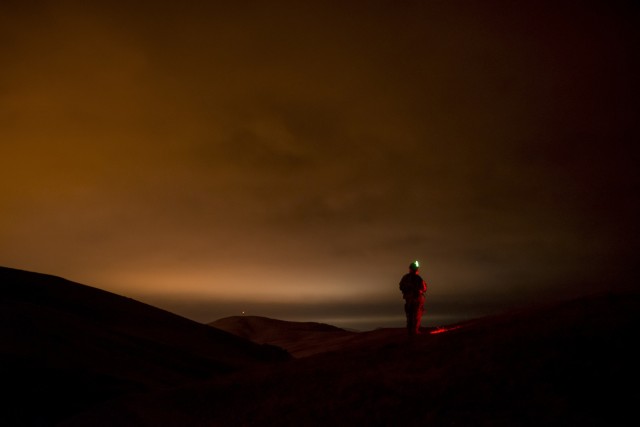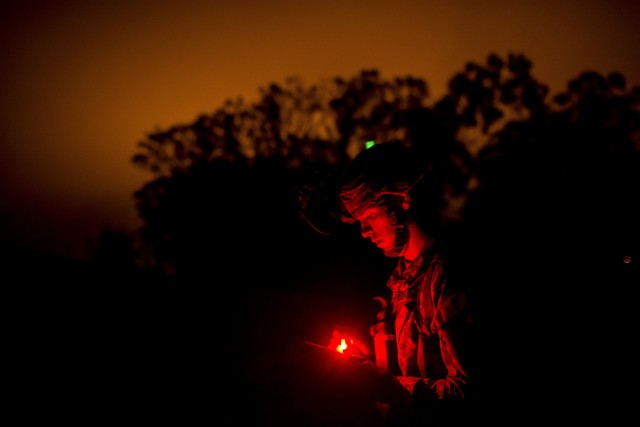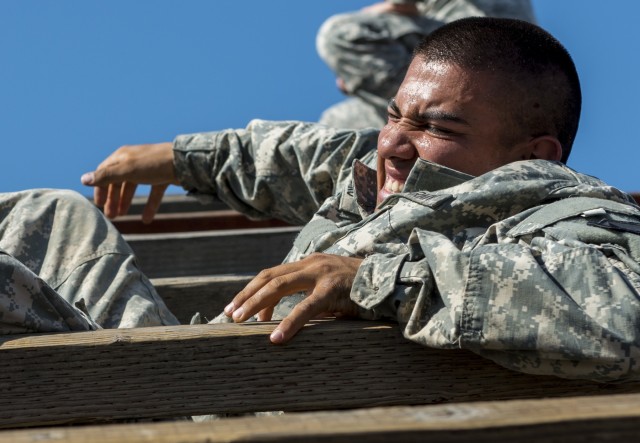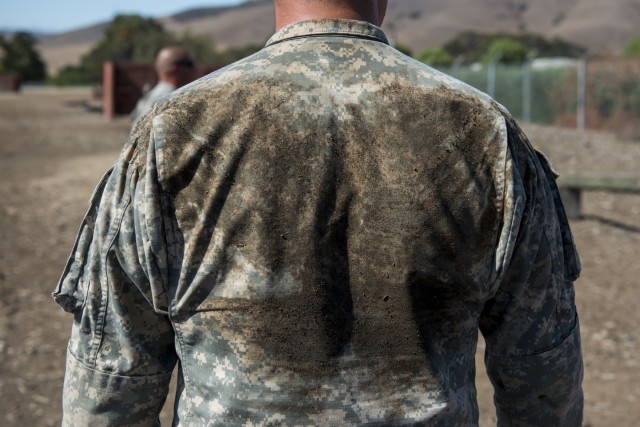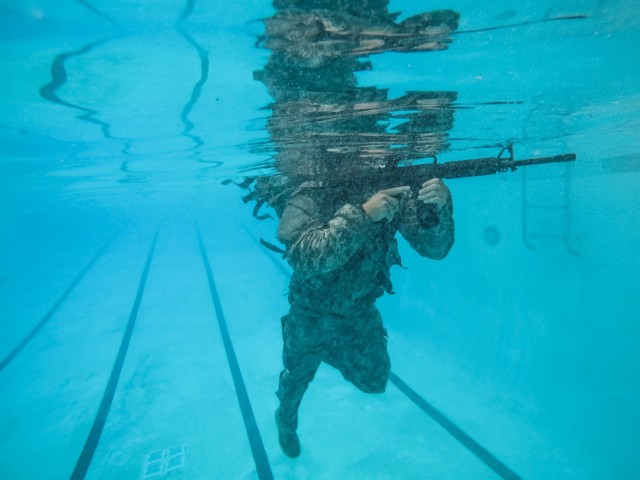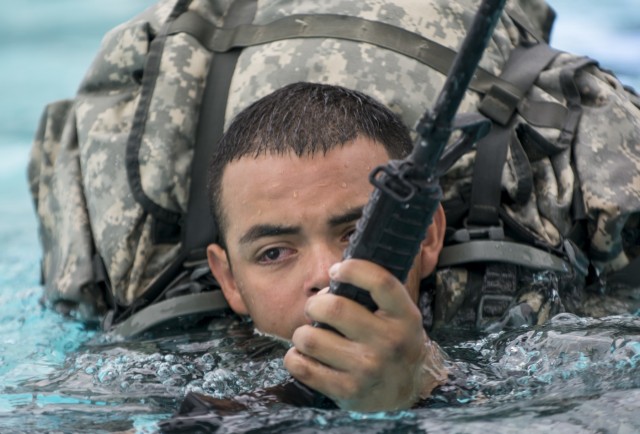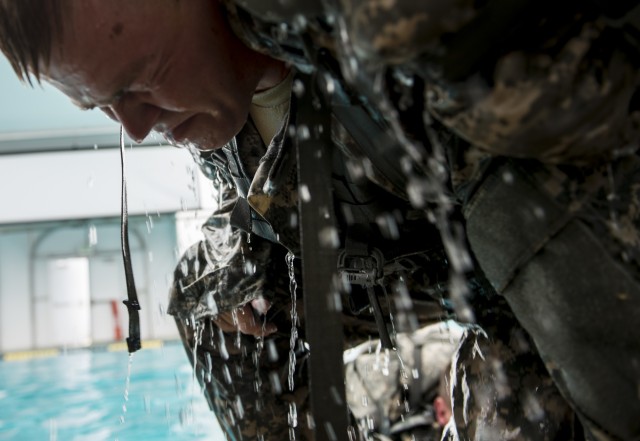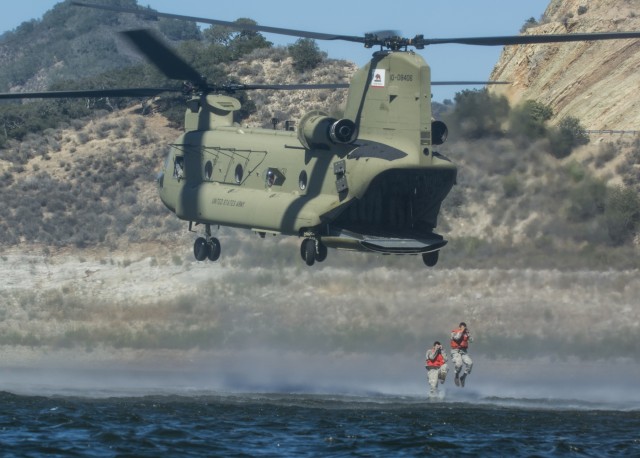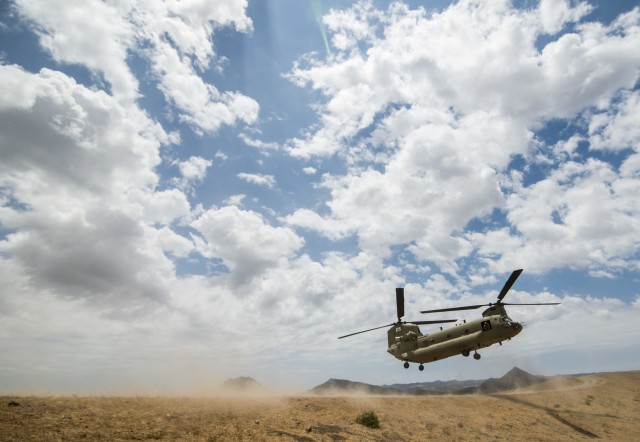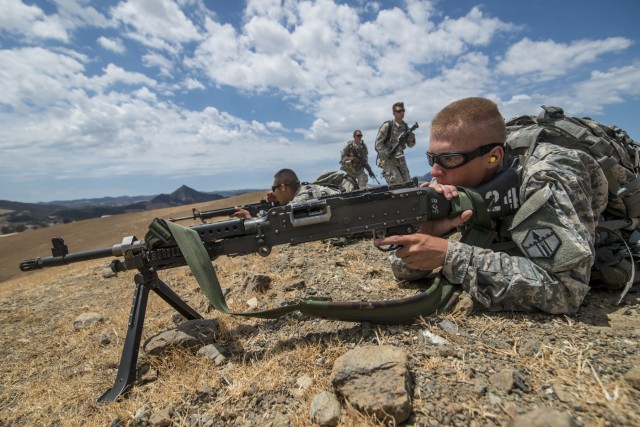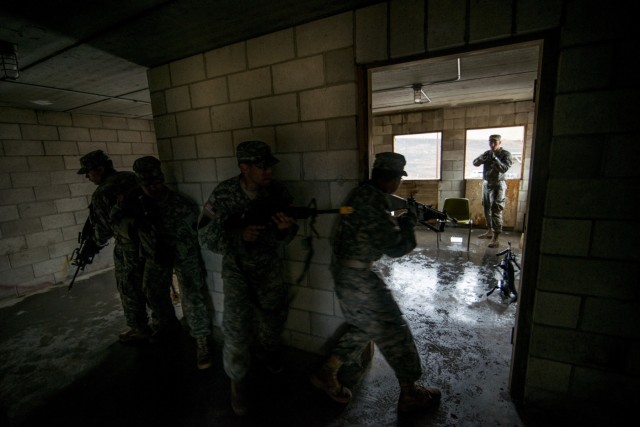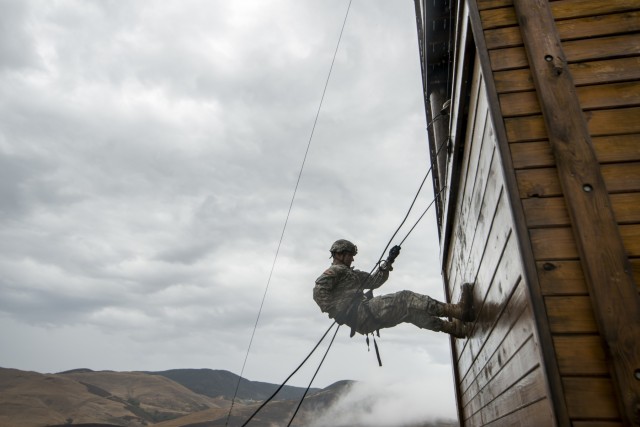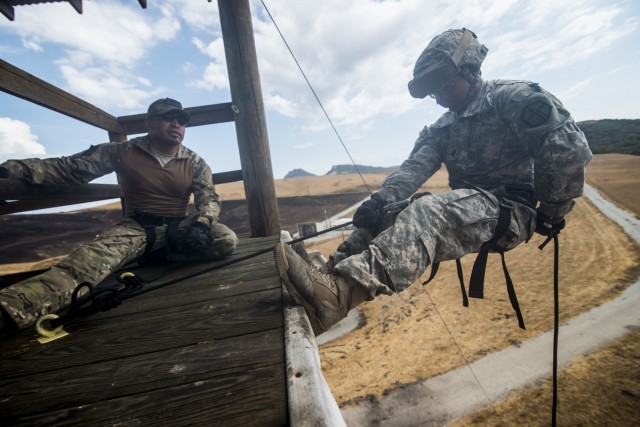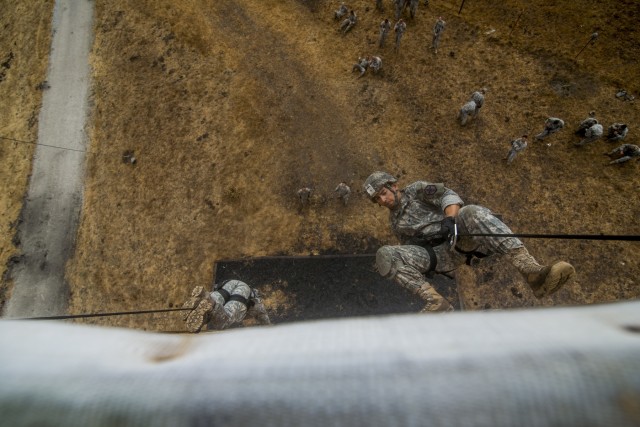 SAN LUIS OBISPO, Calif. (July 22, 2015) -- In a span of five days, they jumped from a helicopter into a lake, rappelled from a 100-foot tower, conducted urban warfare tactics, shot reflexive fire, air assaulted into a foot patrol, overcame an obstacle course, completed a day and a night land navigation course, swam through combat water survival training ... and they still weren't done.
In all, the 374th Engineer Company (Sapper) spent two weeks in the field training - 12 to 18 hours each day - to prepare their leaders for the elite Sapper Leader Course.
"There's hasn't been a lot of down time at all," said Cpl. Brock O'Shaughnessy, a squad leader for the 374th Engineer Company, which is headquartered in Concord, California.
"You have to operate on minimal sleep because if we're competing for a chance to go to sapper school, it's exactly what they want over there. They want you to operate on no sleep. They want to make sure you're able to make quick decisions, make right decisions ... when you're not having a lot of sleep, or not eating," he said.
The Sapper course is an intense four-week leadership school designed specifically for combat engineers, taught on Fort Leonard Wood, Missouri.
"It's the hardest course I've ever done in my military career," said Staff Sgt. Travis McCorkendale, who wears the sapper tab on his left shoulder.
McCorkendale is actually a platoon sergeant with the 348th Engineer Company (Route Clearance), located in Kansas City, Missouri, but he came to California to help the sapper company train. He served as their cast master for the helicopter jump into the water, known as a helocast.
Most of the field exercise took place at the Camp San Luis Obispo Military Installation, California. The company's top performers will earn a spot on the "order of merit list" to attend the highly touted school.
The rest of their field time included events like demolition knots, a high-ropes confidence course, climbing wall, rope climb, fire movements and a 12-mile ruck march. Even between events, platoon sergeants and squad leaders quizzed their Soldiers on the fly, throwing them into impromptu scenarios, or making them do push-ups while asking them to solve demolition calculations.
"We're always trying to push hard. We really are. They're willing to learn, I think, and I think that's bar none. You can't yell at somebody or try to teach somebody who isn't willing to learn. And so I think we set a good tone here. It's a hard, fair, fast environment," said Staff Sgt. Paul Solbos, one of three platoon sergeants and a former infantryman on active duty.
He said it's hard to say which one skill combat engineers perform the best because their role requires them to do so much in combat.
"We are the multi-tool of the Army," said Pfc. Jorge Kirby. "We do everything that everyone else can't do. So if there's a minefield, we clear it. A building needs to be breached? We can breach it. If someone needs to cross a river, we'll build a bridge. If you can think of something that needs to be done, a combat engineer can do it."
All of these skills come down to something known as "mobility and counter mobility." In other words, combat engineers help friendly forces move through the battlefield, while limiting enemy movement. They can blow down a barrier with explosives, perform route clearance through a roadway or even set up concertina wire to block enemy forces from entering specific areas.
On top of all that, they train on the same skills of a light infantryman. Yet, they must be confident not only on land, but able to move by air and water, too, when necessary. That's why the unit added the helocast and an air assault into the mix.
The 374th is one of six sapper companies in the Army Reserve. Its leadership put a lot of time and effort in planning this field training exercise. Just for the helocast to work, for example, they had to coordinate with the California National Guard aviation, find divers to clear the waters, coordinate with the local airport and get permission from the county, wildlife and preserve authorities at Lopez Lake.
"There's a lot of moving pieces," said 1st Sgt. Raquel Steckman, the company's first sergeant.
Nobody demanded this unit to draw up this training exercise. They put it together out of their own initiative because they knew it would benefit the Soldiers. And all the hard work was well worth it, Steckman said.
"They're getting some kick ass training and learning at the same time. That's the key. Keep them engaged. Keep them excited," she said.
This excitement translates into strong retention numbers, with Soldiers who flock to and stay in the unit because they enjoy being in the Army. All of their platoon sergeants have come from active-duty infantry units, and they've worked to make the unit better and maintain discipline and solid training.
"We don't have problems with retention because of our activities. My goal is not to stay at the Reserve center [when we train]. It's to be outside in the field training. That's why I joined the Army. So did our 12-Bravos," said Capt. Nick Niedenthal, the company commander, who is about to finish his tenure with the unit.
Several Soldiers said Niedenthal is a major reason the unit is as enjoyable and the training is as good as it is today, enhanced further by every leader beneath him.
This field environment and this training culture is not an anomaly for the 374th Engineer Company. Most of their battle assemblies are like this, Niedenthal said. The unit spends roughly eight out of twelve battle training assemblies outdoors, not stuck in an office building.
"This is as hooah as you're going to get in the Army Reserve," he said.
There are not many Soldiers who can boast having jumped out of a helicopter. But after this field training, these Californian combat engineers can claim that and much more.
Related Links: