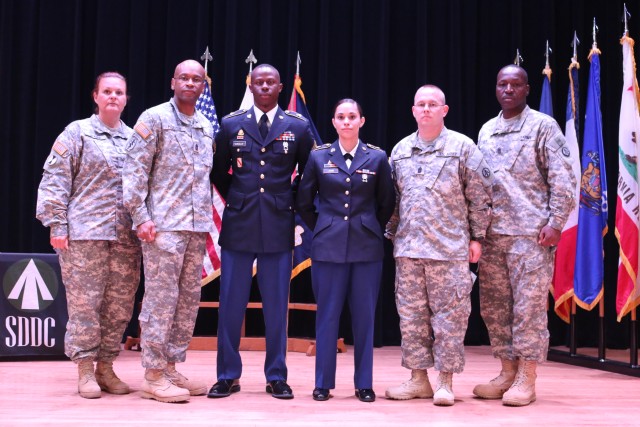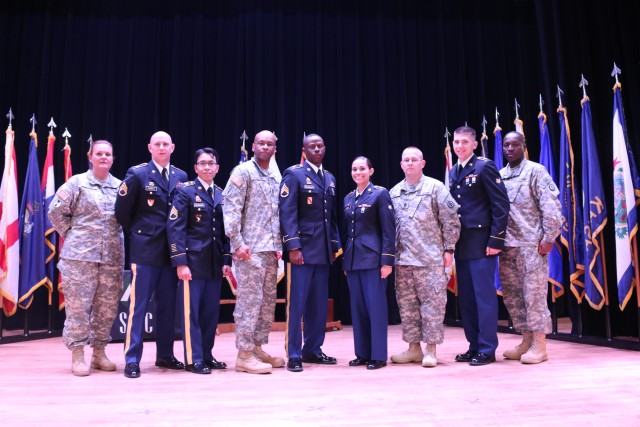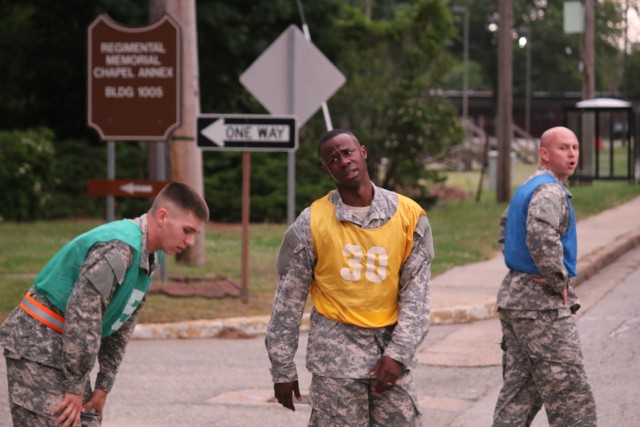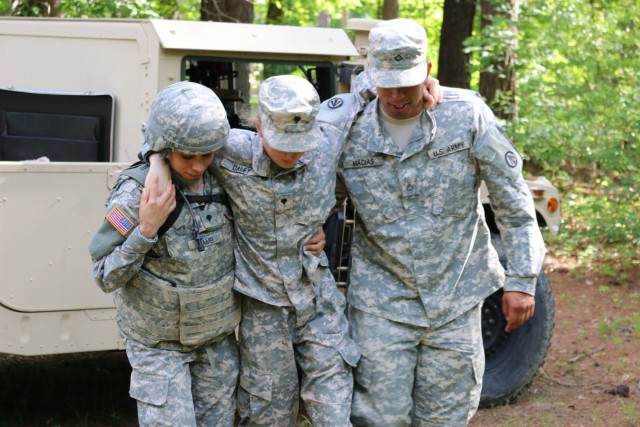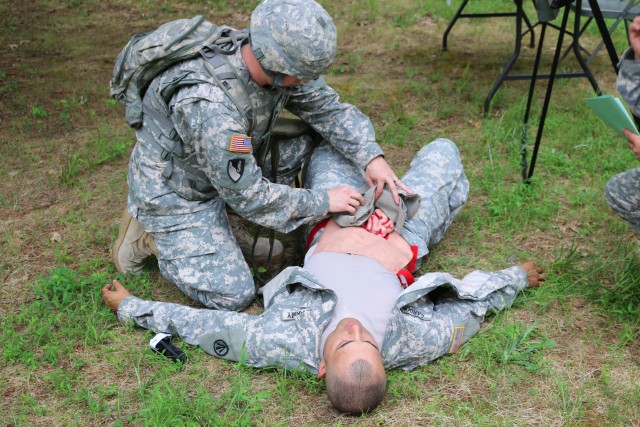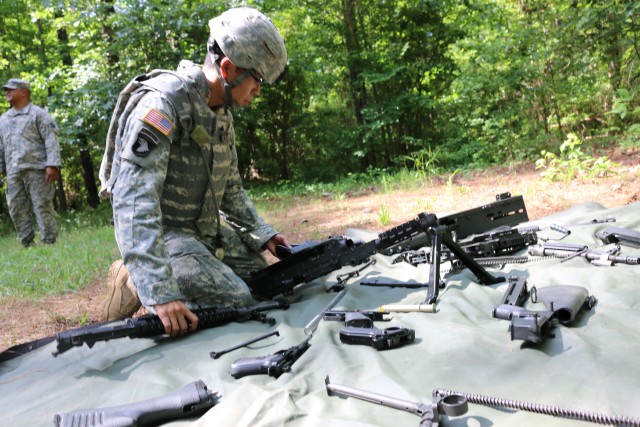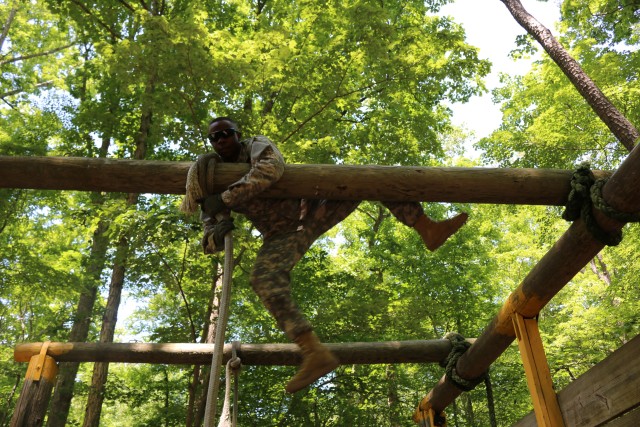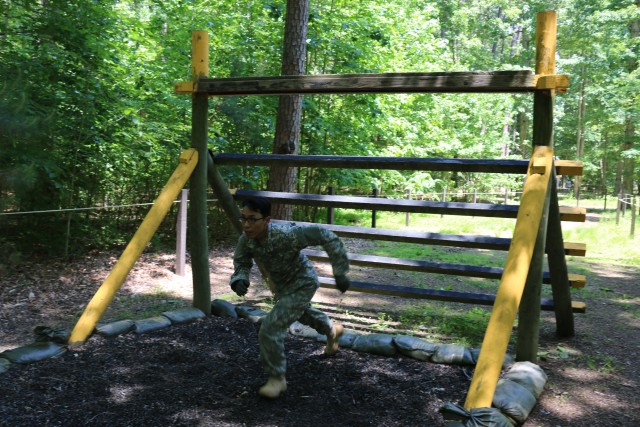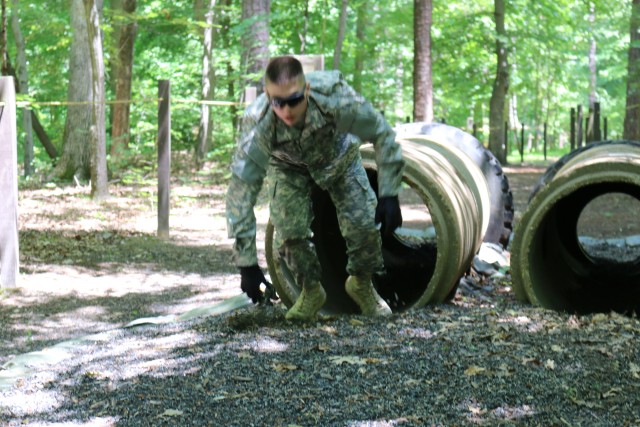 The Military Surface Deployment and Distribution Command named 597th Transportation Brigade Soldiers Spc. Austi-Ana Lamb and Staff Sgt. Armond Evanscott, its 2015 Soldier and Non-Commissioned Officer of the Year, respectively, in a ceremony May 28 at Joint Base Langley-Eustis, Va.
Lamb and Evanscott competed against Staff Sgt. Colin Coriell and Spc. Jeremy Rosenberg, both from the the 596th Trans. Bde. in Sunny Point, N.C., and Staff Sgt. Paulus Hindarto, 599th Trans. Bde. from Wheeler Army Airfield, Hawaii.
The two day competition started April 27 with a 4 a.m. physical fitness test consisting of the Army's standard physical fitness test events: the push-up, sit-up and 2-mile run.
This was followed up with essay and written examinations designed to evaluate their breadth of knowledge and communication skills before moving into the Warrior Tasks and Battle Drills phase where the Warriors were evaluated in tasks outside of their primary military occupational skill such as treating and transporting casualties and map reading.
With little time for recovery from their morning PT test, the Warriors were then off to compete against the clock on JBLE's challenging obstacle course.
"The obstacle course really took a lot out of me," said Coriell. I had given it my all during the PT test and I didn't expect the obstacle course to be as difficult as it was."
Besides fatigue, Coriell said Virginia's 90 degree summer temperature and high humidity also took a toll on the competitors.
For some, the most challenging event was the one for which they were unable to prepare -- the "Mystery Event." Organizers said the event was designed to test the competitor's ability to react, adapt and overcome unexpected situations quickly and decisively while under physical and mental stress.
One by one, the Soldiers entered a room to find a disassembled M240 machine gun, M249 Squad Automatic Weapon, M16-A2 rifle and M9 pistol weapons systems mixed together in a container bin. Each had 15 minutes to separate the parts and reassemble the weapons into their original condition.
"I lucked out in the mystery event," said Lamb. "While some of my competition didn't have much experience with the weapons systems, weapons happen to be my strong point. I finished assembling them with five minutes still left on the clock."
By 5 p.m. the contestants were putting their navigation skills to use in the backwoods of Fort Eustis.
With little sleep, the competitors were in the home stretch the following morning as they donned full combat gear, including 20-pound rucksacks, and headed out at 4 a.m. on a six-mile road march.
"For me, the road march was definitely the toughest part of the competition," said Evanscott. "The fact that the SDDC competition did in two days what our previous competition did in four, left no time for recovery between events. I only got two and a half hours sleep and came in second on the road march, but I gave it my all."
SDDC was represented at the competition by SDDC Operations Sergeant Major, Sgt. Maj. Daisy Jackson.
"We are looking for the best of the best to represent SDDC," said Jackson. "The competition was designed to be physically and mentally challenging, but it also gave us an unexpected window into heart and soul of the Soldiers. Even though they were competing against each other, they still took time between events to look out for one another and help each other along the way -- that's what good Soldiers do."
SDDC's top enlisted Soldier, Command Sgt. Major Kevin McKeller, concurred with Jackson's assessment. "That's what our Soldier of the Year and NCO of the Year competition is all about," said McKeller, "challenging yourself to become a better Soldier while representing your command!"
Lamb and Evansscott will now go on to compete in the Army Materiel Command Best Warrior Competition in July.
"Each of our competitors represents the very best of SDDC. What they have done to get here is nothing short of awesome," said Maj. Gen. Susan A. Davidson, SDDC commanding general. "I'm very proud of the effort they have put forth and know that the command will be well represented at the AMC-level competition."
Related Links:
Military Surface Deployment and Distribution Command Official Website
597th Transportation Brigade Facebook Page
599 Transportation Brigade Facebook Page
Military Surface Deployment and Distribution Command Facebook Page