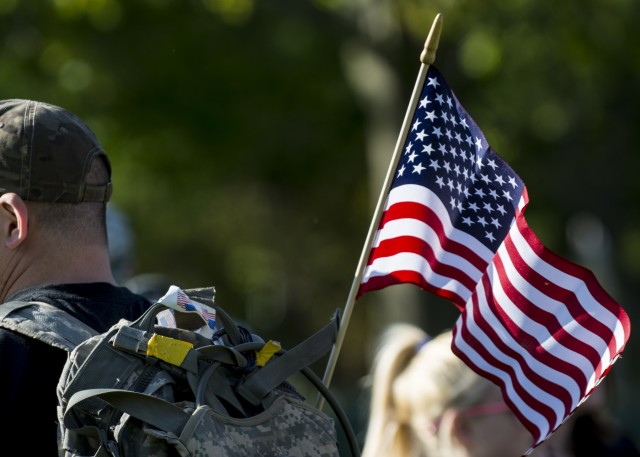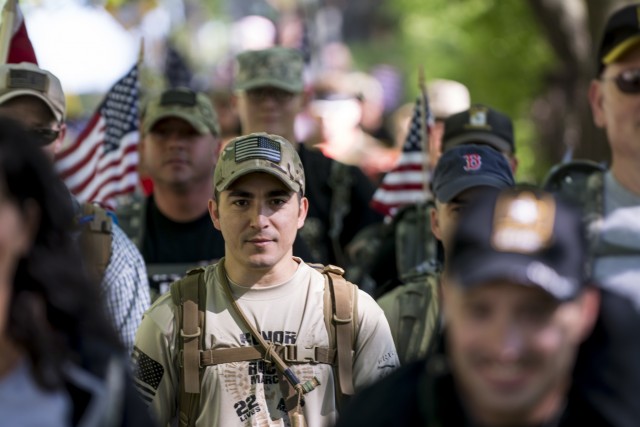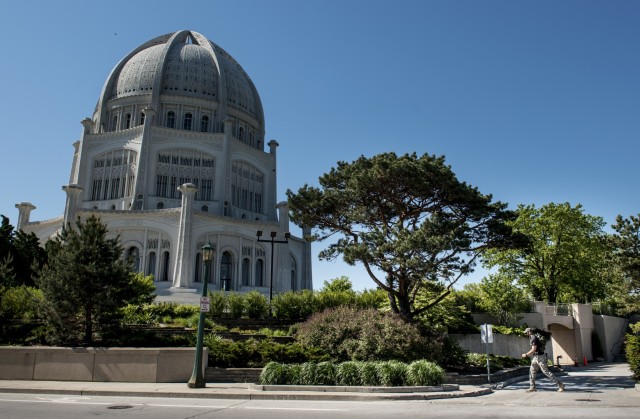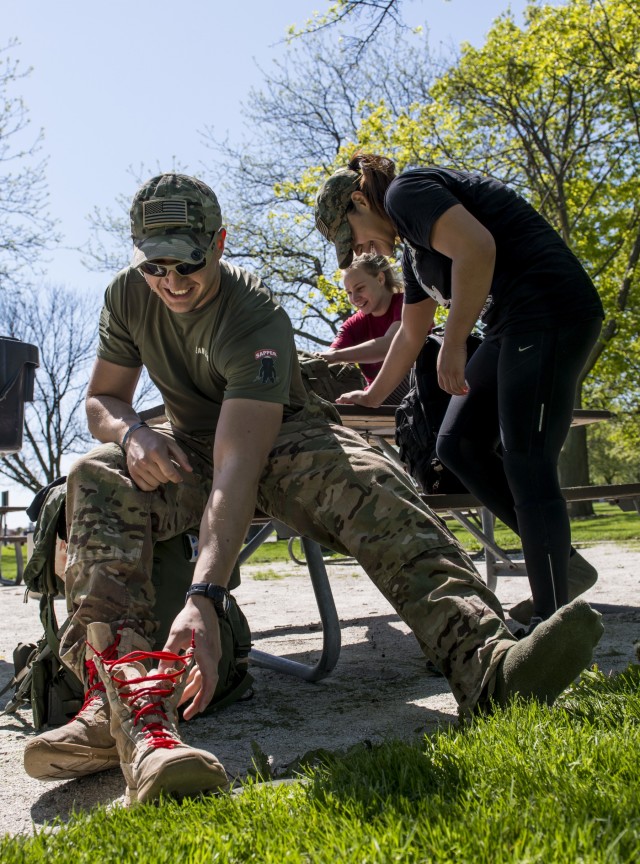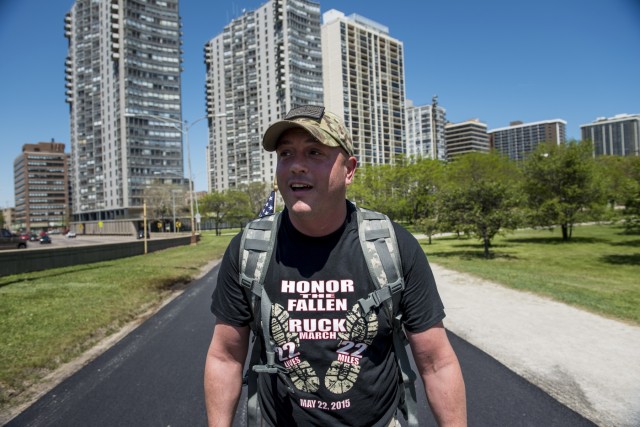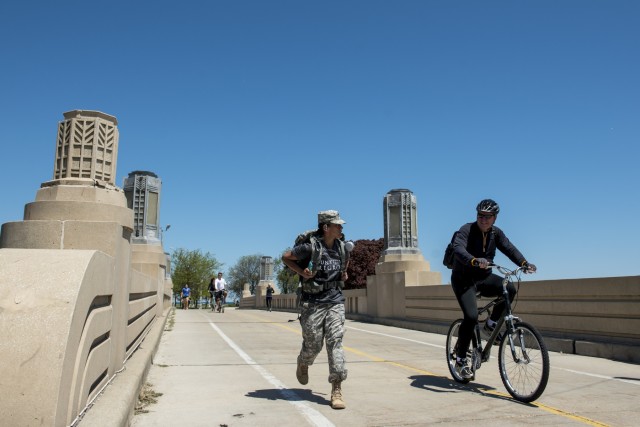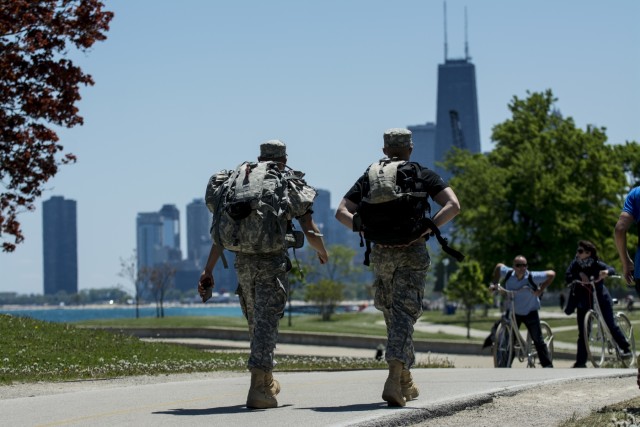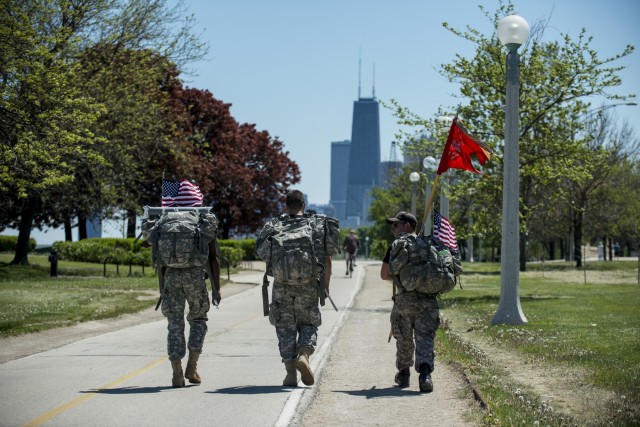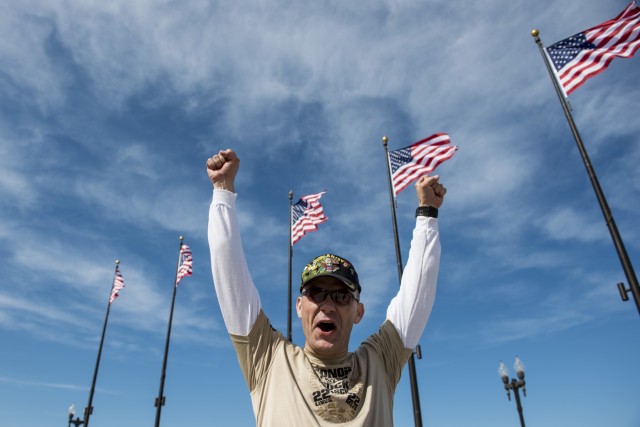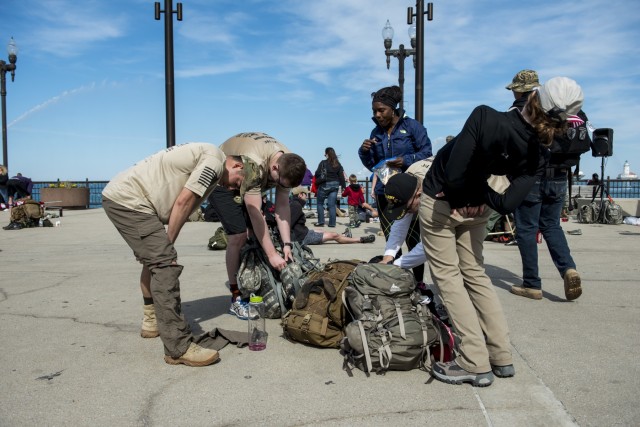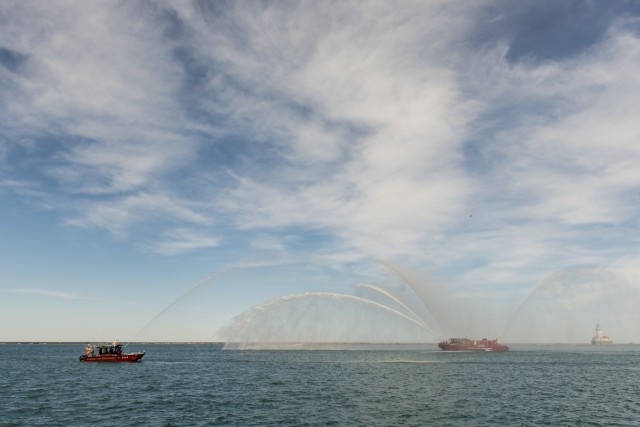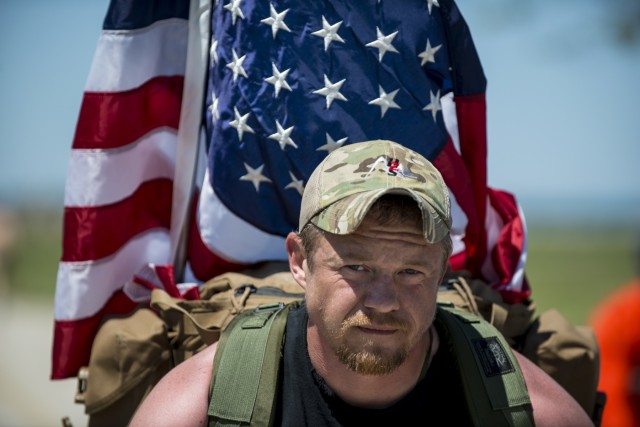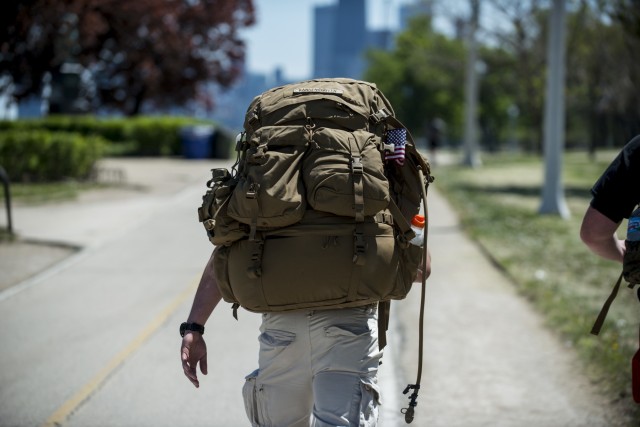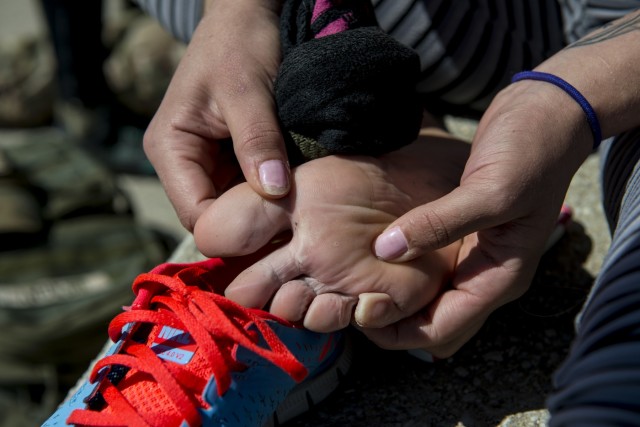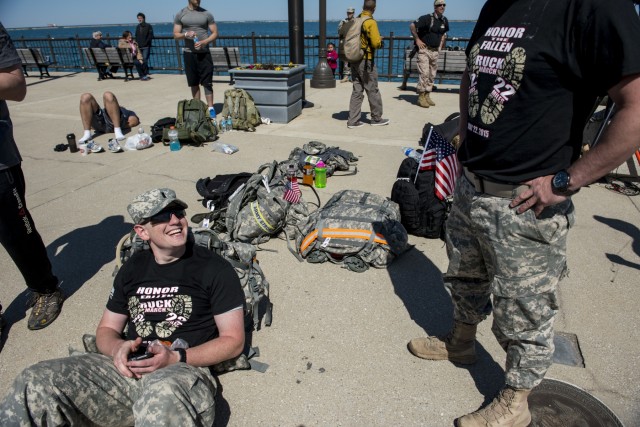 CHICAGO - For thousands of military veterans each year, the struggles of life might feel like a lonesome march to nowhere.
An estimated 22 veterans take their own lives every day, according to data from a 2012 Veterans Affairs (VA) report.
To bring awareness to their struggle, approximately 450 people gathered for a 22-mile ruck march on May 22, just days before Memorial Day. Most of those who marched are either veterans themselves or still serving in the military.
Among those, a dozen Army Reserve Soldiers and civilians came from the 416th Theater Engineer Command (TEC), headquartered in Darien, Illinois, and another 30 from the 317th Engineer Company, of Kankakee, Illinois, which is a subordinate unit to the 416th TEC.
"My knees are killing me. This 36-year-old, this body is wearing on me. That's for sure. I ain't trained like I'm 19 anymore," said Sgt. 1st Class Joshua Hays, with the 317th Engineer Company, roughly 12 miles into the march.
"The Soldiers that we lost, the fallen, the pain and suffering they went through, what I'm going through is nothing compared to what they went through, and I would do another 22 just for them," he said.
The march was also held in honor of military men and women who suffer from Post-Traumatic Stress Disorder (PTSD). Between 11 and 20 percent of those who came back from Operation Iraqi Freedom and Enduring Freedom have been diagnosed with PTSD in a given year, according to statistics found on the VA website.
"I find it sad that veterans each year endure tough times while deployed ... and make it home only to take their own lives due to PTSD. In fact, I knew a Soldier from one of my former units, and when I think of his suicide, I can't help but also be reminded of other Soldiers I knew that paid the ultimate sacrifice," said Maj. Rudolph Vaca, operations officer for the 416th TEC who organized a team to march.
The VA suicide statistics don't include members who commit suicide while still in uniform. In the last three years, 842 active duty military members killed themselves, in addition to 578 from the reserve components. This data comes from the Defense Suicide Prevention Office. The U.S. Army Reserve alone has lost an average of 50 Soldiers each year to suicide in the last three years.
"A normal company strength could be anywhere between 100 and 150 people, and right there, with 40 to 50 Soldiers, you're losing half of a company. As far as a mission standpoint, that company is no longer mission capable," said Sgt. 1st Class John Fenton, an operations sergeant for the 416th TEC who tracks suicide and other serious incident reports for the command.
"They're not just numbers. I see an individual that got lost. And there's a lot of things that we need to be doing to help these Soldiers having issues," he said.
This is the second year the Honor the Fallen Ruck March took place in Chicago. The event was hosted and organized by Chicago veterans, a nonprofit organization established to help service members and families in the Chicago-land area transitioning back into civilian life.
Last year roughly 25 people participated. This year, 585 officially registered with more than 400 who checked in, plus those who showed up without registration.
"The turn out between last year and this year was just amazing. It was a great day. It was a really emotional day for many people, but it was really great that we all came together as a community to shed some light on PTSD and what veterans go through," said Elizabeth Diaz, the head organizer of this year's event.
The march started in the northern Chicago suburb at the Veterans Memorial Park in Glencoe, Illinois, with a route that went along the lakeshore and finished at Navy Pier.
Hundreds of marchers carried American or military service flags the entire way. Some wore T-shirts or items to remember someone specific they lost. Others marched in their combat boots and uniform pants, letting the public know that this march was for a military cause.
Along the way, cars honked with encouragement at the stream of marchers. Pedestrians waved, shook their hands, and at times walked alongside them to ask what was going on. At the pier, two Chicago Fire Department boats sprayed arches of water as a salute to all those who finished the march.
"There was a lot of support coming down. All 22 miles, people were thanking us and cheering us on and asking us what was going on. Hopefully we did a good job at raising that awareness," said Maj. Justin Kilpatrick, plans officer for the 416th TEC.
Once the march ended, marchers scattered across the Navy Pier platform, exhausted, with blistered feet but smiles on their faces from the relief of finishing. And despite their pain and cramped legs, people stood back up to cheer on their friends who finished behind them.
"It means everything," said Kilpatrick of that final cheer. "Knowing you guys would be here down the final pike (to cheer me). It was great."
The opportunity for "raising awareness" was not lost on the public. The neighborhoods of northern Chicago saw these men and women honoring their fellow brethren.
Those who fought overseas and came home to fight against their internal struggles were not forgotten this day. With Memorial Day around the corner, these veterans will be remembered once again, and hopefully on each day and each mile thereafter.