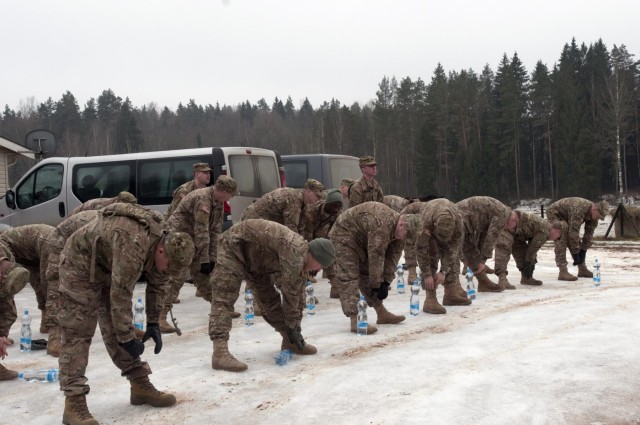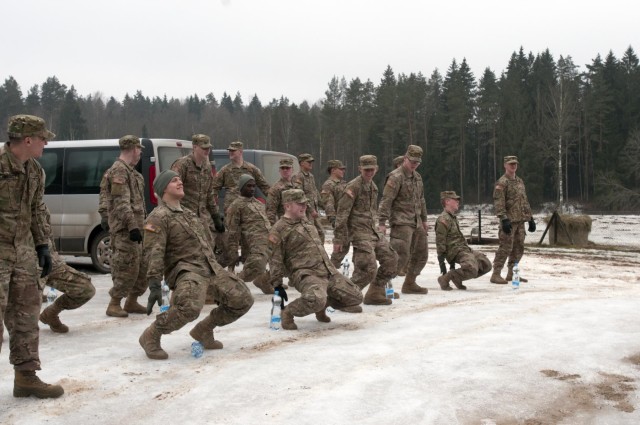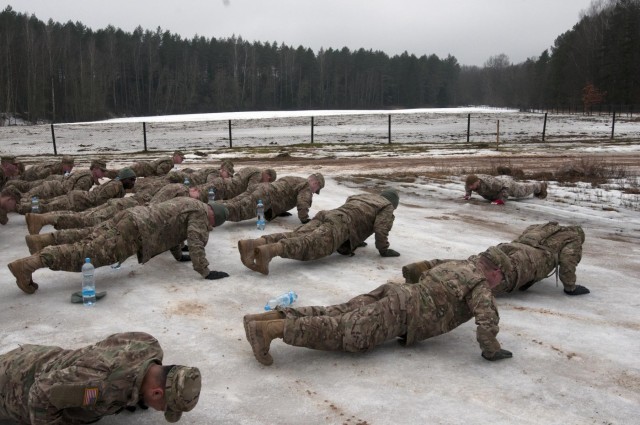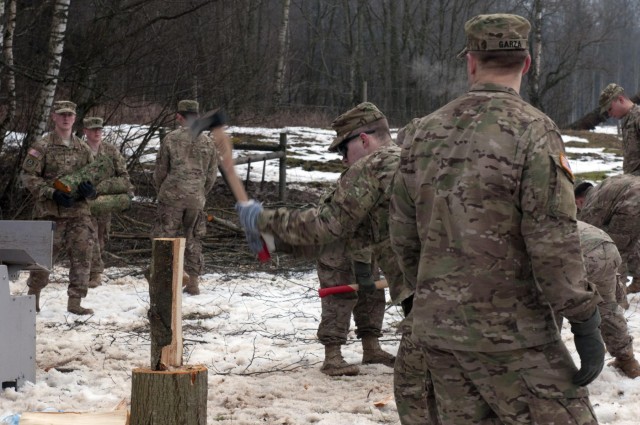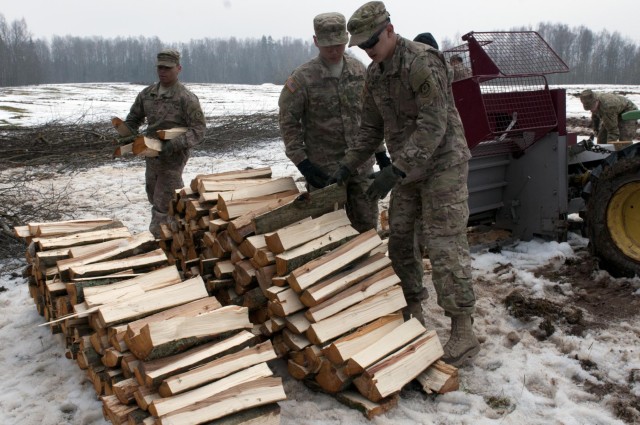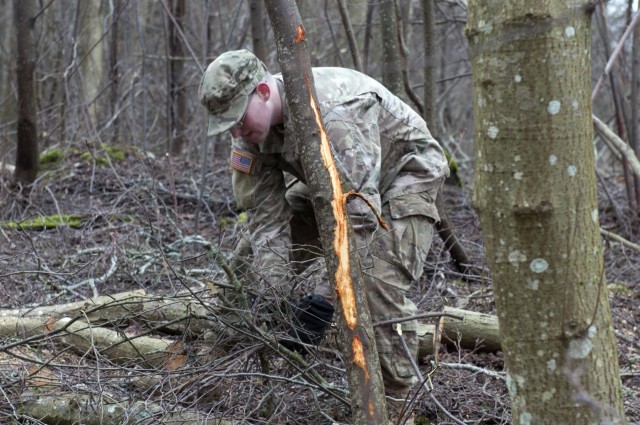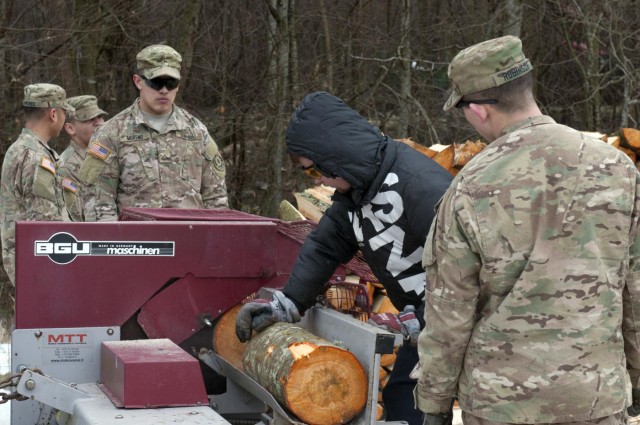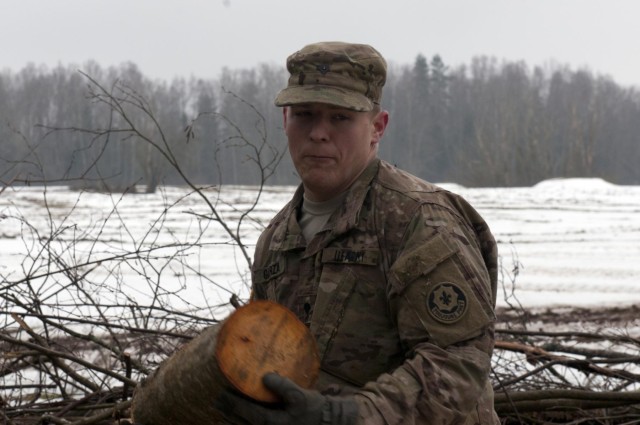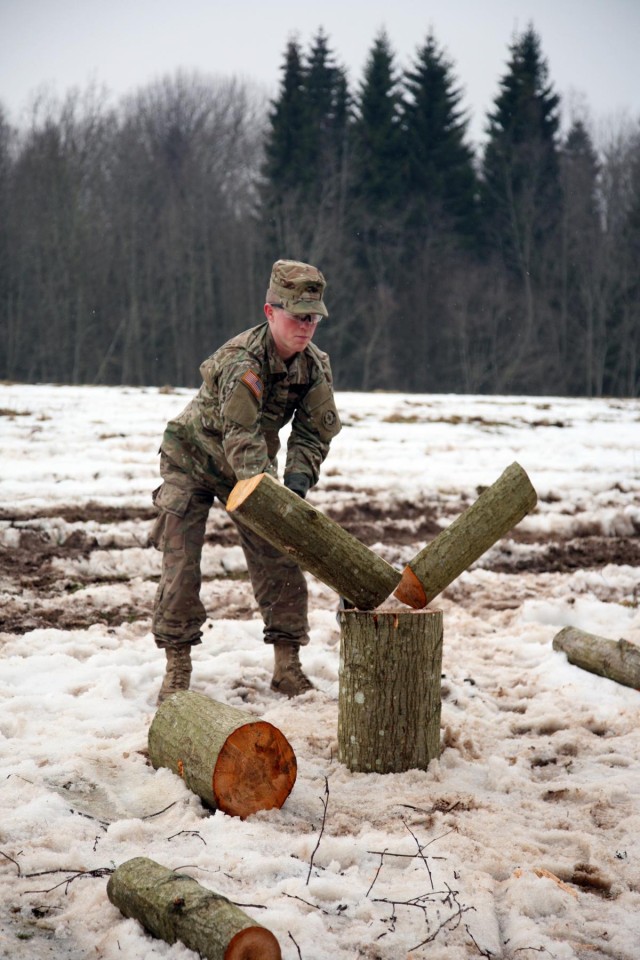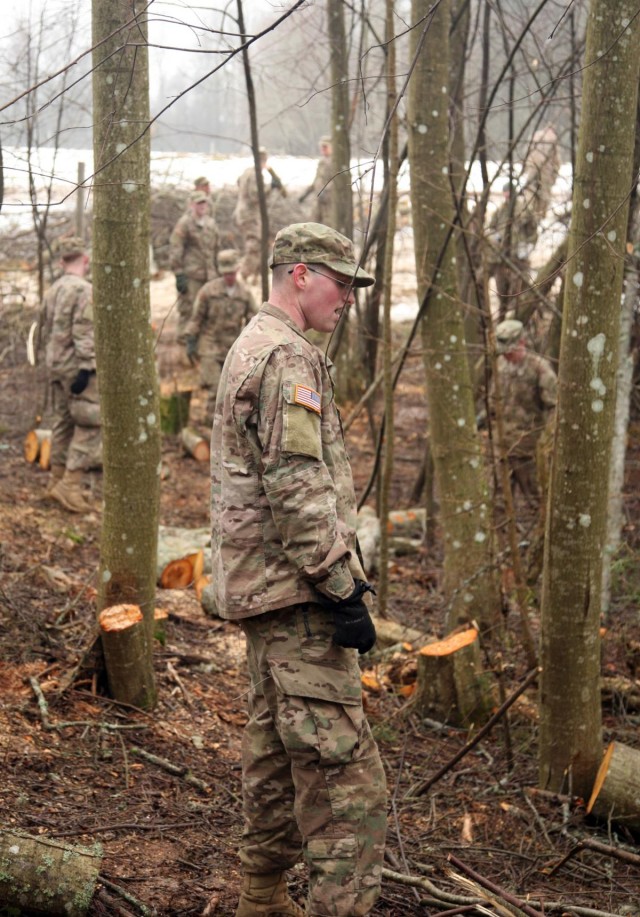 CAMP ADAZI, Latvia ⎯Troopers from 3rd Squadron, 2nd Cavalry Regiment went straight to work when they arrived at the Latvian Christian Camp Center Feb. 28, 2015.
They started with a series of stretches led by Capt. Ruslans Makevics, a Latvian chaplain. They proceeded to run up a snow-covered hill to a field while Sgt. Kurtis Anderson called cadence.
In the middle of the field was an opening into the woods. Three Latvian workers were there to greet the Troopers, including the camp director and manager, Ganchauskas Vitalikotkovs.
Twenty Troopers from 2 CR went to the camp to help collect, chop and stack firewood. The wood will be used to assist in heating the buildings on the camp and for campfires.
The camp resides in Gauja National Park. In the woods there, Troopers removed brush, debris and cut logs. This cleanup helped both the camp and the national park.
"We are only able to cut certain trees," said Vitalikotkovs. "It's quite the process. We must go through many steps and get signatures, partially because this camp is part of the national park. Someone comes through and marks the trees we can cut. The others must naturally return to the earth."
One Latvian worker used a powered log splitter to trim long logs and split thicker ones. Simultaneously three troopers at a time split wood on logs using axes while other troopers placed the logs. Before lunch, three long rows of stacked, chopped logs lined the edge of the field.
"It felt good to be helping others," said Pfc. Cythus Sanchez. "I felt great about how they appreciate our help."
The camp showed its gratitude by providing the troopers with a complete lunch of chicken, rice and salad, followed by coffee, tea and cookies before they returned to work.
Vitalikotkovs also expressed gratitude for the help the troopers provided.
"I'm wondering how it's possible that guys from the U.S. come here, and sometimes you can't get guys from Latvia," said Vitalikotkovs. "But people from so far away come to help you."
Troopers from 2 CR have helped collect and chop wood on other occasions as well. On Feb. 14 and Feb. 21 nearly 30 Troopers helped an orphanage in Latvia with the same task.
"I really felt proud of being a Soldier, because I was helping other people by chopping wood," said Pfc. Marierose Monthe, one of the Troopers that helped the orphanage. "I really felt like part of a community."
Children from the orphanage wanted to give the Troopers hugs and take pictures with them.
"Those gestures connected us," said Monthe.
Camps for children last a week and run from June to August. They offer horse rides, nature walks, bicycles, a playground, a climbing wall, swimming and several sports.
Related Links: