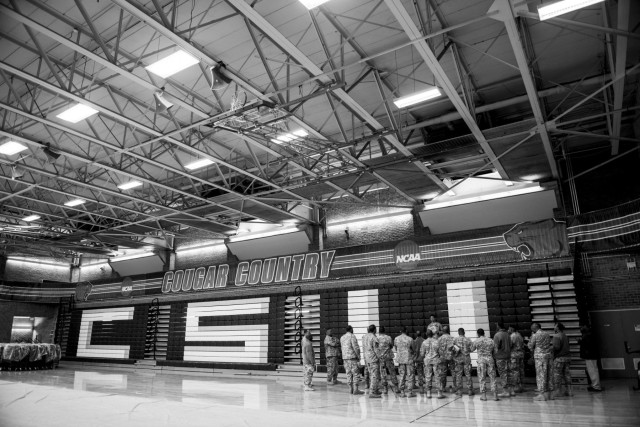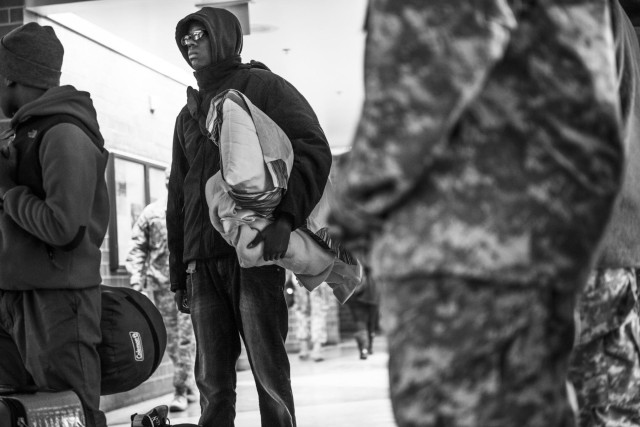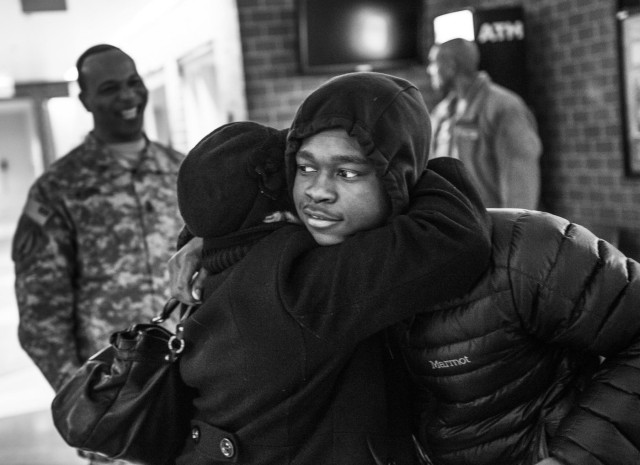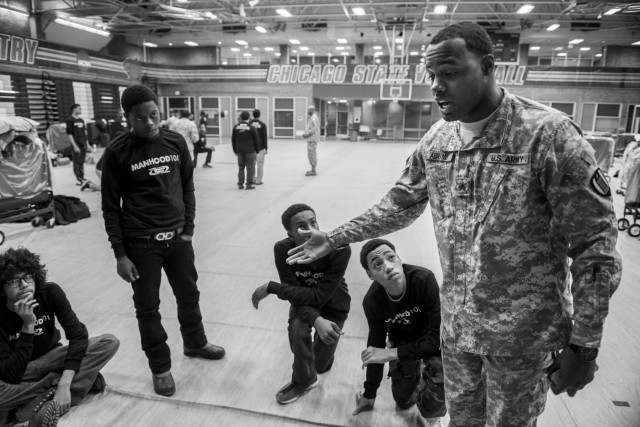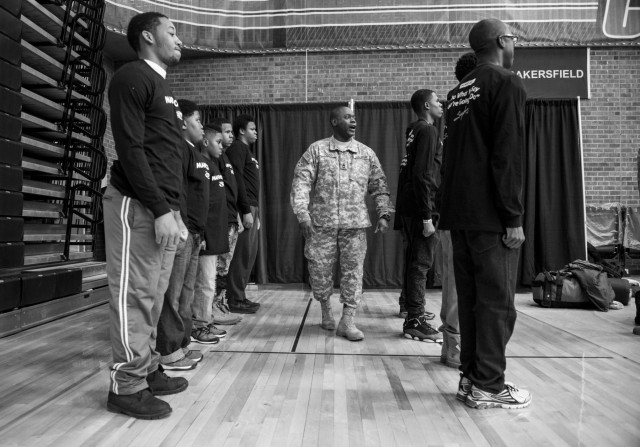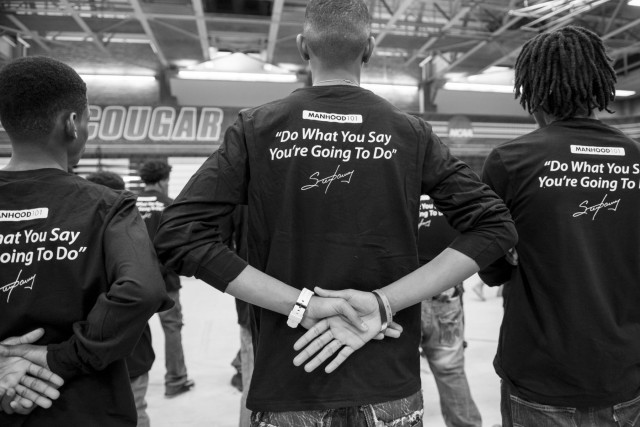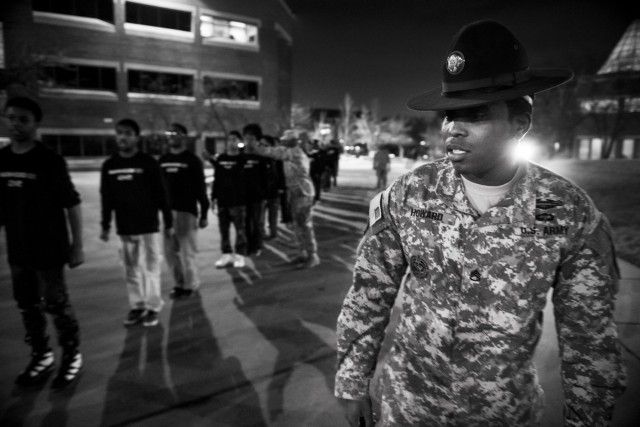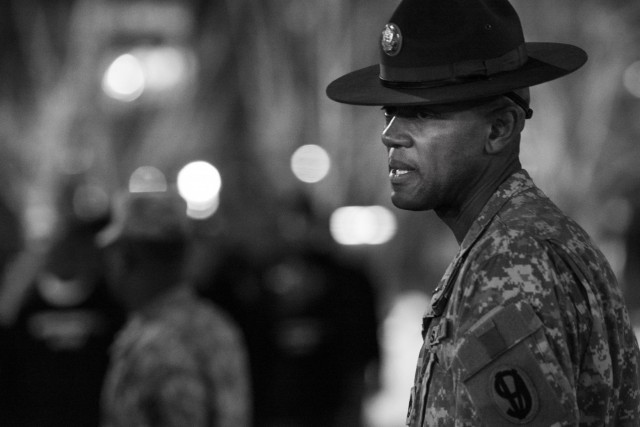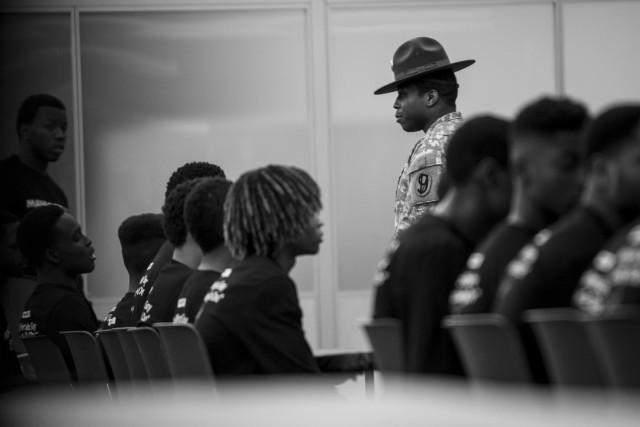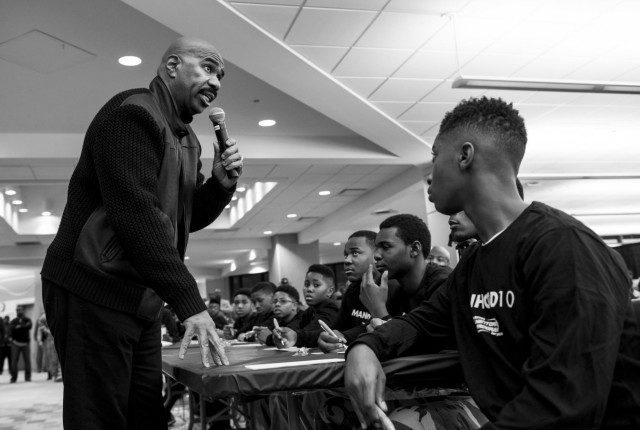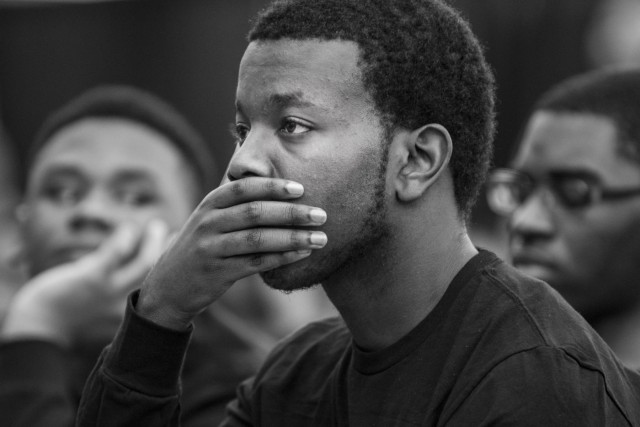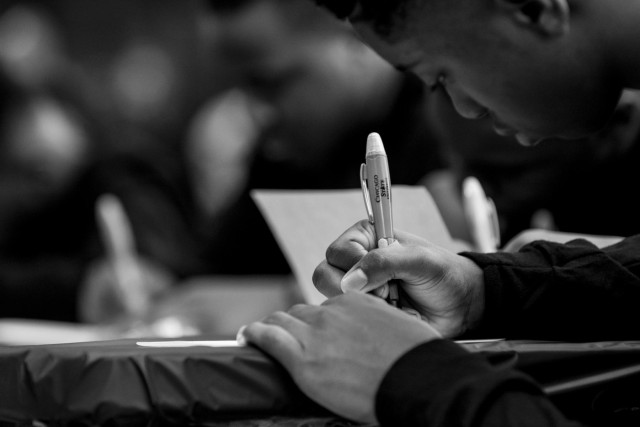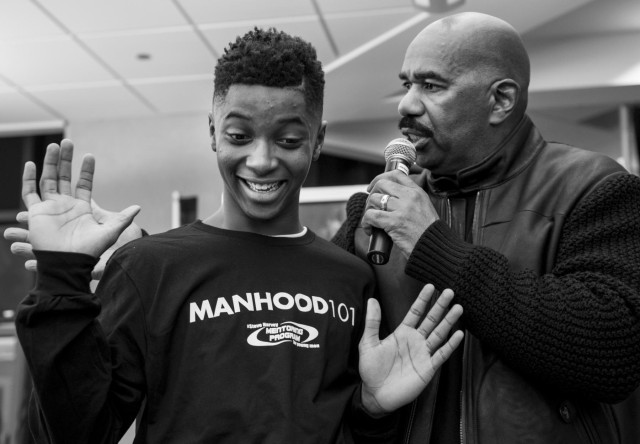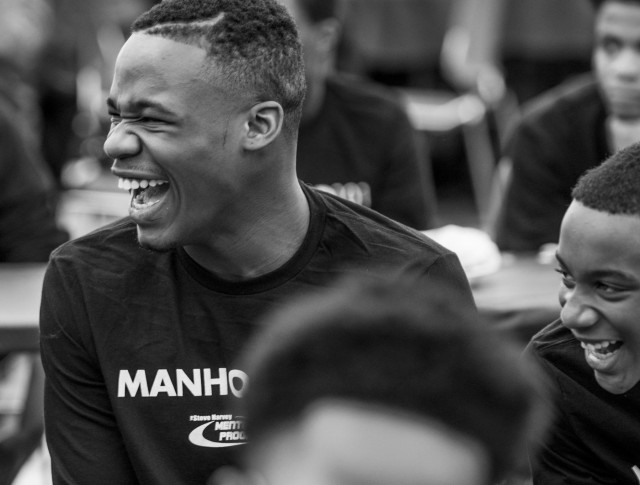 DARIEN, Ill. - It's a university campus, but this past Friday night, Chicago State University sounded more like a basic training base.
Military chants filled the January night air as Army drill sergeants and other Soldiers led groups of Chicago youths into cadence.
"I hear you calling! Calling for me!" one group sang, doing their best to keep military step for the first time in their life.
Except, these young men and boys were not signing up to join the Army. They're on a journey toward manhood, and the Army was there to help them on their march.
Approximately 20 U.S. Army Soldiers served as mentors to 100 youths from the Chicago area during the Steve Harvey Mentoring Weekend hosted on the Chicago State University campus Jan. 23-25.
"Our boys get to experience and see manhood firsthand with United States Army Soldiers because, as my father always says, a boy without a male role model is like a an explorer without a compass," said Brandi Harvey, daughter of Steve Harvey and executive director for the Steve and Marjorie Harvey Foundation.
The youths ranged in age from 14 to 18, all of them raised by a single mother or guardian. More than 3,000 applications poured in to take part of this weekend, but only few could be selected. The foundation also runs the same program in Dallas and one tailored to young ladies in Atlanta.
"You guys are proving that even as husbands and fathers and Soldiers, that you still give of your time and your talent to better serve and uplift them as they climb ... That's what manhood is all about. It's about doing the things you say you're going to do. Being a standup man in your community," said Brandi Harvey.
Even though several Soldiers traveled from other states to volunteer, half of the mentors are Army Reserve Soldiers from units in the Chicago area. All of the mentors were black Soldiers who could show the mentees first-hand the success they, too, could have in life. Their ranks ranged from specialist to full-bird colonel, each hoping to share personal life and Army lessons with the students.
"I can identify with a lot of the kids that's coming here because, just like them, I grew up with one parent, grew up with my mother. Didn't have a father ... The army values teach you a lot about life in general ... (The Army) molds you and it teaches you how to take instructions, how to complete the mission, and I use that in everyday life," said Sgt. Brian Abrams, an Army Reserve Soldier with the 863rd Engineer Battalion, living in Berwyn, Illinois.
Though new to this mentoring experience, Abrams was familiar with the CSU campus. He's an ROTC cadet there working on a bachelor's degree in community health. He hopes to commission as an officer once he graduates, which will help pay off his student loans and tuition costs.
His mother and aunt raised Abrams, so he had to learn about manhood from other sources.
"I learned from TV shows, from what I would see just on the streets. How to court a woman. How to open up a door for a woman. How to look a man in his eyes ... So I was excited that I was accepted to do this. It's really an honor because I'm looking at me, younger. If I had somebody talk to me then, probably I would have graduated college already," said Abrams, who is 25.
Another Army Reserve Soldier who could identify with the boys is Spc. Nicolas Laboy, an information technology specialist for the 416th Theater Engineer Command.
He turned to his uncle and grandfather as key male figures in his life, but he didn't have a way of paying for college until he joined the Army after high school. Now, he's working toward a degree in computer engineering.
"The Army really changed my life ... Growing up, I was always told, 'You're not going to be able to do this. You're not going to be able to make it doing that.' ... Going into the Army got me confident in myself that I actually am smart. I actually can do something with my life," said Laboy, who is 21.
Laboy's age actually worked in his advantage. He said he was able to connect with one of the boys who didn't identify with some of the older Soldiers.
"You have to build a trust with your mentees, and have trust in your group. So that's a big part that I want to bring here," he said. "I know what you're going through. I've felt the same way you felt ... And this is where I'm at now."
The weekend was filled with team building exercises, motivational speeches and resources for those seeking education or career opportunities. On Friday, Soldiers taught the students basic Army "drill and ceremonies" movements as a way of instilling unity upon them. Later that evening, Steve Harvey had them write their goals on a piece of paper and made no qualms about the hardships they face, but charged them to overcome them.
"I have a lot of men in here who have volunteered to help me show you how to get something, and more importantly how to be something. But, I mean, damn, you've got to work that ... You ain't the only ones who don't have a relationship with your father. It's millions of young men just like you, and they turn out just fine," said Harvey.
During a two-hour speech that was as passionate as it was filled with Harvey's comedic spirit, Harvey pressed hard on the boys to think differently. He helped them envision their future and let go of whatever bitter past they may have had.
He started by pointing them to the back of the room, where 100 mothers sat watching and listening as intently as their boys. Those women, Harvey admitted, cannot show their sons how to be men. But if these youths want to be men, they better start loving their mothers and not holding them responsible for their circumstances.
"They are the greatest gift you'll ever have in this life. That's what they are. They are your beloved mother. Now you owe her your life. Without her, you don't exist ... You owe your dying breath. It is your obligation. First rule of a man is to honor and adore your mother," said Harvey.
At one point in the speech, Harvey had the boys write down their career ambition on a piece of paper. He joked with some students who were "too small" to become linebackers, "too short" to become power forwards. He challenged them all to look beyond professional sports as the only golden career.
"Quit thinking: running, jumping, singing, dancing," he told them. "The most dangerous and powerful tool you have is your mind."
Thinking and hard work were the only keys to shaping a successful man, he said. Harvey admitted he was successful not because he's the funniest comic, but because he's one of the hardest working people he knows. He wakes up at 4:00 a.m. daily and works through the weekends to uphold his success.
That's a schedule the Army is familiar with. Now they were here, volunteering a weekend they could be spending at home relaxing. Instead, they chose not only to serve their country, but their very community.
"(Some people) think that anybody can join the Army. That the Army is a place of last resort. We all that are wearing this uniform clearly know that's not the case," said Sgt. Maj. Christopher Irving, with the Fort Knox Human Resources Command.
This is Irving's second time serving in one of these mentoring weekends.
"These Soldiers that are here today are not only fathers but they're leaders. They have experience, so they're going to have an opportunity to give these kids some wisdom and some knowledge about life and about opportunities to wear this uniform. So I think that's going to be critically important for these kids."