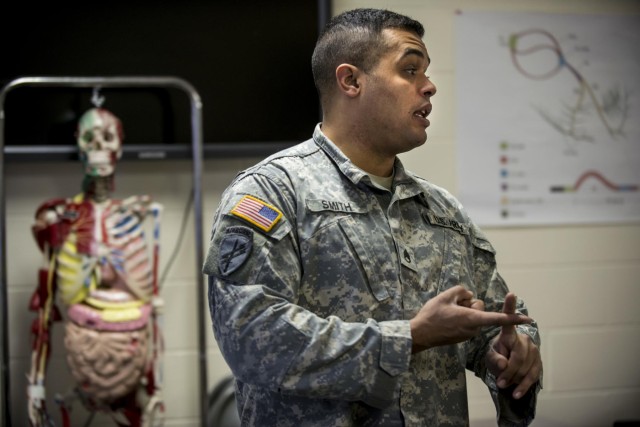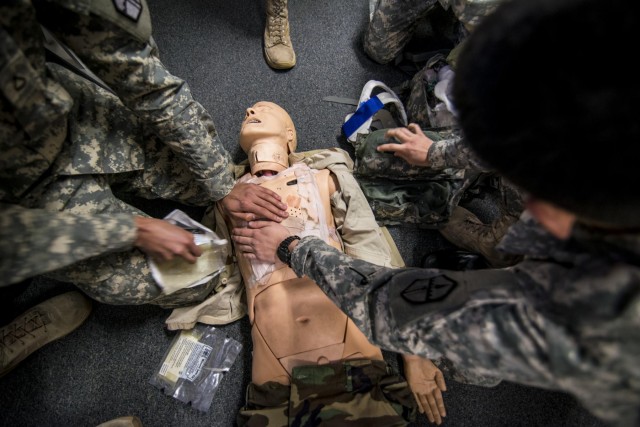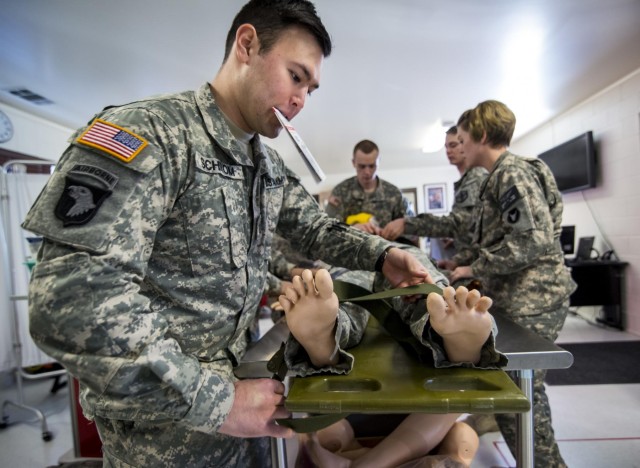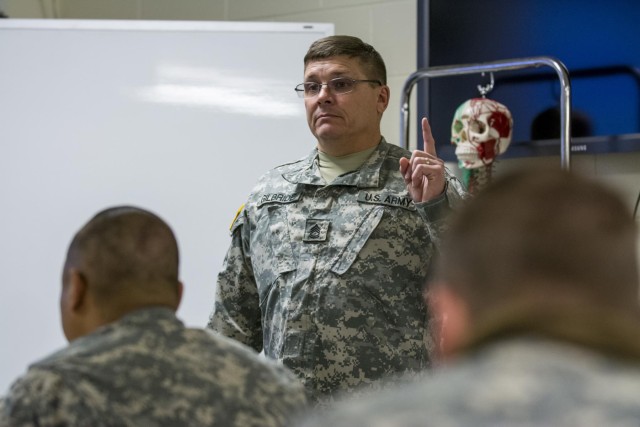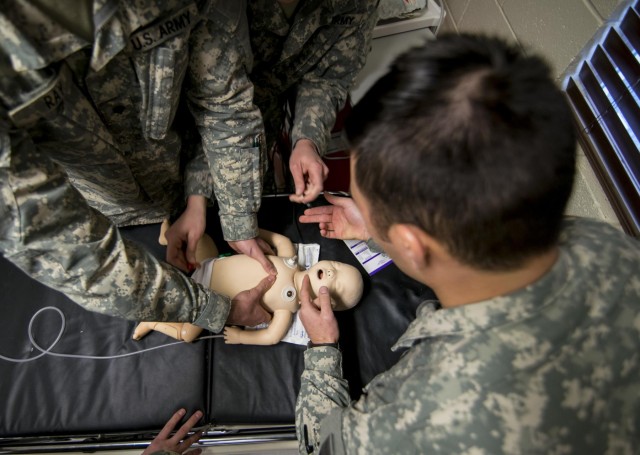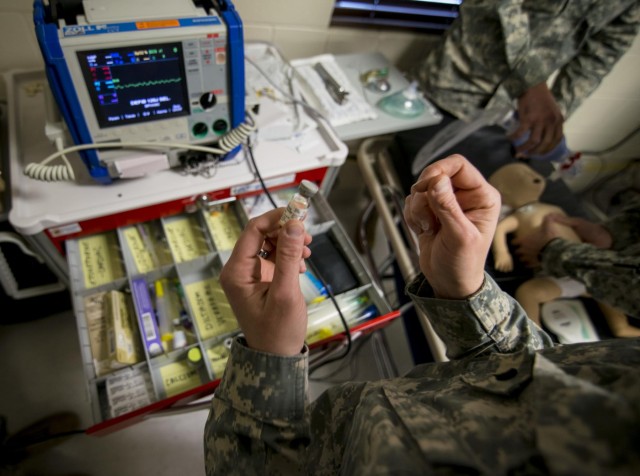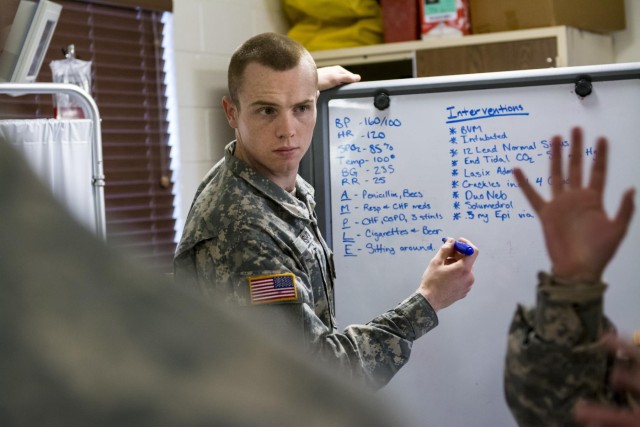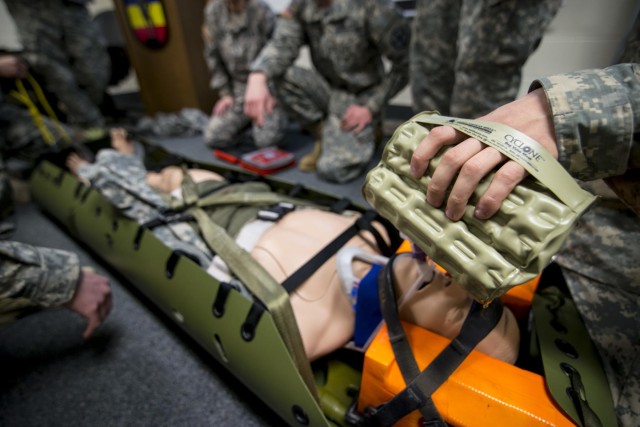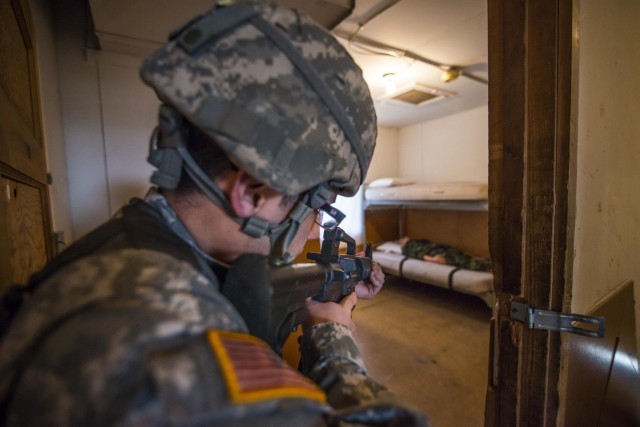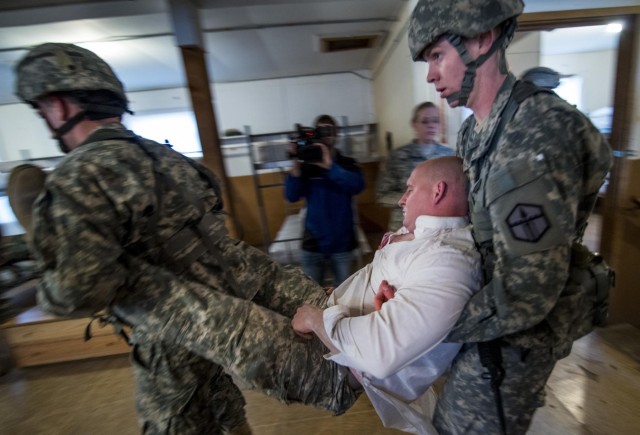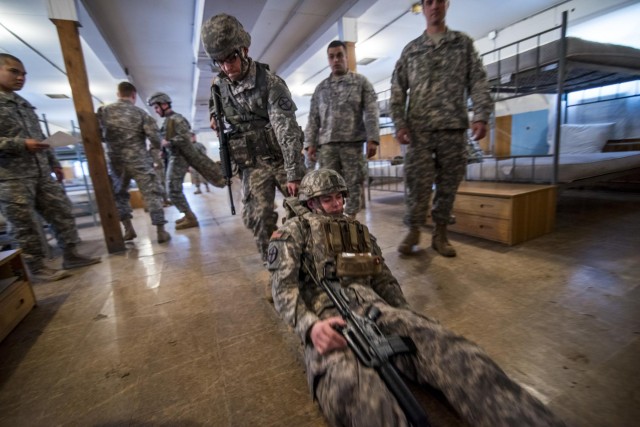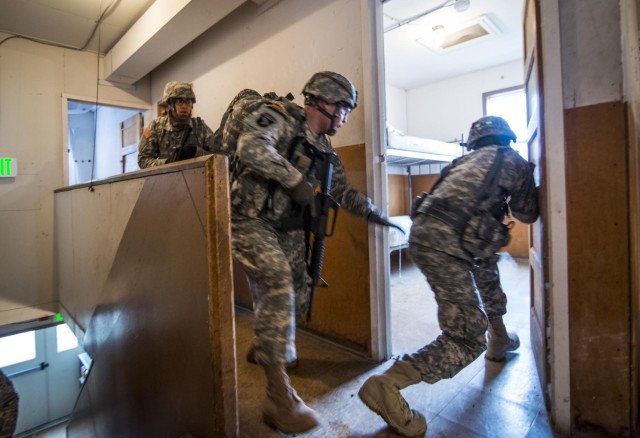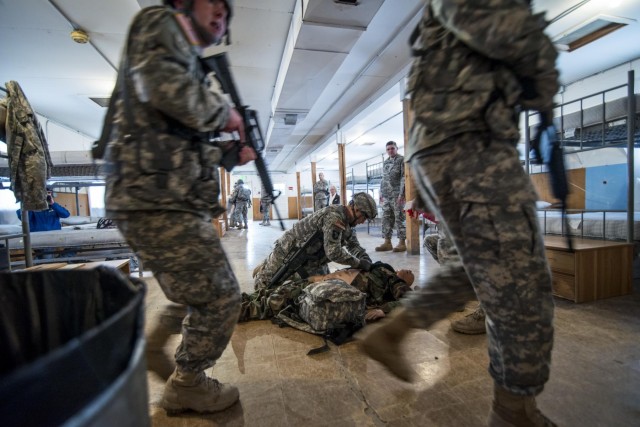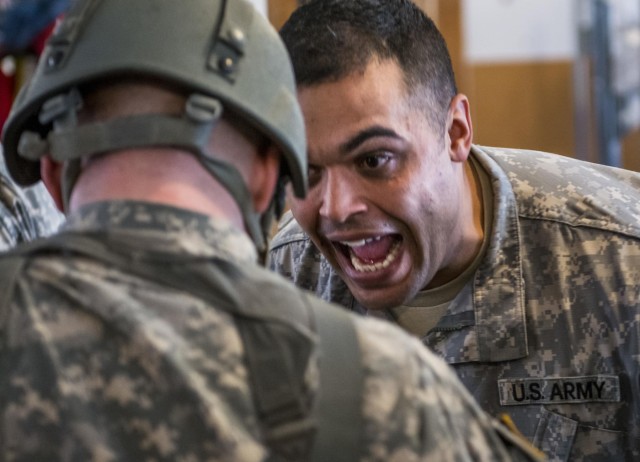 GOWEN FIELD, Idaho - Four Army medics swooped on a medical dummy. The scenario: Treat a casualty with two gunshot wounds to the chest.
The medics moved quickly, passing medical supplies, inspecting the body and patching up wounds as their training had dictated. They were doing too well. So the course instructor hovered over them, injecting an extra layer of pressure with incessant questioning.
"Why is no one bagging him?" asked Staff Sgt. Gordon Smith, senior medic for the 321st Engineer Battalion, referring to a bag valve mask used to pump air into the dummy's lungs.
"I'm bagging him right now, sergeant," answered Pfc. Justus Boyd, with the bag in hand.
"You weren't before! He's gone almost two minutes without breathing! At what rate are you bagging him?"
Boyd gave a garbled answer.
"How fast are you bagging him?" Smith repeated in his ear.
"I'm bagging him, uh ..."
"Tell me! Tell me the rate! What is the rate? What is the rate you're bagging him at?"
"Ten to 12."
"Tent to 12, what? Per minute?"
"Yeah."
"So how many is that a second?"
"That is ..." He hesitated.
"That is what? That is what? That is what? That is what? That is what?"
"One every 10 seconds," Boyd said finally.
"Are you sure about that?"
"Yes sergeant."
"No! You are not sure about that. That is absolutely wrong!"
Eventually the scenario ended. It lasted only 11 minutes, but the look on the medics' faces made it seem like it had lasted hours. Smith debriefed with the students. What went wrong? What went right? They had made some mistakes, but already the students had improved tremendously since the course began.
"In a critical incident, you don't rise to the occasion, you sink to the level of your training," said Smith, explaining why it was important to make the scenarios as stressful as possible.
"We're ensuring that they know what the right intervention is - at the right time - even when the world is going completely wrong around them ... They'll have plenty of time to go over what they did right, what they did wrong, for the rest of their lives, [but] you only have the rest of your patient's life to do the right thing."
This course, titled the Sapper Advanced Tactical Medical Course, is 18 days long and goes far beyond the standard Army medics training. It combines five different medical certifications into one curriculum. It's the only advanced medical course of its kind (outside of the Special Operations Command) across the entire Department of Defense. Smith partnered with the 204th Regional Training Institute, of the Idaho National Guard, to make this course a reality.
This training elevates the Army medic's knowledge to a whole new level. Combat medics call themselves "trauma junkies." Their scope of care is limited to battlefield injuries, and most of their patients are relatively healthy, 18- to 24-year-old Soldiers. They learn what to do to save lives, but they don't often receive the knowledge to understand why.
"One of the most fascinating parts about this course for me is that we can see the light bulbs come on. They can understand, 'Oh, that's why they had us do this!' ... That's one of the most gratifying portions of the course to me," said Smith.
During the course, medics learned to treat anyone from infants to the elderly, not just Soldiers. Classes included topics that reached beyond battlefield injuries. They covered the entire human body and just about every ailment that might cause it harm. Things like: neurological conditions (such as strokes and seizures), respiratory disorders, abdominal ailments, chest discomfort, cardiovascular disease, toxicology, infectious diseases and more.
"This course is like the Kentucky Derby of pre-hospital medicine. This course will set you apart from everybody else you work with. It will make you one of the best medics across the DoD," said Smith.
On top of their mandatory Emergency Medical Technician (EMT) recertification, students added five credentials to their résumé, to include: Advanced Medical Life Support (AMLS), Advanced Cardiac Life Support (ACLS), Pediatric Advanced Life Support (PALS), among others. If students were to pay for these certifications on their own, they would cost $1,500.
Smith scheduled four of these courses this year, which will instruct 100 Army medics across the 416th Theater Engineer Command. His hope is to expand the program across the Army Reserve.
Nobody told him to put this training together. He and Sgt. 1st Class Leo Gilbride, lead medical instructor for the 204th RTI, Idaho National Guard, made it happen out of their own initiative with the help of those who shared their passion.
"I was the guinea pig. I went out and got all of these certifications on my own dollar," said Smith.
His desire was to improve himself so he could improve his Soldiers, whom he calls his "kids."
"You can't really get a job with an EMT-Basic [certification]. The best job you can get is nine dollars an hour driving an ambulance. How are you supposed to support a family?" he said. "But with these skills, they're able to get hired at hospitals, rural EMS services that tend to pay a bit more ... By being able to give kids the confidence to become advanced providers, become paramedics, become nurses, doctors, that not only supports the United States Army, but it enhances the relationships we have in the community."
Five students who took the course last year are now working in various medical jobs. Two more are studying to become paramedics.
"We're setting them up for success to grow in a career," said Gilbride, who has 30 years of experience as a paramedic, and as a former police officer and SWAT medic.
A previous student, who is now an assistant instructor, received a $7,000 pay raise as a licensed practitioner nurse because of this course. Another was hired as an EMT ahead of the competition because of it. Another assistant instructor, Sgt. Gerald Hagler, is a paramedic at a local county EMS agency. He went on ambulance calls most evenings after helping teach class all day. They, among others, brought their civilian experience into the class to make it better for other Soldiers.
"I don't know a single medic - active duty, Reserve, Guard - that's getting this training," said Smith, who deployed to Ramadi, Iraq, in 2008 and to Djibouti in 2011.
The course is hosted at a medical training facility that can turn into a casualty collection point in a heartbeat. The Idaho National Guard uses the center to teach various medical courses year-round. Last year, Gilbride and his instructors taught nearly 700 medics (49 separate classes) from various military branches, not just Army.
The training site has approximately $400,000 in medical equipment. Instructors used all kinds of medical dummies in their scenarios, from a 200-pound Rescue Randy to a $60,000 manikin named MATT (Multi-Amputee Trauma Trainer). Defibrillators, rhythm generators, combat stretchers and ambulance gurneys ... not to forget all the medical supplies.
It's one of the best-equipped National Guard medical training sites in the U.S.
"People come from all over the country and tell me, 'Where'd you get this stuff?'" said Glibride.
This course is more than just a training partnership between the Army Reserve and National Guard. It has real-life implications. In 2012, changes to Title 10, United States Code, allowed the President to mobilize Army Reserve forces for Defense Support of Civil Authorities. This means Army Reserve Soldiers can serve their communities during national emergencies: hurricanes, earthquakes, tornadoes ... all on U.S. soil. For the first time, Army Reserve medics could be called to treat their own neighbors.
"A combat medic is not just your combat medic anymore," said Gilbride.
Already, Army Reserve medics are conducting humanitarian aid missions in Central and South America and around the globe.
"I can see my medics all over the world," said Smith. "Not just here at home but going wherever the United States Army needs them to go to ... complete our mission."