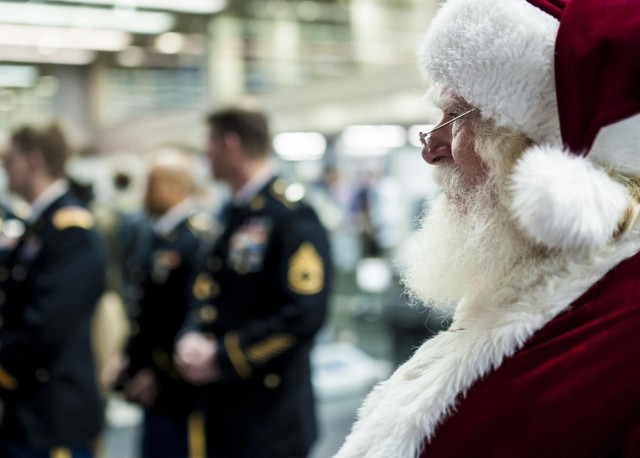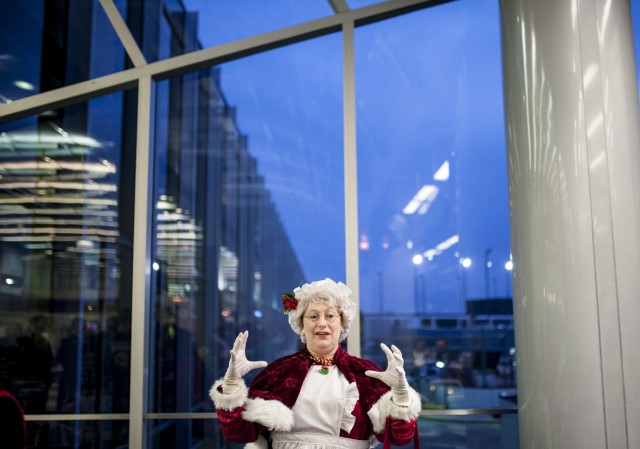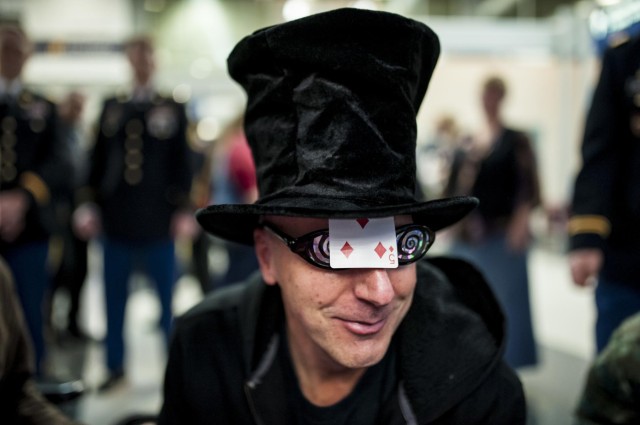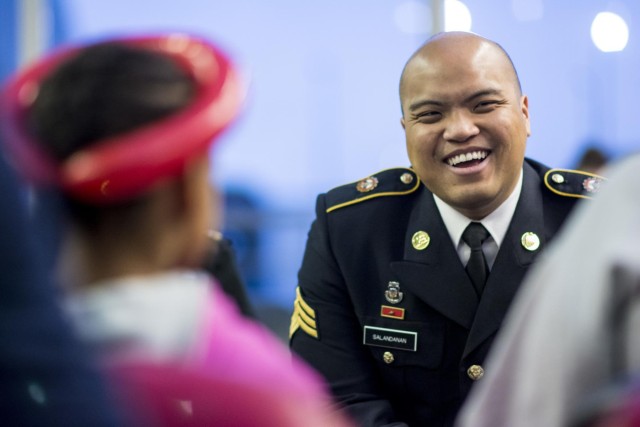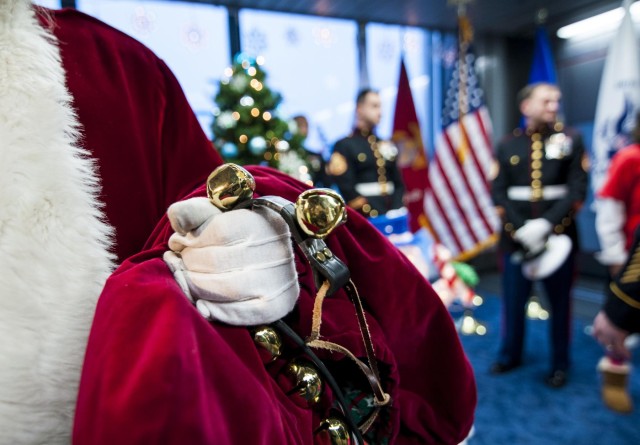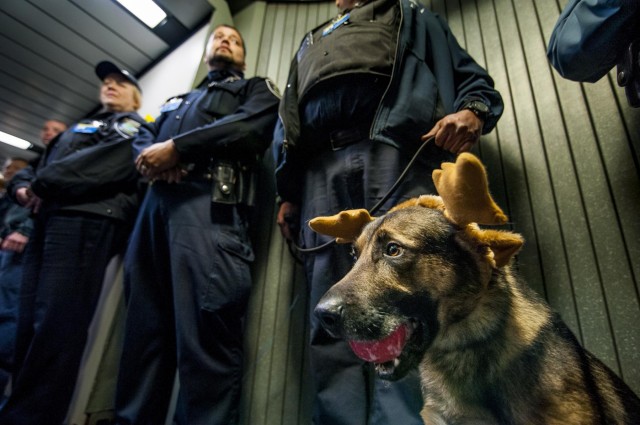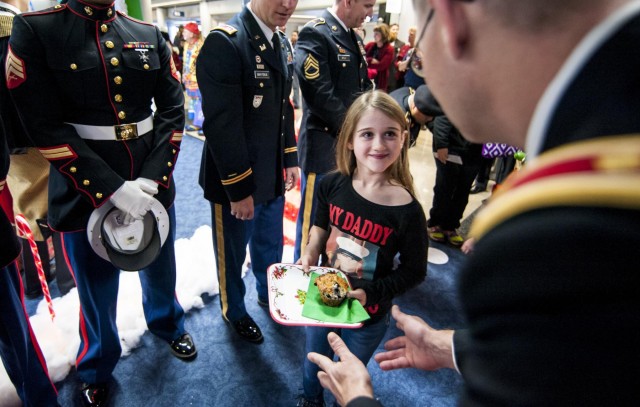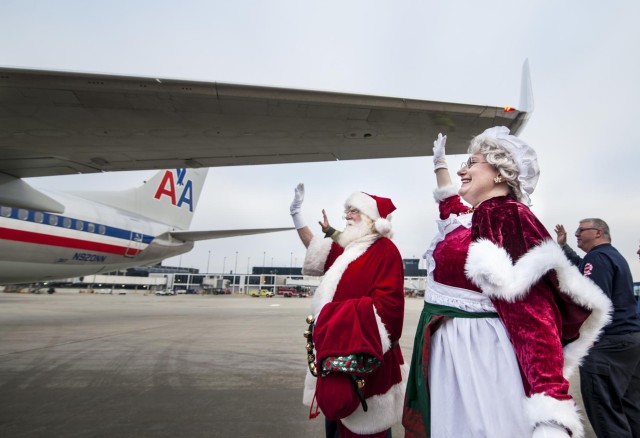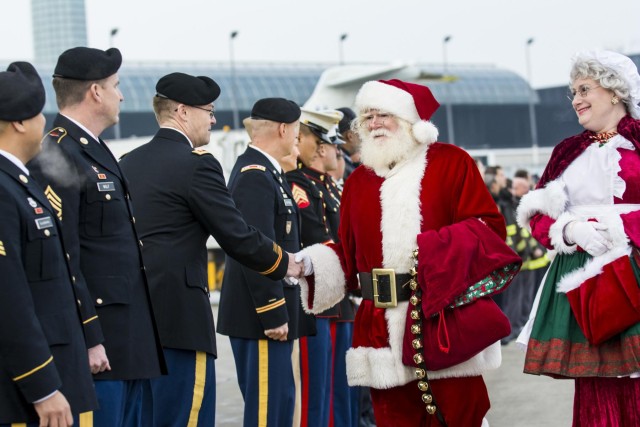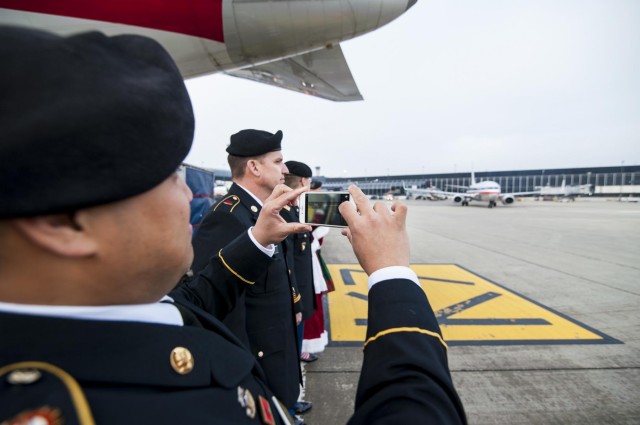 DARIEN, Ill. - They marched in unison through the airport corridor, keeping in step, not to a military cadence, but to the joyful music of Christmas carolers.
Army, Marine, Navy and Air Force members from the greater Chicago area had come to salute the Snowball Express.
As they marched through the O'Hare International Airport, holiday lights and decorations hung around them. Other travelers paused from their hurried journeys to photograph and video their march.
Once the parade arrived to the Snowball terminal, the gate entrance was decked out with Christmas trees, cotton snow, ice-blue balloons and candy canes. A table covered in pastries and breakfast goodies was tucked in the corner.
But this gate was not for them.
These military men and women were not about to step on a plane to deploy in service of their country. Instead, they were here to wish someone else farewell.
"I'm hoping they know that we honor the memory of their loved ones that were lost, and that we will not forget (their sacrifice)," said Capt. Robert Mikyska, commander of the 416th Theater Engineer Command, headquarters company, an Army Reserve unit located in Darien, Illinois.
Ten Gold Star families from Northern Illinois were about to board the Snowball Express on a flight to Dallas for a weekend getaway filled with activities and a combined memorial service.
Each family has lost a father or a mother in the line of military duty in service to their country.
"It's important that we remember ... their sacrifice because obviously when someone loses their life, it just doesn't affect one person. It affects everyone around them. Friends, coworkers, and family members the most. We want them to know we are all part of one family, and we're here to support them and stand with them throughout the long haul," said Mikyska.
The Snowball Express is a nonprofit organization established in 2006, providing an all-expenses-paid trip to families across the United States. The program is sponsored by American Airlines, coordinating flights from 72 cities via 10 chartered and 51 commercial flights.
"You can't imagine how hard it has been on these children. What they've had to go through. It tears your heart out. The little we are doing (here) is not very much compared to what they've gone through," said John Sullivan, a former National Guardsman with six years of service.
This morning, Sullivan served in a different "uniform" for the occasion: his red Santa Claus outfit looked as authentic as they come with his own real, silvery beard.
In Dallas, approximately 1,800 Gold Star family members will spend an extended weekend together in hope to find cheer during a Christmas season without a father or mother at home.
"Eighteen-hundred family members. That's too many. That's too many," said Sgt. 1st Class Michael Wolf, as he reflected on the staggering number.
Wolf is an Army Reserve Soldier and operations noncommissioned officer for the 863rd Engineer Battalion.
He participated in the burial of two of his own Soldiers in 2008 and 2009, one of which took place at Arlington Cemetery.
"I know what it's like to lose somebody. It means a lot to have other people who understand what you're going through to be there for you," he said.
During this farewell ceremony at O'Hare, it was as though the entire Chicago community had come to honor the fallen military heroes and their Gold Star families. A magician, a professional clown and a face-painter all provided entertainment. Mr. and Mrs. Claus handed out goodies and smiles. The Chicago Police Department led the parade with a color guard team and presented the American flag. USO volunteers served breakfast, and airline staff members gave their time to organize the event.
"This opportunity, this time, affords these children to come together and to be in a place with other children that have gone through similar situation as losing a parent. It provides them a level of comfort. It gives them a chance to make life-long friendships, which a lot of these kids have," said Linda Kozma, president of the Veterans and Military Employee Resource Care for American Airlines.
Before the families boarded the plane, the military, police and airline members formed a line to clap, cheer and shake hands with the travelers to wish them well on their journey.
Then they went down to the tarmac to wave and salute the plane goodbye. At one point, Mr. and Mrs. Claus held on to their hats in mid-wave to prevent them from flying away with the plane.
The plane from Chicago travelled to St. Louis and Kansas City to pick up more families before arriving in Dallas. There, the families will stay in three separate hotels and will enjoy three days filled with a movie premier, Texas cookout, museum and zoo visits, a concert with Gary Sinise & The Lt. Dan Band, a talent show and a final memorial.
"It actually helps you out because, before, I was kind of angry. A castaway," said Hannibal Santiago, a 15-year old who lost his father, Anibal, an Army Ranger, when he was 11 years old. This is the third year he has participated in the Express.
"But coming here made me a lot more humble ... Now I get to actually talk to people who understand what I'm going through, and it helps. They do not have to live in a dark hole anymore."