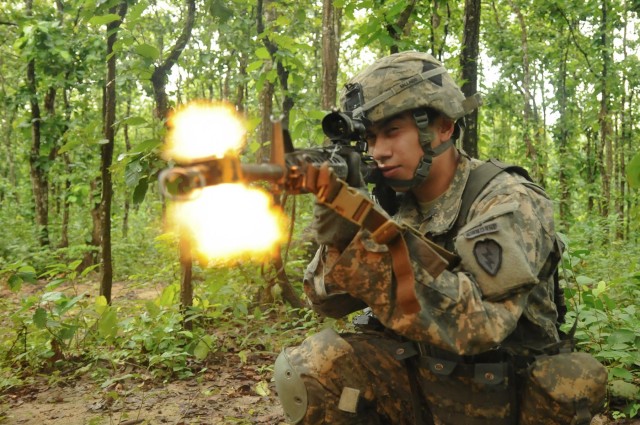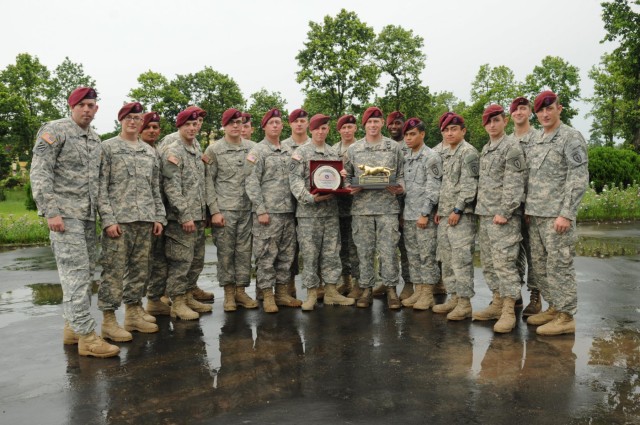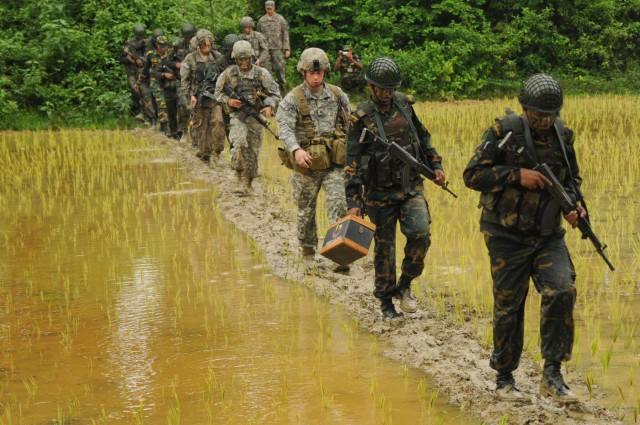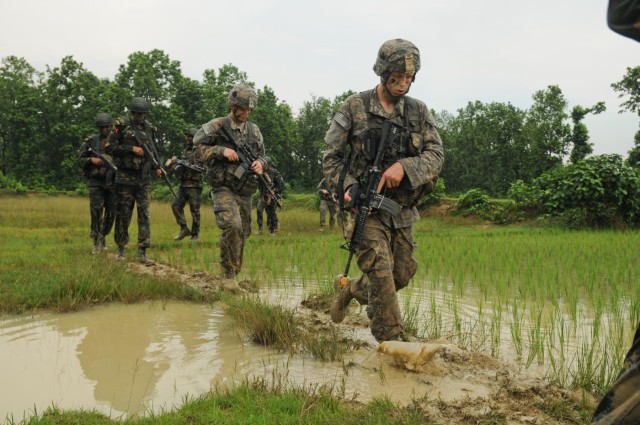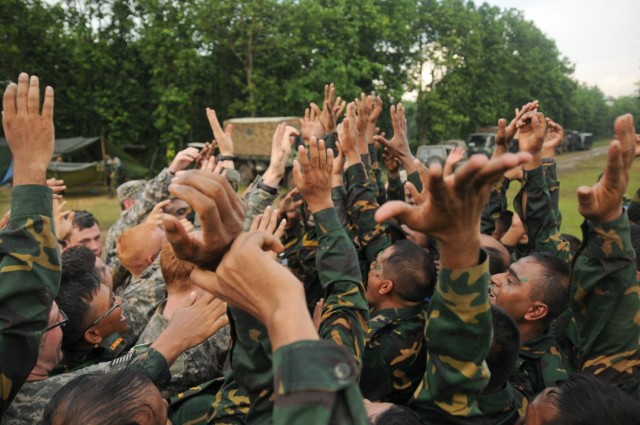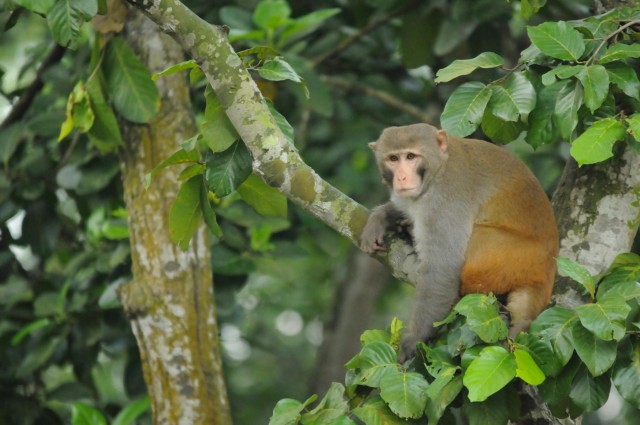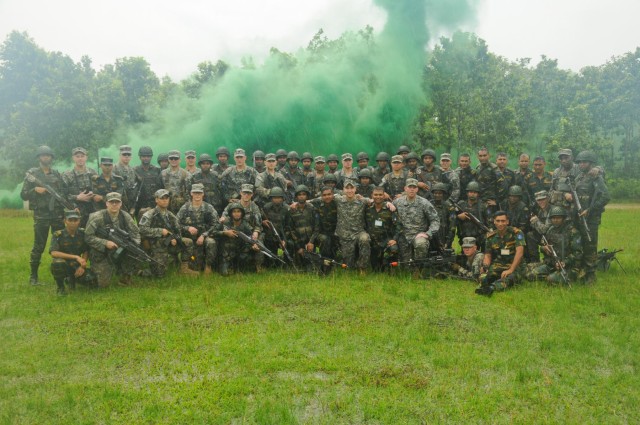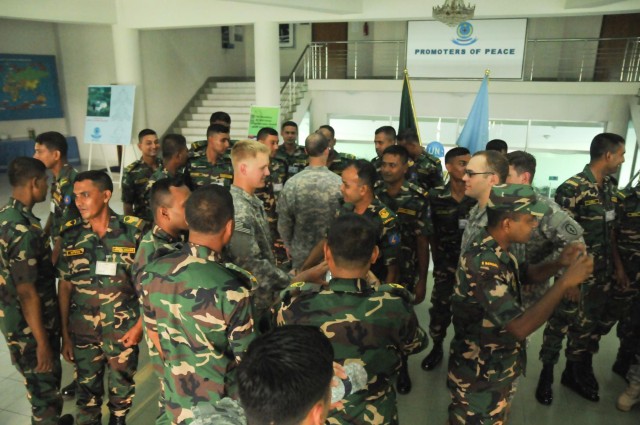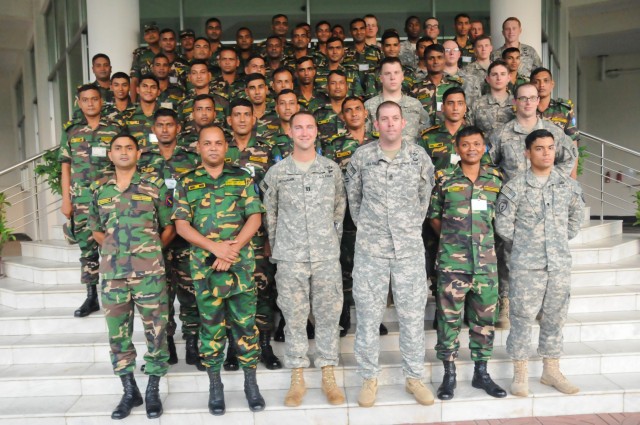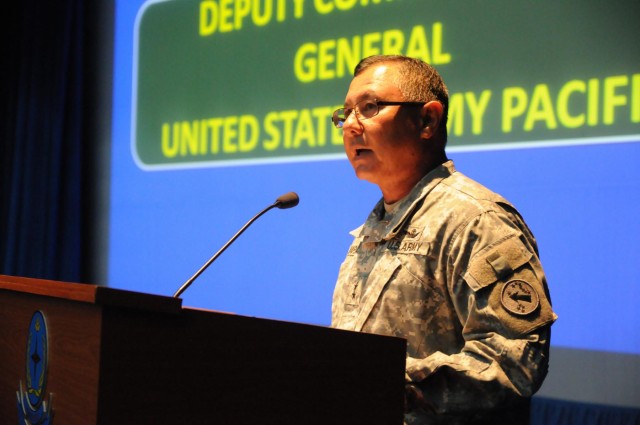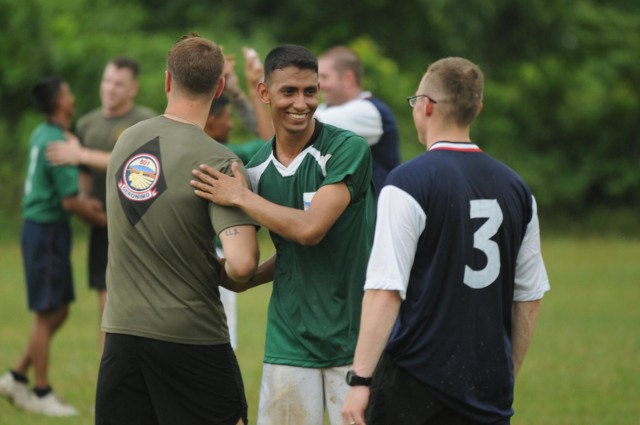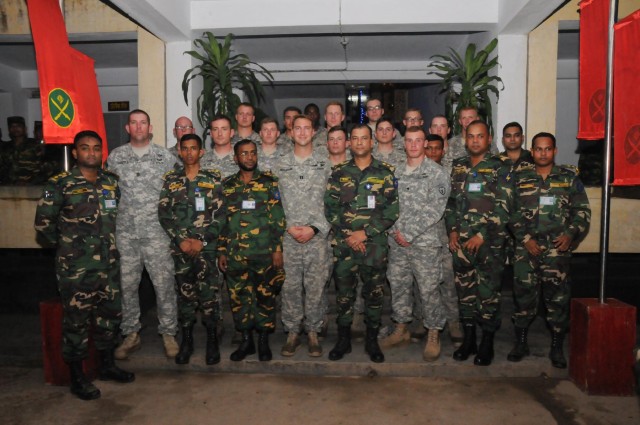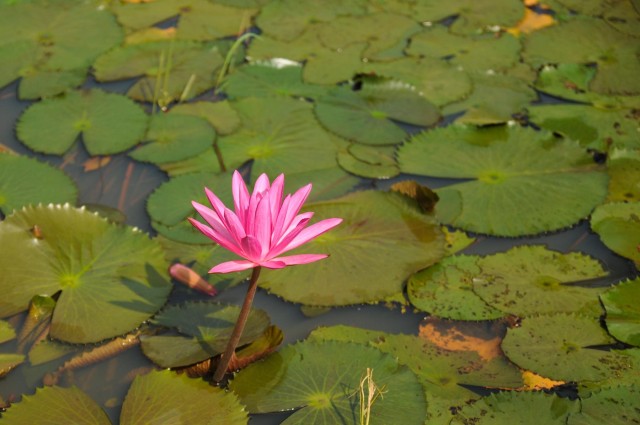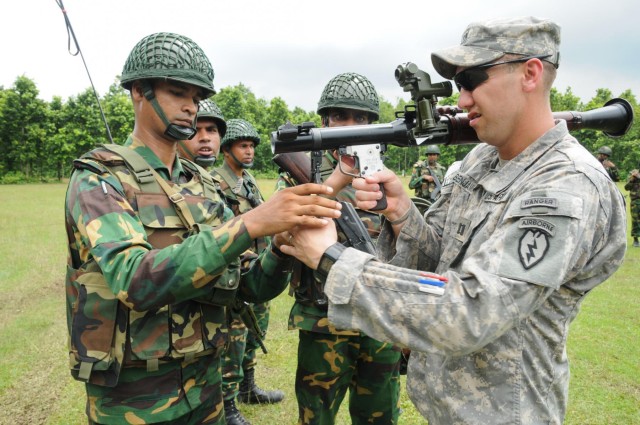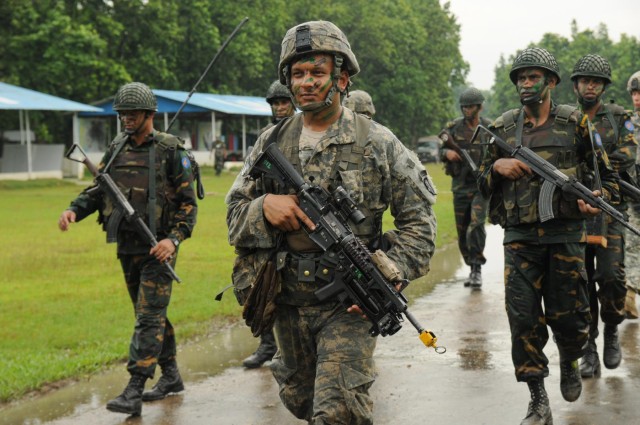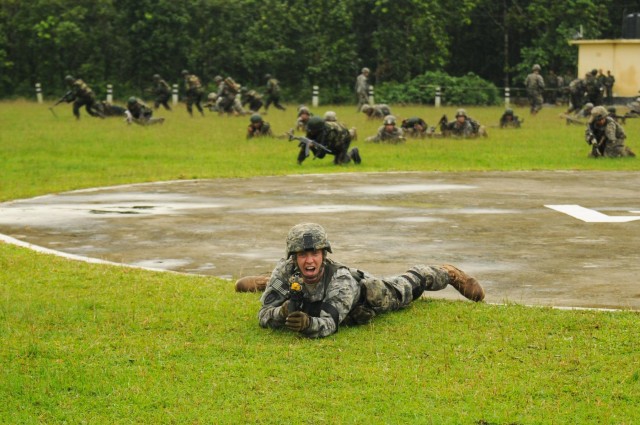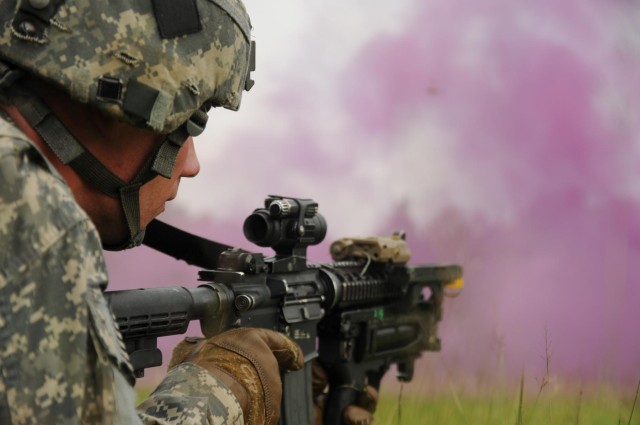 JOINT ELMENDORF-RICHARDSON, Alaska - Paratroopers with the 1st Battalion, 501st Infantry Regiment, 4th Infantry Brigade Combat Team (Airborne), 25th Infantry Division were introduced to jungle warfare training as they took part in "Aurora Monsoon," the first-ever platoon-level bilateral exchange between soldiers of the U.S. Army and the Bangladesh army at the Rajendrapur Cantonment Area near Dhaka, Bangladesh, Aug. 24-28, 2014.
Aurora Monsoon featured soldiers from both sides establishing lasting relationships as they taught and learned each other's tactics, techniques, and procedures in platoon attack, counterattack, and ambush. They trained side-by-side as they maneuvered though the thick vegetation, heavy humidity, high heat, and muddy terrain of the jungle environment.
The training was made as comfortable as possible by the Bangladesh soldiers of the 46th Independent Infantry Brigade as they ensured their guests were well fed and housed during the exchange. Three full meals were supplied each day with snacks in between. Classroom instruction preceded the actual events, so that each soldier understood what they were supposed to do during the exercises.
The bilateral exercise was one the Geronimo paratroopers will not soon forget according to Spc. Anthony Davis, an infantryman with the 1/501.
"I'm having a blast. This is a once-in-a-lifetime experience. I'm excited to show my family all of the pictures I've taken over here, and what I've learned," Davis said.
"It's been great for learning for both sides," Davis added. "There hasn't been a lot of pressure from anybody, and no one is getting frustrated. We all understand it's a learning experience and it's process. They're [Bangladesh soldiers] willing to help us out, and we're willing to help them out, so I think that makes it a lot better."
In a larger scope, Lt. Col. Tobin Magsig, the commanding officer of the 1/501st, said the exchange is important because the relationships built by his paratroopers and the soldiers of the 46th IIB will be a foundation for future bilateral exercises.
"This bilateral exchange is a tangible commitment to a lasting military partnership between our two great nations," said Magsig. "Together, we must continue to work closely to promote peace and deter aggression."
"The training that we did here was absolutely fantastic," added Magsig. "It was a wonderful opportunity for the men of Comanche and Delaware Companies to partner, side-by-side, shoulder-to-shoulder, with soldiers in the Bangladesh army."
"It's been a long time since we've trained in the jungle, and it's been even longer since we've IMT'd (individual movement techniques) through rice patties, but that's exactly what these men did. They demonstrated shared hardship and true partnership with our Bangladeshi brothers," Magsig said.
The jungle's muddy terrain and thick vegetation created unique operational challenges for the U.S. troops according to the command leadership team of Delaware Company, 1/501.
Capt. Bradley Benjamin, Delaware Company commander, said, "One of the biggest pieces we are learning is how to operate in a much different environment; How to control your men and equipment in a jungle environment, and how to communicate effectively with our radios and also visual hand and arm signals."
"The placement of weapons, and the affects of weapons in a jungle is much different than many environments we train in," Benjamin added.
Delaware's first sergeant, 1st Sgt. Matthew Delisle, said, "It's a huge learning curve when you get down in the prone, and you can't see anything. If you take a knee, you can't see anything because it's all shoulder-high vegetation."
"You really have to slow down and control your men more," continued Delisle. "And, the mud is definitely an obstacle."
The bilateral exchange provided soldiers from both armies insight on procedures in planning, communicating, and maneuvering on the battlefield. The exchange also served as a foundation to continued interoperability between the two nations' Armed Forces.
A Bangladesh army officer with the 46th IIB, 2nd Lt. MD Julkar Nine, said, "You have taught us how to do your enemy clearing drill, and for our case, we have taught you how to do ambush.
"It was a successful mission for us," said Nine. "That we could successfully give some idea about our views and our armies to you guys. You also passed down some knowledge to us. It was about information transfer; tactics, techniques transfer."
Nine said he really enjoyed getting to know the Americans while teaching and learning with them.
"For me, all through my life, I will carry this experience, and obviously I will pass down this experience to all my friends, so they can understand. They can have a better idea about American troops," Nine said.
Nine said he would welcome continued bilateral training in the future, and would like to learn more about combat in urban environments, along with longer training time in the jungle.
"The American Army is very much efficient and very good in fighting in a built-up area, like house-clearing drills," said Nine. "It would be great if the American Army could teach us how to fight in a built-up area."
"Then, it would be great if we stayed together outside," Nine continued. "Like for four days or five days in the jungle. We'll make tent, or take hideout somewhere. We'll take duration or food, or MRE [meals, ready to eat], so we will get some real-time scenarios and get some real-time experience."
U.S. Army Staff Sgt. Vance Meier, a squad leader with Comanche Company, 1/501, said it's good to come to Bangladesh to compare doctrine.
"I am very impressed with what they have going on here," said Meier. "I always like training with foreign militaries. It helps me understand how they work. If we need to work together in the future it will be better for me as a leader, because I will know, and I will understand, and I will be able to explain to my Soldiers what's going on."
Soldiers from both sides encouraged future U.S. and Bangladesh bilateral exchange exercises.
Bangladesh army Maj. Mohammed Bahalul Alam, said, "This is a globalized era, so if you want to operate your army anywhere in the world, you need to have knowledge on different armies."
"This bilateral exercise helps in many ways," said Alam, "especially in tactics, techniques, and procedures. The environment, the ground configuration, and other important factors, such as the differences in Alaska and Bangladesh."
"Armies should go and work in different environments, so definitely this is very good that you [U.S. Army] are here. The initiatives you take help grow our friendship and understanding," Alam said.
Capt. Benjamin echoed Alam's thoughts, saying, "The friendship that we're developing is probably the most important piece to this whole operation. Creating that friendship and that partnership is important, because you never know where the next mission is going to be in the world."
"I see Aurora Monsoon getting much bigger in the future," Benjamin said. "Hopefully next year we can make it a little bit longer with a larger element, so instead of sending a platoon, hopefully we can get a company here and make this bilateral exercise much larger."
Benjamin said he was proud of his men and what they achieved at Aurora Monsoon.
"It's really an honor to be here," Benjamin said. "It's a great opportunity for our Soldiers, and I think the guys who came out here were the right people. The NCOs [noncommissioned officers] did a fabulous job, and all of the Soldiers who came out here represented the 4/25, USARAK [U.S. Army Alaska], USARPAC [U.S. Army Pacific], and their country very well."
Other events enjoyed by the Geronimo Battalion paratroopers included soccer and ultimate football games with the Bangladesh soldiers, monkey sightings, tactical training in torrential downpours, picture sharing and discussions of Families back home, weapons cross training, naming a local dog "Geronimo," and capping the week off with a cultural day, complete with shopping in Dhaka and an evening of dancing and singing in celebration of Aurora Monsoon's completion.