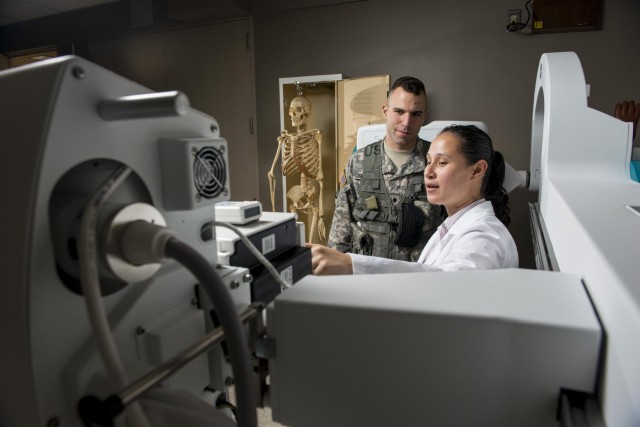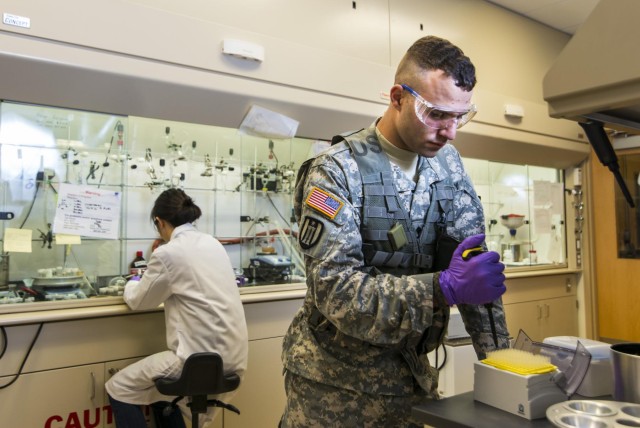 DARIEN, Ill. - Imagine having to order a pizza five or six times before finally finding a restaurant that can promise delivery.
Each pizza joint you call says they have only enough qualified workers to fulfill 17 percent of their orders.
The STEM crisis in the U.S. is a little like that. Except, a pizza shortage - as traumatic as that might sound - is hardly a national crisis. We can live without pizza, but we can't afford the lack of qualified STEM workers our nation needs.
Instead of a shortage of pizza makers and delivery drivers, the U.S. is in dire need of industry professionals who specialize in science, technology, engineering and math.
Those are the fields that make up the STEM acronym.
The Army Reserve's community is rich with Soldiers trained in STEM skills. Its forces can help provide a solution, at least in part, to the nation's crisis. But in order to apply that solution, one must first understand the problem.
In February, U.S. News reported there were 5.7 million STEM job openings in 2013. More than 77 percent of them (4.4 million) required a bachelor's degree. About 3.3 million students graduated high school this year, according to the National Center for Education Statistics (NCES).
Yet, according to an attrition report published by NCES, only 36-44 percent of them are actually prepared to study math or science in college. And of those who study STEM degrees, 48 percent of them either drop out or switch fields.
That means maybe 750,000 of those high school grads are actually eligible for 4.4 million openings by the time they earn a degree. That gives us our alarming rate: 17 percent.
The U.S. has way more STEM job openings than the nation's growing youth is able to fulfill.
Furthermore, the national student debt has surpassed $1 trillion. That's almost twice as much as the entire annual budget for the Department of Defense. Except, while the DoD budget is funding payrolls and new technology development, student debts are for degrees that haven't prepared graduates for the nation's work force needs.
If a shortage in pizza sounded frightening, imagine a growing decline in medicine, research, new technology, scientific discoveries, software development, road construction, buildings, bridge maintenance ...
Most of these skills are already found in the Army Reserve today.
"If you looked at the skills that we have - in the engineers, the cyber warriors, the medical - many of these are on the cutting edge with the technology that we use in the military that can also be applied on the civilian side," said Maj. Gen. David Conboy, commanding general of the 416th Theater Engineer Command (TEC).
There are two TECs in the Army Reserve. Together they are responsible for 26,000 Soldiers, most of which are engineers.
Conboy will become deputy commanding general of operations for the Army Reserve this fall. He holds a bachelor's degree in mechanical engineering, and two masters: environmental engineering and strategic studies. He currently works for the U.S. Army Corps of Engineers, Buffalo District.
As he moves into his new role, he will be supporting the chief of Army Reserve in partnering Citizen-Soldiers with private and public sectors, a big initiative for today's force.
It's easy to think of a Soldier as someone who hunts down and defeats the enemy. It's less common to picture doctors, biochemists, geospatial engineers, bridging crewmembers, veterinarians, IT specialists ... All in uniform.
These are what the Army calls "enablers." The Army Reserve is made up almost exclusively of these support capabilities. Because these jobs are found across America, Citizen-Soldiers can transition between their dual roles.
Same jobs, different locations.
"Those skills show how we can apply them in either a conflict, in a theater security operation ... (or) directly applicable to our homeland," said Conboy.
Army Reserve enablers deliver support at the Army's call. They do more than just feed the fighters to stay in the fight. They branch out, connect and support the Army's various moving pieces. That's not to diminish their combat readiness. They train and plan for war like any other Soldier. Except, the Reserve's overall mission centers around operational support.
Aviation, chemical, engineering, finance, logistics, medical, military intelligence, psychological operations, quartermaster, signal and more. The list grows at every turn. The Reserve has approximately 80,000 Soldiers who specialize in those fields right now.
It provides cutting edge training, and Army Reserve Soldiers often take it to the next level through continuing education. In fact, the Army Reserve holds nearly 75 percent of the doctorates and around 50 percent of the master's degrees for the "Total Army," which includes active Army, National Guard and Army Reserve.
Reserve Soldiers can build a modular bridge across the Arkansas River in less than three hours using boats, helicopters and trucks that have wheels as big as people. Veterinarians have helped farmers care for their livestock in Iraq, Afghanistan and other developing countries. They've even helped deliver the first tiger to the Baghdad Zoo after the zoo reopened in 2008.
Reserve engineers do more than construction on military installations across the U.S. Each year, they build new schools or facilities for under-privileged countries in Central and South America. Medics and doctors provide free medical care to such countries. They've accomplished missions in places like Panama and the Dominican Republic. Chemical specialists train year-round to respond to biological or nuclear attacks within 72 hours. Aviation and engineer Soldiers train with Canadian forces multiple times a year.
About 90 percent of civil affairs; 65 percent of logistical units; 60 percent of doctors, nurses and other health professionals; 40 percent of transportation units and 35 percent of engineer Soldiers are in the Army Reserve.
But the beauty of the Reserve is that it doesn't exist in a vacuum. Its skills and assets remain useful to Soldiers even when the uniform comes off.
"Army Reserve Soldiers capitalize on the training they've had to get civilian employment to the better benefit of the industry and also (themselves)," said Conboy.
In fact, the Reserve launched its first private, Public Partnership Initiative this year. The partnership is designed to encourage industries to hire not only veterans but Citizen-Soldiers who have trained and worked in the very fields those organizations specialize in. Jobs such as water purification or medical equipment maintenance are right up that alley.
The initiative created a partnership with more than 6,000 private-sector companies, which invest resources in the Reserve to make Soldiers more marketable. They help Soldiers remain financially independent and grow (and apply) their leadership skills.
Plus, the Army Reserve helps buffer the STEM educational challenge. The educational attrition rate is too high to keep up with the demand. Roughly 48 percent of Students who study STEM in college either drop out or switch fields.
Meanwhile, the Reserve has 40 different STEM jobs that don't require a degree. That's because of the Army's life-long learning model.
"It's a term that I use all the time: life-long learning," said Conboy. "The days - if they ever existed - where you can study, learn a trade in high school or after high school and be set for a career are long gone. The way technology changes, the way the international community adapts and provides innovative solutions for technology puts an increased demand on our institutions and our individuals to keep up," said Conboy.
These Army courses may last only 4 to 12 months (sometimes more), but the Reserve - like the rest of the Army - trains its Soldiers continually. Every year, Soldiers complete training missions to grow their skills. Plus, every few years, they go to additional schools to advance their leadership and technical knowledge.
Part of the STEM education challenge is that college degrees require students to study full time without a job guarantee. If students want to pay bills on their own during school, they must find work on top of all their study hours.
Meanwhile, the Army Reserve trains and pays. Soldiers sign into an initial 6-year contract. The workload and learning "curriculum" is spread out, not crunched in. The goal is to invest in Soldiers' career-long educations.
From that standpoint, Conboy and other leaders like him, view Army Reserve Soldiers not only as a pool of a trained workforce, but as community ambassadors.
Conboy said he'd like to see Reserve Soldier take up even more mentorship roles in local high schools and universities. He recalls his own mentors who helped him get through the early years of his engineering degree.
"Engineering classes were a big eye opener, and they're very, very hard. And nothing really prepares you for that ... I had mentors and people who said, 'Hey, just hang in there' ... And I could struggle through, and it would not get necessarily easier, but I'd get more comfortable with the demands," he said.
The Army Reserve can deliver capabilities to more than just the military. Its Soldiers live in the very communities that need them most. They are the nation's neighbors, living as civilians most of the year, while serving in uniform using their Army-taught skills.
As Conboy put it, "I think we can also play a broader role in helping to address the STEM crisis through our own training models - through the mentoring and advocacy we do within our communities, within our school, and with our partners. We'll continue hard to do that because we understand how important it is for our nation and for our young people."