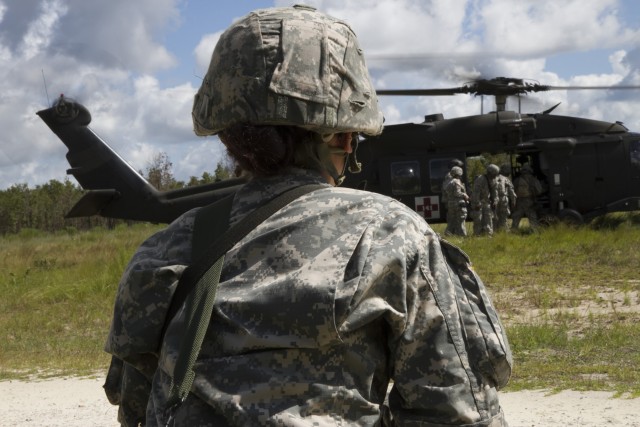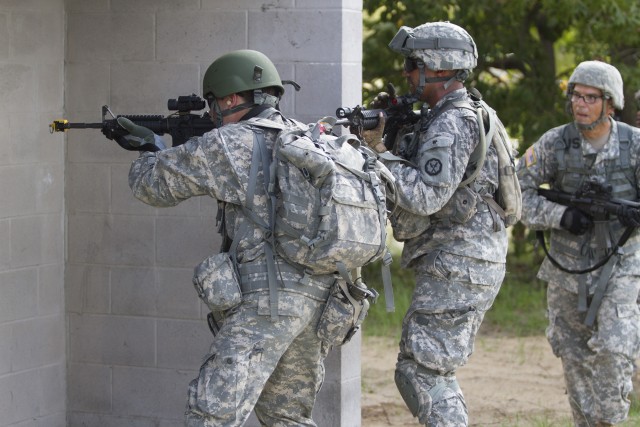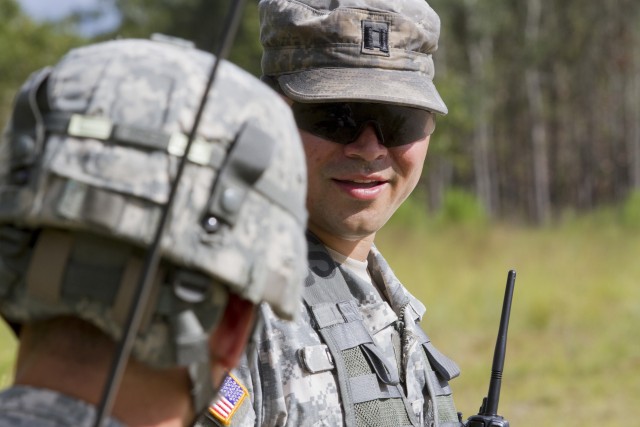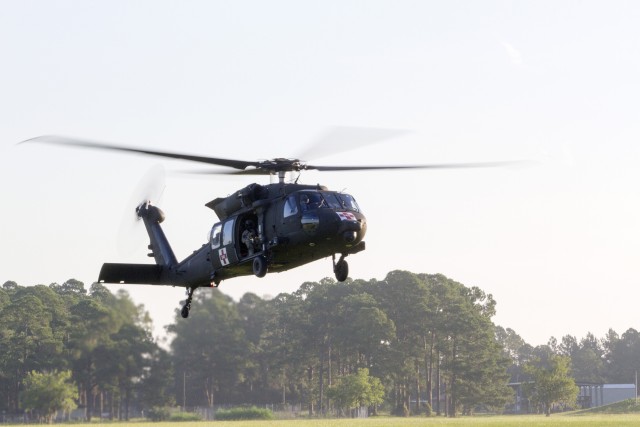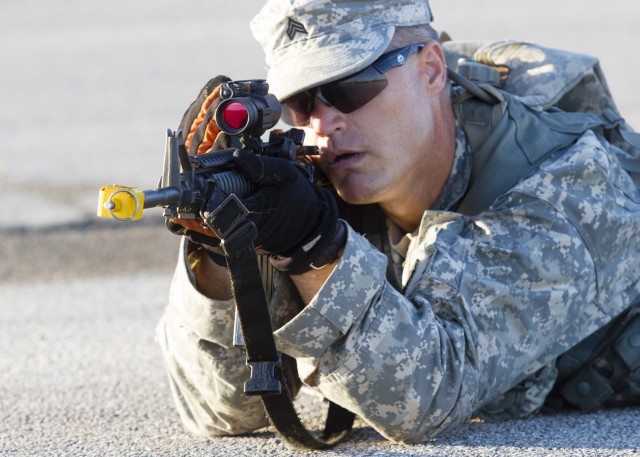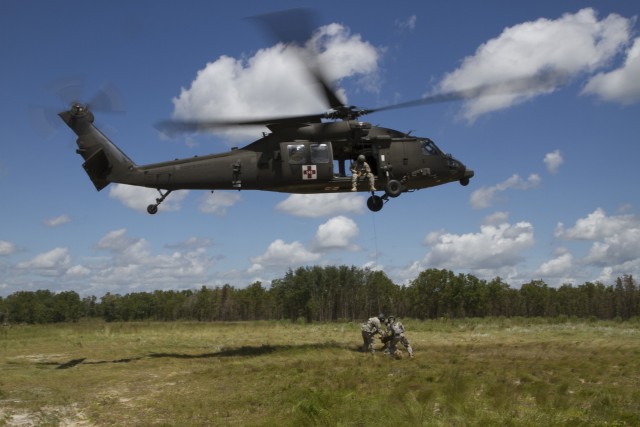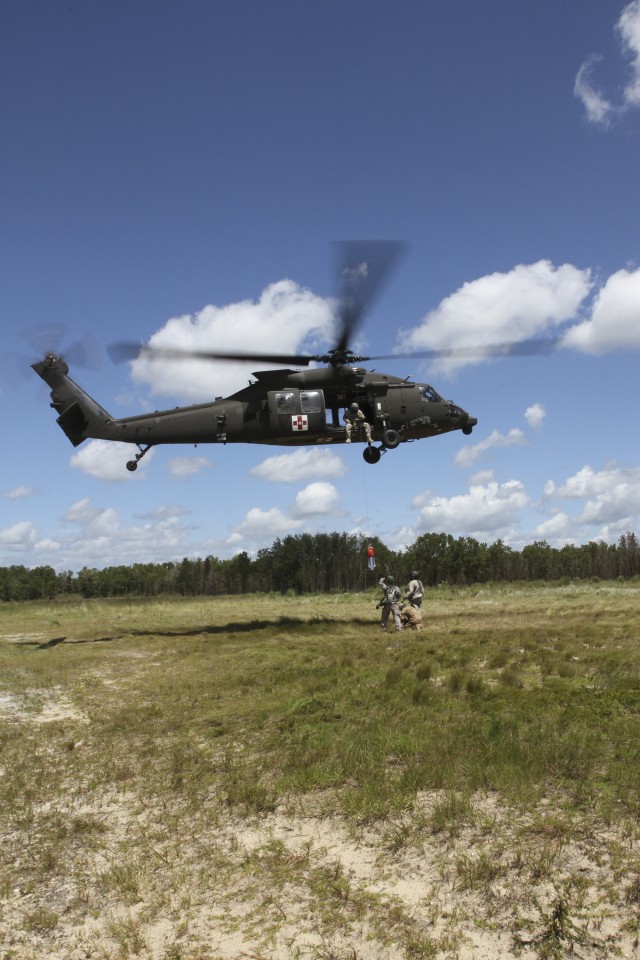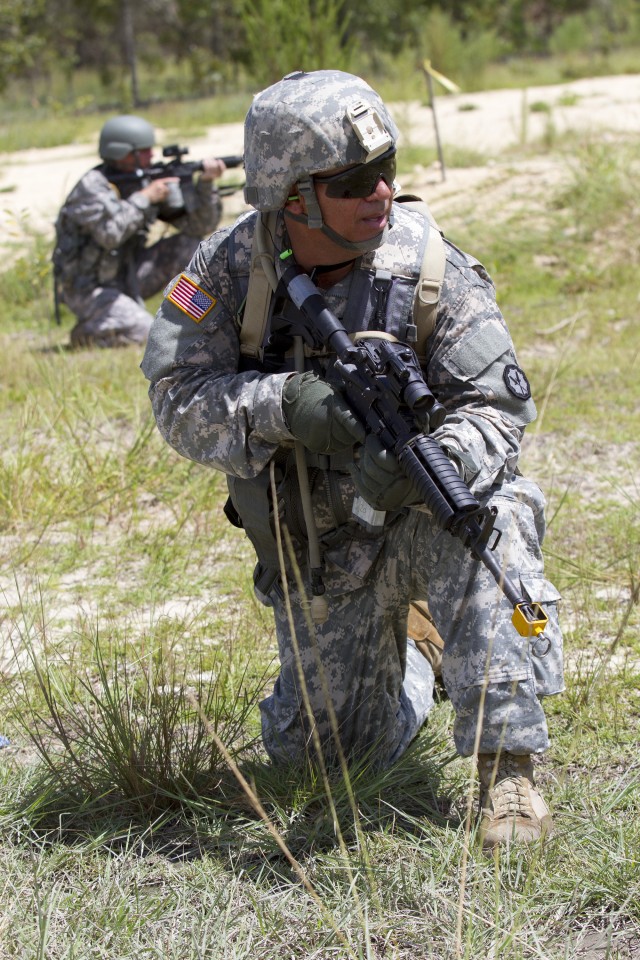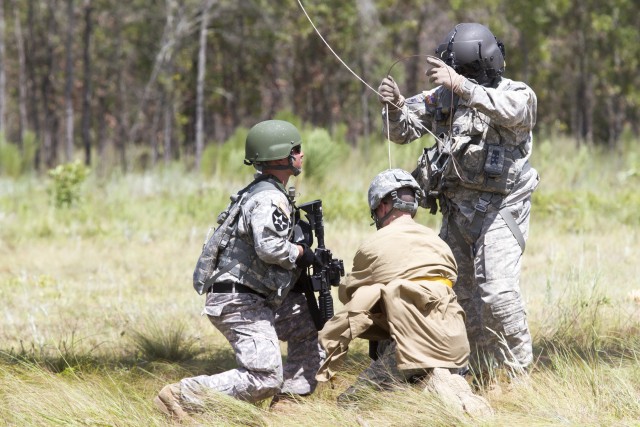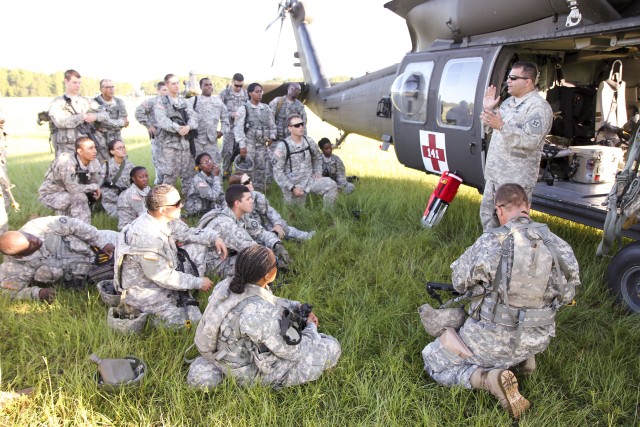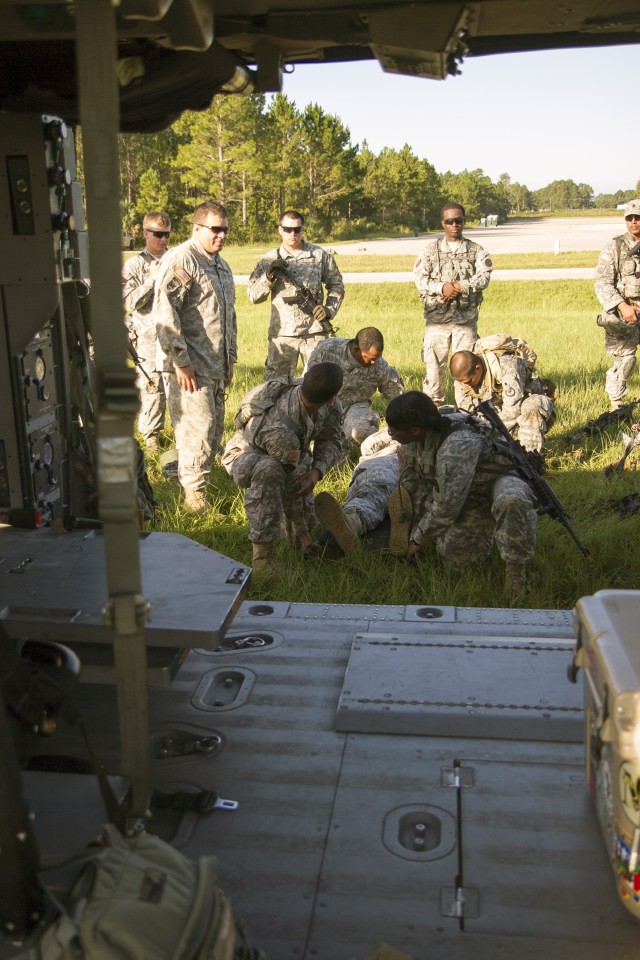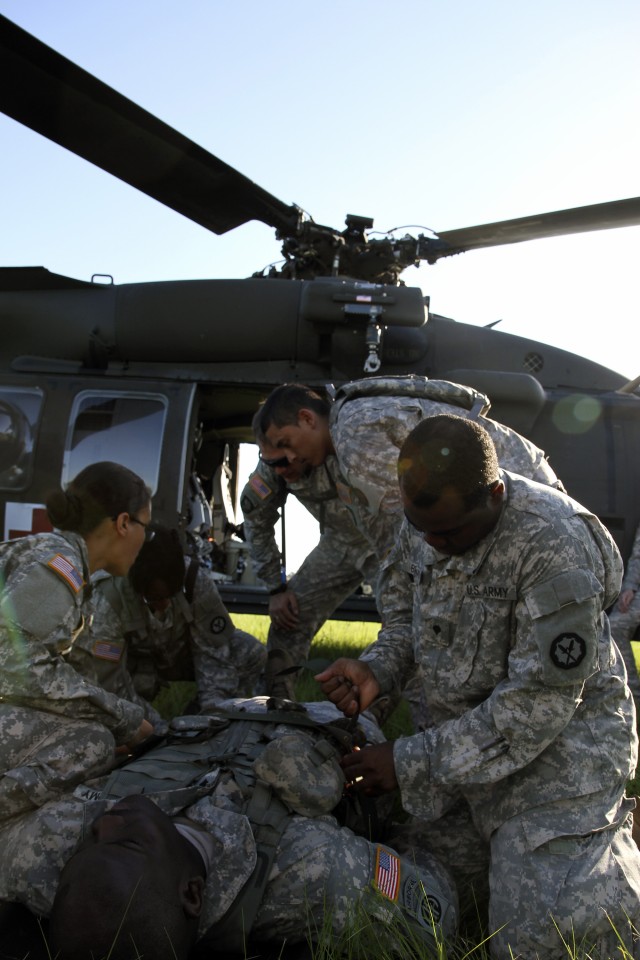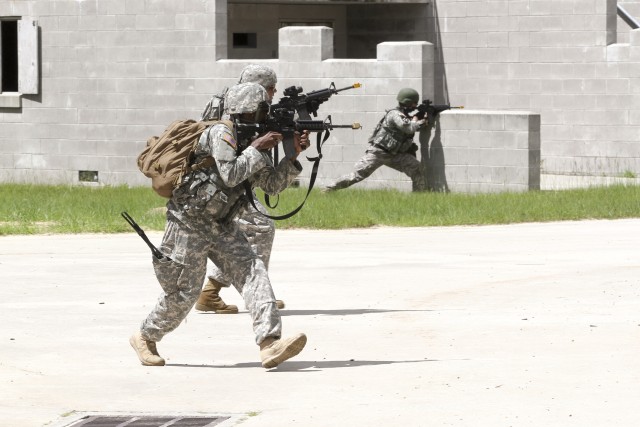 CAMP BLANDING, Fla. -- As the temperature hovered over 100 degrees and humidity in near triple digits, Army Reserve Soldiers kept their cool during an urban operations training event Aug. 19.
The Fort Lauderdale-based 724th Military Police Battalion spent two weeks at the Florida Army National Guard base here conducting military police operations and warrior tasks during the unit's annual training.
"I want them to sweat," said Sgt. Maj. Bennie Nunnally, the operations sergeant major for the 724th MP Battalion. "I want them to feel the pain and push through that pain. We have some amazing young troops in our battalion that can execute a mission with complete success."
For the past six months, the battalion staff has been working with the Florida Army National Guard's 1st Battalion, 111th Aviation Regiment from nearby Jacksonville to provide lift and air ambulance aircraft support for the culminating collective training event.
The 724th MP Battalion commander said the training between the Guard and Reserve Soldiers has been nothing sort of incredible.
"They have been amazing to work with," said Lt. Col. Damien Garner, about the Guard aviation unit. "Without their support, this would have been a totally different outcome. To integrate aviation assets into our training allowed our Soldiers to experience a real-world scenario."
The Canton, Ohio native and a 1997 United States Military Academy at West Point graduate said it was important for his Soldiers to train with the Army National Guard.
"While deployed downrange, all three components of the Army work together to execute a mission," he said. "Today, we have forged a great relationship and partnership with the Florida Army National Guard. They are great Soldiers who have taken time out of their busy schedules to provide my battalion with some exciting training."
The early morning started for the Soldiers on Camp Blanding airfield as they practiced providing security for a landing zone, medical evacuation techniques and helicopter safety.
Florida Army National Guard Master Sgt. Wigueroa Figueroa, a flight medic with C Company, 1st Bn., 11th. Avn., Reg., (Air Ambulance), worked with the Reserve Soldiers on how to properly secure a patient on a collapsible handle litter and how to maneuver the patient into a helicopter.
"First and foremost, we want them to be safe," he said. "Secondly, we want to them to have fun while participating some great training."
After training, Soldiers loaded an awaiting a Chinook helicopter for a remote training village in the distant corner of Camp Blanding.
A quick 15-minute treetop level flight took Soldiers to a landing zone just outside a small village.
"What better place to execute a great training event than here," said Nunnally as he watched Soldiers exit the aircraft and provided security for landing zone. "These are not just military police Soldiers. We have our cooks, admin teams and other non-military police integrated into the training."
Garner said one of his main goals of the day's exercise was to get 100 percent participation from all Soldiers.
"Sure, we are a military police battalion, but everyone knows we can't do our MP specific mission without our entire team," he said. "I'm glad to see our Soldiers working together as a team. We have our mechanics and admin Soldiers side-by-side our MPs pulling security. No one is left on the sidelines here."
Garner said Soldiers are Soldiers first and their individual skills second.
"There are no egos and everyone has to pull their share of the team," he said. "A squad leader may be a supply sergeant and that's great."
After the Chinook helicopter lifted off and returned to a remote staging area, two non-commissioned officers stood up and took charge. Within minutes, the Soldiers split into two platoons and began the half-mile trek to the village where the team met up with an American team to transport a detainee back to the unit's main camp for processing.
Within minutes of entering the village, a sniper engaged the Soldiers from a distance second floor window. Colored smoked was used to disguise the platoon's movement and after a short time, a squad secured the building and detained the shooter.
"Medic!" a Soldier yelled from behind a four-foot high cement wall.
A squad leader realized a Soldier was injured in the firefight and required a MEDEVAC to a nearby field hospital. Soldiers quickly secured the patient onto a collapsible handle litter and moved toward a makeshift-landing zone.
Spc. Kiana Borges, an Army medic, evaluated of the causality and called in a nine-line medical evacuation report to request an air ambulance. After five minutes, the MEDEVAC helicopter landed and Figueroa ran to Borges to gather final patient status before loading
Borges led the litter team to the awaiting flight crew and after thumbs up from Figueroa, the litter team retreated back to the tree line and the pilot lifted the air ambulance off to a distant location.
"I love being out in the field," Borges said while waiting for a second helicopter to return to the Soldiers to home base. "This is why I joined the Army. It's hard work, but at the end of the day I know I pushed myself and made a difference."
Related Links: