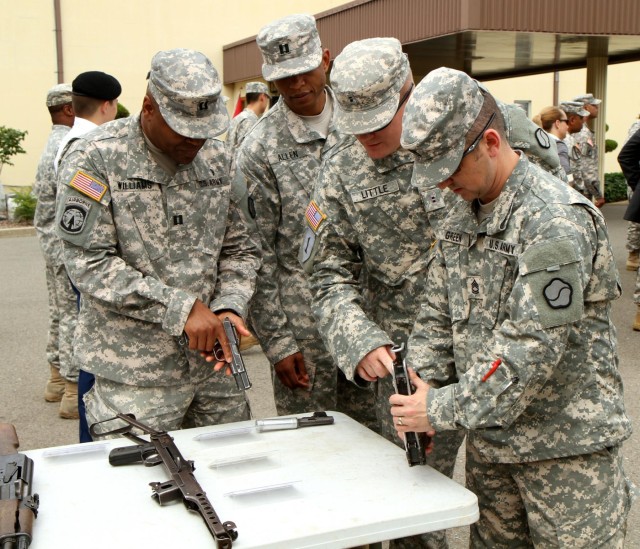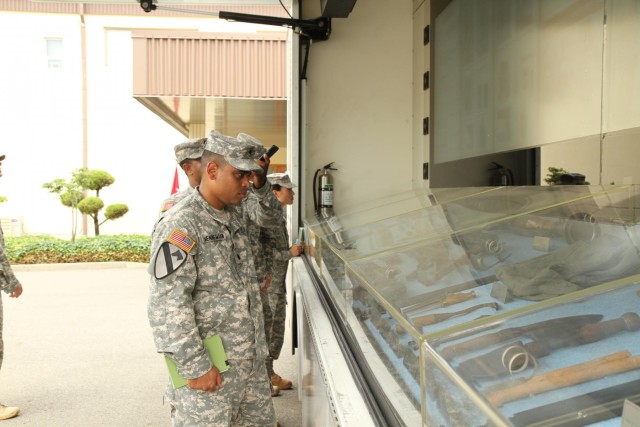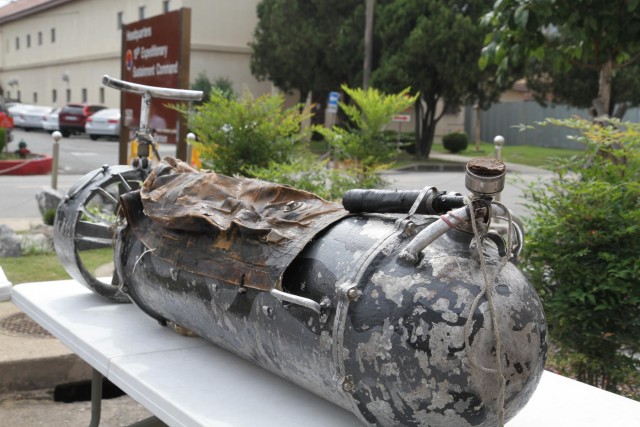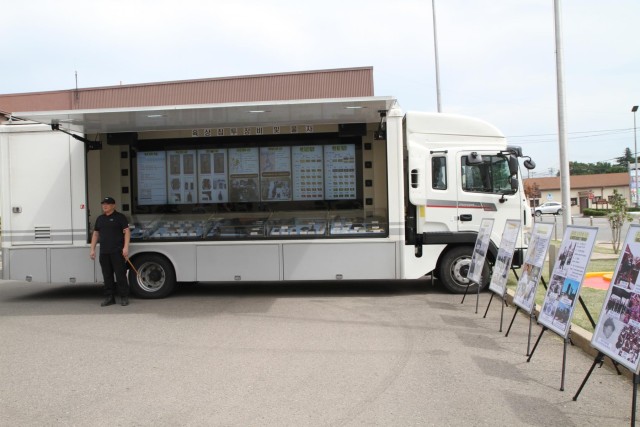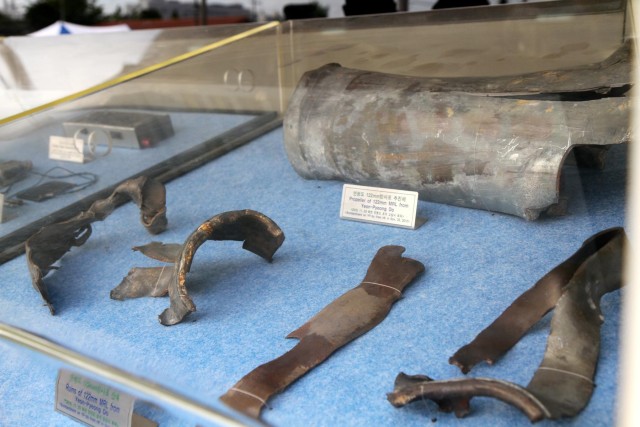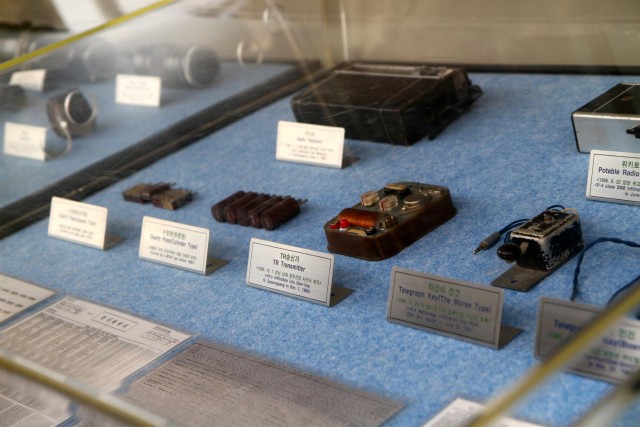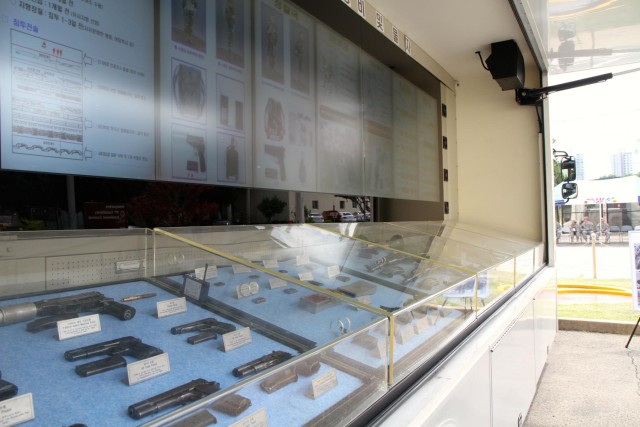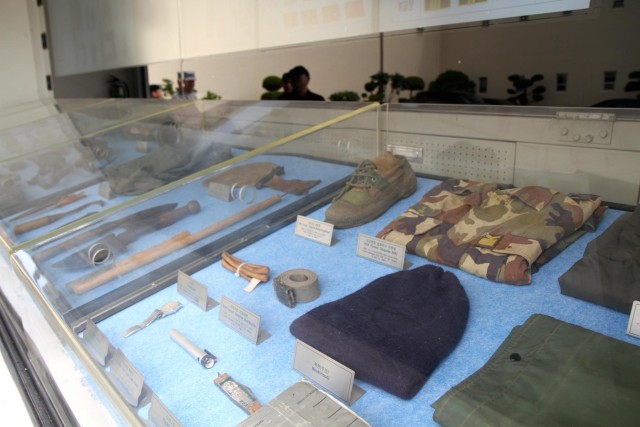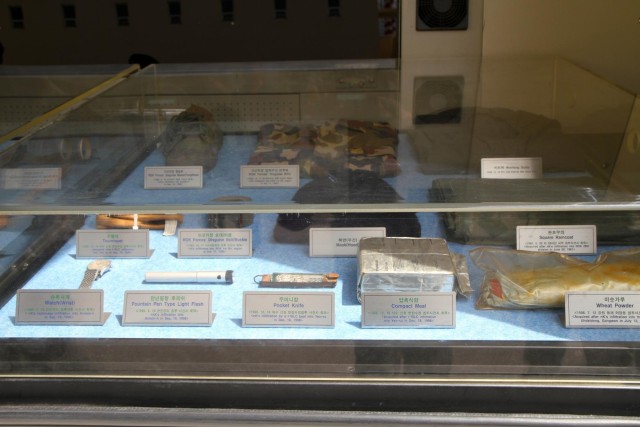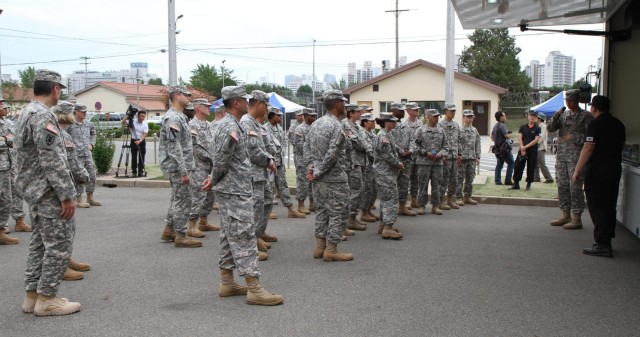 CAMP HENRY, South Korea -The Korean Defense Intelligence Command displayed a North Korean special operation forces infiltration van, Aug. 1, staged in front of the headquarters of the 19th Expeditionary Sustainment Command for more than 130 Soldiers, here.
During senior leader development for Team 19, the KDIC's SOF infiltration van displayed a collection of items ranging from clothing, communication devices, weapons and underwater equipment retrieved from real-life infiltration attempts by North Korean Soldiers.
A KDIC official said, over 1,000 infiltration attempts have been recorded by sea and 700 attempts have been recorded by air by the intelligence command, since the end of the Korean War.
"Although we recently observed the 61st anniversary of the Korea Armistice signed on July 27, 1953, what you'll see behind you is a stern reminder that nothing can be taken for granted, regardless of how calm the community may seem around you," said Lt. Col. Shawn Barnes, G-2 chief intelligence officer, 19th ESC.
The 19th ESC's commanding general, Brig. Gen. Stephen E. Farmen, Republic of Korea army Brig. Gen. Kim Yo-hwang, intelligence officer, 2nd Operations Command, key leaders, and other Soldiers got an in-depth briefing from KDIC's Capt. Kim Chung Kyu about events that have happened over the years, including the attack on The Blue House in 1968, the killing of two U.S. Soldiers and wounding of eight others during an incident on the Demilitarized Zone in 1976, the 1987 bombing of a Korean airline flight, and the unmanned aerial vehicle provocation near Paekryong Island in 2012.
"Understanding how each event occurred, where it happened, who and what the targets are, and the what the intent of the raids are, is important so we can protect our logistics operations and maintain readiness here in Area IV," said Barnes.
The 40-foot-long infiltration van exhibited reports of events on screens located on each side of the van that Soldiers could view.
Lt. Col. Carl L. Hennemann, G-4 chief of internal logistics, 19th ESC, who was stationed in South Korea at the time of one of the events, said it was more real seeing the facts and evidence on the van instead of watching it or researching it on the internet and said, "Despite the fact that some people forget how close the threat is, this shows it's very real."
"I'm familiar with a lot of these incidents," said Hennemann. "It was refreshing to see an official ROK representative explain in-depth about the incidents because I could ask the experts, and they knew details you don't see in the news."
Many Soldiers raised questions about the van and were allowed to touch some of the weapons confiscated by the ROK army.
Farmen discussed how imperative this display was for incoming personnel and how the lessons learned would serve as a reminder for current Soldiers as well, as they prepare for the Ulchi Freedom Guardian exercise, a peninsula-wide exercise designed to foster interoperability and readiness between ROK and U.S. forces
"We have a lot of new Soldiers here in Team 19, but this is event is great for all of us," said Farmen. "I don't want our Soldiers to forget that the threats they face in South Korea are real and they need to be ready," he said. "With this display, I think the level of awareness has been raised and we'll be able to bring it full circle in our upcoming UFG exercise."
He thanked the members of the KDIC with certificates of appreciation and thanked Brig. Gen. Kim for his continued support for 19th ESC.
The ROK and U.S. alliance is as strong today as ever, particularly between the 19th ESC and 2OC as they work together in a collaborative effort to sustain peace on the peninsula and to hold to the principles of freedom and justice in defense of this great nation.