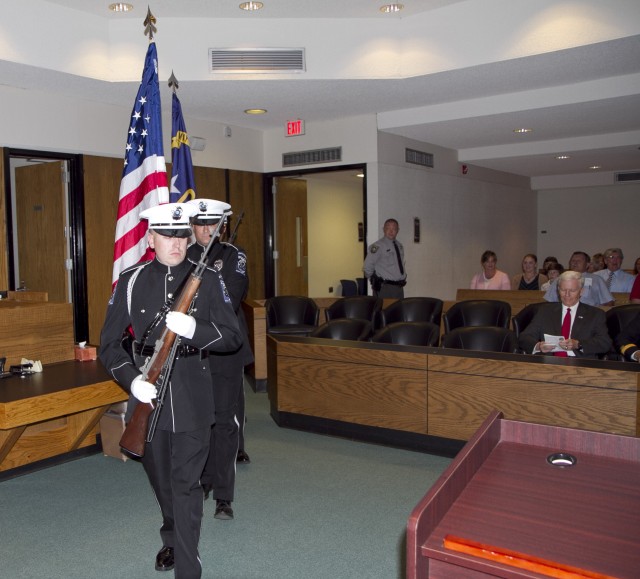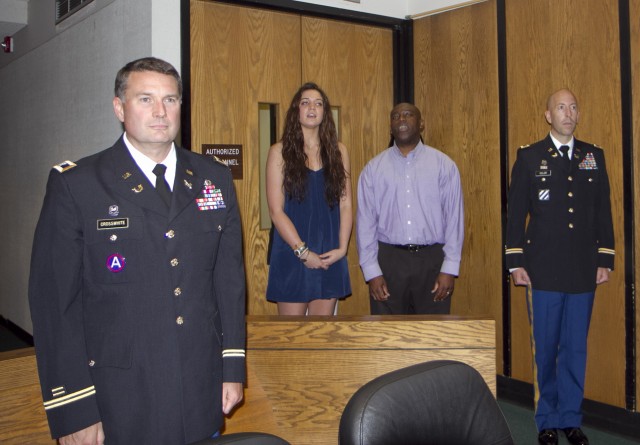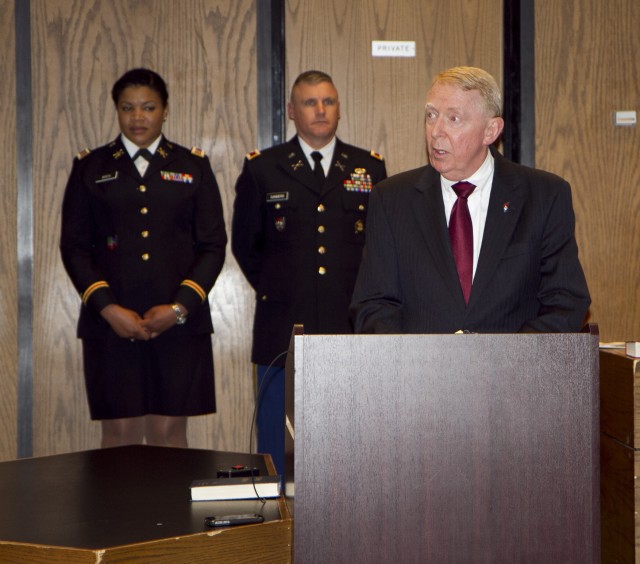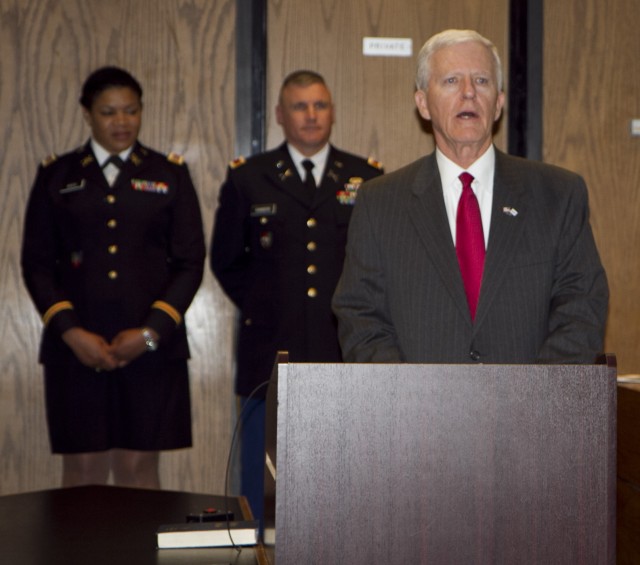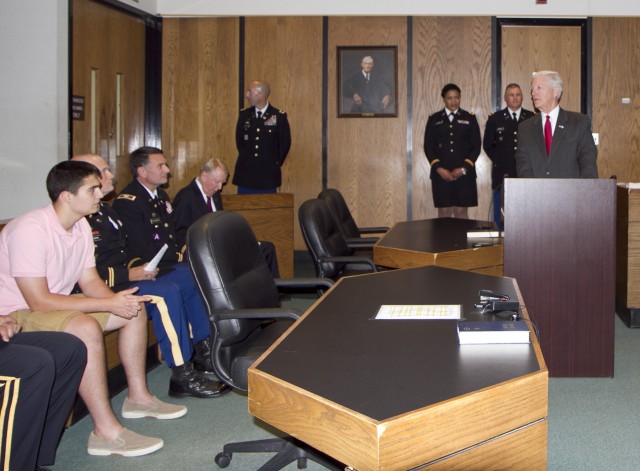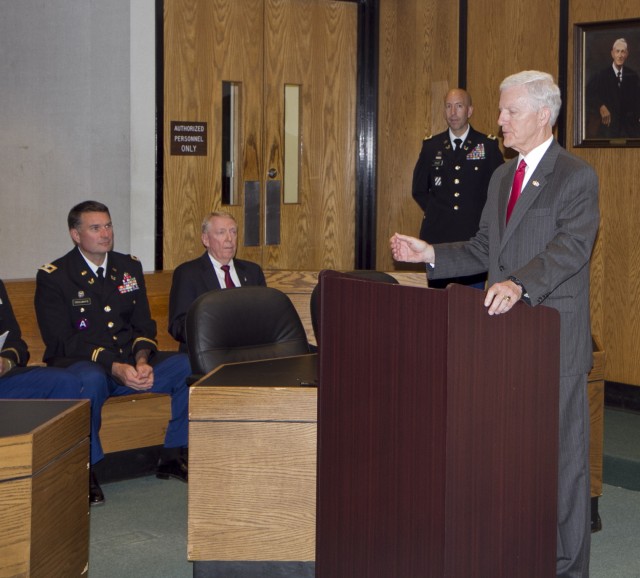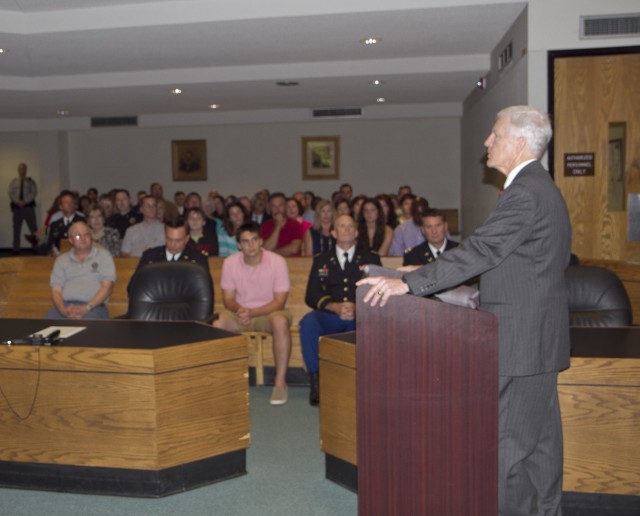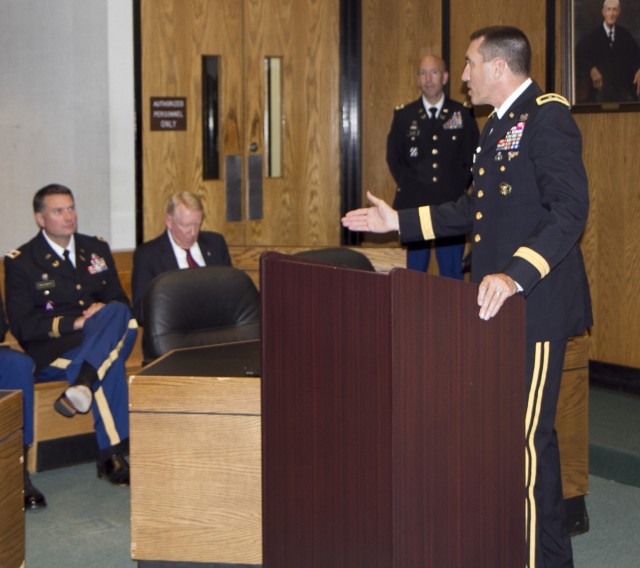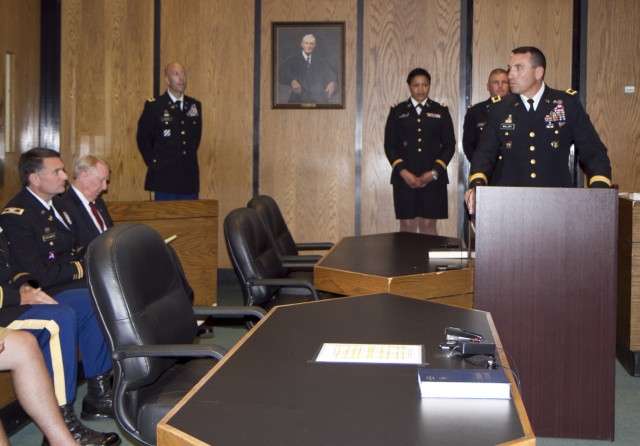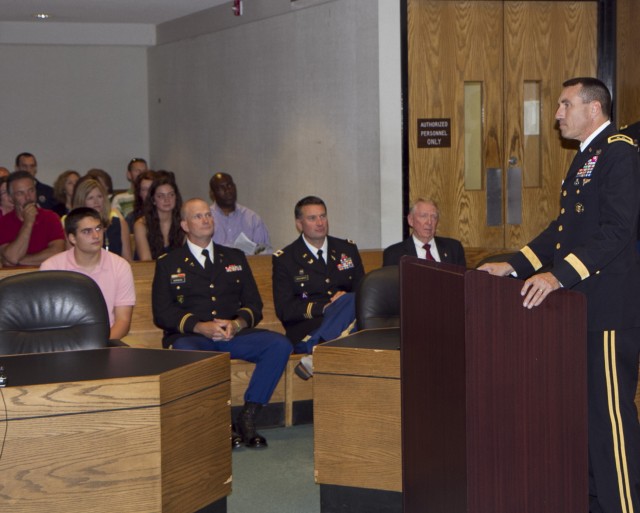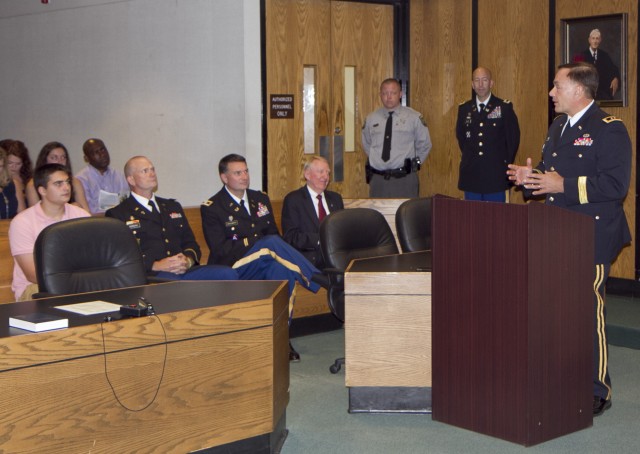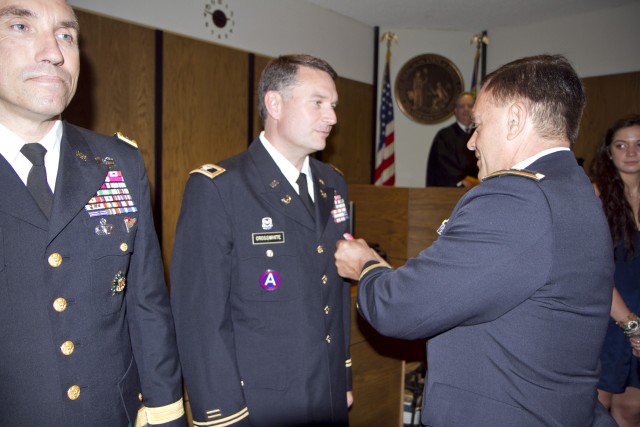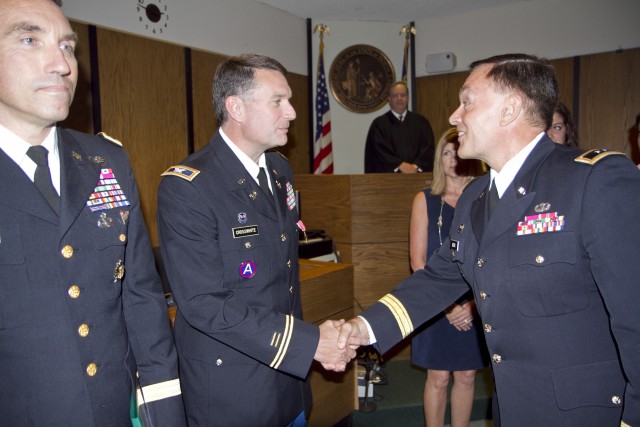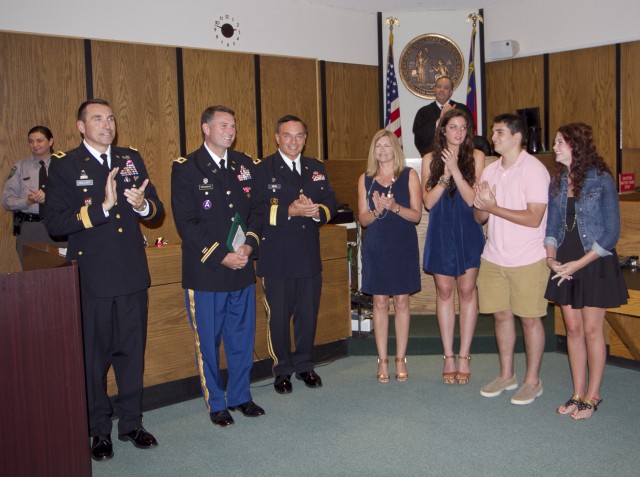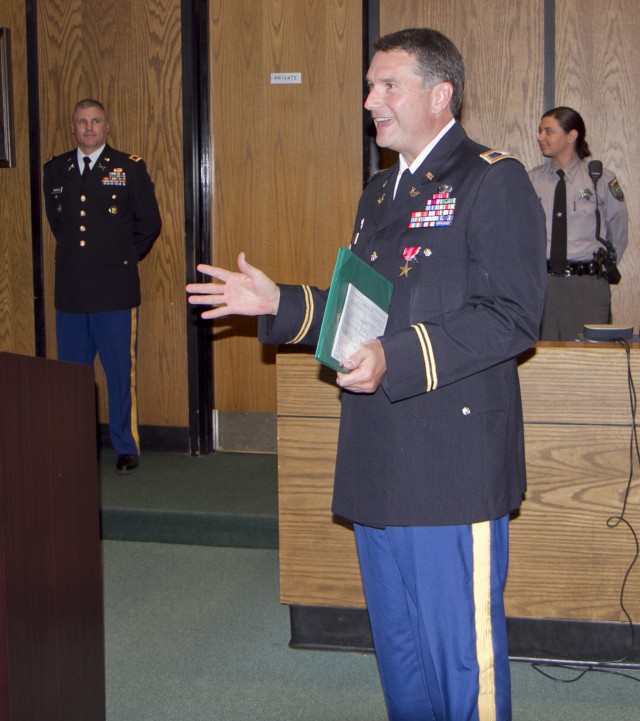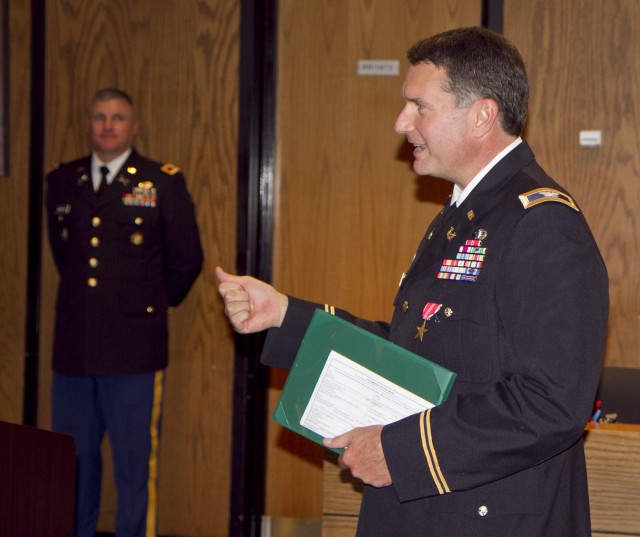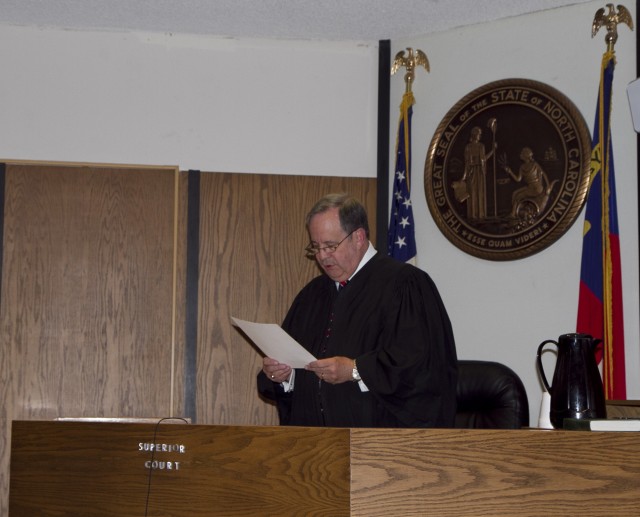 STATESVILLE, N.C. -- The Iredell County Hall of Justice in cooperation with the 81st Regional Support Command hosted a presentation of the Bronze Star Medal to Senior Resident Superior Court Judge and Army Reserve Col. Joseph Crosswhite on May 17.
Crosswhite recently returned from a six-month deployment with United States Forces-Afghanistan, where he served as the senior legal adviser for Afghan judges and prosecutors in the Helmand province. The award is in recognition of his exceptional meritorious service in that role.
Prior to his deployment, Crosswhite was the staff judge advocate for the 81st RSC at Fort Jackson, South Carolina. The presentation by 81st commander Maj. Gen. Beck took place in a courtroom of the Iredell County Hall of Justice in Statesville, with over 100 friends, colleagues, family and community members on hand to celebrate the event.
Since it was held in a courtroom, the ceremony was held in a special session and presided over by Chief Judge W. Erwin Spainhour, senior resident superior court judge for the 19A Judicial District of the Sixth Division of the Superior Court, Cabarrus County. The intention of the public presentation at the Iredell County Hall of Justice is to honor both the service of Crosswhite and the support from the Statesville community and Army Reserve families.
"The strength of our Army draws from communities like Statesville across the nation," said Maj. Gen. Beck about the combined state court and Army Reserve presentation for Crosswhite. "The Army is in service of our nation. We put the protection of our citizens first and we thank Statesville for producing this dedicated citizen-soldier who excelled in the service of our nation in Afghanistan. We also thank the community for all of its support to Col. Crosswhite and other members of our armed services."
Also participating in the ceremony were Ron Bogle, chair of the North Carolina Committee for Employer Support of the Guard and Reserve (ESGR), and retired Maj. Gen. James B. Mallory III, one of Crosswhite's mentors and a fellow Statesville attorney.
"When you depend on those who become citizen-warriors, as we've come to depend on them, if they put on the uniform of service to this country, particularly in the Guard and Reserve it does bring about certain disruptions," said Bogle. He talked about the support of the workplace, community and family as a three-legged stool. Remove one leg and the stool doesn't work. "Support for the military are not just words in N.C., they are part of who we are. This packed courtroom is a great American reflection, when we see friends, family and colleagues that have made it possible for Col. Crosswhite to have the great career he has had."
Mallory told the audience how Crosswhite had decided to remain in uniform after law school. "He chose to become a judge advocate general," he said. "He has maintained a dual career of service to his community as an attorney and putting on the uniform in service to his country."
Crosswhite thanked those in attendance saying he was surprised how the event had grown from a simple medal presentation to a community event.
"Standing here," he said, "this is overwhelming. It's a testament to the support from the community. It's an absolute privilege to be here and accept this award."
Echoing previous remarks, he added, "Without the continued support of my family, co-workers and community, my entire military career would not have been possible."
In a strange relational twist, the Bronze Star Medal was conceived by Col. Russell "Red" Reeder in 1943. During the Battle of Normandy on June 11, 1944, Reeder was seriously wounded by shrapnel and the officer that saved his life and got him to an aid station was 1st Lt. William Mills. Mills was the uncle of Spainhour.
Related Links:
Bronze Star Medal presented to Army Reserve lawyer and judge in his civilian courtroom