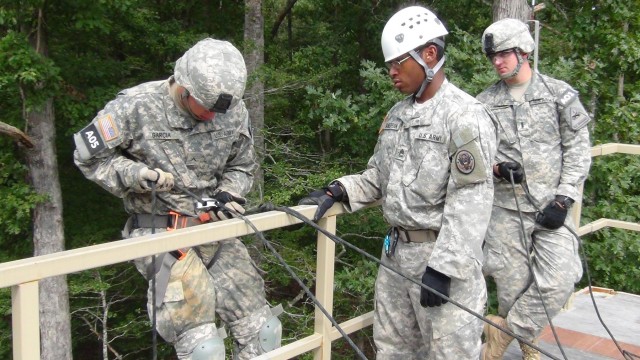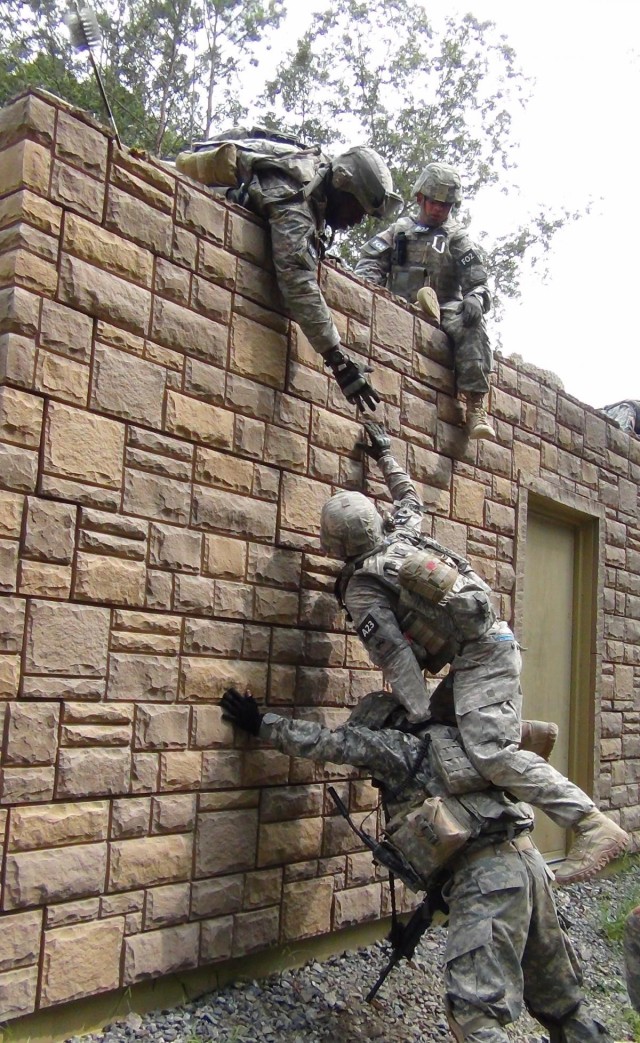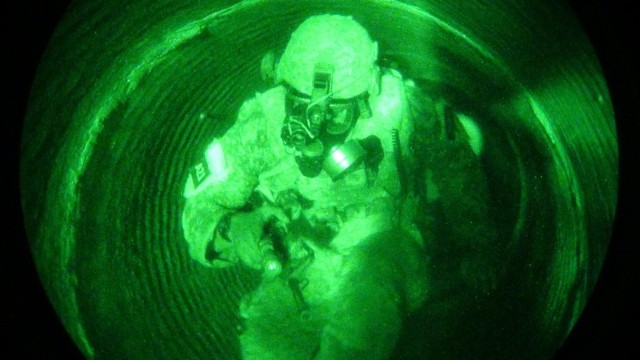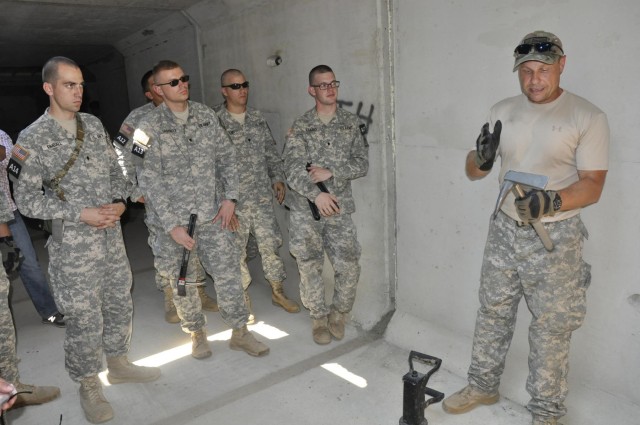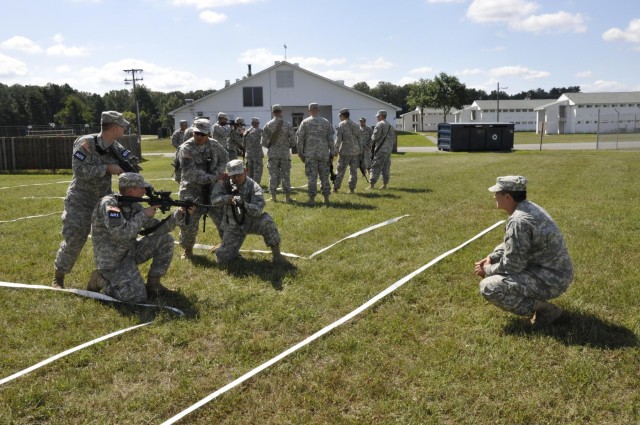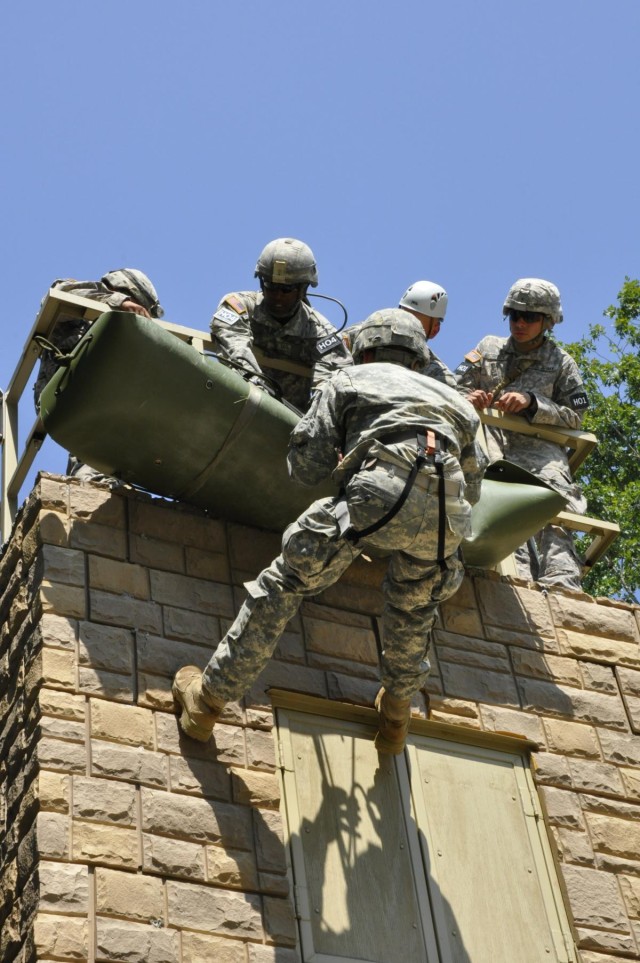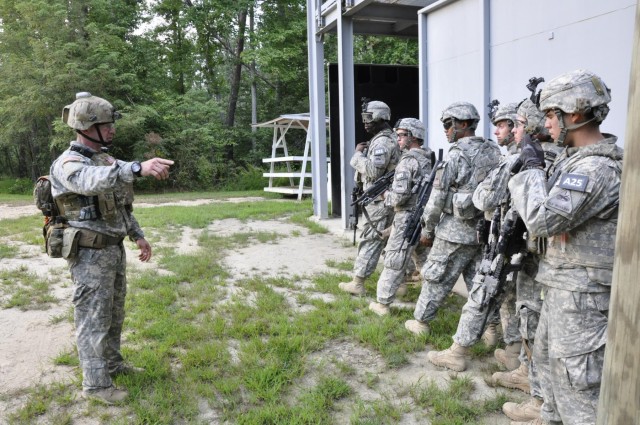 FORT A.P. HILL, Va. - Members of the U.S. Army Training and Doctrine Command's Asymmetric Warfare Group conducted a Risk Reductions Exercise here and at the Center for National Response in Gallagher, W.Va., Sept. 3-14 in order to prepare soldiers from the Brigade Modernization Command for their upcoming participation in a subterranean assessment at the Network Integration Evaluation 14.1, scheduled as a distributive test event in November.
During the exercise, soldiers from Company B, 1st Battalion, 6th Infantry Regiment, 2nd Brigade Combat Team, 1st Armored Division were put through various scenarios in order to better prepare them on how to conduct operations within a subterranean environment.
Additionally, the AWG identified capability gaps during the exercise and mentored soldiers in developing techniques to reduce the gaps. AWG's overall end state for the exercise is to develop an Army Techniques Publication on subterranean warfare for the force, which currently does not exist. The end state for the exercise was to develop technique solutions to capability gaps with respect to subterranean operation identified during NIE 13.2.
"The exercise that we are doing here today is the interim phase between NIE 13.2 and 14.1 that we've titled a risk reduction event," said Maj. Scott Bailey, the test and evaluation officer for the AWG Concepts and Integration Squadron.
Company B had previously worked with the AWG during NIE 13.2 on the initial stages of a subterranean operations assessment, and later participated in the AWG's Asymmetric Warfare Adaptive Leader Program to better prepare them for operating within an ambiguous environment. Key factors during the exercise included determining how to employ the unit's current organic equipment, looking at whether modifications or additions were required, and developing tactics, techniques and procedures.
"Once we develop a baseline, we can determine what assets to bring to bear to make (units) even more successful and arm them for the subterranean fight," said Dana Guy, an AWG operational adviser and Primary Subterranean Operation and Heavy Breach trainer.
"What we are trying to do is build capacity within the Army," Guy said. "So we are conducting some training with the unit to get a baseline to understand where the Army is at right now when dealing with the subterranean environment or subterranean problem set."
Guy added that in order to determine what level the soldiers were at, a series of squad and team close quarters battle drills were conducted in order to review the units surface TTPs.
Once it was observed that the soldiers and the unit had a solid baseline and understanding at the surface level, the unit was taken underground. In order to simulate a realistic subterranean environment, the AWG, with the assistance of Army engineers constructed facilities to build the soldiers' confidence.
"There are two training apparatuses on site. One is a confined space trainer, which is really a confidence builder for soldiers; to get into a confined space and feel comfortable with themselves operating in a tight area," said Master Sgt. Todd Jackson, the Integration Troop sergeant major for the AWG. "Secondly is the subterranean trainer which is a bigger space, a bigger mission area, where soldiers can maneuver through with (platoon leaders) and commanders to get after TTPs, and identify capability gaps within that environment."
"Going through the tunnels at first, it was different. It's a lot of tighter spaces, you have to account for the darkness, and you have to account for any traps (the enemy might) put," said Spc. George Rodriguez, an assistant gunner for Company B, 1st Battalion, 6th Infantry Regiment. "And when you have your (night vision device) on you have to get even smaller; equipment, smaller. It's just another way that (the AWG is) showing us how to be more efficient."
Within the subterranean environment, the soldiers learned quickly what additional organic equipment and equipment within the Army's inventory was required in order to meet the demands of operating within the subterranean environment.
"With surface TTPs, when you have all your faculties, when you can see, when you can breathe, when you can hear, when you can talk and when you can communicate, they work great," Guy said. "When you take them underground, those same surface TTPs, have to be modified so that you can function the same way because when you go underground, (the potential for lack of breathable air), you can't see, you can't talk and you can't communicate."
Understanding training requirements and additional equipment considerations, such as various levels of breaching equipment required to gain access to subterranean facilities was also addressed to assists soldiers in adapting within this environment.
"There are a lot of pieces that go into this. (For example), one is assured mobility up to the breach site, two is identifying what you are going to need to breach that door," Jackson said. "That door can be anything from a regular door to a 2-to-3-inch, to 4-inch hardened concrete steel reinforced door."
As the heavy breach subject matter expert, Guy said that, "One of the key tasks that (the AWG) identified was that not a lot of the soldiers were familiar with the different levels of breaching that are required in the subterranean environment."
As a result, the soldiers were taught three different levels of breaching and provided the opportunity to have hands on experience with using various tools that included everything from sledgehammers to tactical torch systems.
"It was nice having (the AWG) bring other aspects, like having them show us what the breachers actually do. Because when we train, normally we just notionally say the doors been breached, and you kick it open or you hit it open with a hammer," said Rodriguez. "But (the AWG), actually brought out the torches, and having the (canine unit) actually sniff thing out, it gave you a better aspect of what things will actually be if all these (enablers) were brought together."
To improve Company B's capabilities, various enablers collaborated with the AWG and were brought in to provide the company with a variety of assets to mitigate the complex environment.
"We have made an attempt here to integrate enablers that we expect conventional forces to have the opportunity to interact with or to use," Bailey said.
These enablers included the 911th Technical Rescue Engineer Company at Fort Belvoir, Va., who advised the AWG on construction of the confined space trainer and the 94th Engineer K-9 Detachment at Fort Leonard Wood, Mo.
"We are basically working on acclimating the dog and the handler at the same time to confined spaces since they've never really experienced it before and observing their reactions to the confined spaces as they maneuver through it," said Staff Sgt. Brandon Collins, Kennel Master Detachment noncommissioned officer in charge for the 94th Engineer K-9 Detachment, 5th Engineer Battalion. "And then we are also going to place an explosive detection piece to ensure that the dog's capabilities aren't diminished as they perform these training exercises."
Collins believes that the K-9 detachment's collaboration and participation during the exercise is an important avenue to consider and further explore when it comes to units seeking to augment their organic assets with outside enablers.
"I think that (participating in the exercise) it is not only a good idea, but an excellent idea, because in the environments we currently work in and possibly maybe working in the future, the opportunities for (subterranean warfare) to exist are very realistic," said Collins. "As we look ahead or prepare for unforeseen circumstances there might be an opportunity for us to use this training on the battlefield."
Other participants included Army units from the Vermont National Guard's 15th Civil Support Team and Army Mountain Warfare School who advised and provided training on rope work and ascending and descending techniques within confined spaces.
"I believe that all of the techniques that (Company B) are learning here can be applied in some way shape or form (to the subterranean environment)," said Sgt. 1st Class Jason Anderson, 15th Civil Support Team. "The subterranean environment is unpredictable, there are many hazards. You may have one environment where you may not need a rope, and then another environment where your rope skills might be life or death.
"For AWG, we're able to observe these developing techniques and determine how best to implement them into an ATP for subterranean operation," Bailey said.
Participants during the exercise agreed they overall enjoyed and learned from the scenario based exercise.
"I think it's really good because it brings out a new aspect of training. Not just for seniors, but also for junior enlisted," said Spc. Keith Beall, a weapon squad gun team leader for Company B, 1st Battalion, 6th Infantry Regiment.
The culminating subterranean event for the 1st Battalion, 6th Infantry Regiment will take place in November when they get to work again with the AWG at the tail end of NIE 14.1, Bailey said.
"The soldiers of the 1st Battalion, 6th Infantry Regiment will put all the training progression together - from the planning phase, all the way through execution - and really understand those tactical and company level challenges that they have encountered, how much we have addressed their challenges with tailored training, and finally where we can truly identify those challenges that will require material solutions. We can then recommend the Army pursue those solutions," Bailey said.
The U.S. Army Asymmetric Warfare Group provides Operational Advisory and Solution Development support globally to the Army and Joint Force Commanders to enhance soldier survivability and combat effectiveness, and enable the defeat of current and emerging threats in support of Unified Land Operations. The AWG operates as TRADOC's operational arm.