The Story of a Brave Soldier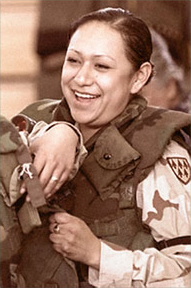 Lori Piestewa
2003: First American Indian woman to die in combat on foreign soil
One Sunday morning, Percy Piestewa received a call from her daughter Lori, a Soldier with the 507th Maintenance Company stationed on Fort Bliss. "Mom, we're deploying tomorrow," Lori said.
It was the day after the Hopi Powamu, or Bean Dance Ceremony, in which the Hopi people pray for an abundance of water, food, good weather and peace in the coming year. Percy's husband Terry had been preparing for weeks. He'd run himself ragged with last-minute details in the four days preceding the event and had been up all night participating in the traditional dances. "I'm not sure I can go," he told his wife. "I'm too tired to drive." It's several hours by car from Tuba City, Ariz., to El Paso, Texas, and one of them would have to return with Lori's car while the other returned in the Family car.
Call it a mother's intuition, Percy said later, but she knew they had to go. Enlisting another daughter to help with the driving, they set off for Fort Bliss.
Many Families were on Fort Bliss that day to say goodbye to loved ones deploying to Iraq. Percy couldn't help noticing one young man alone in the corner. "He was off on the side of the bleachers and he was crying," she said. "I asked Lori, 'Why is he crying?' Lori said, 'Mom, his wife just left him, and they have a baby, and she didn't bring the baby to see him off.'" Percy was heartbroken for him.
That was Feb. 16, 2003. Five weeks later, Lori was killed in Iraq. Even in her own grief, Percy thought about that other Soldier. Had he lived? If not, had he been deprived of a final moment with those he loved the most? She was filled with gratitude that she and Terry had gone to see Lori one last time.
Today, as the Piestewa's travel the country attending memorials for their fallen daughter, they stress how important it is for Families to make that trip before their loved ones deploy. "We tell them, 'You need to be there for them. You never know,'" Terry said.
Family and friends mourn Spc. Lori Ann Piestewa during a memorial dedication ceremony at White Sands Missile Range.
"Make every effort," Percy said. "The Lord blesses us with children, and he blesses us with friends, however it's only on a loan basis. It's not on a forever basis, because we're not here on this Earth forever."
A sad, faraway look replaced the gentle smile Terry usually wears as he remembered saying goodbye to his daughter on Fort Bliss. "We're very fortunate that we got to see her that last day," he said. He began to weep. "We're very glad about that."
Terry is a Vietnam veteran and son of a World War II veteran. As his head lowered in grief, all you could see were the words on his ballcap: "All gave some. Some gave all."
Pfc. Lori Ann Piestewa, 23, Spc. Shoshana Johnson and Pfc. Jessica Lynch were among members of the 507th Maintenance Company from Fort Bliss ambushed near Nasiriyah, Iraq, on March 23, 2003. Lynch, Johnson and others were taken prisoner. Nine Soldiers, including Piestewa, were killed in action. She was posthumously promoted to Spc. Piestewa.
White Sands Missile Range honored Piestewa by dedicating a memorial bur oak in her honor. The tree stands in front of building 128, the post's barracks for enlisted Soldiers. Piestewa's parents, her son Brandon, 5, and daughter Carla, 4, participated in the dedication ceremony. Current and former members of the 507th Maintenance Company also attended, including Spc. Roman Sandoval, Spc. Jeremy Abraham and former POWs Joe Hudson and Jessica Lynch.
Lynch and Piestewa were roommates on Fort Bliss and tent mates in Iraq. Taking the podium at the ceremony, Lynch said, "Lori Piestewa was one of the greatest friends anyone could ask for. She had a smile that could light up a room and a personality that could fix any situation. She would often be my motivation to get through the hardest times."
Lynch thanked Piestewa's parents for comforting her in the time since Lori's death. After retaking her seat, Lynch put her head on Percy's shoulder and wept.
Percy began her address to the crowd with a brief prayer thanking God for the beautiful sunny fall day and the friendship of all present. After the prayer, she looked across the hundreds of people gathered to honor her child. "Today I stand before an elite group, elite because of the diversity and the community of the military Family, she said. "Regardless of our individual differences, we are all one: One family, one community, one nation and one world. Each and every one of you has made a commitment to serve our country. May you do it with honor and camaraderie."
She thanked White Sands for honoring her daughter and for appreciating and respecting the cultural differences of all present.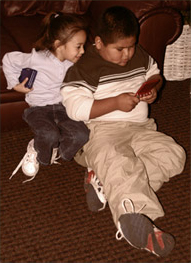 Spc. Piestewa's children play with GameBoys during a reception for their grandparents at the Frontier Club.
"May the tree you have planted be a remembrance of all who serve our country to protect the freedoms that we so often take for granted," she concluded. "And may it be a daily reminder that we need to love every member of our Family and express that love to them while we still can."
After a representative from the Hopi tribe and Native American members of White Sands read the text of the plaque that stands at the foot of the memorial tree, the fallen Soldier's two children unveiled the plaque itself.
The ceremony also featured the Nawetsa Dancers from Zuni Pueblo performing the Eagle Dance. It's a social dance to honor the eagle, a symbol of strength and power. Three dancers used elaborate wings to artfully create the impression of eagles both in flight and settling to land.
"The bird is a strong and powerful being, as Lori was," said lead dancer Keith Edaakie. He said the group also selected the Eagle Dance because the eagle is the national bird of the United States, and Lori was a Soldier, who died serving this country.
Piestewa's father thought the Eagle Dance was a fitting tribute. "Lori participated in a lot of our cultural social dances," he said. "One of her favorite things to do was to be involved with dancing like this."
Through these events, Piestewa has become an ambassador of Native American culture to people throughout the United States. Because they are reluctant to decline any request to attend an event honoring their daughter's sacrifice, her parents have also become ambassadors. While it can be exhausting, it hasn't become uncomfortable for them. Neither Percy nor Terry is weighed down by the slightest VIP aura, though they are guests of honor somewhere in the country nearly every weekend. When he first arrived at a White Sands after a six-hour drive, Terry jumped out of his truck with a big smile and pointed to splatter on the side panel. "We brought you some mud from the res," he shouted.
Terry feels he and the Piestewa Family have been blessed by the memorials they have attended. "Across the country we have so many people who we're friends with now," he said.
Among those new friends are members of diverse tribes who claim Lori Piestewa as a daughter of all indigenous Americans , not solely the Hopi people. When Lori was first reported missing in action, prayers went up from reservations throughout the country. Since then, individuals from various tribes have contacted the Family to say her spirit has visited them, moved them, or given them a message.
As Lori was half Mexican, many Mexicans and Mexican-Americans view her as their own hero, as well, Percy said. "We're very proud of that. She no longer belongs to only us. She belongs to everybody out there."
Female Soldiers also identify with Piestewa. Then-Spc. Rebecca Gulley, who worked in finance at White Sands headquarters. "I think it means a lot to all Soldiers, but it touches home a little bit when you think about her children," she said. Gulley has one child, then-18-months old, and made it a point to wait in line to meet with Piestewa's parents and pay her respects that day.
The ceremony made Sgt. Rosie Marmolejo of McAfee U.S. Army Health Clinic think about how the role of women in the military has evolved. "You're actually out there fighting now," she said. "Females are more involved. There isn't that difference between a guy and a girl." She feels more pride than fear at the prospect of combat, she said. "We're out there dong the same thing everyone else is doing."
The ceremony was an emotional event for Spc. Jeremy Abraham from Piestewa's unit, who came over from Fort Bliss to attend. "It brought back a lot of memories," he said. "It made me think back to Iraq and before Iraq."
Leaving Kuwait and going into Iraq was a big surprise, Abraham remembered. "It was a shock. Rolling through towns that other people had already been through and going through towns that they hadn't been through. We kind of saw the worst parts of Iraq."
In the first days after Piestewa's death, the family found the memorials difficult. "Now that it's been going on a while, it's been helping us to heal," Terry said. "And it helps our grandchildren to know their mother, because when you're that young, you don't know your parents when they leave. Through what is happening to us, our grandchildren are getting to know their mother quite well. They know that there are a lot of people out there still thinking about their mother."
Keith Edaakie of the Nawetsa Dancers from Zuni Pueblo performs the Eagle Dance at the foot of a memorial bur oak planted in front of the Army enlisted barracks.
A Native American Heritage Month Luncheon followed the tree-dedication ceremony. The Nawetsa Dancers returned to perform again, while Chris Edaakie, the troupe's founder, explained the history of the dances and interpreted some of the words and sentiments.
James Nez is a member of the Native American Heritage Month Committee. He said they organized the event to give the White Sands community "a better awareness and appreciation of the cultures, the peoples and the customs that have been here since before Columbus."
By all accounts, the organizers achieved their goal. "I enjoyed it," said Josetta Leyva, a budget analyst with the test center. "The entertainment was great, as well as everything they talked about and shared with us."
Both the dedication ceremony and the luncheon required the coordination of members of the A Tree for Lori Committee, the Native American Heritage Month Committee, two chapters of the American Society of Military Comptrollers, a chapter of Federally Employed Women, the 62nd Army band from Fort Bliss and many other individuals and organizations. That coordination was an object lesson in the very spirit of cooperation the events wished to promote.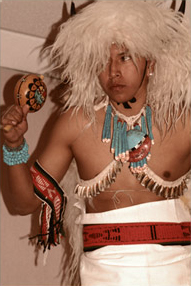 A member of of Nawetsa Dancers from Zuni Pueblo performs a buffalo dance at the Native American Heritage Month Luncheon.
For example, while a Tree for Lori Committee Chair Sue Schlegel originated the idea for a memorial tree, garrison Commander Col. Don Gentry offered the suggestion that it be planted in front of the Army barracks to inspire Soldiers and keep Piestewa's memory in their hearts. Cathy Phillips of the Business Development Directorate LEAN Team found the tree in Canutillo, Texas, and trucked it to base herself, where workers from JWK International Corporation planted it and tended it until it took root.
"We think it was a great idea to plant a tree, and so for the committee that has been involved in doing that, hooah to you," said Range Commander Brig. Gen. Robert Reese. "This installation really is a confluence of a large number of different cultural backgrounds that come to work here and do things. This gives us a chance to think very deeply about the contributions that Native Americans make in our society today. And it reminds us that this land that we live on and do so much on was Native American land before any of the rest of us decided to come here."
It took a while for Terry and Percy Piestewa to come to terms with why God took their daughter away, but the evidence of months of work culminating in her tribute seems to support the answer they have settled upon. "We feel that God is using her to bring people together," Terry said.